Article by Online Editor
Photography by Viktor Hachmang
Designer
Illustrations by Viktor Hachmang. viktorhachmang.nl
In an increasingly mobile world, the function of the physical workplace is changing. No longer an anchor for individual work, the contemporary workplace plays a more active role in communicating organisational values and providing a hub for collaboration.
Just as technology is helping to dissolve the confines of the workplace, enabling people to do much of their work remotely, so too is it blurring the boundaries between our working and our social lives. The 'where', 'when' and 'how' of the working day has become more fluid: individuals no longer need to travel to the workplace to do their jobs, while portable technology means that work follows us wherever we go. Given this shift in working patterns, what role does the physical workplace now play?
Change in the way we work has had a significant impact on how organisations approach the design of their offices. In an increasingly digital world, the physical workplace now needs to work harder. Rather than merely providing enough desk space for a set number of employees to perform individual work, the workplace needs to encourage people to come to the hub and engage with their team – a locus that people are drawn to, rather than merely a place to sit alone at a desk.
"We continue to debate the role of the workplace in an increasingly virtual world," says Evodia Alaterou, a senior associate at HASSELL. "Why travel to work every day, if it's just to sit at a desk? You can do that at home in your pyjamas. What is it about the workplace that should be compelling and really draw people in?"
Alaterou explains that the workplace has become a vital tool for communication – conveying an organisation's culture to its employees and its clients, delivering a physical environment that individuals feel an attachment to, as well as a sense of pride for. "Businesses are asking: 'what are we doing for our people, how are we expressing our culture and how do we differentiate ourselves from other organisations?'
For most, it's the people that are the difference – the workplace needs to send the message that 'this is our team, this is our knowledge, these are our ideas and this is what we need to protect'."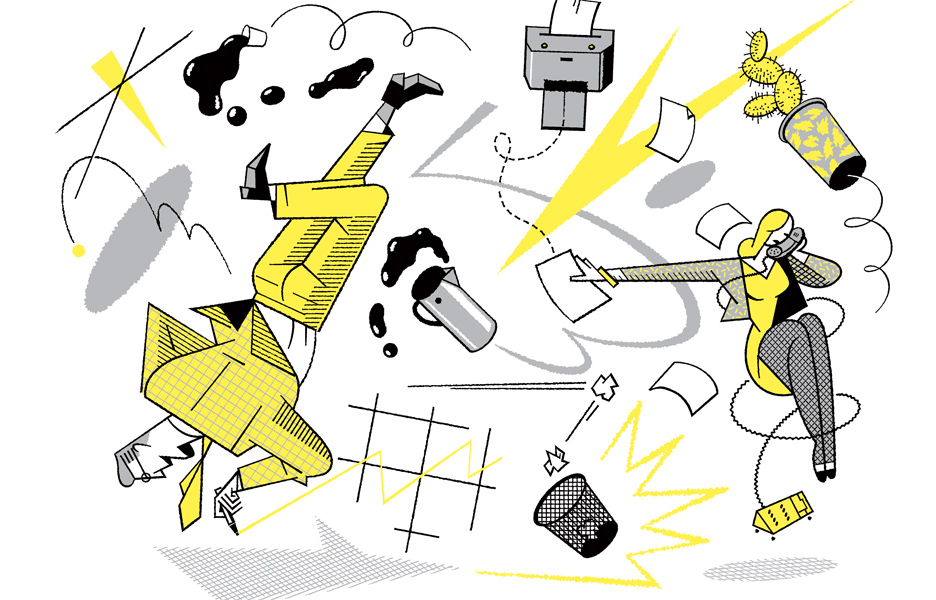 The roots of this discussion lie in the pioneering work of Frank Duffy and John Worthington, whose research explored the relationship between people and the design of physical space, and how that positive relationship could impact an organisation's performance. The emphasis on flexible built spaces that can adapt to changing needs of the workforce continue to be relevant as more and more organisations begin to adopt activity-based working (ABW) models pioneered by Dutch design firm Veldhoen + Company.
The flexibility facilitated by ABW gives more choice back to individuals to choose how and where they work. However, could this greater independence and autonomy – and the removal of the allocated individual desk – also lead to a reduced sense of personal ownership? "ABW can challenge an individual's sense of place or belonging within a workplace. As a result, it's essential to manage the change and actively promote a united team and organisational culture – continuing to physically bring people together through social connectivity and face-to-face collaboration," says Keti Malkoski, workplace research psychologist at Schiavello.
Through her experience, Malkoski says that 'home zones' for specific teams are key to helping individuals deal with this shift to communal ownership and the reduced visibility that results from the loss of the allocated individual desk. "These 'home zones' help employees adapt their mindsets about workplace ownership, which contributes to their comfort: employees no longer own a workpoint, but together with their team members they own a team area and are a part of a community."
This idea that individuals are given ownership over a shared zone within the workplace has parallels with the urban concept of community-centred place-making. Malkoski and Alaterou both assert that the physical workplace, and the ways in which social and working zones within it are organised, plays a significant role in employee attraction and retention. "The impact of the physical workplace on employee and business outcomes is difficult to quantify," explains Malkoski. "One way that we can do this is through employee surveys: perceptions form employees' reality. Surveys can help us understand how employees feel about the workplace – evaluating feelings of belonging and attachment – which impact morale and motivation."
Alaterou agrees: "Culture plays a really important role when people are choosing where to work, so at HASSELL we're interested in understanding how a workplace can express an organisational culture and how it might convey that to a potential employee."
If ABW is set to become a more commonplace structure in workplaces across different sectors over the coming years, it will be interesting to observe whether the trend counters the shift to working remotely. Prioritising flexibility and choice for employees, the theory behind this model is that it encourages collaboration within the office and, through it, greater productivity.
In early 2013, Yahoo! CEO Marissa Mayer announced that the company would no longer support a working-from-home model – indicating that, for some business leaders at least, the isolation that comes from remote working hinders innovation. Mayer's memo read: "Some of the best decisions and insights come from hallway and cafeteria discussions, meeting new people and impromptu team meetings. Speed and quality are often sacrificed when we work from home. We need to be one Yahoo!, and that starts with physically being together."
And though there may be some scepticism directed at the social spaces that proliferate in contemporary workplace design, these non-corporate settings have been shown to demonstrate employee value and a sense of pride in the particular 'place' in which an individual works. "Pride plays a significant role in how committed and engaged employees are," explains Malkoski. "Employees that are proud of their workplace as
a representation of their organisation are likely to bring their clients and family into the workplace and we are also seeing employees 'checking in' to workplaces through social media – demonstrating another level of pride for one's workplace, which blends social and work identities."
As we farewell the concept of the nine-to-five desk job and sterile corporate environments, it is these dynamic settings – which prioritise collaboration among the community of employees – that will deliver a far more effective notion of 'place'.