Article by Online Editor
Photography by Selene Wong, Stefen Chow
Designer
Architect Woods Bagot
Located in Sanlitun Village in Beijing's Chaoyang District, Woods Bagot's studio is surrounded by the young and affluent shoppers of this luxury retail district replete with a who's who of European and American luxury brands. This not only sets the tone for the image Woods Bagot is presenting in Beijing, but also reflects the technically agile and progressive workspace the 70-plus workforce requires.
Occupying the upper floors of a reassigned apartment building, the space responds directly to the needs of Woods Bagot's employees, while meeting the functional requirements of the company within an exemplar showcase and sustainable solution. "We did actually create a client brief by interviewing all of our staff; we made the staff our client. At the end of the day that is what it is for," says Woods Bagot director, Vince Pirrello, of the project he co-led with Jean Weng and Cecilia Lee. To limit environmental impact, a refit rather than a new construction allowed the building itself to present ideas that were quickly reinforced by employee needs.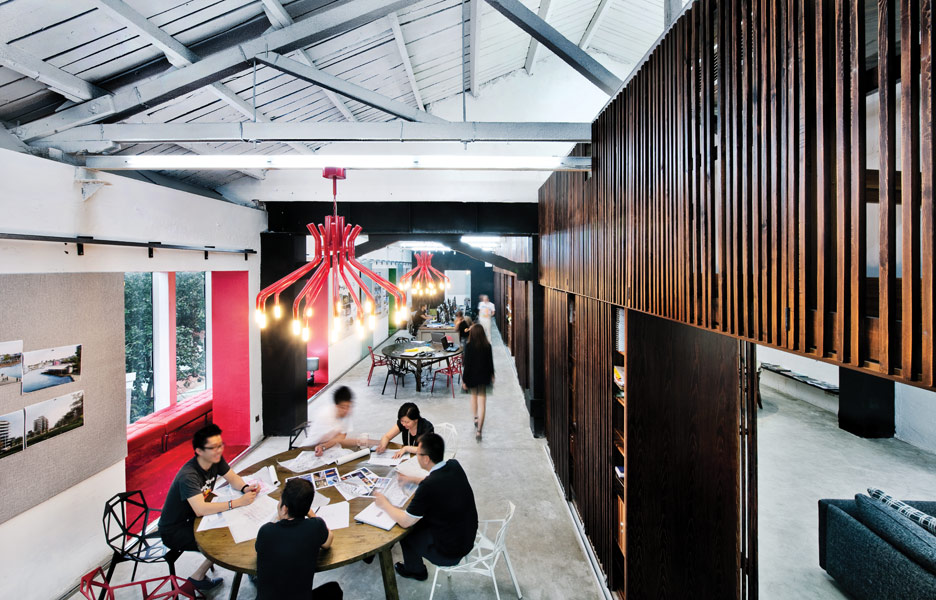 Effectively, the concept of an apartment building organically evolved to one of a workspace formed around the ideas of home. Both culture and geography play a role in this decision. First, many of the employees live a considerable distance from Sanlitun, making it imperative that utilities, such as showers and lockers, be available. With late night working sessions de rigueur in the architectural industry, there was a need for couches that doubled as beds within quiet sleeping areas. Bike racks were another consideration and, while this is a phenomenon embraced by most new developments, it was the key parking need for this group in particular.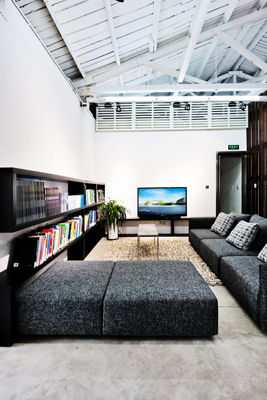 Culturally, the workplace needed a large integrated dining table and kitchen facility to cater to lunch as the main meal of the day. "They wanted more social areas so they could gather, more places where they could eat," says Pirrello. "In Beijing, lunch is a big deal, so they wanted a gathering space, a proper dining room where they could eat, not just a little café or breakout area, but something that was more communal." Pirrello recognised the benefits of this and made a fairly early decision to incorporate a dining table as a fulcrum point. He has been pleasantly surprised at the evolution in client management it has fostered: "That's one of the reasons we made the dining room. We actually created a house; when you come in, there is a kitchen, a dining room and a living room," he says. "The whole idea is that it's for the staff, but it's also for clients. Instead of waiting in a daggy reception area, we take clients into a 'house' environment, and they loved that straightaway."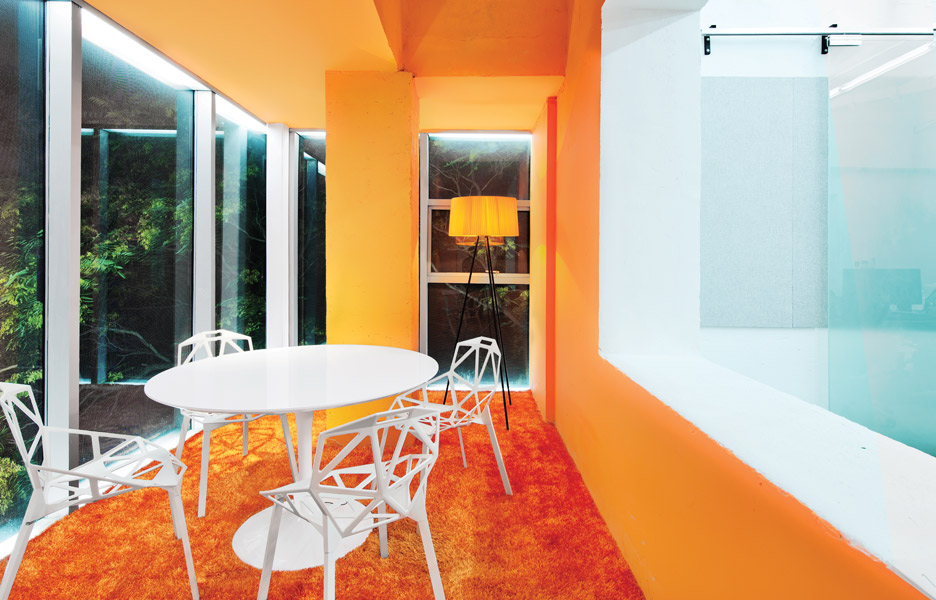 Lit by the golden orbs of Tom Dixon's Etch pendants, the dining table has become not only the hub of interaction between staff, but an important aspect of the interaction employees require when bringing their families into their workplace. It highlights both the prestige of their international employment and their relationship with the employer.
The office spaces are heralded by an expansive and vertically striated, timber-clad lobby, lit by a magnificent chandelier. In a rather glorious nod to the aspirational nature of high-end architecture and design, the lobby is housed within a corner of floor-to-ceiling glass windows and is clearly visible from the street, particularly at night when it floats, rarefied and pristine. Interestingly, though, this is the only concession to lofty pretences and the whole is largely organic to needs. The timber used for the lobby, for example, is in the main locally sourced and recycled, as is most of the timber used throughout as blade features, cabinetry and furnishings. The lobby counter, in the typical grey marble of the region, was pre-existing and of sufficient quality to remain, in keeping with many of the decisions throughout the refit. Flooring the whole, with the exception of the carpeted breakout spaces, is rough poured concrete, reaffirming Pirrello's stance: "We didn't want a corporate office."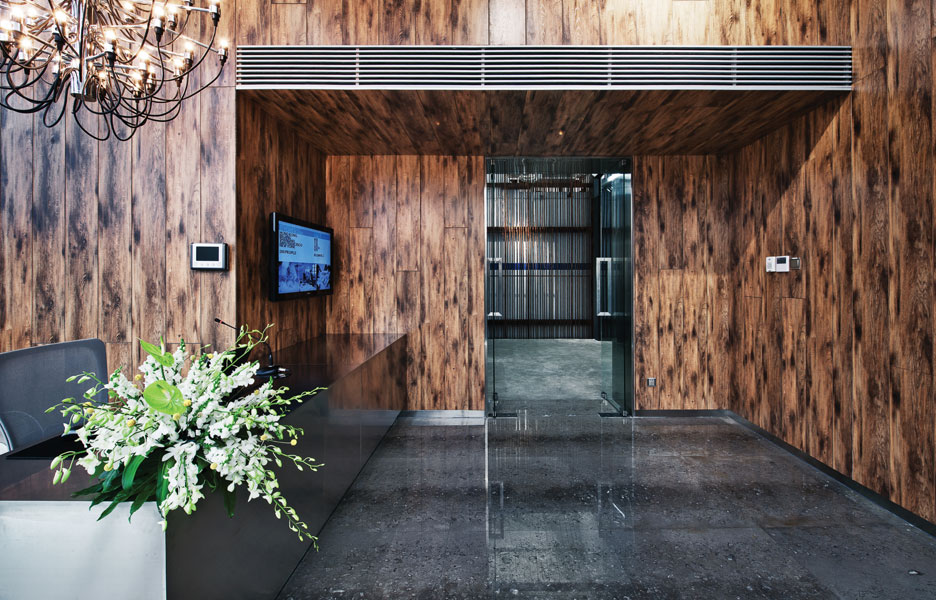 Within the space, there's a decided emphasis on connectivity and mobility. Responding to the employees' request for variable workspaces, the idea was developed to activate the entire space. "They wanted more flexibility rather than being trapped in a workstation," says Pirrello. As such, a comprehensive intranet with Wi-Fi connectivity was developed, whereby employees can access data as needed from anywhere in the building, while clients and visitors can access specific zones within the DI (Design Intelligence) system. "We have our own intranet system called Public Edge and Design Portal and allow limited access for clients, so they can see their project's progress. So, if we are doing some drawings, we scan them in and they can see them straightaway from anywhere in the world." This has allowed a profusion of devices including iPads, laptops and smartphones to be utilised as working tools, fostering spontaneous meetings and greater continuity.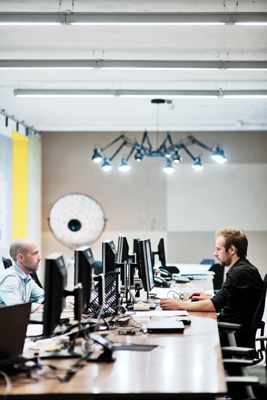 Compounding this technological versatility is the profusion of workspaces available. In its previous incarnation as an apartment building, the external wall was punctuated by small balconies. These have now been enclosed with glazing and transformed into intimate meeting rooms and video conferencing areas.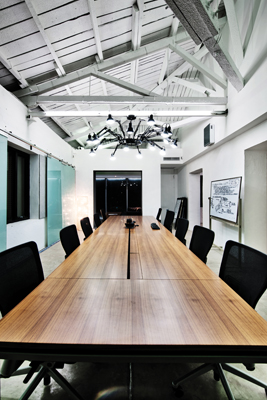 In a city somewhat dominated by a grey vista, Pirrello felt it was necessary to punctuate the space with bright colours. "Beijing is a pretty grey city, a lot of pollution and a lot of cold grey winter days, so the use of bright colour was deliberate. A lot of the interior working environments in China are still quite dark and grey. They like a lot of stone, so ours is purposely intended to stimulate the mind, and when a client comes in, we want them to feel interested and alive. Our space has a lot of light, so combined with the various colours, they work really well together." These spaces, in red, orange, blue, purple and green have also been fitted with carpet that creeps up the walls to cocoon and muffle noise and further induce a feeling of intimacy and peace. Bespoke cabinetry hides all wiring, allowing each space to be clear and ready for any user.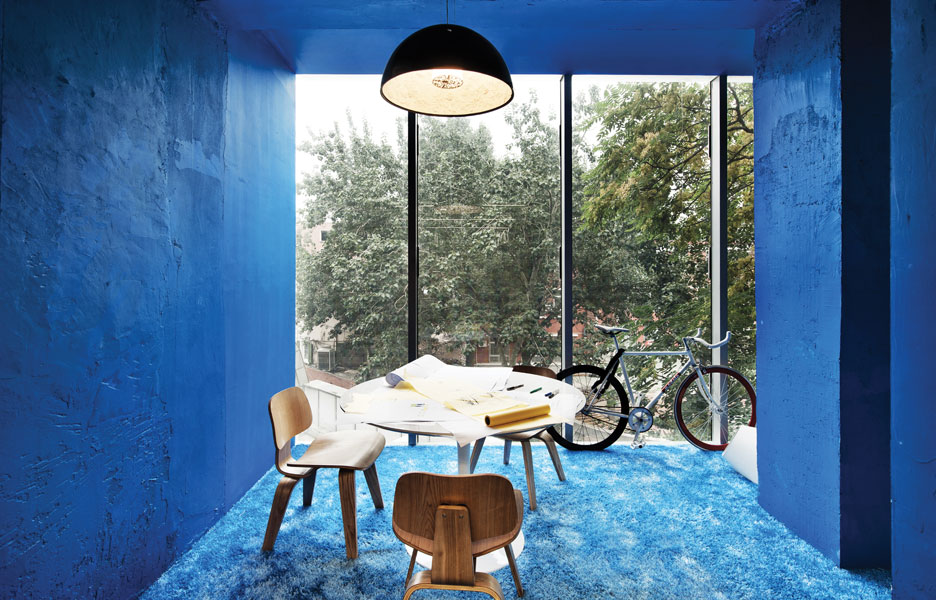 Though long gone in creative circles, corporate offices in China are still modelled on the principle of directors overseeing a pool of employees from large offices. As such, the importance of the functionality of the studio cannot be overestimated, as it has to deliver on the promise of flexibility. "We wanted to show off real-time working and flexibility, so in a way our office is a showroom where we can showcase how people do it here… In China they like to see evidence of how things work," says Pirrello. It was also important that the space be visually different from a corporate office, but rather than achieve this through a high fashion look of slick finishes, the decision was taken to emphasise the raw warehouse character and barnlike proportions of the upper storey, which has six-metre ceiling heights. "We wanted it to be rough and edgier, so we laid a concrete floor and then, to contrast the concrete with the rawness of the existing building, we put in the timber blade feature." This feature is, in fact, a vast cabinet containing storage, archives and air-conditioning, while providing the softening element that gives warmth and balance to the rougher elements and the chill of steel trussing.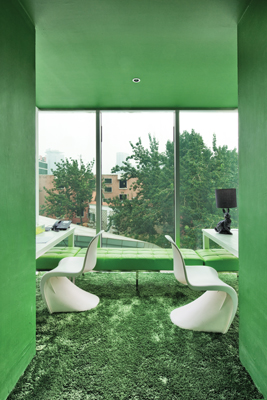 Lighting has been used comprehensively to signal the studio's position as a creative space, but has not been limited to the recognisable markers, though these are present in the aforementioned Tom Dixon pendants and a quirky collection of Moooi Rabbit lamps. A series of red caged lamps take visual centre stage and provide a continuity of the red breakout room steeped in high stylisation. These are picked up by chic Jielde articulated lamps and oversized Anglepoise floor lamps, which carry the warehouse aspect from rough to stylised without negating the overall ambience of raw industrial modern.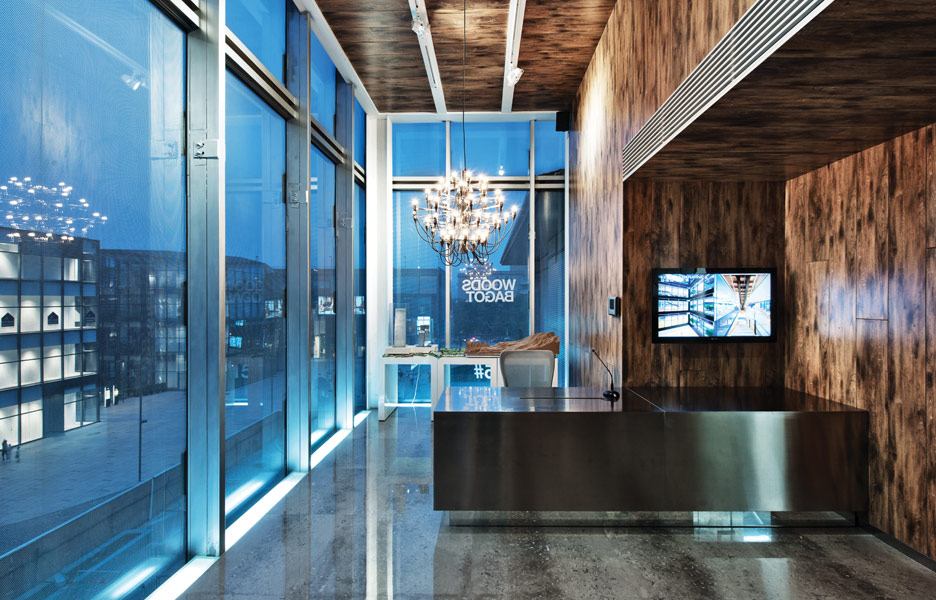 As a secondary consideration, the flexibility of the workspace has been fully exploited in the design to allow the office to accommodate a growing workforce. This is vital as the studio currently accommodates 70 full-time staff members, but generally has 10 others working there at any given time. The new environment has also meant that clients are visiting more frequently, developing close working relationships – often meaning a client is ostensibly part of the studio's workforce. At present, and just two months after moving in (with work still going on), Pirrello feels the space will comfortably absorb 30 more, bringing the capacity to 100. Given the propensity for outsiders to join the team, however, he's already started looking at the floor below.