Article by Online Editor
Designer
Sign up for our newsletter
"Goodbye to the dunny" proclaimed the Sydney Morning Herald yesterday, as Denton Corker Marshall's winning design for the Australian pavilion in Venice was revealed. DCM's simple, enigmatic 'black box' will replace Philip Cox's design from 1988, and is designed to be a "powerful, confident yet discreet object," according to the winning design team. For more on the winning design and a video, read our news story.
The announcement, though, has been somewhat overshadowed by the debacle of the competition structure – with the six practices vying for the commission shortlisted according to past experience on similar projects. In June last year, Simon Mordant's comments about commissioning a "modest" pavilion drew exasperated cries from the industry – and prompted over 750 individuals to sign the openhaus petition calling for an open competition. Mordant, the commissioner for the Australian 2013 Venice Art Biennale and a key benefactor to the new pavilion in Venice – stumping up $1m of the required $6m – said at the time: "This is an art space. It's not an architectural competition. We need a functional exhibition space… And that's going to be something that's far more modest."
Peter Johns of Butterpaper notes that DCM's winning scheme is "a stealthful black box that sucks in the light… It doesn't want to be anything other than the container Mordant asked for." John de Manincor noted the similarity with the practice's submission to the 2008 Di Stasio ideas competition, while David Neustein observed: "In the context of arts czar Simon Mordant, it could seem as if one of the MCA's hovering cubes had become dislodged and floated to Venice…"
An unusual announcement that caught our eye this morning: Rugby League star Darren Lockyer has become the new ambassador for HEAT Architecture, the Queensland state government initiative promoting the region's architecture locally and internationally. The recently retired international sports star was put forward for the job by Shane Thompson, and recently commissioned Owen and Vokes to design his own home. Lockyer will be bringing his attention to the architecture field – putting his gravelly voice behind Queensland architecture. "I've seen a lot of architecture around the world and as other countries speak different languages so, too, there are different architectural languages," he told Janne Ryan in The Australian. "I want to introduce people to the style of architecture we have in Queensland."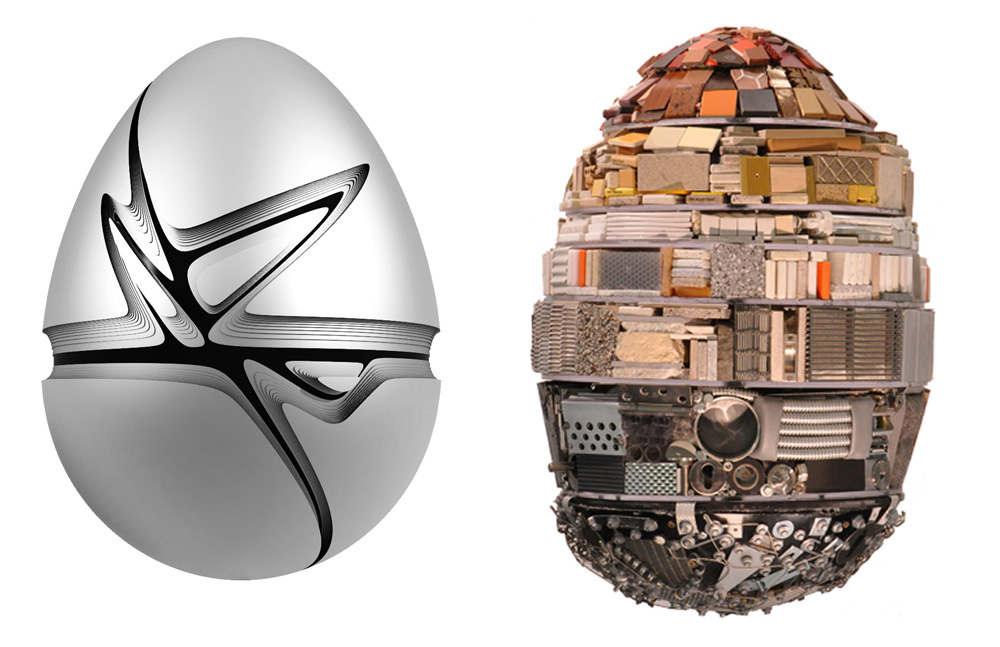 And lastly this week, in celebration of the Easter break, a series of architecturally designed Easter eggs created by Zaha Hadid, Grimshaw, Wilkinson Eyre and Rogers Stirk Harbour + Partners. A considerable step up from the off-the-shelf chocolate eggs most will be tucking into this weekend, these 74cm-tall sculptural fibreglass pieces form part of a collection of 210 designs produced for the Faberge Big Egg Hunt: a London-based charity auction which organisers hope will raise £1 million for Elephant Family and Action for Children. Some were sold at a live auction held in March, with the rest currently up for online bids. The eggs have been hidden around the city for the last eight weeks, and now the complete collection is on show in London's Covent Garden. And the going price for one of these architecturally designed eggs? Zaha's 'Dichotomy' sold for £45,000 while 'The Anatomy of a Building' by Grimshaw raised £16,000 – bidding on Wilkinson Eyre's 'Algorithm' and Rogers Stirk Harbour + Partners' 'Chicken or Egg?' was sitting at £2,100 and £1,200 respectively, at the time of writing. None, however, quite stands up to Lot 103: 'Humpty Dumpty' by The Prince's Drawing School, signed by HRH The Prince of Wales and HRH The Duchess of Cornwall, sold at live auction for £51,000.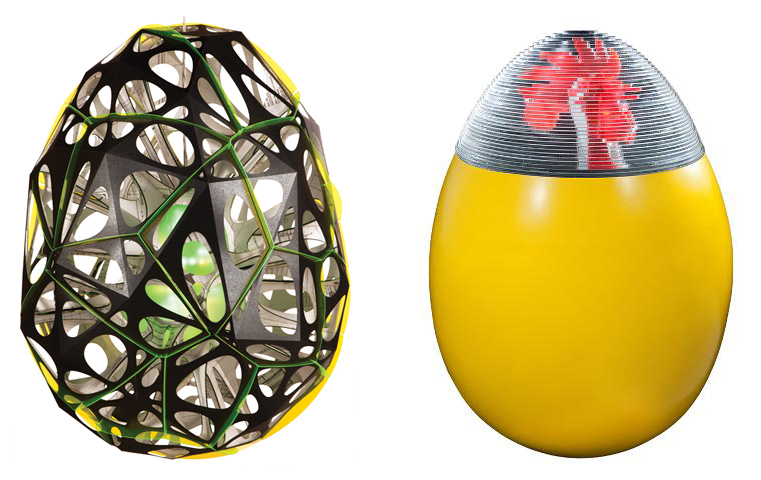 unltd is a new lighting technology by ambience, which allows creative lighting possibilities that have never been possible before.