Article by Online Editor
Photography by Lenny Wong
Designer
Architect Lenny Wong
Set amongst the increasingly hip Japanese precinct of The Galeries Victoria, Via Alley Select is a pocket of whimsy grounded in a robust awareness of spatial dynamics. Presented with a space of miniscule footprint, but some height (2.5 metres deep by 3.5 metres wide by four metres high), Wong chose to exaggerate rather than confine the vertical dimensions. This is an interesting choice and reflects interior design trends in Japan where small spaces are increasingly given stringent design attention that elongates small spaces vertically (Klein Dytham architecture: Billboard Building). For this project Wong has achieved his exaggeration through curving the back wall to create a ceiling as extension in both form and material. In effect the space presents as an oversized display case rather than a shop per se. "The idea of the shop is that it is a walk-in window display where the design focuses on a strip of products confined to one area," says Wong.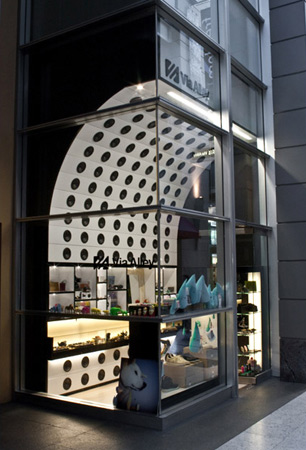 Using mdf panels (two-pack polyurethane) precisely punctured with more than 100 uniform black speakers (6.5-inch standard speakers, four functional), Wong has created an interesting spatial dynamic, whereby the dominant line of black speakers creates a curving vertical. This adds height and structure while simultaneously the panels themselves form a subtle horizontal banding, which provides an illusion of width. And while the space's verticality has been exaggerated, the unusual use of a ready-made object, out of context with the commercial fitout, ultimately provides the focus of attention. "The idea of the speakers was to use a found object and realise its potential for decoration and then through repetitions utilise scale unusually. A hundred odd speakers in a small room makes a room much bigger than it really is; it creates a more surreal environment," says Wong. It also creates a shopping environment beyond the counter and rack that focuses on the experiential. As Wong says, "The arrangement of multiple speakers creates… a very intense moment of shopping within one of Sydney's busiest shopping centres." The lower half of the speaker wall is momentarily interrupted by a row of shelving with various internal heights, also in black and white, self illuminated with LED spots. This then gives way to a more forcefully lit glass display shelf (clear Starfire shelving, with warm white LED strip, backlit opal white Perspex) before the speakers again take centre stage.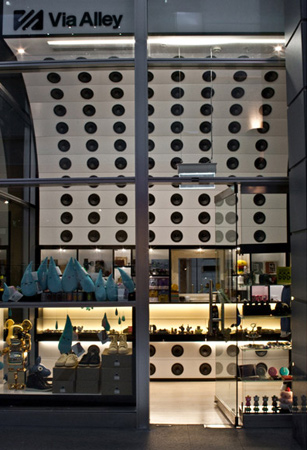 The end wall of clear glass further amplifies the store's narrow dimension and exaggerated height. This not only emphasises the curving back wall/ceiling by fully exposing the curve, but also highlights the comparatively slim floor dimensions. Interestingly, this does not cause the space to present as a consumer-hostile environment, but rather as a self-contained pod that is in fact quite welcoming. The horizontal lines of the external glass have been extended internally with the sales counter (with cantilevered glass shelving) and display cabinet at the same height, so that no new lines have been added to the visual. The remainder of the fitout comprises simple structures in the same limited range of materials and palette, including a simple floor of lime washed Blackbutt timber. Importantly, this works well in creating a visually arresting space that is neither busy nor spatially confused, and allows the store to function as a display cabinet without competing for attention. And while the store is not dedicated to the sale of a singular item, as small stores are wont to do, it is a store of finite display space presenting a select range (of mostly Japanese design objects) to be optimally exhibited and experienced. As a satellite store this intentionally acts as a suggestion of the larger store on Crown Street, also by Wong. For the Crown Street Via Alley, Wong used a pared down version of the same palette and materials though with a much tighter budget despite the space being considerably larger.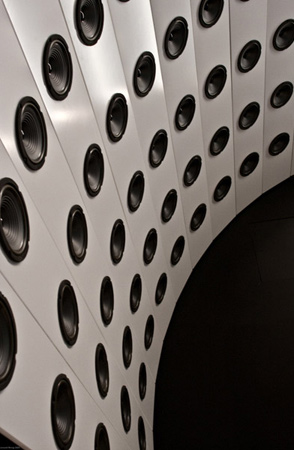 "Select is more glamorous, more suited to the city environment. We [Wong and Via Alley] were pushing the level of detail inside the store. Such a small space needs to stand out from everyone else," says Wong. And stand out it most assuredly does, despite its miniscule footprint!