Article by Online Editor
Photography by Jeroen Dellensen
Designer i29
They don't come much greyer than this. The new interior of ad agency, Tribal DDB, on the outskirts of Amsterdam is a monochrome world where greyness reigns supreme. Normally a colour that denotes dull neutrality and formality, here it is warm and welcoming, the result of an interesting experiment: the application of felt as a total finish on walls, partitions, alcoves, seats, table-tops and even lampshades.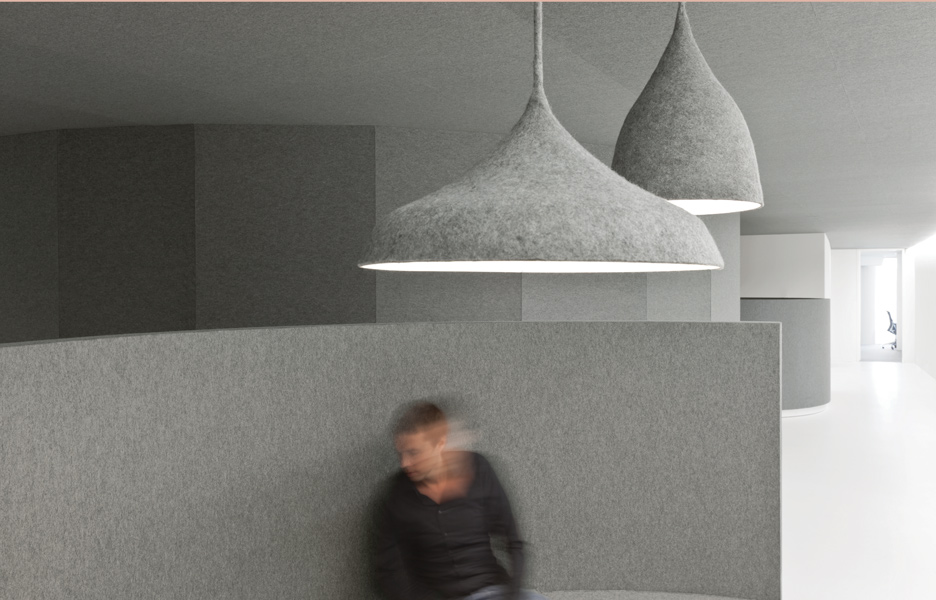 "Steer clear of corporate and pompous." Those were the instructions given to Jeroen Dellensen and Jaspar Jansen, united under the name i29 interior architects, when they were selected from a shortlist of three design firms to furbish this office for Tribal DDB. An offshoot of worldwide operating ad agency DDB, Tribal DDB was established in 2000 and specialises in interactive and digital marketing. Its 60 offices around the world employ well over a thousand people. The Amsterdam office employs 80 cheerful creatives, all at work on campaigns for illustrious names like Philips, KLM Royal Dutch Airlines and Volkswagen. To provide a suitable setting that was professional yet relaxed at the same time, the 650-square-metre interior needed to perform a balancing act. The answer from i29 came in the form of a single dominant material: grey felt.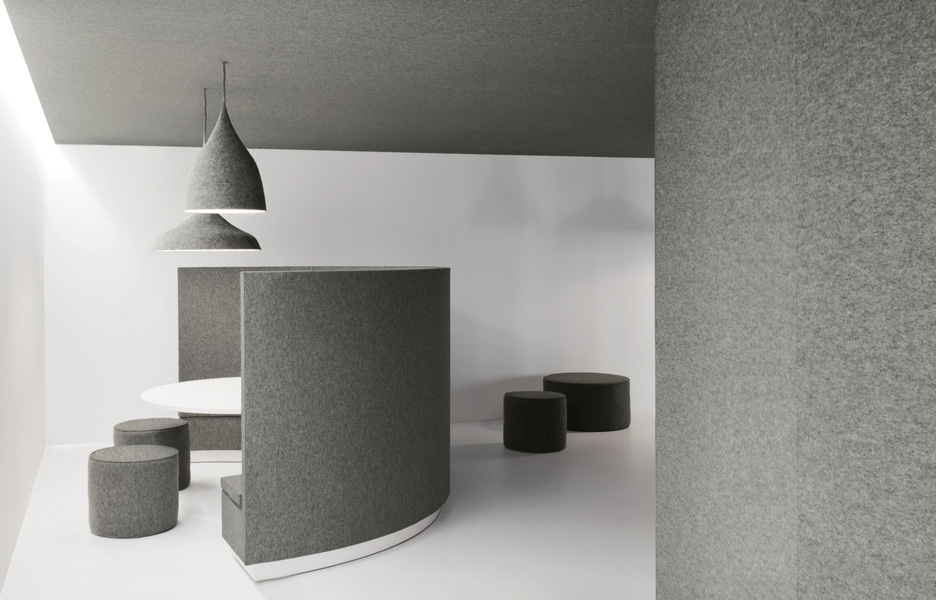 "You walk in and immediately want to touch the walls and lamps," says Dellensen. "The atmosphere reflects the nature of the agency: high-end and professional, yet friendly and approachable too." Some 600 square metres of felt were used for all the surfaces. "It's a material that introduces a natural tension and energy. Clean, straight lines are offset by its softness and set up a contradiction: business-like and homely at the same time," adds Dellensen. On top of that, felt boasts a whole range of properties that make it an excellent interior finish. It is durable, environmentally friendly and – vital in an open plan environment – sound absorbent. What's more, the plan arrangement supports the agency's way of working, which it describes as 'creative interaction'. Teams working on a particular project occupy one or two so-called hubs demarcated by the felt-covered partitions in the large workspace. Meetings are held in the adjoining 'war rooms', while informal encounters are facilitated by the semicircular nooks and in the general lobby.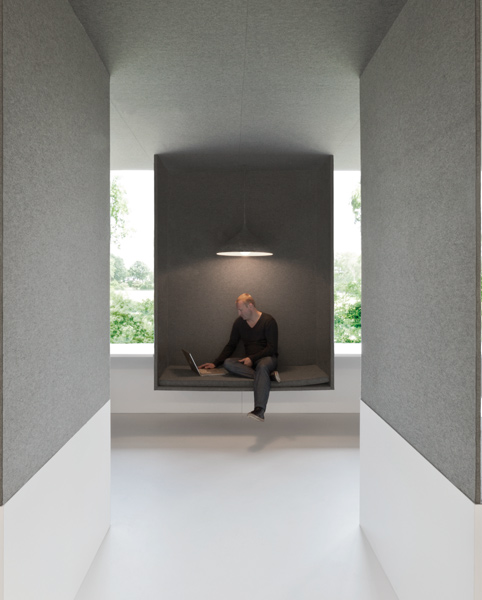 Tying everything together with one motif, design gesture or limited palette of materials is a strategy that i29 has deployed with success in the past and steadily refined. Its integrated desk and bench furniture for film editing company, Filmmore, works because of the vocabulary of simple block-like forms made of underlayment on a steel structure. And for Gummo, another Amsterdam-based ad agency, it coated everything a shade of dark grey. In the process, it created a powerful sense of unity out of a motley assortment of second-hand furniture.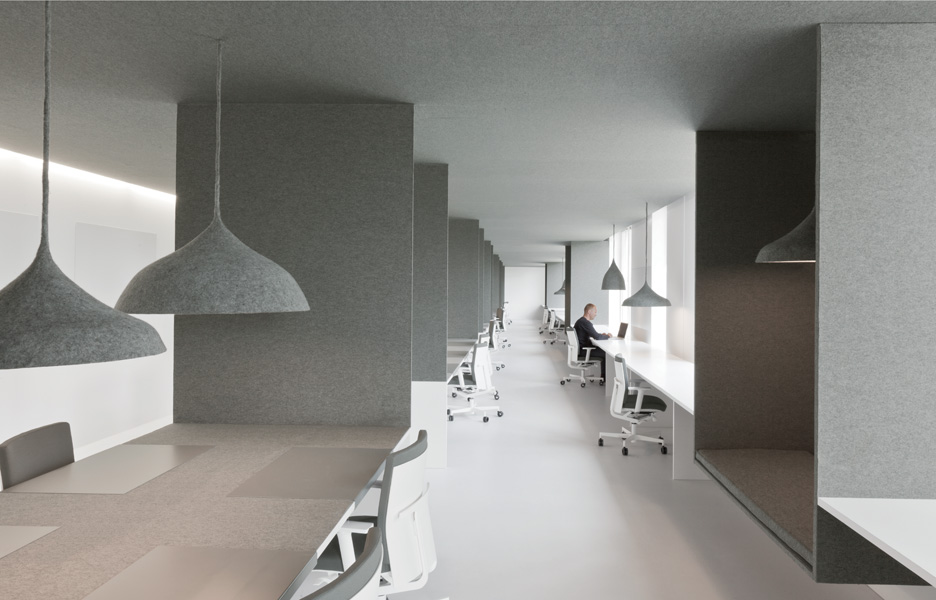 Dellensen and Jansen have been working together for a decade, since graduating as interior architects. Neither opted to gain work experience with an established firm. "When we finished studying, we just wanted to start working on our own," explains Jansen. "At the beginning, we did everything ourselves, designing interiors and building it all too." To date, the team has completed something close to 20 interiors, mostly homes, offices and schools. A notable feature of the work is a reluctance to simply specify furniture taken from catalogues; i29 prefers instead to design its own furniture, tailored to the needs of the client and the nature of the commission.
A memorable example is the collection of tables, benches and display signs it designed for a school, the Caland Lyceum in Amsterdam. All the objects are finished in bright red, blue and yellow polyester, which immediately evokes associations with sports clothes. And that neatly reflects the fact that the school offers special education for students who also pursue a career in sport. There's a clear sense of playfulness too in all of i29's work, often putting a smile on your face, rather than trying to impress you with fads or style.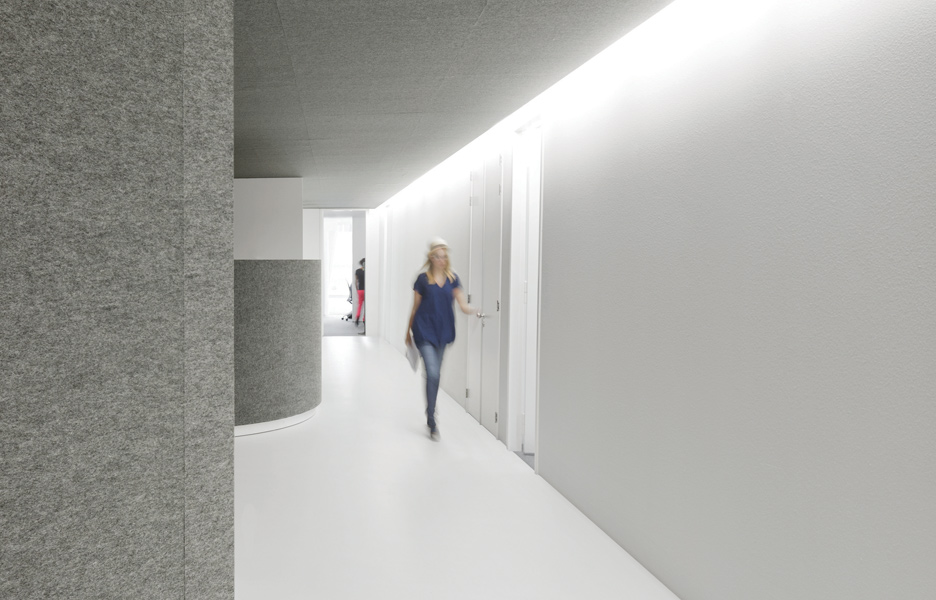 With a team of just four people, i29 prefers to keep its workload manageable and give each project the care and attention it deserves. You get a sense that the studio wants to oversee every last detail itself rather than entrusting it to others. "We draw everything ourselves. Ideas bounce back and forth between us until the direction of the project becomes clear. In each project, we try to find some aspect in which we can experiment. It differs from project to project of course," explains Dellensen. "It might be a particular finish or a material or an atmosphere. We try to ensure that every interior we make has some element that we've taken further than before."
That ambition to innovate is amply illustrated in the Tribal DDB project. As for the grey surfaces, completely colourless this office is not. "Most of the creatives working here are twenty-somethings," says Jacco ter Schegget, managing partner at Tribal DDB. "They bring in all of the colour we could ask for."