Article by Online Editor
Designer
From the pages of Architectural Review Asia Pacific and Inside magazines, ten recent reviews of new architecture and design books.
THE ART-ARCHITECTURE COMPLEX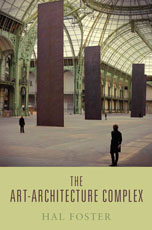 In this finely written book, acclaimed art historian and cultural critic Hal Foster brings his expertise to bear on the relationship between architecture and art as reconfigured over the past 50 years. He argues that these disciplines have moved into each other's territory with mixed results, although the intersections have become an important site of cultural production. For Foster, architecture crossed into the realm of visual art as it became increasingly iconic, while art practice expanded into the space of architecture as it moved off the plinth and beyond the gallery wall. Throughout, Foster criticises architecture more than art, largely because it is always bound up with capital while art is allowed more critical agency – hardly surprising. I would have liked to read about how architecture might pursue a degree of agency even as it works within the structures enabling buildings to be built.
It's fantastic to have a critic of Foster's calibre turn his attention to architecture in such a direct manner, but I was left wanting to know more about the alternatives he seeks to open up through his critique. Maybe that's up to us.
Hal Foster / Verso, 2011 / hardback / 316pp
Review by Justine Clark, excerpted from a longer version in Architectural Review Asia Pacific 125.
---
BEYOND ARCHITECTURE:
IMAGINATIVE BUILDINGS AND FICTIONAL CITIES
UTOPIA FOREVER: VISIONS OF ARCHITECTURE AND URBANISM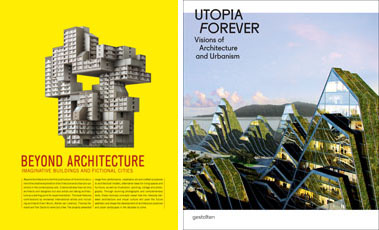 Beyond Architecture promises the world, boasting that it's 'the first publication of its kind to document the creative exploration of architecture and urban propositions in the contemporary arts'. Utopia Forever, meanwhile, offers 'current projects and concepts from architecture, city planning, urbanism and art that point beyond the restrictions of the factual to unleash the potential of creative visions'. These are fine intentions, for architecture and urbanism has always had a relationship with speculative art and fiction (or 'science fiction', if you prefer), given that both are interested in the future potential of cities, buildings and infrastructure.
Instead, it's the subject matter of both books that disappoints, and, despite that noble intent (Lukas Feireiss' introductions to each are excellent), this is largely to do with the speculative nature of the projects, which are presented as graphic treatments accompanied with either a paragraph of cursory text or an overlong architects' statement. There is little serious, forced engagement with the ideas behind specific projects, which, even in the form of a Q&A with the architect, would have neutralised the 'archispeak' peppered throughout. Utopia Forever is therefore forced to live and die by its imagery, which, because it is speculative, digital and rendered, is subject to severe dating in some cases. In Beyond Architecture, the main problem is the sheer weight of projects, including the dubious inclusion of soap buildings and 'bespoke jelly models' of famous architecture. This is not to undermine the considerable skill of the artists that created them, but soap and jelly hardly seem to justify the book's claims to 'shape the development of architectural practices and urban landscapes in the decades to come'.
With a sharper editorial blade and more critical engagement, the best projects could easily have been reduced to one volume, especially given that both books essentially promote the same philosophy: how artistic creativity and imagination can progress architecture beyond traditional solutions. Without that, the experience is very hit and miss.
Robert Klanten and Lukas Feireiss (editors) / Gestalten, 2011
Beyond Architecture: hardback / 207 pages
Utopia Forever: softback / 256pp
Review by Simon Sellars, excerpted from a longer version in Architectural Review Asia Pacific 125.
---
THE ART OF DZINE: THE BEAUTIFUL STRUGGLE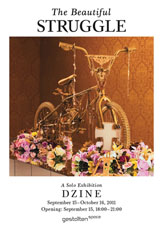 Dzine is an artist with no fear of the bedazzler, crystal encruster or glitter stick. Rather, he has perfected the art of bling and pushed boundaries beyond all limits with pimped bikes, boats, trolleys and tuk-tuks to make the heart sing. Resplendent in mirror-finished, rose-encrusted, velvet-covered, airbrushed and bejewelled glory, his vehicular vision is decidedly glitzy and splendid for being so. From a design perspective, Dzine's work revels in the very fact of having its roots in a particular street culture. His is an aesthetic that has evolved as a parallel to high-end consumerism, which it mimics and lampoons in equal measure. That said, it is Dzine's ability to engage superabundance without negating form that brings a grandeur to his works as both installations and objects. The book works well as a show pony for his best work, but also engages the essence of the street from which he draws.
Morgan Spurlock (foreword) / Gestalten, 2011 / hardback / 224pp
Review by Gillian Serisier, from Inside 70: Working for Solutions.
---
A TASTE FOR THE EXOTIC: ORIENTALIST INTERIORS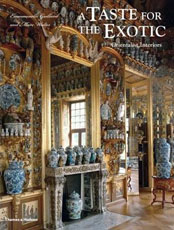 Where this book departs from the usual forays into the subject is its absolute resolve to present the exotic as it has been reinterpreted in interior design. Effectively, Gaillard and Walter chronicle the rise of Chinoiserie, Indian and Middle Eastern/Moroccan aesthetics as decorative themes in Europe through the ages. The text is a brief history focused on who brought these styles to fame and when, such as the rise of Chinese motif following the publication of Johan Nieuhof's illustrated journals in 1655. As China had been closed to the West for two centuries previously, its imagery was embraced with fervour. Its adoption coincided with the rise of the Rococo aesthetic, which, being both overtly decorative and capable of delicate nuance, it suited well. The quality of the book is also worth mentioning, with the heavy paper firmly delivering the grain of fabrics, paper, timber and china pictured. Quotes from Byron and Voltaire are charmingly and appropriately used to depict the mood of the times.
Review by Gillian Serisier, from Inside 71: No Place Like Home.
Emmanuelle Gaillard and Marc Walter / Thames & Hudson, 2011 / hardback / 240pp
---
MANUFACTURING THE BESPOKE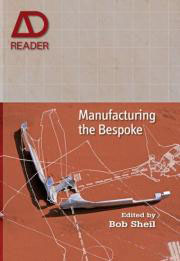 Craft is back. Our world has become enmeshed in a fuzzy, felty cat's cradle of organically dyed yarn bombs, hand-painted, Etsy-bought broaches and one-of-a-kind, novelty plush toys. Architecture, slow and inherently conservative, might be slightly buffered from fashion's shifting tides but it's not entirely free from their influence either. Witness the profusion of recent books with a crafty focus, or the rising popularity of practitioners in a hands-on or vernacular tradition. Manufacturing the Bespoke, while concerned with craftsmanship in architecture, is not a product of it. Rather, it serves as a survey of two decades worth of exploration, development and technological convergence in the now burgeoning field of digitally driven architectural fabrication.
The editor, Bob Sheil, has been instrumental in the development of these tools in architecture, and as you'd expect, contributions have been assembled from some of the world's most pioneering practitioners and thinkers in this area, from the profound to the esoteric. Highlights include Mark Burry's discussion of the work he presided over during the construction of the Sagrada Familia, and Gramazio & Kohler on their mobile, robotic bricklayer and the surprisingly long history of robotic fabrication in construction. This book is an excellent introduction to a range of tools and approaches that, far from being flash in the pan, look set to become an increasingly important part of architectural practice and production.
Review by Maitiú Ward, excerpted from a longer version in Architectural Review Asia Pacific 125.
Bob Sheil (editor) / Wiley, 2012 / softback / 280pp
---
NANO HOUSE: INNOVATIONS FOR SMALL DWELLINGS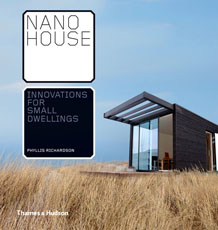 Environmental sustainability is the eternal catchcry of these small dwellings and perhaps rightly so: we should all live in much smaller homes. Making them affordable is the next self-imposed mantra behind the actual design and deployment. Again, rightly so: good, efficient housing should be within the grasp of all. Most, however, are just delightful follies of the imagination that tick all the right aesthetic boxes and are affordable if you happen to be an architect. That said, the interior aesthetics featured in this publication are fabulous, with a lack of clutter being the overriding constant. There is a distinct emphasis on timber, which has been used in a range of states as diverse as oak-veneered ply (Meadow Cottages, by Patkau Architects, US) to formaldehyde-free OSB (Oriented Strand Board) panels (Le Cabanon by Cyril Brulé, Atelier Correia, France). Bright colours are also a feature, with vivid accents augmenting the 'slicker' of the all-white interiors, such as Merry-Go-Round House by Bureau Ira Koers, Netherlands.
Review by Gillian Serisier, from Inside 71: No Place Like Home.
Phyllis Richardson / Thames & Hudson, 2011 / hardback / 224pp
---
RUINS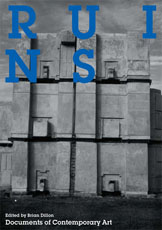 The imagery of ruined cities and buildings is everywhere in contemporary Western culture: as a symbol of climate change, of post-apocalyptic yearning, of breakdowns in global economic systems. Detroit is the most recognisable expression of ruined capitalist cities and the chief producer of what has been termed 'ruins porn': the fetishisation in hyperreal photography of the city's abandoned housing, factories and theme parks. More recently, devastating tsunamis and earthquakes in Japan and New Zealand have reasserted the imagery of ruined architecture in the public eye. Of course, the tradition of staring into the damaged heart of the city is a long one, as Brian Dillon notes in the introduction to this collection of writings on the ruins tradition in visual art. He traces the impulse back to the 'more distant ancestors in the long history of ruin appreciation that is evident in (especially) western art from the late renaissance onwards'.
The book's focus, however, is on more recent writing, compiling discussions on artists like Robert Smithson and the Atlas Group. There is also philosophical and critical background to the ruins aesthetic from writers including Calvino, Le Corbusier, Simmel, Virilio, Ballard, Derrida, Benjamin and Baudrillard. 'Architectural materiality' is a key theme, with both Ballard and Virilio writing of WWII bunkers and their peculiar atemporality: the collapse of the past into a darkly utopian future, as seen from the present – the contemplation of ruins.
Although a complex, contradictory lineage, Dillon has done an admirable job of cataloguing the multifarious strands of the ruins aesthetic.
Review by Simon Sellars, excerpted from a longer version in Architectural Review Asia Pacific 124.
Brian Dillon (editor) / MIT Press, 2011 / softback / 238pp
---
VISUAL INVENTORY: JOHN PAWSON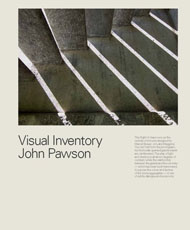 It's a rare thing to be given a glimpse into the inner workings of a creative mind in progress, and when it is the mind of someone like Pawson, it behooves one to listen. Ostensibly, the book is a collection of photographs drawn from the thousands of photographs Pawson takes. What differentiates this from a photographic vanity, however, are the brief notes accompanying each pair of images explaining why they are of interest. It is an inventory of ideas that, as his shot of al-Khazneh demonstrates, depicts "…the shift from a state of compression to expansion", which can be read directly into his work. The whole is, in fact, an extraordinary lesson in how to read visual information. By placing the images in pairs, such as a chain of interlocked caterpillars countered by an image of George Gilbert Scott's Gothic Revival grand staircase, Pawson is also explaining each visual as a conceptual, rather than concrete, solution.
Review by Gillian Serisier, from Inside 71: No Place Like Home.
John Pawson / Phaidon / hardback / 304pp
---
VITAMIN GREEN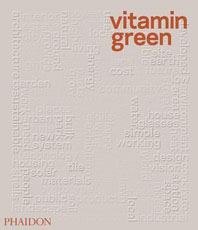 This series just keeps getting better, with the latest offering, Vitamin Green, focused on sustainable design. The projects and objects are well chosen and sufficiently diverse to present sustainability as a multidiscipline dialogue not limited to top shelf expectations. One of the groovier inclusions is AECOM and Hugh Broughton Architects' Halley VI Antarctic Research Station. Comprising self-contained modules that lift on and off the ice, these brightly coloured units owe much to both 'house of the future' aesthetics and the practical considerations of fitting everything into a very limited space. They are, in fact, highly desirable objects and could certainly have an alternative life as instant holiday homes or emergency housing. Ross Lovegrove's Biomega Bamboo Bike, developed with Brazilian bamboo specialist, Flavio Deslandes, made its debut in 2009 at Milan Design Week, and is well known within the design industry. It remains, however, an excellent example of trend direction and good exploratory work into sustainability.
Review by Gillian Serisier, from Inside 71: No Place Like Home.
Phaidon / hardback / 352pp
---