Article by Online Editor
Photography by Courtesy of Design Hotels
Designer Neri Hu Design Research Office
Sign up for our newsletter
Flying into Shanghai at 6:30am, with the behemoth that is modern China emerging from the morning gloom, is an alarming way to wake up. Sunbeams strike through the thick, grey haze in a way that refracts a subtle warming light. It's as if a dried seafloor has surfaced, with towering structures of residential buildings stretching out to form an endless horizon of uniform blocks… an immensity that can only inspire wonder.
'Shanghai has obviously changed,' says Lyndon Neri, half of the Neri & Hu Design Research Office in Shanghai. 'I look at the people of modern Shanghai and see a parallel between New York City in the 1930s and say Tokyo in 1960. There are the obvious global aspirations here, but also the parochial and domestic qualities that are still very ingrained in the society. Not so much in Hong Kong, for example. Hong Kong can be 'global' but the local culture is losing its grit, big time, because of so many commercial factors. Tokyo, on the other hand, will always continue to hold on to its local sensibilities, because it's proud of them. New York is the same way. It has its own character and is careful not to lose it.'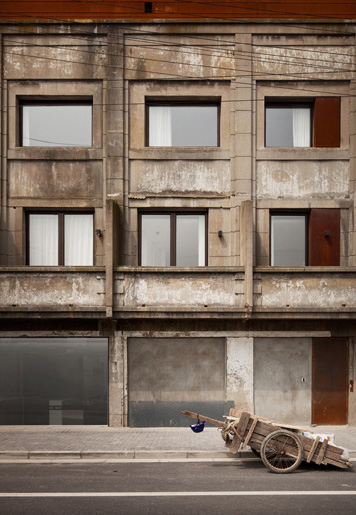 Shanghai might be a very different city from what it was 10 years ago, but the reality is that, no matter what city we're talking about, in the urban core our environment is constantly being redefined through cosmopolitan gentrification and societal demands. Despite the increasing homogenisation of today's major metropolitan cities, however, it becomes clear that Shanghai is morphing in its own individual way.
With the Shanghai World Financial Center (SWFC) making for an impressive sight across the Huangpu River, we've come to explore The Waterhouse at South Bund, on the 'old side' of the city. A boutique-hotel concept in Shanghai commissioned by creative director and hotelier Peng Loh Lik (also known for the New Majestic in Singapore and Town Hall Hotel in London) from Neri and Hu, the project is something new for Shanghai, and moves away from the noise, glitz and glamour that has overwhelmed the city in recent years.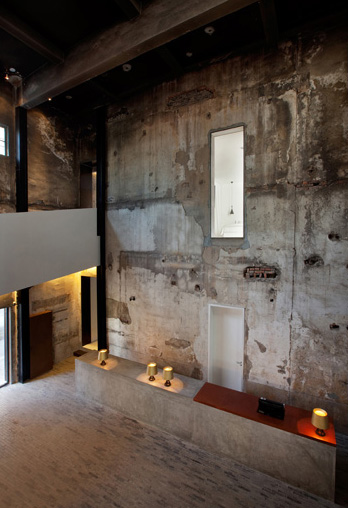 'We were intrigued by the idea of 'heritage chic' that Peng Loh has become known for,' says Hu. 'We made certain terms and conditions quite clear from the onset. We would try our hardest to retain what we have found here, and he loved that. Peng Loh was amazing to work with.' According to Neri and Hu the idea was to redefine the existing structure, in this case an old Japanese military headquarters on the riverbank. The hope was for the design to retain the character of an older Shanghai. The ancient quality of this city is certainly fading, replaced with a seemingly ever-changing newness, but the aim with The Waterhouse was to contrast these two opposing forces.
Located on the banks of the Huangpu River and in the vicinity of the 2010 World Expo (Puxi) site, The Waterhouse at South Bund is perhaps one of Peng's most interesting projects, on the basis of its location and timing alone. 'We literally saw the Shanghai WFC building go up, and it was amazing,' says Peng. 'So much was happening around us, and we just wanted to retain this little bit of Shanghai with a touch of good design.'
The concept is not for everyone, but works well for the design-oriented visitor to Shanghai – it offers the comforts of good quality hospitality, but also a little taste of the older city, fast-fading.
The contrast between the hotel and its surroundings is sharp, but tactfully defined. Both the lobby/bar and 19-room hotel feature a significant collection of designer furniture, possibly the largest of any hotel in China. Yet, there are no heavy pretensions here. It's just a choice collection of furniture to sit and relax on. Selected works by Arne Jacobsen, Finn Juhl, Hans Wegner, Antonio Citterio, and Kana Ishikawa (formerly designer for Yohji Yamamoto) provide eclectic, but tasteful, decor. As it happens, Peng himself has shipped pieces in from his own personal collection, as if to add a little more aged character to the place. The rooms are all different, offering the essential amenities, but going far beyond the standard approach in terms design and decor. A bathtub, enclosed by a large tinted-glass panel frame, stands as the centrepiece of room 19, for example. Others showcase a generous shower or the sort of luxurious bedding that could put one in coma. With ample space to lounge in, open wardrobes and a clearly defined workstation with free wi-fi connectivity, The Waterhouse seems to understand the needs of the modern traveller to China. Table No. 1, the adjoining restaurant by chef Jason Atherton, offers a convenient dining experience. With a delectable menu that any discerning gastronomer can enjoy, it offers yet another contrast, in this case with the more authentic Chinese cuisine to be had throughout the surrounding area. Just a few blocks away, Atherton has some fierce competition – an old man and his wife cooking up a storm in front of their home, a favourite eatery with the locals. Thomas Ang, the welcoming and seasoned host/manager at The Waterhouse doesn't hesitate to let us know of these authentic offerings. It's some of the best food in town, and completely part of the experience at The Waterhouse.
'This venture for Peng is very interesting, just because of the way China works,' says Ang. 'It's very, very different from the rest of the world.' Despite the fact that Peng and his associates have been operating boutique hotels of this calibre for the last 10 years, Shanghai is still an exciting frontier in terms of creatively driven hospitality. 'The perception of the local Chinese community here is something of a challenge at times,' he says. 'But I think this is only because they have just recently been exposed to these new and old ideas of what a modern interior, or hotel, can be. Many people walk in and say, "Is this a hotel?" because the standard notion is that a hotel must be posh, with a grand entrance. Things are being redefined all the time.'
This, in fact, is one of the more strategic elements of the hotel that makes us appreciate the work of Neri & Hu Research Office so much. When Peng asked them to internalise and somewhat reverse this notion of what a hotel is supposed to be, they knew exactly what he was talking about. They wanted to deliver first class accommodation, while showcasing the beauty of the complete opposite – the grittiness of the city itself, essentially, as opposed to just the interior features of this design-centric project.
Effectively, everything at The Waterhouse draws attention to this objective – from the raw and crumbling concrete, to the wooden shipping crate that sits off to the side of the lobby, to the Tracey Emin piece that reads 'You should have loved me' in fluorescent blue over the concierge. These are the things that show subtle character. It all makes a point, but not obnoxiously.
And yet we're all well aware of how difficult this sense of both ease and sophistication is to actually pull off. It's effectively the result of a dynamic combination of keen sensibilities, between Neri, Hu and Peng. They understand that China is indeed changing rapidly, and becoming more international – but they also value what makes it unique. 'The thing is that Peng really gave us a creative free hand and understood the different issues we would face in designing this sort of hotel – in creating something out of the norm in Shanghai,' says Hu. 'The organisation at least understands our aim in trying to challenge the conventional mentality here. They're happy with the result, but mainly because they believe in what we do.'
unltd is a new lighting technology by ambience, which allows creative lighting possibilities that have never been possible before.