Article by Online Editor
Photography by Reeshma Bhanji
Designer Hecker Phelan Guthrie
Slim Aarons' book of photography Once Upon A Time acknowledges and remains a snapshot of the US's imagined idyllic past. Aarons depicts a world of sun kissed youths basking in the surety of perpetual halcyon days where capitalism is king and glamour is second nature. It is from this book that Bettina Hemmes purportedly drew inspiration for Ivy. To some extent this explains the general idea that Ivy is like Palm Springs. It isn't. It is, however, quite a lot like the quintessential 1950s Palm Springs resort Orbit In, typical of Aarons' milieu. The next visual leap the Ivy presents is Miami meets Nantucket, but this too is wrong: it is Miami, and it is Nantucket, but the Hollywood version without the seedy underbelly of one or chintz of the other.
Nick Karalis of Woods Bagot and Paul Hecker of Hecker Phelan & Guthrie have done a masterful job. With their teams, Karalis and Hecker have approached the project holistically, merging architecture with design to create a visually cohesive functional whole. In the spirit of the Aarons idyllic they have simplified mid century US glamour into a series of thematic motifs that recur throughout the entire conglomeration of bars, restaurants, clubs and lounges.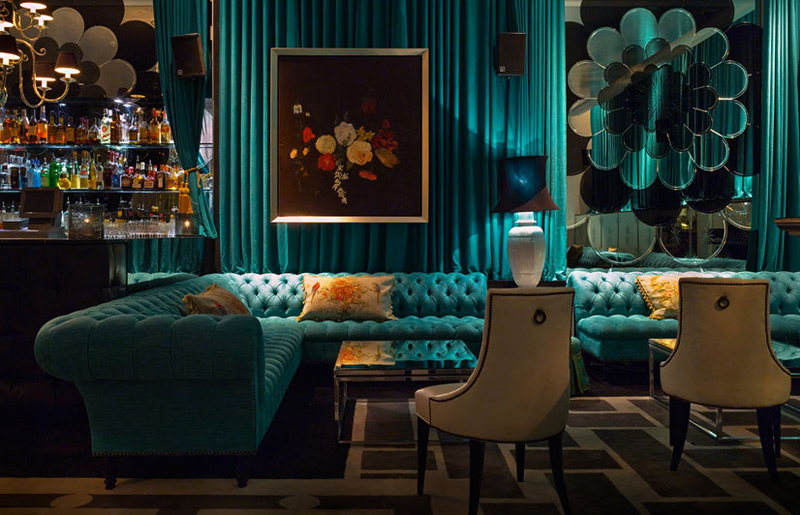 The Woods Bagot architecture is brilliant. The precinct presents as two wings coming from a central street level corridor lined with fashion stores. To the right is an internal lane of restaurants and a grand concrete staircase, elevators and the first glimpses of Ivy's signature yellow and white. Above this faux streetscape the mainstay of Ivy holds sway. To the left is the darker, softer world of honeyed wood tones, chocolate and gold. This is the reception area for the more exclusive venues: the ballroom, the penthouses, the pool club and perhaps the most adorable change room ever conceived.
In creating Ivy's architectural spine Woods Bagot has developed an entirely self-contained internal world. Much as with castle architecture, a central courtyard and void allows guests to see and be seen as they move through the surrounding bars and restaurants. It is huge, there is no denying that, yet there is no feeling of being in an aircraft hangar. Rather, the space is broken into a string of discrete, domestically scaled pods. These spaces have been cleverly articulated through architecture and design elements into internal and outdoor environments that flow seamlessly around the central hub.
Interior and furniture designer, Hecker Phelan & Guthrie, has visually divided the outer spaces horizontally, utilising colour and texture to compartmentalise areas in the lower field, while the bright green foliage of Ficus Lyratas, banana palms and an assortment of ferns unify the whole at eye level. The internalised spaces use mirrors and dark tones to convey depth of field. This illusion is nicely baffled by oversized bespoke furniture with stressed verticality, coupled with an array of ottomans and Chesterfields thematically upholstered by Anthony Camm of Camm Upholstery. Room-to-room colour changes engage enough grunt to make very real distinctions between the bars, restaurants and lounges.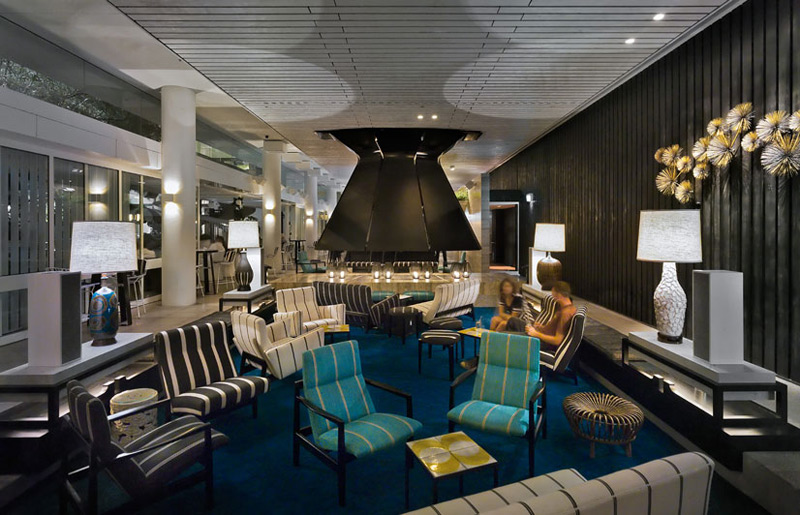 On the first floor of bars and restaurants the internal courtyard is reached by walking around a spectacular Brutalist spiral concrete staircase clad in silver travertine. This feature alone makes Ivy an architectural tourist destination of note. It is huge, firm, functionally proportioned and gives the space an extraordinarily robust verticality. Beyond this architectural master stoke, the long horizontal line of the white and yellow bar invites you into a world of cheeky brightness underpinned by an atmosphere of perpetual summer party. Curvaceous arrangements of old-fashioned white iron patio furniture, white-cane furniture with yellow or aqua cushions, Ficus and old-fashioned tasselled umbrellas are given cohesion by a rather lovely fairylight-festooned tree.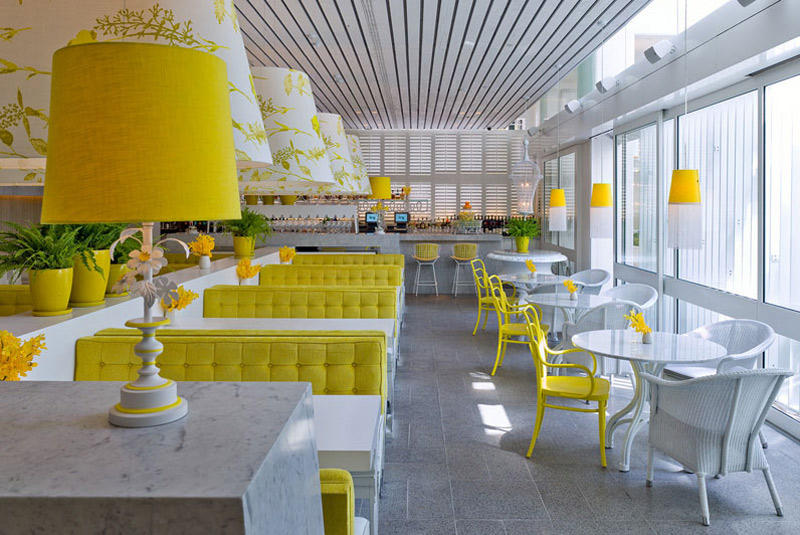 On this level a sprawl of smaller bars cohabiting the inner sanctum lead to the crisp yellow and white brightness of Mad Cow. Along the way the detail in the sunken bar area is a delight: deep teal carpet, stripped upholstery, ceramic lamp bases (Jonathan Adler) and very funky brass wall art (courtesy of C Jeré Studio). The enormous hooded fireplace disrupts expectations of scale sufficiently to create a far more intimate space than dimensions would suggest. The fireplace surface of silver travertine provides a casual seat while imparting a visual tie to areas of floor and staircase where the same material has been utilised.
Once the glorious staircase has been mounted the immediate bar area is again quite a delightful surprise. First the floor is carpeted with AstroTurf. Hanging over this familiar green fuzz is an oversized four-stream showerhead, which gushes steaming water onto partygoers. It is nicely done. The surrounding furniture is backyard beach with a fabulous patio set of concrete, cast to look like branches.
Moving through a string of black/white and yellow/white (vintage 1970s tiles by Roger Capron, US) outdoor rooms, broken by short corridors of palm stands, there is the occasional bizarre bibelot to add amusement. One such quirk is a brass camel under a fern bell: just one of the many odd and intriguing items Bettina Hemmes and Paul Hecker have collected from antique stores and flea markets.
Beyond the corridor of palms the Den awaits. This room features a wall of teal velvet drapes, teal velvet chairs and white leather chairs, amid quite a bit of etched mirror and black leather. As a corner room it has more thematic elements than most, yet the side facing the void looking back across the club is sufficient to spatially diffuse the concentration of dark tones by day and infuse them with glamour by night. Moving from the Den to the adjoining Teppanyaki restaurant, the demarcation of spaces is facilitated by a pair of very pale pink leather chairs. These have been placed just so to visually break the transitional continuity without impeding physical flow.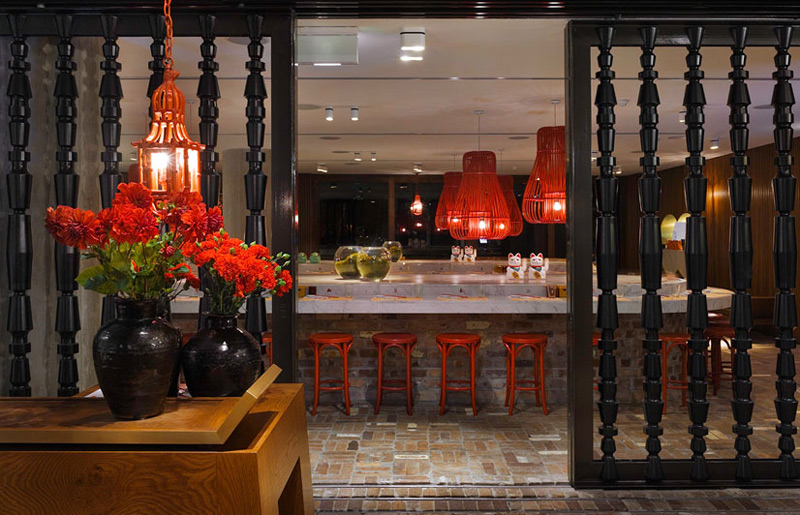 The left wing again combines architecture and design to stylistically transport and facilitate functionality. The reception is dominated by the strong vertical thrust of massive concrete pillars and staircase, which rise into the void displacing eye-level focus. The chocolate carpet and concrete walls are offset by clear glass pendulum lights (bespoke design by Hecker Phelan & Guthrie, facilitated by DJC lighting consultants) and a sculptural Kubrick-esque concrete reception desk. Squat leather ottomans and modernist chairs occupy the space without interfering with its grandeur and create a visual path towards Sushi Choo. Partially obscured by a partition comprising a carved variation of a massive balcony vertical (collaboratively designed by Hecker Phelan & Guthrie and Woods Bagot), the restaurant is bright and lively with Astro Boy statues and bright red cane lamps. These bespoke lamps are seen throughout Ivy in white, yellow, black and red, depending on the restaurant.
The mezzanine floor, featuring dark wood-lined walls and gold leaf-lined light fittings (as before), leads to the Ivy Room. Dominating this room is a dramatic custom-made carpet in black and white. The large pattern, a curving variation of zebra print, is softened by a low border print on the diaphanous curtains running the length of one wall (Saker using fabric from Unique Fabrics). With the graphic information kept low the room is visually arresting; however, the detail does not overwhelm as crowds swell due to the simple but considered fact that any pattern becomes hidden, leaving only the upper expanse of white curtain visible.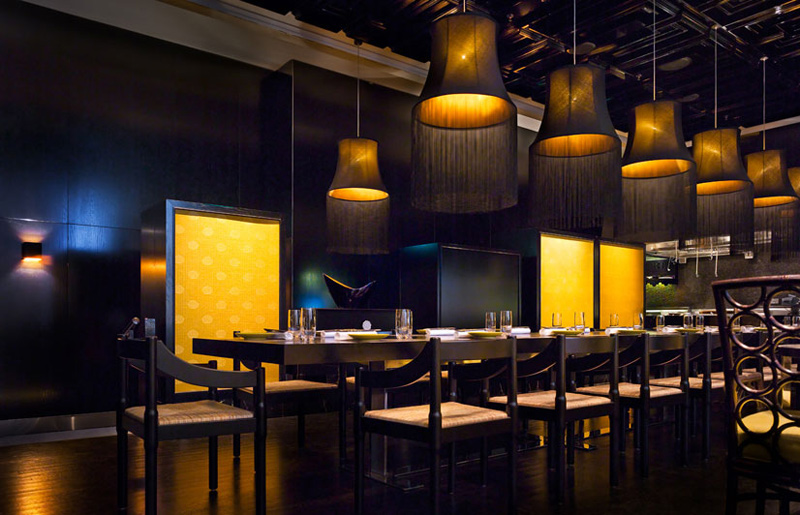 The Pool Club comprises a multi-depth pool of bright aqua tiling surrounded by elegant palms and private cabanas. Opposite the cabanas and across one side of the pool sits a medium sized stage. This is flanked by a large internal shelf, which allows members to easily sit within the pool. With summer approaching it will, no doubt be "…decorated with beautiful girls tanning in a tranquil sun" as Slim Aarons would put it. Lounges, a pizza bar and a bar complete the outdoor component. The accompanying change room comprises two circular forms, the outer accommodates alternating yellow and white lockers. The inner circle, again with yellow and white lockers, surrounds a massive round white leather couch booth type arrangement with a black and white patterned section to tie back to Ivy themes. The bar area continues the yellow and white in tiling and more lockers. Booths and a DJ counter allow the area to function as a change room by day and a club by night. The most intimate of the clubs within a club, it is as charming as anyone could wish it to be.
The upper floors are dedicated to the two private penthouses. These abodes of opulence continue the reception area's rich tones and textural features. Juxtaposing wood-cast concrete with deep piled carpet, the fittings and detail provide a world within a world. Overlooking the pool area the line of palms is positioned to distract from the view of offices beyond. It is a clever stratagem pervading the Ivy precinct through a variety of means that allows the outside world to all but disappear.
The Ivy is just that: a world unto itself. It is a world of perpetual holiday, perpetual summer and the quirky glamour of The Party. It is an environment designed to seduce and it would be churlish to resist such candour. Better to give in, order a Pimm's and lemonade and enjoy the passing parade.