Article by Online Editor
Designer
Architect Bates Smart
The Capitol, South Yarra, designed by Bates Smart, is poised on the juncture of worlds. This is inner-city living encapsulated in elegant form, envisioned by Jeffery Copolov, and imbued with the grace and luxury of a fine city hotel, without actually being in the inner-city. In fact, it is the 'near enough' solution, surrounded by the lifestyle of great shopping and dining most suited to apartment living. There is also something of the gated community to this vertical translation of suburban wants – which makes it sound terrible – yet in the face of the reality of where you might want to live is actually wholly desirable and de rigueur to contemporary apartment living.
The building itself comprises two elliptical towers of reflective glass and fine metallic finishes; the tallest, at 38 floors, will be the highest outside the Melbourne CBD and is being touted as the gateway to the eastern suburbs. The two slender rises optimise light and airflow and allow single floor penthouses to occupy a large portion of the building (from the 29th level) with panoramic views taking in Port Phillip Bay and the Dandenong Ranges. Bates Smart design director, Jeffery Copolov, says of the form and exterior finish that while it was important to create 'a focal point, or something that is impressive, to raise the calibre of architecture in that area,' the form itself, and where it would be viewed from, allow it to, 'dissolve against the sky as a streamlined skin of liquid appearance.' While this may be poetic, there is abundant evidence in the Bates Smart catalogue to support high expectations for a shimmering and ephemeral building that will indeed be liquid in appearance.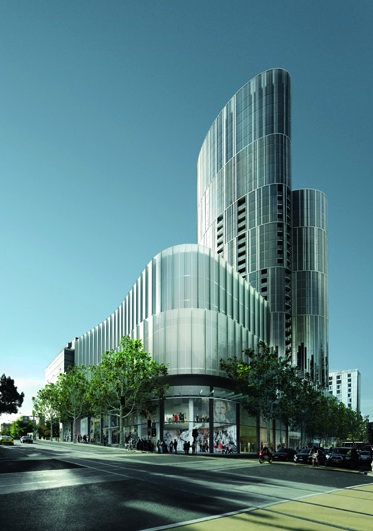 The materiality of the building is solidly classic and has been extended to the interiors, which are a rich amalgam of high-quality, high-finish, timber, stone, leather and glass in two neutral palettes. This is nicely done with well-proportioned rooms boasting three-metre high ceilings, wide,solid timber floorboards chosen for textural variations over colour and room layouts that optimise light flow into even the deepest set rooms.
Practicality has been a firmly resolved consideration, with abundant storage and individually designed floor plans that optimise spatial use. The ability to change rooms and expand space has also been addressed with many of the apartments boasting sliding screens of timber and leather to hide study alcoves and kitchens.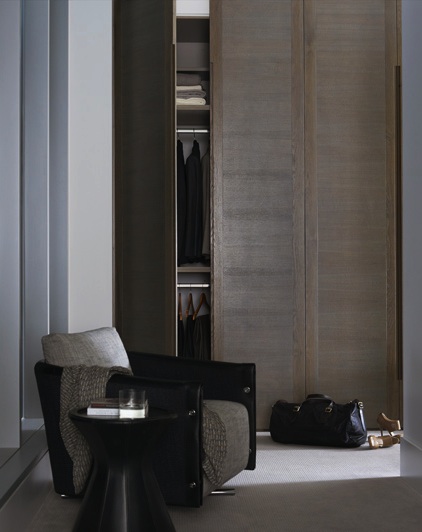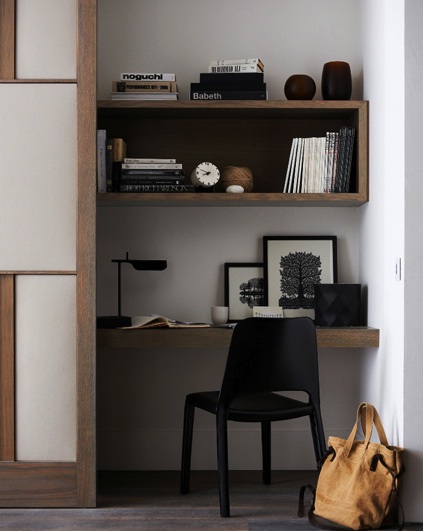 Australia's recent love affair with off-the-plan apartments has prompted a plethora of design disasters, from hideous feature walls to gimmick- driven chaos. Copolov sees this as endemic to the industry, where many are exploring design options without understanding that it is possible to be, 'unabashedly modern and contemporary, but not avant-garde for the sake of the avant-garde'. Rather, he sees it as important to 'create a shell that is welcoming to the diversity of things people bring to an apartment'.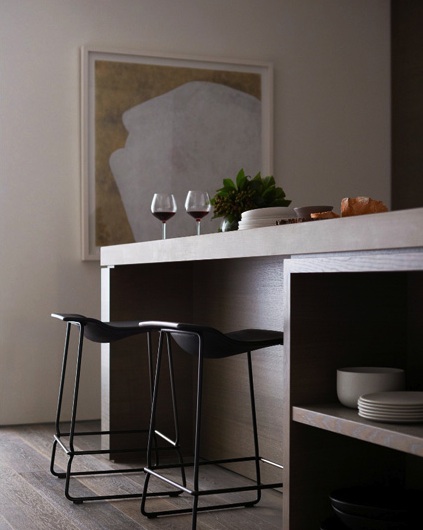 To this end, the design remains a background to any style of furnishings and art. The choice of texture over colour as a driver, for example, has particular relevance to the interior as sensitive to the variety of personalities that will be occupying the apartments, as it readily takes second place over art, knick-knacks and the general flotsam and jetsam of a life lived. Interestingly, artwork plays a large role in the thinking behind the design and a great many walls have been left clear with the expectation of housing generous collections. If the works by Judith Wright used in the display unit are anything to go by, the expectation of calibre is also high.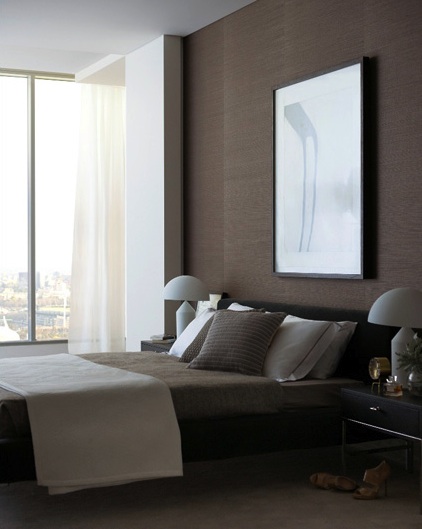 In terms of the previous and provocative suggestion of the gated community, the building has some incredibly well thought out domestic contrivances for those shifting from a traditional house. The design is very keenly aware of its role as an alternative to the stand-alone dwelling and has sought to create community spaces that are at once open and contained. To start with, the foyer functions as an extension of the shopping precinct, but quickly closes to form a haven of amenities for the residents alone. On the rooftop, a series of gardens, designed as discrete pockets, will allow residents to host barbecues and events without having to engage in a communal sausage sizzle. Similarly, a dining room on this same podium level will be available to residents for more formal entertainments. Luxury as an element of living surrounds the project and the pool, for example, and has been designed to create a relaxed spa ambience with an abundance of light and air (signature Copolov), further endorsed by abundant landscaped plantings – rather than the naked splash of blue boasted by most complexes.
The Station precinct in South Yarra is currently a flux of building activity with cranes on every corner and some well-known names emblazoned across fences. That Bates Smart is joining this move speaks volumes for the area's potential as a bastion for fine living equal to the Chapel Street renown.