Article by Online Editor
Photography by Dianna Snape, Paul Barbera
Designer
This article appeared in Inside magazine #72: Homegrown.
Above: Daniel Barbera, Bronze table
One hundred years ago, when furniture makers like Robert Prenzel carved elegant and figurative designs of kangaroos and eucalypts into their Art Nouveau furniture, their work was an honest response to their Australian experience and a loving tribute to the emergence of a new country. A new country that today is a significantly different place. Our population has grown from 3.7 to 22.3 million people, and with more than two thirds living in cities, few would have the kind of connection to the natural landscape that inspired so much of the creative output of our colonial ancestors. Instead we may now be more influenced by the character of our city, or even the suburbs within them, than that of our nation as a whole.
So, in this contemporary social context, how do our furniture designers respond to the idea of a national Australian identity and where do they look to find it? This question is being raised as we witness a global movement in design towards the exploration of national identity. As China emerges as the world's source of manufacturing and both China and India grow as suppliers of outsourced services including design, countries all over the world are looking at what keeps their industries competitive and where their national assets lie. As a result, many countries are choosing to focus their investment in design as a point of differentiation. And so we begin our perennial search for what is quintessentially Australian.
Our relationship with popular Australian iconography is significantly more complex than it was in Prenzel's day. At its most simplistic it still references an Australian bush mythology that bears little connection to modern life. In a broader social context, you only need to consider the appropriation of everything from the Southern Cross to the ute by our more nationalistic demographic to appreciate the potential volatility of Australian popular iconography.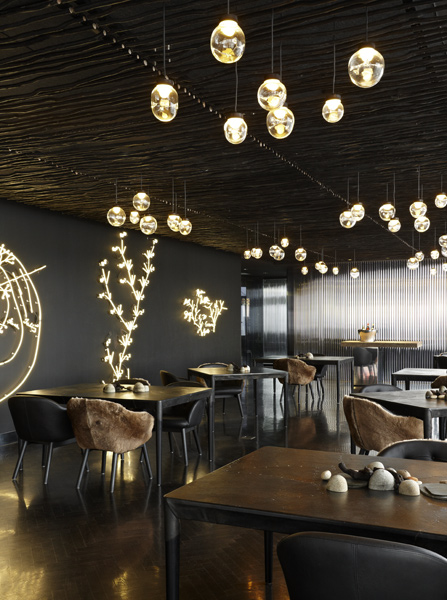 Within what feels like a minefield of misinterpretation, the ability to draw innovatively from our collective iconography and narrative is a testimony to the sensitivity of those designers who rise to the challenge. In his recent collection of kangaroo skin and fur furniture for the new Vue de monde restaurant in Melbourne, furniture designer Ross Didier was all too aware of the hazards in drawing from our native environment both literally and symbolically. "I really tried hard not to be kitsch or clichéd, which I think the 'gold and green' can do when you go out there and try and sell Australia. But then there's nothing more kitsch in regards to symbolism to Australia than the kangaroo."
Regardless of the symbolic hazards, this use of local materials is a very contemporary and responsive approach to our current relationship with the Australian environment and one that Didier was keen to address. "I was very concerned to try and emphasise the beauty of the animal and to stress that the materials were a by-product and that we weren't going out and killing the animals just to make the chairs.
"Everything about using animals and plants that belong to this country makes enormous environmental sense to me. Kangaroos are government controlled in Australia and it just seemed a bit of a waste that most of the skins were destined for shoes, footballs and European fashion houses, without carrying their story."
While this value for carrying the inherent story of a product or material is not exclusively Australian, this notion of 'story', be it a literal narrative, origin or process, is a very present aspect of the Australian psyche. The classic Australian yarn is a perfectly reasonable source of inspiration in itself. However, the ways designers are currently using the idea of story are significantly more sophisticated.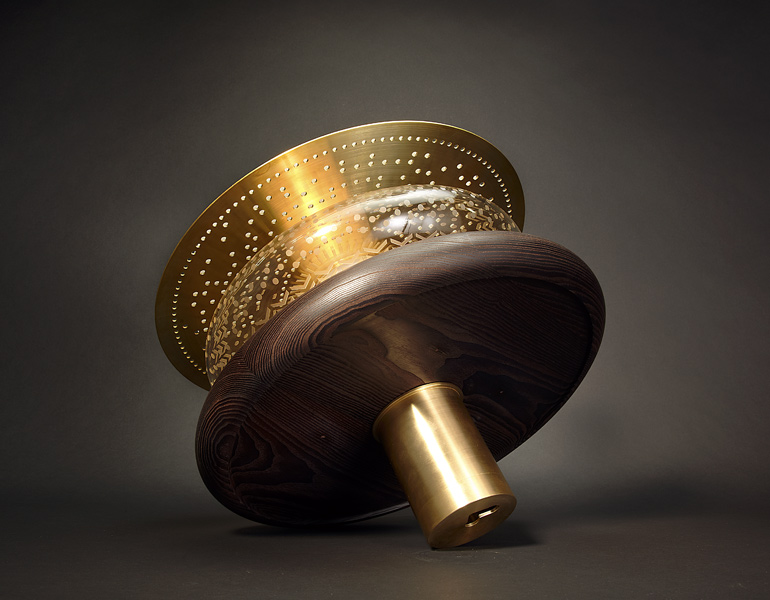 Broached Commissions is a recent venture undertaken by creative director Lou Weis and a select team of designers and curators. The group initiates bespoke and limited edition design collections, drawing upon a particular event or time period in Australian history for a curatorial brief. In this instance, the story is not merely a point of inspiration – it also, says Weis, "provides a central mechanism for collaboration".
Weis recognises that each designer responds quite differently to the topic, "drawing it down into a typology that would be appropriate to articulate their emotional relationship. Within this group there are people such as Trent Jansen, who are schooled in the narrative tradition of design and who, in order to start drawing, need to feel a tangible relationship to a community, to a group of people or even an individual. Then there are others like Charles Wilson or Adam Goodrum, who are motivated by much more conventional problem-oriented, mechanism-related industrial design issues. They're not narrative driven. And so the whole process of engaging with narrative is different for each designer."
Not that this is surprising. As there is no typical Australian experience, there can hardly be a typical design approach that results from it.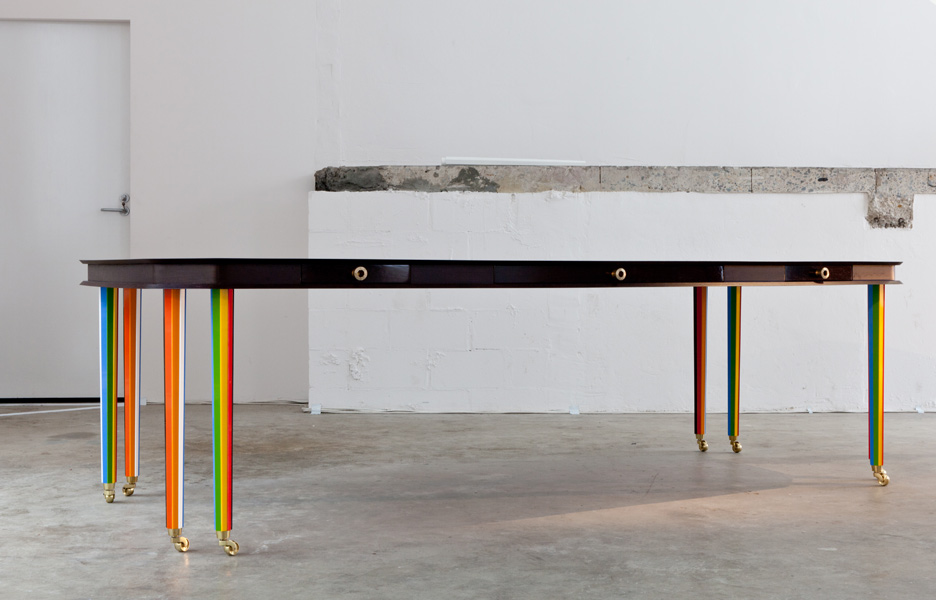 As social researcher, Hugh Mackay, explains, "these days, we are virtually defined by our diversity. Given that we are creating a society from the blending of people who have come here from nearly 200 different birthplaces around the world and that, right now, 50 per cent of us were either born overseas or have at least one parent born overseas, the question of national identity is bound to be somewhat elusive."
While this diversity is well recognised as an amazing cultural asset, the packaging and promotion of it runs the same risk as that of our icons or our narrative. It's a conversation we've had so many times that terms like 'fusion' and 'eclectic' and 'melting pot' have become dated or clichéd.
What seems present in the explorations of not only the likes of Broached Commissions, but also many other Australian furniture designers, is the parallel evolution that occurs when people and ideas migrate here.
While the influence that his Italian heritage has had on his work is elusive, furniture designer Daniel Barbera recognises a certain fascination with how people come to a new land, and reinvent and repurpose their designs and process from their land of origin.
"I have always loved the idea of creating objects that have a sense of history and timelessness," Barbera says. "Also, creating objects that may be around for a few centuries, as the Romans, Minoans or Carthaginians did."
It is this desire to create objects that will endure and allow these discussions to continue, so in another hundred years our descendants may look back on periods such as this and draw new parallels. Or as Weis describes it, "to look at the giants of previous periods and their optimistic aspirations for the society in which they lived. Because design is an optimistic practice – always trying to improve the conditions of any given time."
Our culture, our values and our response to place will be inherent in the things that we make. So long as our designers continue to consider, imagine and create with integrity, our national design identity is in good hands.
broachedcommissions.com
barberadesign.com
didier.com.au