Article by Gillian Serisier
Photography by courtesy Louis Vuitton
Designer
Transforming the classic brown and gold monogram into a riot of 33 colours, Japanese artist Takashi Murakami exploded colour into the Louis Vuitton brand and prompted a cult of collecting. In 2001 Stephen Sprouse's emblazoned graffiti gave Louis Vuitton street cred, while, in 2005, French artist Vanessa Beecroft added nudity – and controversy – to the brand when she filled the new Paris emporium with scantily clad models.
The more recent collaboration with Yayoi Kusama negated any impression of staid conservatism, while, closer to home, Nike Savvas brought a funky edge to the Sydney store. With artistic director Marc Jacobs at the helm, Louis Vuitton has effectively worked with artists to topple perceptions and position the brand within the avant-garde.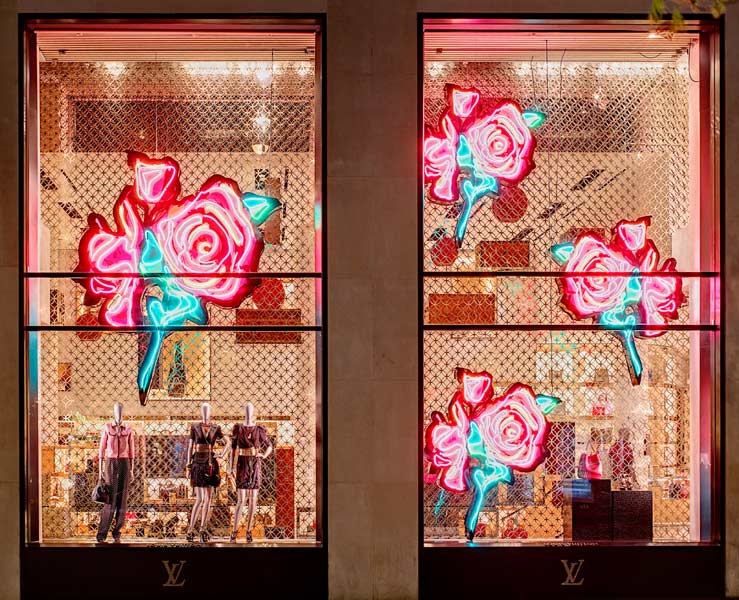 The relationship between Louis Vuitton and the arts has been evolving for more than a century. Instigated by Gaston-Louis Vuitton's penchant for collecting art while working with designers to transform the shop windows in the 1920s, the design house has long aligned itself with names of significance. The 1980s heralded a formal shift to affiliate the house's identity with modern art through collaborations with artists including luminary, Sol LeWitt. The cutting edge aesthetic continues with work by artists as diverse as Ólafur Elíasson, Michael Lin and Mario and Iván Navarro exhibited in store, in addition to curated exhibitions at Espace Louis Vuitton in Tokyo, Paris and, soon, Munich (opening late 2013).
With Marc Jacobs' appointment to artistic director in 1997, the house was propelled into the world of fashion. Importantly, Jacobs' association with artist and fashion designer, Stephen Sprouse, led to an invitation to collaborate and reinvent the brand, a formula that has since been extended to Murakami, Richard Prince and Kusama. Sprouse, known for his super-saturated colours and graffiti text, did not bow to the brown on brown of tradition.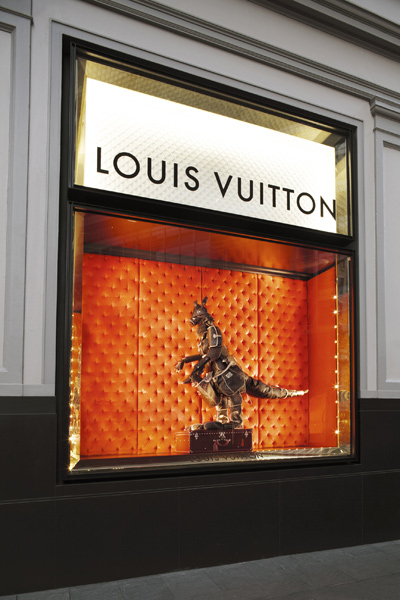 Rather, he retained the celebrated all-over monogram, which has then been covered over with hand-written text in a clash of pink, green, black, orange, green and yellow. As a handbag or duffle the result is saturated pop; as an unrelenting interior finish, it sizzles the senses. For the New York 2001 launch, huge graffiti lettering covered the storefront, while the interior walls, floor and ceiling throbbed with text in clashing colours, funnelling towards backlit, wall-sized images of models clutching handbags. Any suggestion that Louis Vuitton had seen its day was sharply rebuked.
One of the most interesting relationships to grow from Jacobs' foray into art is that of Louis Vuitton and iconic Japanese artist, Takashi Murakami. Internationally exhibited and collected, Murakami is synonymous with contemporary Japanese art and of mass Gen Y appeal. In Japan, however, only the museums and the wealthy collect art and Murakami wanted people to see contemporary art as an extension of their lives. In a culture that will spend several thousand dollars on a handbag, yet does not invest in contemporary art, the solution of combining art with one of the world's most desirable handbags was close to genius.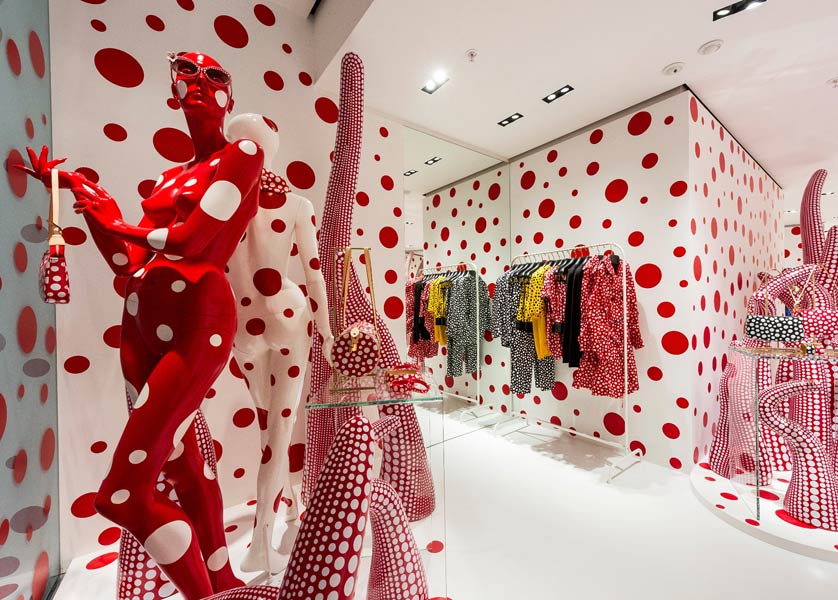 The relationship emerged as a symbiosis of marketing: the Louis Vuitton brand was aligned with an iconic contemporary Japanese artist, while Murakami found a way to have his work collected broadly within his own culture. Moreover, in transforming the signature gold and brown logo into a palette of spring colour, Murakami, like Sprouse before him, assured product appeal to a younger generation and broadened the brand's appeal beyond the moneyed traveller to embrace the moneyed shopper.
The interior created for the 2003 Tokyo launch comprised Murakami's take on the all-over logo, Monogram Multicolour, in which the motifs of the classic LV logo were each coloured differently on a white background. For the store exterior, Murakami's Monogram Multicolour was realised as a transparent, backlit veil of colour that became richer as night progressed.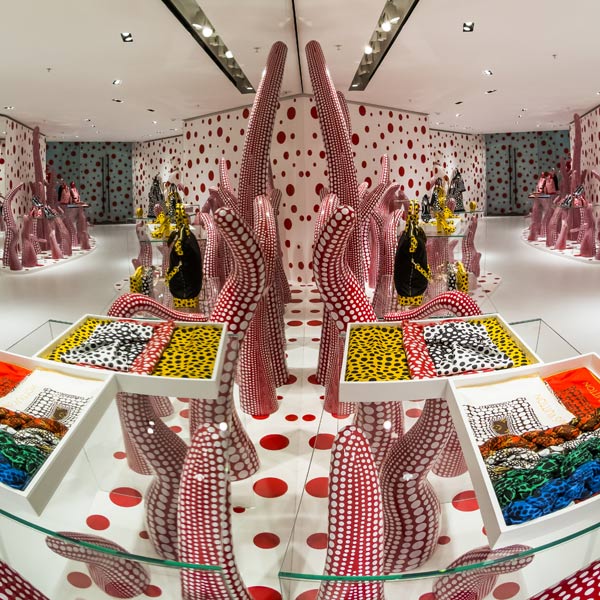 Not shy of the concerns of contemporary art, the 2005 Louis Vuitton Maison Paris inaugural party presented an installation performance by Vanessa Beecroft. Known for her use of naked models and a disregard for the comfort of her audience, Beecroft's work is fiercely au courant: sexy, disturbing and provocative by turns. "It's art; it's fashion. It's good; it's bad. It's sexist; it's not. It's Vanessa Beecroft's performance art. And one's mind can feel like Faye Dunaway's face in that famous slapping scene in Chinatown when confronted with it," said Roberta Smith of the artist in The New York Times in 1998.
The installation for Louis Vuitton comprised near-naked women in high heels with legs wrapped in leather strapping, arranged within the shelving that normally displays the Louis Vuitton cases. Indeed, in some instances the luggage remained in place to share the display with the model.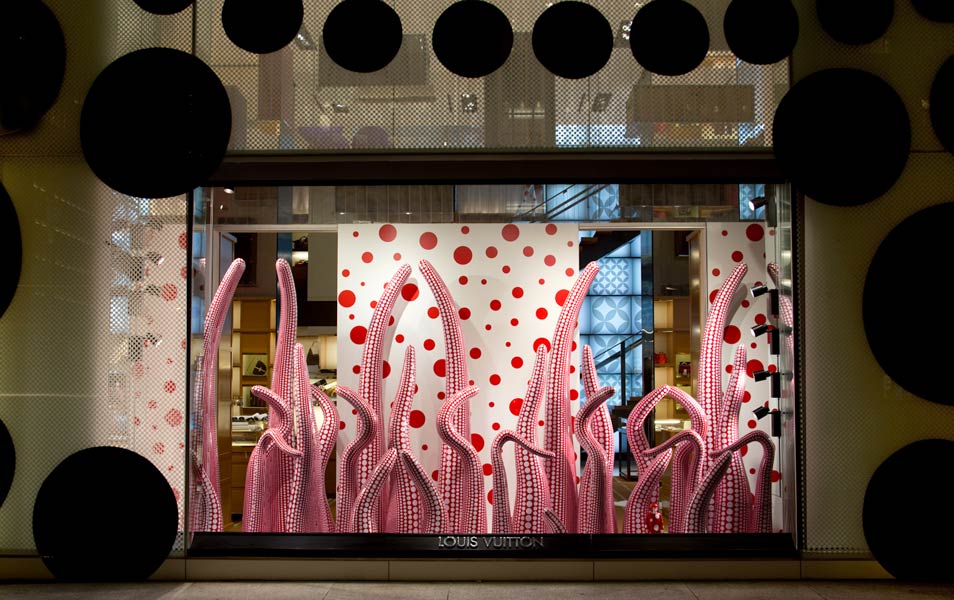 Queen of the dot, Yayoi Kusama, worked with Louis Vuitton in 2012 to create a line that included leather goods, shoes, ready-to-wear, accessories and watches. Extraordinarily transformative, sculptural, experiential and fun, Kusama's installation for the Hong Kong launch featured a simple palette of red and white, with twisting tentacles that rose from the floor as a polka dot forest in one room, while spotted sea urchin-like display cases punctuated another.
The sea urchin room was further elaborated with floor-to-ceiling sculptural forms featuring laser-cut holes that reiterated the dot motif in negative space. When excess is called for, Kusama is in her element and never more so than a window of red on white spots crammed with white on red spotted tentacles of all sizes and states of uncoil, all surrounded by a subtler white on black spotted transparent veil that covers the facade. To complete the collaboration, Kusama created spotted backdrops to match the spotted clothing for perhaps the most stylised fashion shoots of the year.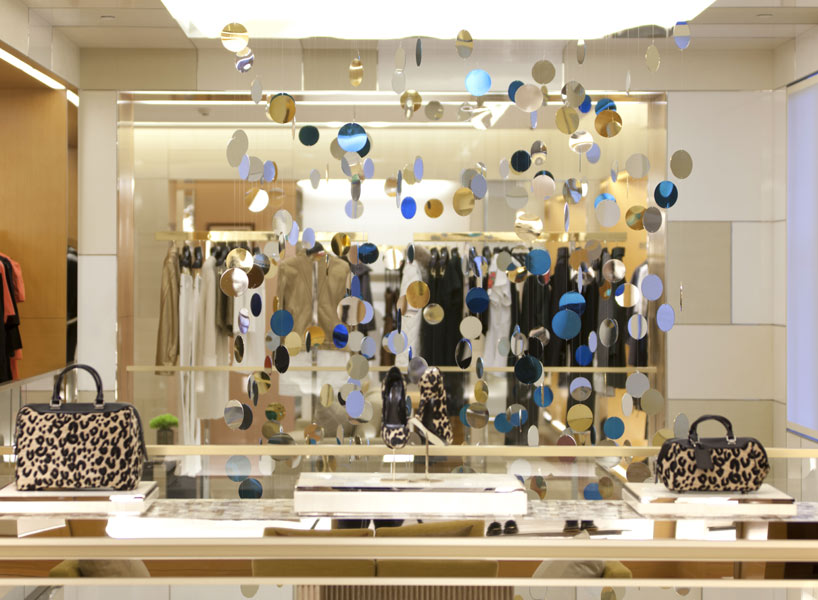 Also in 2012, and also known for her dots, Australian artist, Nike Savvas, created an airy and light installation for Louis Vuitton Sydney. Filling the central atrium with floating oversized sequins of blue and silver, Savvas transformed the space into a twinkling expanse of opulent sky: "My artwork for Louis Vuitton plays with qualities of luminescence, reflection and transparency. I tried to create a shimmering light-filled environment that captures the softly spoken opulence of the Louis Vuitton interior with its sophistication, elegance and high-end design. I wanted to make it a place for magic and escape," says Savvas.
Seen from all levels, the work is decidedly cool, in the old-fashioned sense of the word, exuding intellectual calm while asserting rigorous balance to the chasm. On the lower floor, a nest of blown- glass flamingos is again strangely cool, fragile and evocative of another world.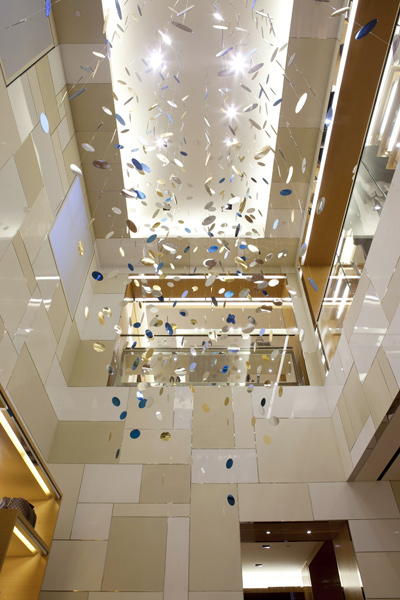 What makes these collaborations extraordinary is the extent to which the artist is allowed free rein. This is not a case of stamping a name on a product or dashing off a signature; rather, it is artists working in the space to create their own work of art. British artist Grayson Perry, known for his often confronting ceramics, was invited to create the Bond Street, London window earlier this year. His installation comprised a one-off Louis Vuitton trunk, complete with a throne for his teddy bear, Alan Measles. The resultant work is far from the typical Louis Vuitton aesthetic and, although Louis Vuitton was certainly aware of the controversial nature of Perry's work, no limitations were placed on the artist.
Over the course of 16 years, in his role as Louis Vuitton's first artistic director Jacobs has developed a number of high profile collaborations that have worked to challenge the status quo and broaden the audience appeal of an already infamous fashion house – positioning one of the world's most valuable luxury brands within the milieu of artistic innovation.