Article by Online Editor
Photography by Shannon McGrath
Designer David Hicks
Like the illustrious lady of the night, Sugar Mill stands on a prime corner in gritty Kings Cross, its oversized, open windows beckoning locals and onlookers alike. It's the latest addition to the club-packed strip (aka Darlinghurst Road), which meticulously pulls together vintage and custom-designed pieces to create an eclectic, boho environment.
Once the domain of grand homes and stylish Victorian-style terraces in the 1800s, the Cross became the city''s main stage for sex, drugs and entertainment following the arrival of American sailors during World War II. Throw in a vibrant Bohemian subculture of writers, artists, actors and musicians (which sprung up during the 1920s) and you''ve got a taste of what makes the area what it is today. Now, with the clean-up of Kings Cross, Sugar Mill aims to be a key infuser of that change, anchored by a quality offering, while still retaining remnants of the past.
In response, award-winning Melbourne designer David Hicks has created a nostalgic, old-fashioned pub feel –– albeit with every contemporary design tool at his disposal –– that is comfortable and well-worn without being staged.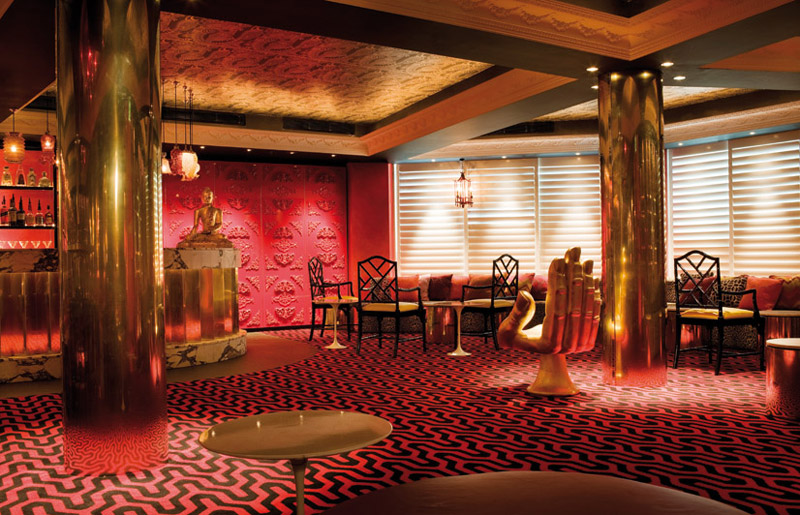 By day, Sugar Mill''s understatedly cool staff –– dressed in an ensemble by young fashion designer Johnny Schembri of white top, blue shorts, red braces and knee-high socks –– serve up Bloody Marys alongside a $10 breakfast for 'Sketchy Sundays'; where weary partygoers take refuge in a no-frills, alfresco dining area spilling out onto the pavement.
Inside, lightweight, brushed aluminium stools by Emico alternate alongside heavy Thonet timber stools (complete with custom leather seat pads). Pulled up to the chest-height benches, they could equally be home to a local backpacker or boho as a stiletto sporting style queen.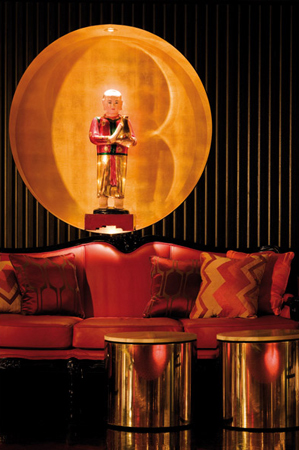 This mix and matched aesthetic continues throughout the space with vintage Eames fibreglass shell chairs teamed with classic Thonet pieces.
""Most of the furniture was custom designed by us and then manufactured locally,"" says Hicks. "The tables and booth seats for instance were based on an interpretation of old pub seating, but this was tricked up with brass studs and elegant gloss leather and combined with ebony-stained oak to provide a twist on something old that is now new."
Chunks of paint peel away from the walls and ceiling, which appear as though the original plasterwork remains in its decaying state. In fact, it's the result of an intricate process, which uses chemical agents over clay to carefully force the paint to peel. Likewise, the floor looks like a well-worn original, but rather the newly laid travertine with nero marquina tumbled inserts underwent a reverse facelift to add on the years.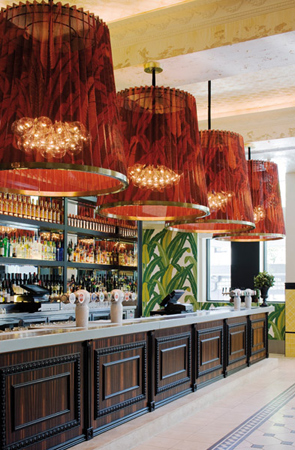 Other special features include yellow ochre wall tiles, also custom manufactured, and the floor tile border sourced from an old restaurant in Buenos Aires, Argentina. Five oversized, custom-designed lights by Mance Design hang over the main bar with the red, palm frond patterned shades encasing large clear glass bulbs. Elsewhere, vintage light fixtures, including bronze art deco sconces, embellish central columns.
Structurally, the former Westpac bank building posed many challenges and required meticulous planning, with two buildings of different heritage and construction linked together. For example, the corresponding floor levels were at different heights, causing a major issue for the required disabled access and a planning nightmare for connecting the kitchen in one building with the bar in the other.
The main structure of the central building, however, was a network of columns and beams, which Hicks reclaimed as a feature to great effect. This cross linking of beams allowed the space to be opened up, while still providing a visual break in the large cavernous spaces and allowing an opportunity for more intimate areas.
Sugar Mill adds to the portfolio of the Keystone Hospitality group, otherwise known for its bars spread across Sydney including Cargo, Bungalow 8 and the award-winning Gazebo Wine Garden only a few steps up the road.
Driving the project was Keystone director Fraser Short (who himself has a BA in interior design from University of Technology Sydney) –– one of those rare breeds of client whose innate appreciation and understanding of design (and designers) allowed the creative process to flourish.
""We definitely worked closely with David; however, we didn''t want to dictate to him. He was brought onto the job to provide that fresh outlook and design creative,"" Short explains. ""We were looking for a very different style of aesthetic to that that was being produced by the Sydney designers we knew of.""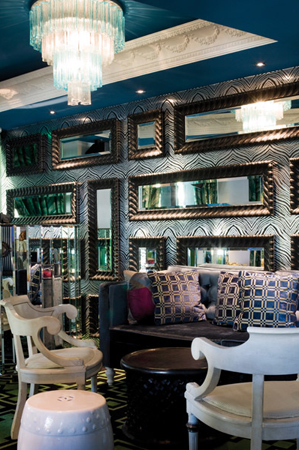 Enter a Melbourne designer whose own local bar culture celebrates quaint individualism rather than the large-scale, gentrified style so prevalent in Sydney''s bars and clubs (there''s the odd exception of course). Talking strictly in metrical terms, the new development is still large-scale with 1500 square metres of space home to three different bars over three levels –– each with its own signature style courtesy of Hicks. Housed above Sugar Mill (ground level) is nightclub Kit (level one), a Shanghai-inspired space with hints of '80s discothèques, Chinese hawker markets, Dolce and Gabbana and Yves Saint Laurent''s famous Opium advertisements. In reality, this translates into red, red and more red, with a spread of luxurious, custom-designed wallpapers and Feltex carpets. A spectacular light feature, made up of more than 100 antique glass lantern covers in different colours and patterns, hangs over a gold zigzag bar, while solid bronze Chinese dragon statues stand guard. Other pieces include black gloss, bamboo-framed side chairs, which sit alongside vintage finds from the US (enter the 1960s hand carved, solid timber chair with gold leaf by Pedro Friedeberg).
Moving up another level, a sensory overload awaits in the form of late-night lounge bar, Kaboodle. Although much more relaxed than its lower level counterpart, this ode to Audrey Hepburn and 60s glamour revels in mismatched patterns, frivolity and excess. There''s certainly no subtlety here: when you first step inside, the vivid turquoise colour palette steps right up in your face. Next, rare finds such as the white planter side chairs with green upholstered seats, and white gloss Swan armchairs with Missoni fabric grab your attention as you negotiate plush, lengthy lounges and white Knoll Saarinen side tables (covered with elaborate cocktails and late-night nibbles). Above the DJ booth, a blue Italian Murano glass chandelier competes for attention with champagne swigging socialites, while above the bar, there''s a combination of Sciolari chandeliers in gold, a 1970s blue glass dripping chandelier and custom white garland wall sconces.
"The design of all three floors is to give an essence of different eras and cultures. It is a considered mishmash of styles, textures and materials. And this is very much Kings Cross," says Hicks. "It is very rare to find a project, especially one that is an entertainment venue, that has been totally considered. This is a testament to the clients and their thorough understanding of the design process and how design can help strengthen a business idea. The lengths that were taken in sourcing materials and getting things right were exhaustive."
Hicks has steered clear of the gentrified contemporary design of the moment and opted for an eclectic space that will keep the locals coming back for more long after the voyeurs and the flighty fun crowd have moved on.