Article by Online Editor
Photography by Paul Gosney
Designer Dreamtime Australia Design
There is no critic as capricious as a 10-year-old girl. Assessing Dreamtime Australia''s recent projects –– including the celebrated and successful designs for Pony, Whitewater and 360 in Sydney Tower –– Michael McCann''s daughter gave the harsh summation: ""too much brown"". McCann protested – the beachy, lime-washed Whitewater was predominantly white. Yes, she conceded, but the columns are brown. Sure of her analysis, the 10-year-old bet her father that his next project would once again feature the colour brown.
With the November 2008 opening of Steel Bar and Grill in Sydney''s CBD, McCann''s daughter lost her bet. This is a cool space filled with silvers and pale greys, showing an astonishing softness that belies the somewhat hard name.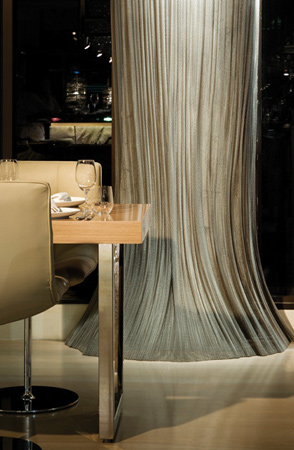 McCann''s Dreamtime Australia design firm acts as consultant across every aspect of its clients'' business, allowing it to calibrate more traditional areas of design –– the interior architecture, fittings, textures and colouring –– with elements that may normally be beyond its influence, such as branding, style of food and market positioning. It is no surprise then, that a McCann restaurant called Steel features steel throughout the space, but this is not simple literal mindedness. It is an example of the kind of cohesive and focused identification that, in the Dreamtime way of thinking, will optimise any venue''s offering and, therefore, its viability. And while the name is a very clear mission statement, there are still plenty of surprises to be found in the uses, forms and unusual effects McCann has worked up through his main medium in this project.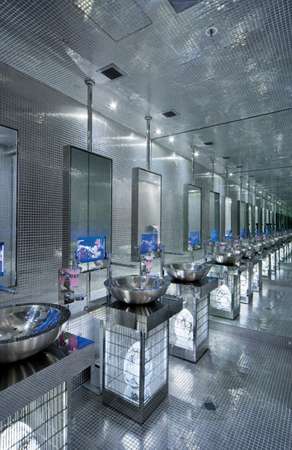 McCann has broken up the large internal area by using steel mesh 'cages', framed in reflective, highly polished stainless steel. The cages call attention to certain features (such as the booth seating and glass service lift), but the planes of mesh also filter sight lines and create distinct sectors in the otherwise open main floor. And if the mention of steel cages evokes a somewhat cold or uninviting atmosphere, the effect is actually quite the opposite. In the Steel interior, Dreamtime Australia has used warm halogen lighting that makes the steel mesh seem to shimmer and dissolve. Where metal halides may have added definition to the structural solidity of the interior and the highly polished stainless steel surfaces, McCann has instead created a gentle ambient haze that brings out molten tones and a beautiful low-contrast glow. It is not only the quality of the light that softens Steel's angles; the amorphous forms of the table lamps and ceiling pendants break away from the clean planes of glass and steel.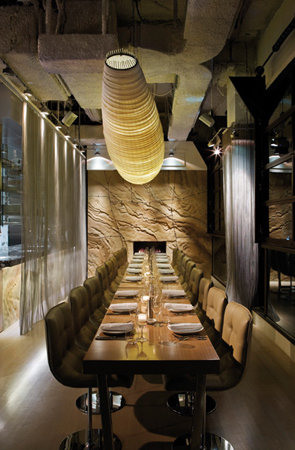 By his own account, McCann has become increasingly fascinated by the design challenges involved in extracting warmth from structural elements that may otherwise have seemed rigid and severe. The fruits of this fascination are plain here, particularly in the way that the rigid mesh and hard, polished steel seem to absorb as much light as they reflect.
This is a space with more than one trick up its sleeve. McCann was intent on ensuring that every diner would enjoy an interesting view, wherever they were seated. To this end he has brought functional fittings and work areas into view to contribute to the theatre of the floor. The kitchen is open to the restaurant and features a glass fronted cool room in which multicoloured produce, artfully stacked in clear containers, makes a bold and cheerful display. The contoured, sandstone-fronted bar, the wine display backed with custom-patterned glass and the steel wall that holds wood to feed the oven reflect this desire to engage and indulge the patrons. Even the bathrooms live up to the restaurant''s name, clad in stainless steel mosaics on every surface.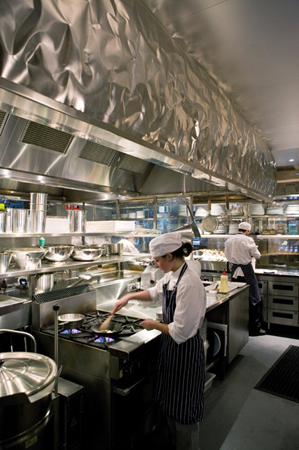 These are beauty spots that draw the eye, but they also make sense –– there is no imbalance, no clutter or excess. McCann''s attention to detail and variety within the space is guided by an instinct for cohesive and apt accumulations.
After almost 30 years working in the industry, McCann has experienced nearly every level of hotel operations. He came to design by way of his work in the development and management of luxury hotels, bars, restaurants and nightclubs. Gradually, he came to feel that to properly manage such spaces, he would need to take control of their look and atmosphere. From its very inception, McCann''s expertise in interior architecture and design has always been developing in response to an idea of hospitality and function.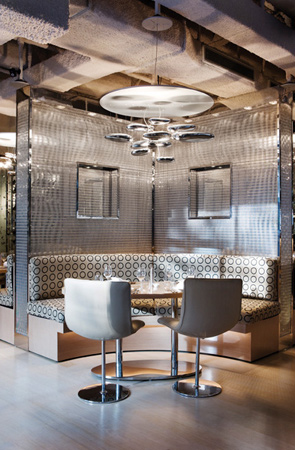 With each project, Dreamtime Australia''s profile and standing have steadily grown; the firm's projects are now routinely featured in local and international design publications. But even this kind of renown is no guarantee of a free hand. "A reputation helps to get people to trust you," says McCann, but that's just the first step, "you still need to convince people, beg them, to do your ideas." In this case, the owners have listened and any visitor to Steel Bar and Grill will be utterly convinced.