Article by Online Editor
Photography by John Gollings
Designer Bligh Voller Nield
In the gripping opening sequence of Paul Thomas Anderson's recent film There Will Be Blood, oil prospector Daniel Plainview strains in the grit of the desert to establish a claim. For almost 20 minutes there is no sound but the harsh clang of metal upon metal or pick against stone. These images of the rugged world of resource exploration couldn't be further away from the muted comfort and technologically sophisticated environment of the new Santos Centre in Adelaide, designed by Bligh Voller Nield (BVN), as an integrated fitout of the base building by Hassell. Projects like this, which demonstrate the major creative shifts taking place in workplace design and corporate culture, are increasingly common, and BVN has established a reputation for excellence in this area such that it is currently preparing a monograph summarising 15 of its most significant workplace designs.
What is distinctive about the Santos Centre is how comprehensively one of Australia's leading oil and gas exploration companies has taken on the challenges of sustainability both in ecological and human terms. The fitout has been designed to achieve a five-star Green Star as built rating, (the first in South Australia and only one of five nationally), and the visible activity and relaxed collaboration in this transparent setting is a far cry from the hierarchical spatial structure and compartmentalised office-scapes traditionally associated with maverick industries like mining.
Like its client, BVN works from the ground up, collaborating from the inception of the project with Santos, Lend Lease Corporate Solutions and Hassell to align the company aims with base building selection, design and implementation. Santos' corporate restructure had generated four thematics – Discovers, Delivers, Collaborates and Cares – which BVN interpreted through its early consultative processes as a raft of design principles focusing on people, diversity, sustainability, collaboration, flexibility, innovation and efficiency. Pertinently, both sets of values are more about an inner ethos of operation than an external branding of identity or image. It's a balance that has clearly informed these intensely resolved and habitable spaces, from detailed planning issues and legible circulation, to the immaculate integration of services and technology. Though the company is one of the most substantial in Australia, operating at a time of unprecedented activity and productivity, the $27 million fitout communicates bespoke functionality and quiet luxury, rather than extravagance.
Set on a compact footprint of 1250 square metres there are 12 levels above the ground floor. A publicly accessible café and lobby of cocooning leather wing chairs at the entry level set an approachable tone. Deeper into the building a continuous vertical atrium begins to reveal the nature of the Santos entity: at one side the geological cores lab offers a shopfront view of some of the primary exploration activities, while the central connecting stair evokes the visual strength, structural expression and material palette of an offshore rig. This dramatic chasm is punctuated by recycled timber clad bridges and platforms linking the floors physically as well as visually, and a series of idiosyncratic cantilevered meeting rooms differentiates each level thematically.
Each floor has 16-metre clear spans and a generally standardised layout, with north and south wings of work areas and a western bank of meeting rooms. Six variants of Steelcase Forward workstations accommodate 900 full-time staff and a further 40 regular visitors – drillers, geologists and field workers coming in offsite. The workstations are arranged to allow different work styles, team configurations and occupational densities. The topography of individual floors is defined by boxy breakout pods, map and chart hanging areas (often multi-tasking as magnetic whiteboard clad storage units in the absence of conventional wall space) and joinery pieces carrying precise lines of indoor plants, their architectural forms like breathing green cornices.
Buffering the busy circulation space of the void are informal staff areas, generous food and tea preparation counters, well-stocked resource bays and convivial groupings of plush sculptural chairs (a veritable catalogue of the most covetable contemporary furniture pieces). The more substantial communal spaces are set out to offer impressive experiences of place – the rainforest inspired sculpture garden and function rooms on the top level, and a projecting glazed conference room high above Flinders Street, which offers an exhilarating bird cage view from hills to coast.
An attitude of progressive reflection on the company's processes and raison d'être pervades the scheme. There is a dedicated concept for each floor, based on a culture or terrain where Santos operates, and conveyed through pattern, texture, material colour and furniture. The Oceans level, for example, has a deep blue crystal meeting room, with transparent sapphire chairs and white 'coral' carpet, while the tea point features a seven-metre-long aquarium and wave shaped stools. Rattan and bamboo furniture with colour highlights of orange, hot pink and fuchsia distinguish the south-east Asia floor, and on the Central Asia level an eclectic mix of furnishings takes inspiration from the colours and patterns of antique silks, babushka dolls and gypsy caravans. Yet though the associations themselves are exotic, and the fittings and accents plentiful and potent, this is no superficial theme park of interior effects. The overall atmosphere is subdued but robust, underpinned by a neutral palette of dark floor, light ceiling and glimpses of concrete soffit. The white birch Eco-core partition framing throughout adds a pleasingly organic quality.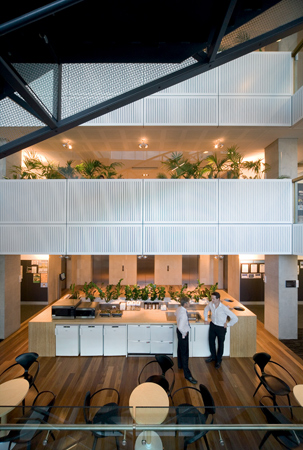 As project principal Ninotschka Titchkosky (with an impossibly exotic name herself) explains, as she shows me round the building, "This is not about how it looks, but what they do here and how they do it. BVN is not interested in aesthetics for its own sake, but for how design can add value to the cultural and productive life of a physical setting." In her sharp pinstripe suit and cowboy boots Titchkosky is almost a walking metaphor for the whole project – stylish, urbane and professional, but with a down to earth twist. She goes on to describe the specialised nature of the work that goes on: how geoscientists are highly creative thinkers, somewhere between designers and computer boffins, how field workers need acoustically sealed rooms to make calls to noisy rigs and sites, how the pioneering work of exploration often requires instantaneous and reactive team work backed up by advanced visualisation techniques.
"We learned a lot about geology doing this project," she remarks. It shows in a sustained sensibility throughout the building – from the connected functionality and transparency of industry related processes such as labs and cartographic analysis, to the seismic section pattern laser cut into perforated aluminium screens. Despite its disarming ease and flexibility, this isn't generic office space, but the contemporary face of new frontiers.