Article by Elana Castle
Photography by Jon Rogow, Cameron Zegers
Designer
Above: Meeting rooms in the MEC office are placed near reception to unite staff and clients
In workplace design, there is little doubt that we are witnessing a move away from traditional, static office arrangements in favour of more fluid and adaptive spatial design. Employed with growing frequency, activity-based working (ABW) is a new generation of office design and practice that caters specifically for satellite teams and 'anywhere' working.
"WPP developed 'Think Design', their own workplace planning manual for their agencies," explains Monika Branagan, co-founder of The Bold Collective, a small Sydney-based design firm with a particular focus on workplace design. "They refer to their model as 'flexible working', a system designed to create scale- suitable work environments that are highly adaptable and 'future-proofed' for change."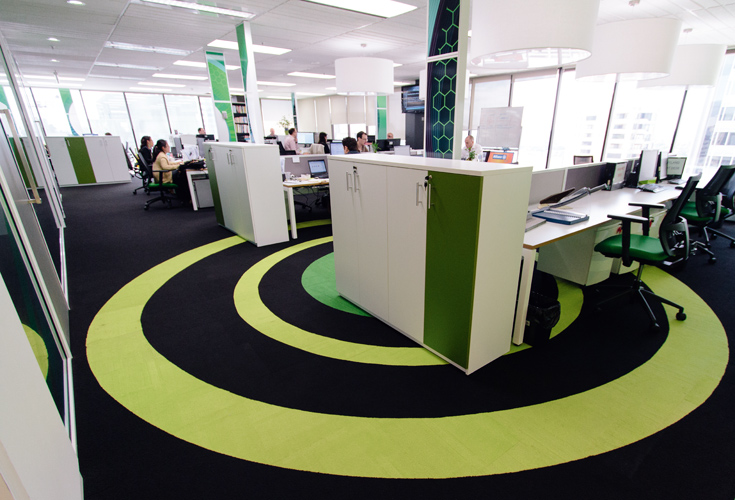 In late 2011, when The Bold Collective was but a fledgling enterprise, co-founders Monika Branagan and Ali McShane were invited to participate in an Expression of Interest for the design of five media agency workplaces that fall under the WPP umbrella. They won, and have since conceptualised, designed and overseen the new office interiors for MediaCom, Mindshare, Maxus, GroupM, Xaxis and M and most recently MEC, all located on different levels of an otherwise unremarkable office building in North Sydney.
"One of the most significant planning principles in 'Think Design' was to support the media industry's constantly varying needs by offering an agile working environment to allow for growth," Branagan continues. In response, the team designed spaces that provide ample opportunity for collaboration, multi-functionality and, importantly, expansion. "Exploration of work settings is encouraged for all, with the enclosed office environment a thing of the past," adds McShane. "WPP are also aware of global technological advancements in workplace design and wanted to be innovative in adopting many of them."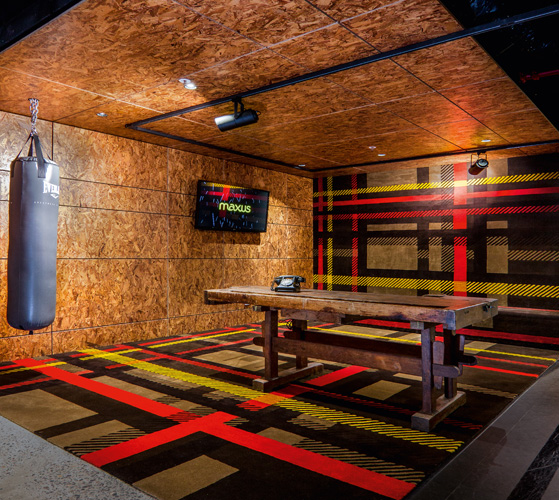 Even though the overall project represented one appointment through WPP, each agency presented a unique set of requirements, providing opportunities for the studio to explore a number of design ideas. "It was important to reflect the individual nature and aspirations of each agency," explains McShane.
At Maxus, a global communications consultancy, The Bold Collective reflected the agency's refreshing business approach through the use of props, graphics and bold colour. There is even a diner-style eat-and- meet zone, complete with cosy banquette seating and ambient lighting. "Some of the agencies are start-ups, staffed by Gen Yers armed with a keen sense of fun and adventure," McShane adds. "We recognised the desire for fittings, fixtures and resources that reflected and suited their needs."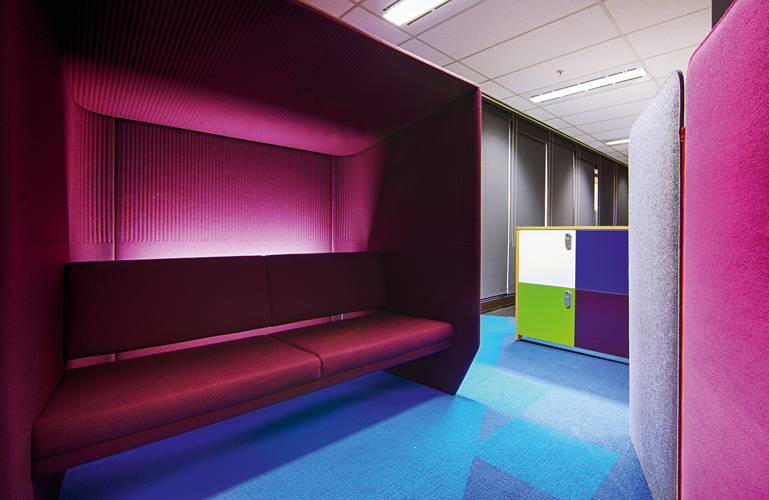 Across all of the agencies, Branagan and McShane recognised a general requirement for informality and collaborative working. "We converted all the traditional, individualised desking into benching systems to allow for the seamless expansion and future-proofing of the workspaces," says Branagan. "We also incorporated a healthy amount of breakout spaces, one of the best examples of which is the flexible communal breakout space for GroupM, where a series of communal meeting spaces have been designed as a 'town hall' congregational point for all the agencies." This area is also easily translated into a multi-use area for working and meeting, similar to the library area at Mindshare, which offers a sanctuary for creatives and doubles as an informal meeting space for the entire group.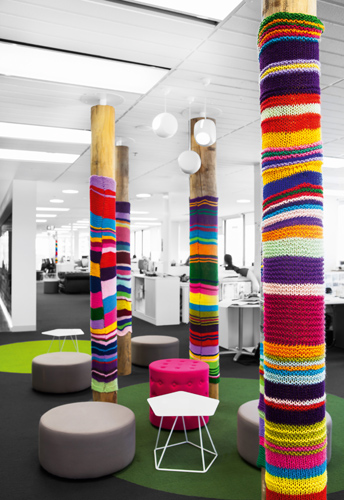 Stringent budgets, a need for longevity and sustainability requirements also fed into the pair's creative approach. "We used simple material palettes, a huge amount of colour and lots of texture in creative and unexpected combinations to create rich spaces," explains Branagan. However the studio was ever mindful that the multiple briefs demanded each fit-out be delivered with respect to lifespan and environmental impact. "The costs associated with making good at the end of a tenancy are very real ones," adds McShane, "and so we consciously made decisions that will not adversely impact the future handover of the spaces."
For example, they abandoned the use of ceiling tiles, merely painting the inherited ceiling grids in bold colours. The resulting spaces add a real dynamic to each agency, illustrating the important role design can play in encapsulating a brand's values and workplace culture. "Throughout the process, it was great to see the companies competing against each other for the best space," laughs Branagan. "It represented a real interest and investment in their new environments."