Article by Online Editor
Photography by Katherine Lu, Michael Wee
Designer
Above: The sleeping pod in the apartment, located within the joinery element. Photo by Katherine Lu
Though still relatively young, Sydney designer Nicholas Gurney has moved swiftly from graduation to a stint in furniture design before tackling one of the city's biggest problems head on: that of achieving compact but amenable inner-city living. Indeed, in only 18 months of practice and with just a handful of projects completed, a clear theme is emerging for clever and dynamic solutions that are robust and clean.
A degree in industrial design notwithstanding, Gurney felt destined for interior design. The slight misdirection has led to a pragmatic approach to the cause and effect of aesthetic decision-making within his practice. This, coupled with a sharp conceptual focus, has resulted in projects that are as embedded in their clients' needs as they are visually remarkable.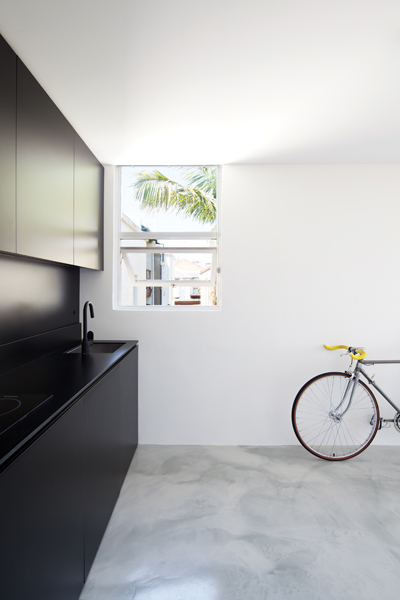 Real estate in Sydney's eastern suburbs is well and truly at a premium, and it is this that has driven two key projects to date: The Studio, an apartment refit that uses cabinetry to conceal sleeping, cooking and storage spaces, and a fabulous restaurant contained within a compact tenancy. As Gurney explains, at present, "25,000 people live within a one kilometre radius of Potts Point, with many living in apartments significantly less than 30 square metres. There is a huge market for this sort of thing."
The apartment is a cleverly resolved exercise in considered carpentry that incorporates a solid amount of storage without dimensionally compromising the living space – delivered for the staggeringly low budget of just $40,000. "The brief from the client was fairly simple: 'A liveable space and some flexibility would be great.' I don't think, at the time, she imagined anything like what I was going to give her," says Gurney, adding, "I really wanted to create as large a fluid space as possible, something that you would normally find in apartments of a much larger size."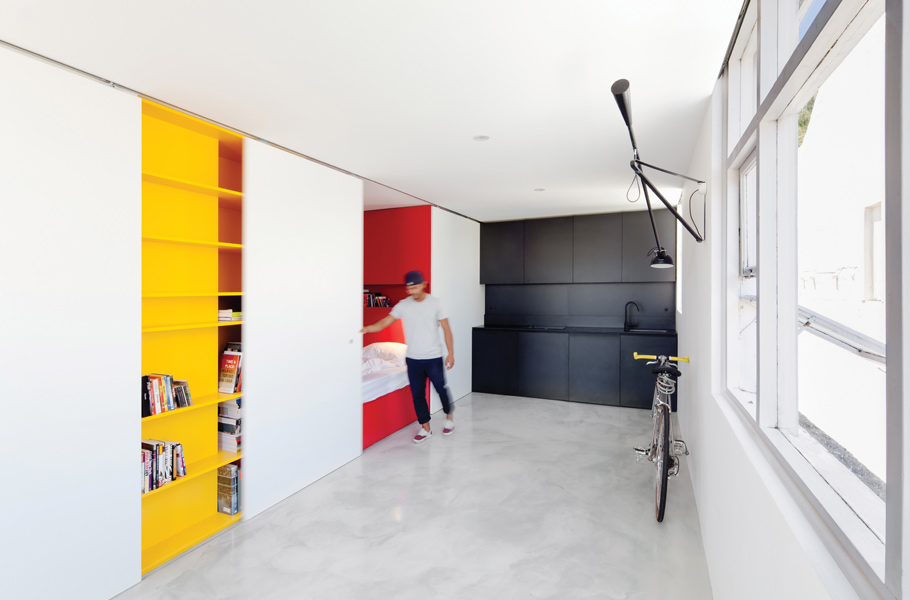 His solution was to divide the space lengthwise, with an open volume positioned along the windows and joinery along the inner wall. Standard lumber and bed sizes have dictated the dimensions of this joinery unit, which contains the sleeping area and cabinetry housing the television and storage. Sliding doors allow access to one while concealing the other, enabling the main space to change its function.
The bathroom, also located behind this cabinetry wall, is arguably spacious for an inner-city apartment. The primary planes are exaggerated further by the bold colours of Mighty Mouse – small, yet hardworking. The kitchen, for example, comprises black cabinetry, sink and tapware – tricking the eye into perceiving it as a featureless black wall.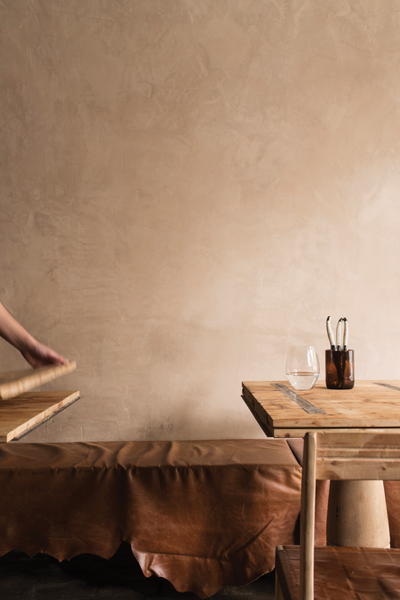 Gurney is currently completing four additional small-scale apartments, including a 19-square metre project for the client who commissioned The Studio. He is also turning his hand to inner-city eateries. The Farmhouse restaurant, for example, is just 30 square metres, including kitchen, bathroom and dining space. "If people look at my work, they won't see an aesthetic per se. It's the same level of resolution, but I want the work to resonate with people. It's work that inspires people and makes people wonder."
A collaboration with two carpenters, the Farmhouse aims to showcase individual skillsets by contextually using reclaimed and recycled materials to achieve a rustic aesthetic. "The materials are as old as the space we have tried to create. We have envisaged a 19th century European farmhouse or home, so the materials are 150 years old," says Gurney who used lumber from former Sydney Harbour wharves as the cross beams.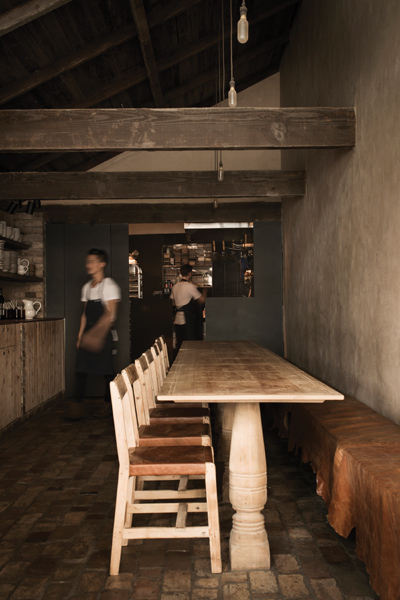 The tables, chairs and joinery are all made from 150-year-old Baltic pine floorboards, while the table pedestals are cut from old verandah balustrades and the bricks are reclaimed from a warehouse in Glebe in Sydney's inner west. While rustic, as Gurney suggests, the result is exceedingly clear and straightforward, once again defying the size constraints to allow for far more seating. Affording further flexibility, the communal table features inbuilt hinged sections that allow ingress without inconvenience to fellow diners.
Gurney's manifold strengths have well and truly coalesced in his adoption of the small space as an area of expertise rather than a point of departure. Though certainly not averse to working on larger projects, he sees this as an alternative rather than necessarily a progression. Moreover, his spatial sensibility allows his projects vim for the unusual – including, in one project, a powder room that glows externally to become the apartment's sculptural light source, while the prospect of a two-and-a-half-metre wide house in Newtown fills him with a sense of joy. We anticipate big results in small spaces from this young but ambitious designer.