Article by Online Editor
Photography by Sharrin Rees
Designer Burley Katon Halliday
The Burley Katon Halliday (BKH) style is abundantly clear, crisp and glamorously defined by spatial acumen, well-appointed pieces, exaggerated scale and attention to detail in this Potts Point apartment. BKH principal, Iain Halliday, credits his client with a significant understanding of process, allowing for the space to be completely gutted and structurally reduced as far as possible before rebuilding.
Chief amongst the challenges was the layout of the apartment, which failed to engage the dynamics of the aspect. As Halliday explains, "we wanted to achieve a sense of connection between the east and west sides of the building, which didn't exist as it came." In opening the space, BKH has created areas of cross view that exponentially expand internal spatiality while creating a feeling of flow and place.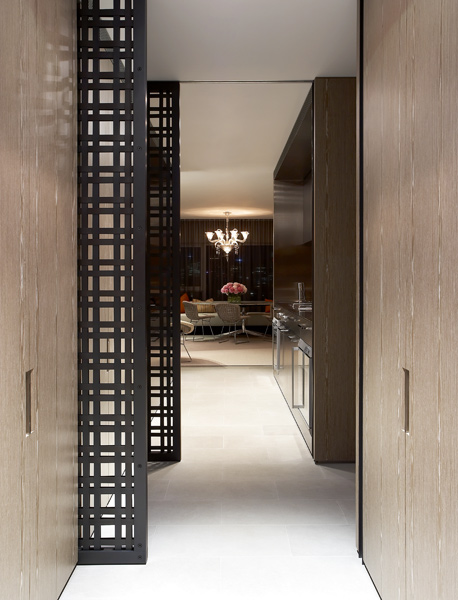 A gamut of materials fully exploiting the tonal variations in a palette of warm greys showcases Halliday's acumen for subtlety, and allows texture and natural variegations further development through exaggeration and repetition. Exemplifying this is the vertical striation of timber veneer used floor to ceiling on full walls of cabinetry that repeats ad infinitum through facing walls of mirror. The repeated vertical lines effectively expand the height of the rooms while creating a visual motif tying disparate materials to a central theme. This is reiterated with the less measured vertical variations of the diaphanous drapes, which soften the light and reinforce the interior.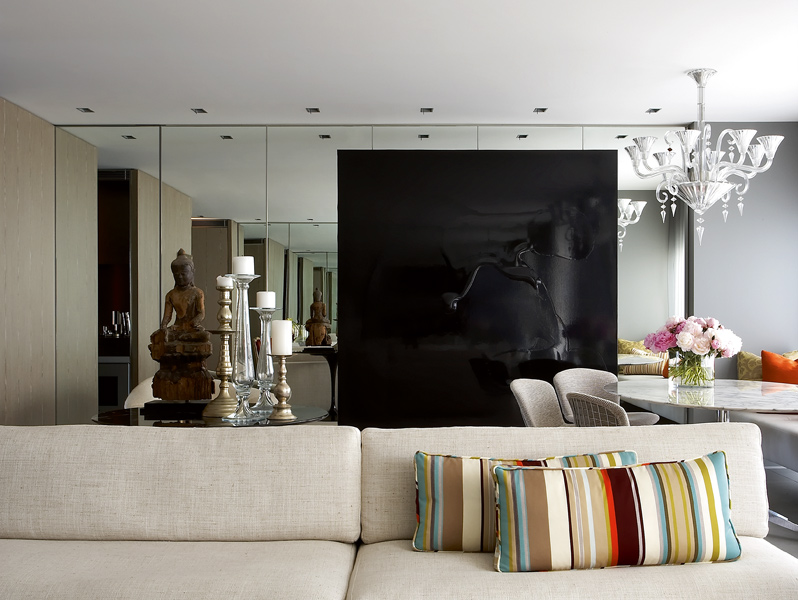 Colour has been introduced in bold shades of deep rust through a pair of 1940s upholstered French chairs with matched damask cushions. Softening their presence and creating a sense of unity is a Mies van der Rohe daybed in leather of a similar shade of rust. That the shades are of an ilk but not matched is quite important, as the tendency to have colours match allows for nothing to be loved and treasured beyond immediate application. In granting pieces a harmoniously appointed relationship, Halliday allows the uniqueness of objects a place within contemporary interior design.
White marble with strikingly grand gestural variegations in grey is a primary material used in surprising applications. The grand wall feature of the bathroom uses this marble to extend the bedroom, at the same time possessing a striking visual presence in its own right. Marble also reappears in an elongated table bisecting a wall of mirror and a simple round Saarinen table in the lounge area. The defining element, however, is a larger Saarinen table in striated black marble, which anchors and lends gravitas to the whole. Very nicely done.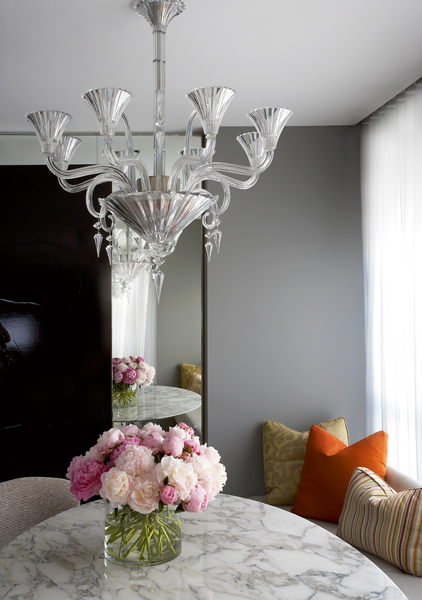 Under Halliday's eye the dining area is an exercise in spatial manipulation, whereby a large Dale Frank painting seems neither overbearing nor overly large for the room. Mounted on mirror, which reflects the greys and vertical lines of the room, the black painting appears to hover in space and is lent an exaggerated lightness that a solid wall wouldn't permit. Further disallowing the painting's weight, Halliday has placed a Baccarat chandelier, sourced in Paris, above the dining table. This neither obscures nor interferes with the painting, yet in being reflected encourages the eye to follow a vertical trajectory.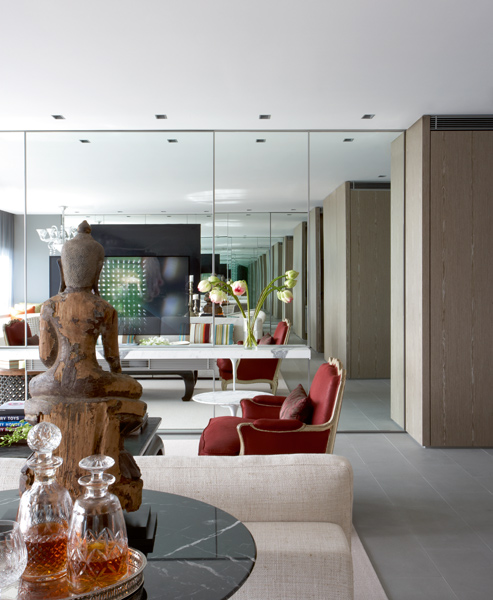 The space as a whole has been opened by installing Halliday-designed screens of geometrically woven anodised aluminium that allow the apartment to be divided into discrete areas without visual truncation. This solution was important for the kitchen, which had been overly large. "The screens do create a sense of enclosure without total enclosure," says Halliday. "Some are mesh and some have back-to-back mirror where you do need solidity; some have clear glass."
Effectively, twin screens can be closed singularly or in accord depending on the desired visual penetration. Light diffusion through the screens creates a gentle play of shadows, which overlay and shift at slight odds afforded by their separation. The effect is dynamic, wholly unexpected and a beautiful means of adding visual delight without extraneous disorder.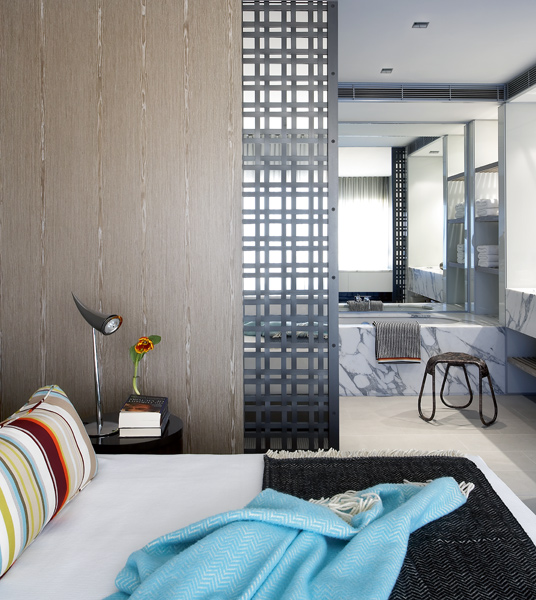 In typical Halliday style, the apartment is not only beautiful, but unlike any other in the building. Moreover, the inherent attributes of the site have been fully resolved, while interior finishes, objects and furnishings have been combined to create an environment of elegant luxury.