Article by Online Editor
Photography by Trish O'Brien
Designer
When Californian fashion house Rodarte sent models down the runway at last year's New York Fashion Week in dresses emblazoned with Aboriginal designs, it divided public opinion in Australia. Unlike most Fashion Week shows, the debate wasn't about whether or not the collection looked good; rather, the focus was on the provenance of the designs. How did the fashion designers source them? Where did they come from? Who created them? That more questions surrounding issues of appropriation and licensing were asked than answered only caused the already heated debate to intensify.
But if the designs' provenance had simply been revealed upfront, could the debate have been avoided? For some Australian commentators, there was never going to be any avoiding it; while for others, the global platform that Aboriginal culture had been given was to be applauded. The light was shone brightly on the world's oldest living tradition and a whole new audience took notice. What was significant about the Rodarte debate, however, was that it raised awareness of the broader need for adherence to Aboriginal cultural protocols when using Aboriginal art for the purpose of design.
That organisations such as the newly established National Aboriginal Design Agency (NADA) now exist to champion these protocols across different areas of the design industry is as timely as it is necessary. NADA's primary concern is the built environment and it serves this particular industry through brokering partnerships between Aboriginal artists and manufacturers, architects and interior designers. What results from these partnerships are products, interiors, architectural hardware, temporary exhibits and graphics that bring Aboriginal narrative, meaning and history to the practice of contemporary design.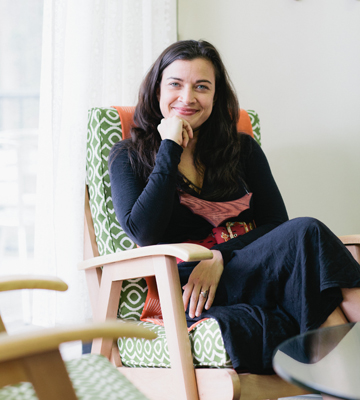 Launched in March 2012, the Coffs Harbour-based not-for-profit organisation is only 18 months old, but its seeds were sown more than a decade ago. Back then NADA was just an idea gently brewing in the mind of interior designer and descendant of the Walbanga and Wadi Wadi people of the Yuin nation, Alison Page. "I joined an Aboriginal architecture firm, Merrima Design, soon after graduation and, as the interior designer in the group, I spent a lot of time looking through fabric and carpet catalogues," she reflects. "There seemed to be a lot of squiggles and dots, but nothing that was authentic, nothing that had a story. They were just pretty shapes and colours."
It wasn't until years later, when as a judge on the ABC's The New Inventors she was approached by a jewellery manufacturer to create an Aboriginal collection, that Page realised the potential of her original idea. For NADA's founder and creative director, everything fell into place and the timing was right. "The market is ready for objects with meaning, for objects with a story," she explains, "and I felt there was a need for somebody to create opportunities and drive demand for Aboriginal artists living in regional and remote Australia."
As a social enterprise, NADA's cultural values are not only shared with clients and consumers, but also nurtured within Aboriginal communities at a grassroots level. As Page continues, "A lot of the artists I work with aren't asking for massive amounts of money. They get so much nourishment from these jobs that it's beyond money. It's very meaningful employment for them." The artists, such as Jeremy Mudjai Devitt and Jan Leon, are all able to work from home, but more importantly they are all living in their homelands: living on Country.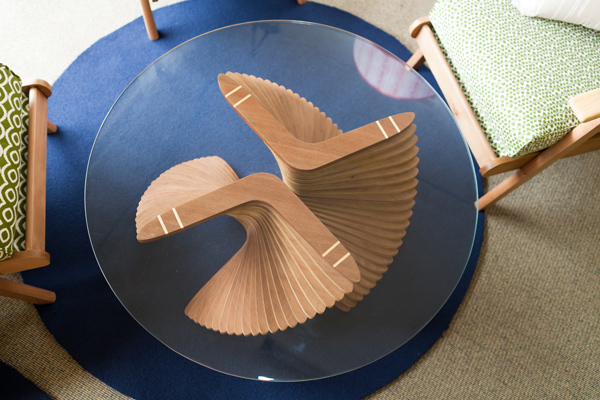 With Page helping each of the artists to interpret their artwork into a piece of design, they are not only deriving an income from their work, but also receiving design training. This process is critical to the creative outcome. "The way to think about Aboriginal art is that each symbol together forms a narrative and so a painting is like a book," Page explains. "But with design we only want one word or a sentence from that book, which is then applied to a functional object."
This application will eventually be seen to full effect when the new Westpac offices open in Sydney's Barangaroo. Page is collaborating with the interior designer, Geyer, to incorporate Aboriginal design into the rugs, textiles and lighting. These elements will tell the story of the site, as well as the story of Westpac.
NADA also recently signed up to participate in Object Gallery's ambitious ongoing program CUSP: Designing into the Next Decade, which launched at the Casula Powerhouse Arts Centre in Sydney in July. Page worked with poet and Elder, Aunty Bea Ballangarry to reimagine the traditional idea of the lounge room to create The Sit Place, where visitors were treated to audio readings of Aunty Bea's poetry and an immersive gallery experience that resonated with a sense of calm spirituality.
Page is particularly proud of the best practice licensing process that NADA has implemented with the assistance of Aboriginal intellectual property lawyer, Terri Janke. It's a culturally appropriate model that takes the ownership of traditional stories into consideration. For manufacturers, the upside is that they can now approach Aboriginal artists without having to worry about negotiating cultural protocols, which has been a barrier in the past. And any scenario even closely resembling the Rodarte debate is avoided so that, within the built environment at least, it's the stories that will remain front and centre.
nationalaboriginaldesignagency.com.au