Article by Online Editor
Photography by Brett Boardman
Designer Kathie Hall of Fender Katsalidis
Architect Fender Katsalidis in association with Antarctica Group
In a global market increasingly cluttered with svelte but sameish boutique accommodation – and a Tasmanian market still overstuffed with chintzy B&Bs – the new MONA Pavilions are a standout.
These self-contained apartments are located on the banks of the Derwent River, just north of Hobart city. They're the newest support act for the Museum of Old and New Art which is due to open to the public in early 2011 as Australia's largest private museum. It has been bankrolled by maverick self-made millionaire art collector David Walsh.
Walsh has already established a boutique brewery, restaurant and cellar door on site in the heart of Hobart's down-at-heel northern suburbs. The complex further enjoys the heritage cachet of 20th century Italian immigrant Claudio Alcorso's nationally groundbreaking Moorilla wine business and arts salon, which included buildings by Sir Roy Grounds now being incorporated into MONA proper.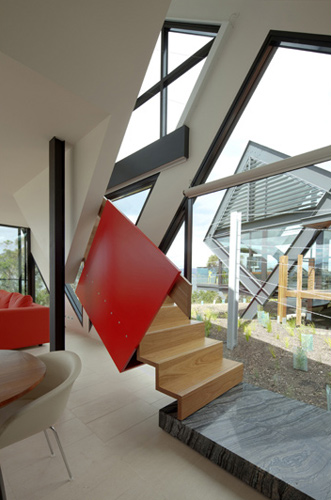 Designed by Nonda Katsalidis in association with Antarctica Group, with interiors by Kathie Hall of Fender Katsalidis, the four pavilions perch at the river's edge like funky little shells. Named after influential Australian architects, three – Robin (Boyd), Esmond (Dorney) and Walter (Burley Griffin) – are playful, angular boxes of glass and steel in very open conversation with the stunning surrounds.
Perhaps a fraction too open-feeling for some, despite the swish push-of-a-button privacy options, at least until the fresh plantings of native ground covers, shrubs and screening by Oculus Landscape Architecture and Urban Design get enough grip to soften that edge.
Partial to a bit of southern exposure, however, I had my best night's sleep in months in the upstairs bedroom of Walter, a crisp contemporary confection of magenta, orange, liquorice, iced white and Tasmanian timber. Then came playtime, hours of it, with state-of-the-art electronic controls that lower a high definition viewing screen streaming video art from the MONA collection, as well as more prosaic television channels. Next I floated in wrap-around sound, courtesy of Crestron, enhanced by a glass or two of Moorilla use sparkling brut chilled in the downstairs wine bar.
Finally, with Walter's sail-like bedroom blinds wound neatly back in their nooks, all that naked glass treated me to a delicious dusktime view across casuarinas and the Cadbury chocolate estate … and then a pink-and-pearl panorama of the estuary at dawn.
A morning shower full frontal to a nearby caravan park was a bridge too far, so my ablution space of choice was the dark-tiled batcave bathroom downstairs. The intimate space is nicely warmed by in-floor heating (it's Tasmania, not the tropics) and Dynalite controlled lighting. There, liquid Aveda and tablets of Tasmanian organic soap delivered more blissful bubbles, enhanced by waterproof morning news on the Aquavision screen mounted above the spa tub. Breakfast was continental, but could easily have been more fully blown thanks to the minimalist yet operational kitchen.
Coffee and email were served on a table designed and made by Hobart's Laura McCusker. It's a generous oval of Tasmanian oak with black painted legs resembling an arachnid. With Launceston's Simon Ancher, who heads up of the Australian School of Fine Furniture at the University of Tasmania, McCusker was one of two Tasmanians commissioned to provide furniture for the pavilions. Their pieces, plus an open-weave wall-hung work by Tasmanian textile artist Jenny Turner, duly balance an eclectic selection of work from international names like Arik Levy, Achille Castiglioni, Tom Dixon and Philippe Starck. Vertical bookstands by Bruno Rinaldi offer a top-shelf collection of works on art, architecture, philosophy, religion (or lack thereof), food, wine, beer and parties – again, by a judicious mix of local and global creators.
Throughout there are also distinctive touches from the pavilions' own patron. Works from Walsh's personal art collection include a bottom-lipped ceramic bowl in Walter by Jeff Mincham that I'd watched him buy at a charity auction just weeks earlier, a tailor-made rug in Esmond featuring a throwaway line by Walsh in giant red-on-black lettering, APROPOS OF NOTHING IT'S NICE TO HAVE YOU HERE AND THANKS WE NEED THE MONEY, and the world's most provocative room service dialling number, 9/11.
And then there's Roy (Grounds), the fourth and master pavilion; it's a wonderfully private, split-level penthouse with lots of real walls and more great river views. The two bedrooms are adorned with artwork featuring the writhing naked bodies of the rebranded Moorilla wine label – sex upstairs, death downstairs – and the living, eating and romping areas are spacious.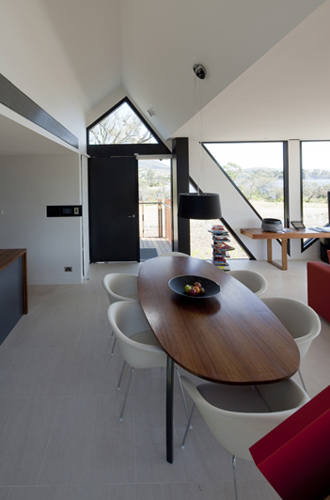 The package is wrapped in an aluminium skin, with shades of reference to Daniel Libeskind's Jewish Museum in Berlin. Next door is an infinity lap pool, gym and sauna. The magical cherry on the folly is an outdoor Wunderkammer, shaped like giant grey iPhone, made with German precision from concrete and smash-proof glass, with a rising blind activated by motion sensors in the shrubbery. Get on down.