Article by Online Editor
Photography by Trevor Mein
Designer Hecker Guthrie
Architect Woods Bagot
The collaborative efforts of architects, Woods Bagot, and interior designers, Hecker Guthrie, the Ivy is far more than meets the eye. The brief for the design was to create an enormous home made for entertaining with a mid-century aesthetic. Given the enormous size of the Ivy, this could seem like an impossible objective; however, each floor's plan manages to hold true to it, gently unfolding into domestically scaled areas. Essentially, it's a densification of use (or hubs of activity) created to counter what could have been the 'vacant lot' enormity of the whole.
Justin Hemmes' office flanks the upper portion of the main building, a solid interior space with business rooms on one side and an indoor/outdoor arrangement of kitchen and dining areas on the other. Dividing these spaces is the upper reaches of the atrium void that runs through the main bar areas. Any interactivity between the bars and this rarefied floor, however, is kept neatly in check with huge balconies edged by oversized balustrades and a solid row of magnolias in monolithic concrete planters. The end garden, contained within another immense planter, this time of board form concrete, is spectacular. It shares its materiality with the end wall, which features a waterfall, cascading ivy and an outdoor spa. This area is very important, as it demarks the public, semi-public and private spaces of this floor.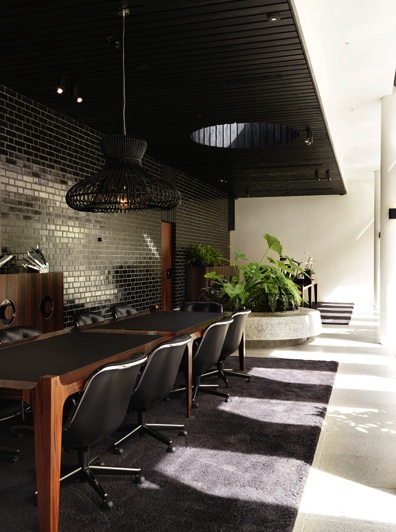 The interior business part of the office, excluding the reception area, is the only portion of this space that is never for hire, despite remaining visible. The office itself is extraordinary. In keeping with the Paul Rudolph aesthetic, that of large swathes of form and texture, the room is boldly characterised by an excess of Macassar timber in veneers and solids, used for cabinetry, wall cladding and an incredibly sculptural desk and grand table built by Karisma Joinery. It is also worth mentioning the door and cabinet handles, which have been treated as a repeat motif, and are celebrated as round sculptural forms throughout the project (also by Karisma). From the opposite balcony, the finely striated vertical wall of Macassar, housing the functional filing/photocopying belly of the office, has the illusion of a delicate curtain and is emphatically beautiful. Framing the whole is a solid wall of glazed black bricks and a ceiling of sandblasted and black Japanese lacquer timbers.
Despite the abundance of dark finishes, including deep grey carpets and black leather chairs, it is not by any means a dark interior and the clerestory glazing and full windows provide ample light. Adding to this is an enormous round skylight that punches through a deep black timber clad ceiling reveal. It is a startling piece of sculptural form, counterbalanced by the equally robust conical form of the fireplace in the reception area. Further playing on the black-on-black is a large painting by Dale Frank. This is one of the most interesting components to the design: art has been used well and is of a calibre not usually associated with entertainment. Work by Dale Frank appears again in the reception area, as does a neon work by Tracey Emin.
Grand as it is, the office is also highly functional, with both a traditional desk for Hemmes and a large table for meetings. Similarly, the outdoor area has been designed for staff meetings of a more casual or celebratory nature. The architects have done well to recognise this need, and while the area is hired out for functions, it is also very much a part of the Merivale ethos of an extended working family, where having a good time is not always secondary to providing one. This is a theme picked up in the operational headquarters housed in the more intimate of the Ivy buildings, where a champagne bar ends the polite row of open plan office spaces. Contrary to Hemmes' office, this area is featured by a bright white-on-white palette punctuated by luminous greenery and narrow horizontal bands of green-pelmeted light fittings, which allow both up and down lumination. Side offices are also pale with raw concrete walls, simple lamps and full glass walls looking back to the offices. Natural light is fairly limited in this area, but has been nicely exploited with recessed planter boxes within white wells, which amplify and bounce light into the interior. Beyond the champagne bar, a deep green garden has been enclosed within an atrium of louvred glass to form both a visual end to the room and adjacent round table meeting room.
There is something very interesting in the way the offices have been created that recalls the original premise of a home. For Hemmes' office, this translates to a fantasy of 1950s grandeur, where the home office or 'den' was the realm of robust masculine aesthetics. The general office does not take this path, but nor should it, it is after all an office. What does give it the hallmarks of working at home, however, are the considerations such as showers, a clothes hanging area, change rooms and – of course – the champagne bar, which absolutely every home should have!