Article by Online Editor
Photography by Ramiro Chaves
Designer Emmanuel Picault
Architect Ludwig Godefroy
It's amazing what a loaded concept can bring out in a modest project.
Outside a dilapidated colonial building in the re-burgeoning suburb of Colonia Roma, at Mexico City's core, sharp dames, a few dapper gentlemen and a queue of young hipsters are gathering. Through a small courtyard entrance, a heavy sound reverberates through the old facade, hinting at a good party inside. The venue's name, on a secondary glass facade at the door, reads simply: 'M.N. ROY'.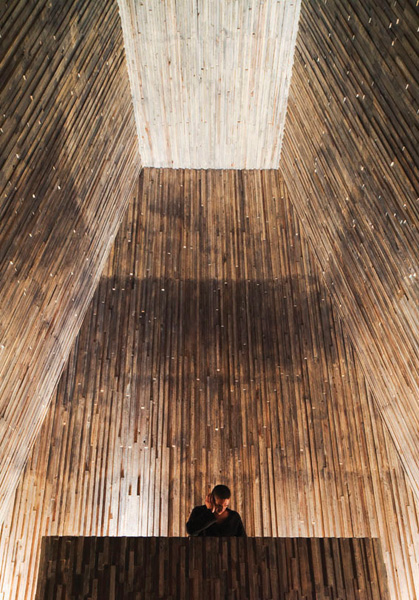 It's easy to get hung up on this name if you're familiar with the historical figure to which it refers, but few of the stylish figures that walk through here really know who the man was – Manabendra Nath Roy, the Indian-born radical humanist, revolutionary and political theorist, a man who was once personally lauded by Lenin for his service to international communism. Tonight, as it seems to do on a nightly basis, the party bustles in the middle of what used to be his former home, the place where he finally settled in exile with his American wife, and where he founded the first communist party outside of Russia in 1917. Now a name is just a name and an old address may be considered just another place, coincidental as it might be in this case, but there's an obvious contradiction in all of this as the drinks flow and alluring perfume fills the air.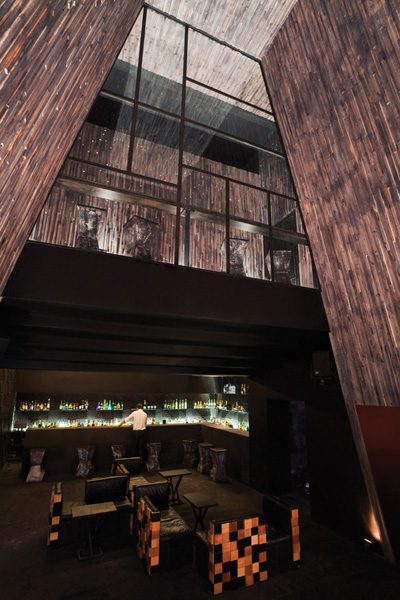 M.N. ROY is the work of the French-born designer, Emmanuel Picault (head of Chic By Accident), in close collaboration with architect, Ludwig Godefroy. The name of this venue is just one of the idiosyncrasies that lend the project its interest. The second, and most outstanding, is, of course, the actual work itself, a refined and meticulous design that reflects another aspect of Mexican history, perhaps darker still: the pre-Hispanic era.
"We actually went back to France for the brainstorming process, almost to remove us from any physical references that could influence us too much," says Picault. "We weren't going for kitsch here. Instead, we dove into the literature and studied the design elements of this pre-Hispanic time, consuming all the imagery we could find, ultimately nurturing our design process and architectural perspective for this particular project."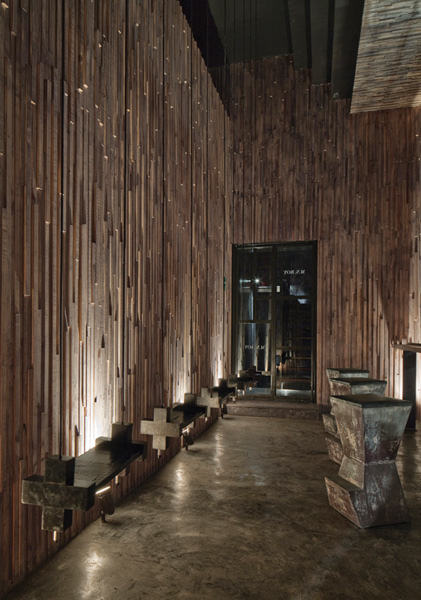 The entrance is relatively charged with decorative elements and repetitive patterns, a use of black relief stucco wall and bricks made out of volcanic stones, all of it intricate and handcrafted by Picault's 'army' of local craftsmen. The gloomy hallway, lit from the ground up, leads a crowd of socialites, artists and Picault's friends through to a small open bar where more people gather. "The narrow and somewhat asphyxiating hallway takes you to the larger lounge area, then the dance floor," he says. "It's almost like walking into an old, pre-Hispanic ruin, which then opens up to larger volumes in different areas."
As you walk through, an L-shaped, cornered bar presents itself, also highlighted with subtle lighting, keeping the space gloomy until a dramatic arrival at the dance floor. Here, a copper ceiling bounces a warm, diffused glow down onto the patrons. Walls are textured with a mix of tropical woods that taper off into the angular ceiling above. An exposed terrace, looking over the main hall, allows for a smoking area. The use of copper panelling in certain areas is also tastefully moody, and complemented with bespoke furniture: rustic leather thrones and benches, not to mention swings – a dangerous addition for the tipsy.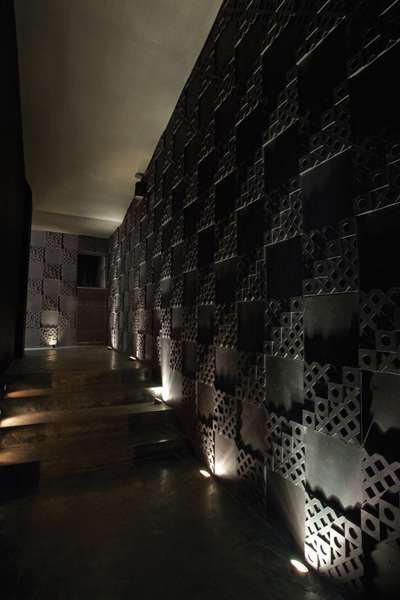 "The local artisans and craftsmen that I work with are masters at what they do," says Picault. "Here in Mexico we have a spectacular craft heritage, and decorative artisans that have long worked with these materials, but they always get asked to do something in 'the fashion of New York' or 'the fashion of LA'. What a waste…"
As designers, Picault and Godefroy dig deeper for things that can outlast fleeting trends. What better example of that notion than a Mayan pyramid from Chichen Itza? Which may beckon the question: has anyone else worked with the concept recently?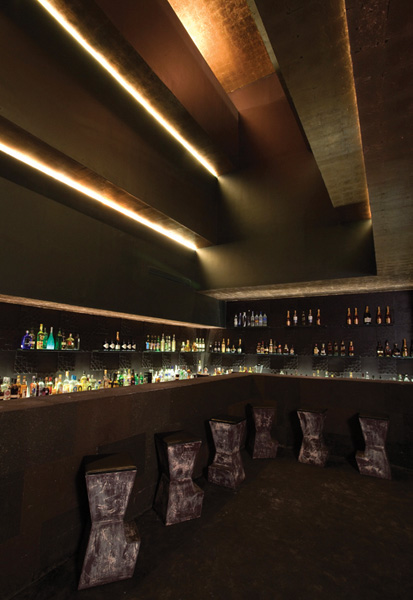 "No, no, not at all," says Picault. "There's nothing really like this here. It isn't something they really want or care for, but perhaps because they've been used to looking abroad for the modern cultural indicators. Surely, a much deeper issue of real history remains. The pyramids are still mysterious, and I think perhaps just because I'm French, they've allowed us to attempt such a travesty of concept, knowing, of course, there is serious regard for what we're actually referencing."
He says when they first presented the idea, the partners and operators appreciated the historical references, and while some questioned the potential for 'kitsch', they were still willing to trust the designers.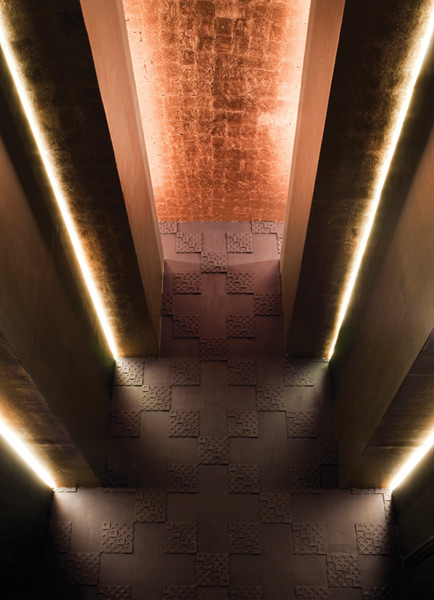 "It was a bit complicated on the table," says Picault, "but it was very well received in the end. We like to think of the result here as a visual surprise, reminiscent of a 'neo-pre-Hispanic' style, perhaps brutalist," he says. "In all the materials and detail here, the copper, volcanic stones and rustic leather, there is much courage and love. Sure, it's a sanctuary for hipsters, international DJs – many close friends of our clients – a few standard drunks and plenty of gorgeous women. It's made for 'los fashion makers' if you like. It's for you and I, and what we might call a 'ruptured bourgeoisie' society."
Ruptured… Picault's comment brings to mind the fact that Mexico City, 'el gran de-effe' or 'DF' in Spanish, is still a very complicated place to live and be. He seems as conscious of this as anyone. Resident and proud champion of his Colonia Roma suburb, Picault is inspired by the cultural and historical diversity of the area, which has become an ideal backdrop for the city's arts scene. The beauty of M.N. ROY is its desire to reveal these stories, some hidden or forgotten. It can be just another place to see and be seen, but in engaging with these narratives, it can also be representative of much more.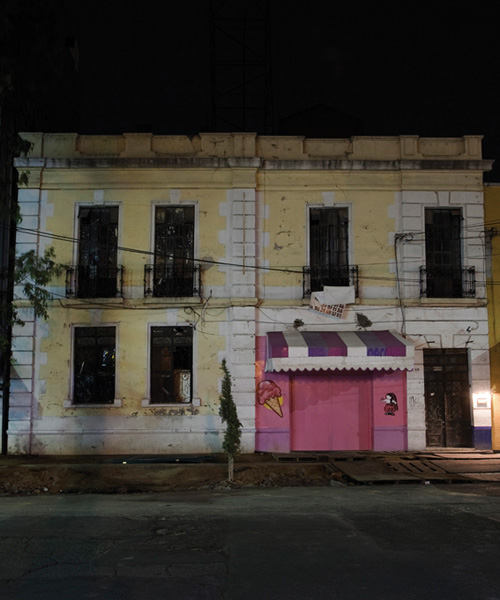 "I am not so concerned about playing with identity, to be quite frank," says Picault. "I became a Mexican over five years ago, and I'm quite proud of this place. My work here has focused on the best potential aspects of Mexican design, from the best of the 20th century to that of a postmodern, even 'brutalist' work like this – with the good collaboration of Ludwig Godefroy. We are simply studying the ways of an old heyday, appreciating the cultural history and lineage and, well, celebrating that richness with a place like M.N. ROY. The point is that it's actually an honour, and vitally important, to do this sort of work – to recall what was once so meaningful or that which has been slightly under-appreciated."
As Picault says of his city, "Everything that is relevant has a place to happen here." It's a description that could apply just as readily to the eclectic and contradictory sensibility of M.N. ROY.