Article by Online Editor
Photography by Sonia Mangiapane, Gideon Hart
Designer
Above: OverNight by Odd Matter – lighting sculptures crafted from stained glass and copper, on show at Vessel Gallery. Photo by Sonia Mangiapane
Graphic Africa
With a private view swamped by hundreds of enthusiastic guests, the design pieces swept up by Italian design matriarch Rossana Orlandi and multiple, repeat orders for stock, the Graphic Africa collection at Habitat was a runaway success. Debuting at Habitat's Platform gallery on Kings Road, the Graphic Africa range includes glassware, textiles, furniture, lighting, soft furnishings and ceramics, mostly of a sophisticated neutral palette and produced entirely by artisans from 10 countries in south, east and west Africa.
The work results from a collaboration set up less than a year ago between Habitat and Source, a South Africa-based agency established 10 years ago by Trevyn and Julian McGowan, which represents approximately 70 per cent of African product available to western markets. Underpinning the investment and expertise of Source was funding granted from the Centre for Culture and Development, Denmark (CKU) in 2011.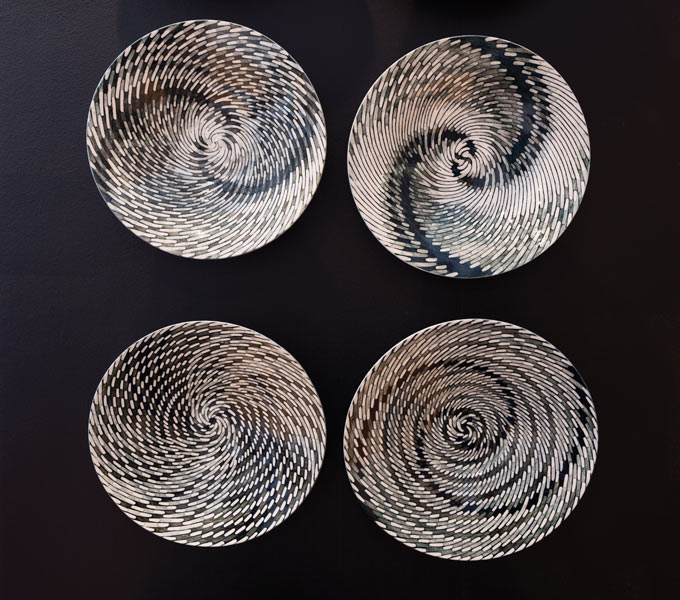 CKU has a remit to promote understanding through cultural programs in developing countries. It believes: "Art and creativity are key factors of sustainable human and social development and that they are determining factors for democracy, human rights and economic growth."
That has certainly proved the case with Graphic Africa. Backed by CKU, Source identified and whittled down a long list of companies to just 16, representing a range of products, from weaving to glass, wood, textiles and porcelain. Trevyn explains: "We identified those people who we felt had a very interesting social story, a good product assortment that was contemporary and sophisticated, and… really importantly, we selected those who were committed to the program: who wanted to change, who wanted to relate to one another and to share and collaborate."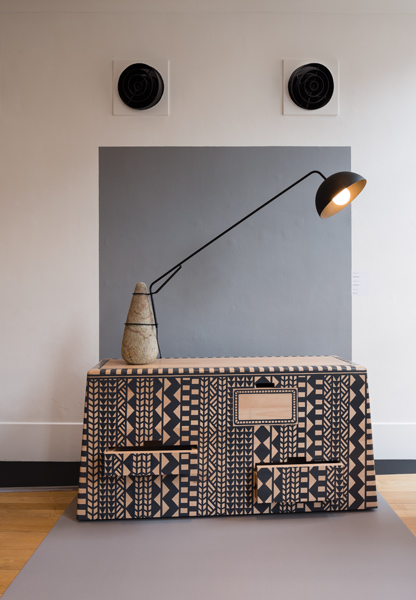 Collaboration is at the heart of the endeavour's success – from the collective workshops and development for the artisans organised by Source to the allied, inventive mindset of Habitat's new creative director Polly Dickens and her colleague, textile designer Rebecca Hoyes, who travelled out to Burkina Faso and worked intensely alongside mud-dying expert Babacar MBodj Niang: he with his extraordinary painting sticks and she with her neat roll of textile brushes. That Hoyes abandoned her westernised methods for his honed, found tools is perhaps a testament to the effect Graphic Africa has had: integrating western logic and brand savvy alongside the dynamism, authenticity and artisanal integrity of African designers. As Trevyn concludes, "It was a perfect match."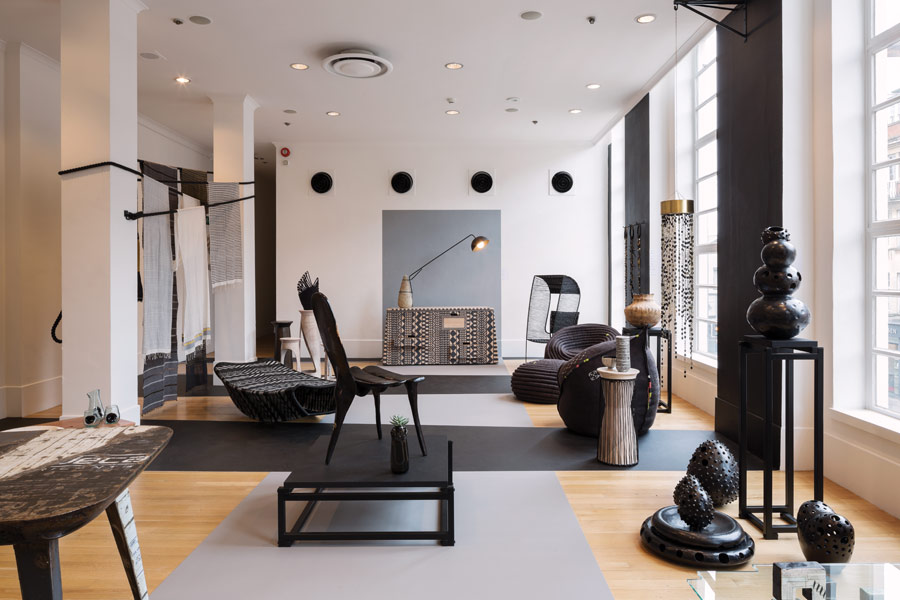 The work will tour to South Africa for World Design Capital in February and to the US in 2014.
source-sa.com
cku.dk
habitat.co.uk
Wrong for Hay
Set over three floors of a restored Georgian townhouse overlooking St James's Park, and accompanied by pop-up Peckham Refreshment Rooms a few doors away, Wrong for Hay was one of the most anticipated events of the 2013 London Design Festival and the results didn't disappoint. Danish collective Hay allowed its remit for good design at accessible prices to be shaped into a range curated and partially designed by Sebastian Wrong, founder and former design director of Established & Sons, who holds an equally impressive reputation for uniting creative minds from a range of different fields.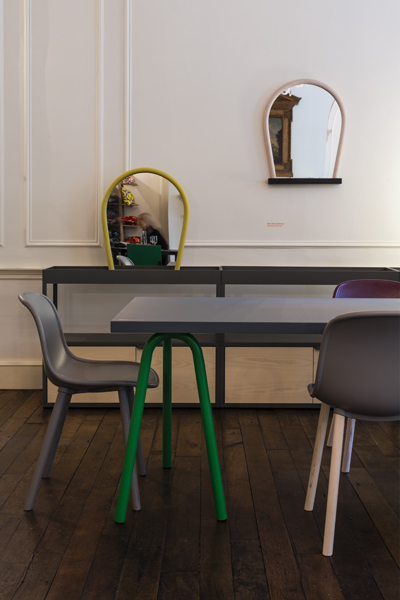 From Hay's initial request to develop a new lighting collection, the concept grew to encompass a much larger collection named 'WH' that includes furniture, lighting, storage, accessories and textiles. The scale and range of work varied – from a cluster of Lens Boxes in glass, cork, maple and ash by Thomas Jenkins, which caught the light and drew in the eye, to a family of tableware called Mediums 1 by Ian McIntyre formed of pale blue and white porcelain, terracotta and stoneware, or the bright, crisp Trion table by Shane Schneck, with its vivid green powdercoated steel tube leg sections and robust linoleum tabletop.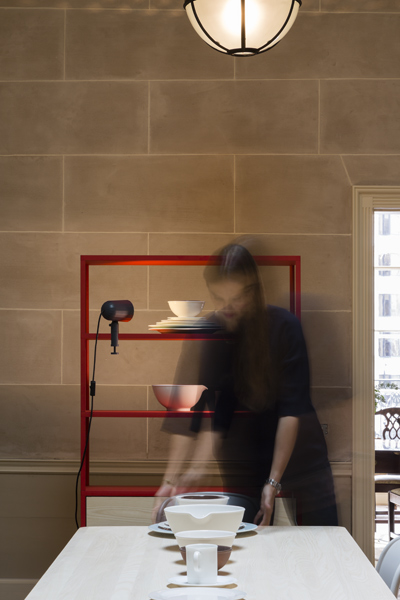 Though eclectic, the fresh, vibrant work and inventive use of materials and production techniques created a shared currency, making Wrong's direction all right.
Copper Mirror Series
The Copper Mirror Series at Gallery Libby Sellers was one of the Festival's highlights, with notable young design duo, Amy Hunting and Oscar Narud, winning praise for their evocative standing mirrors. Suffused by the glow of the frameless, expansive spun copper discs, held aloft by simple demountable mild steel frames and anchored by chunks of granite, the surprisingly large Copper Mirrors theatrically reshaped the gallery space and recalled the pair's Norwegian heritage of ore extraction and copper smelting.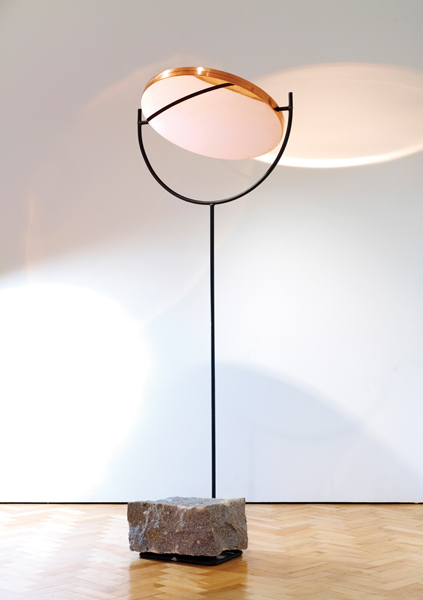 Pairing a sleek, contemporary design aesthetic with a degree of nostalgia, the designers say that their work so far is concerned with "relating to a space and how you can change the way the space feels". The materiality of the work is also important. Hunting explains: "Often the starting point is the material – what it can do and what it can't – and this series started with what was possible with copper."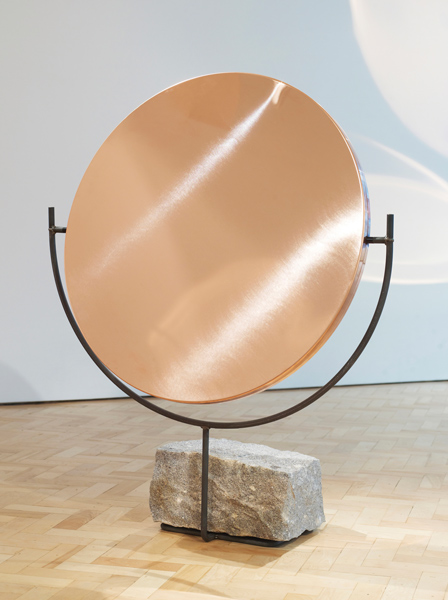 Developing this work from an earlier incarnation for Fashion Scandinavia, Narud describes the design intention to "reflect our Scandinavian heritage without being too 'pine-y'!" The mild steel armature is left raw with exposed welds, the blocks of stone can be simply lifted away and the discs taken apart for polishing or transportation. Sculptural and delicate, yet also brutal and raw: the series marks out Hunting and Narud as ones to watch.
huntingandnarud.com
libbysellers.com
Global Design Forum
photography courtesy Global Design Forum
A one-day event at the London Design Festival, the Global Design Forum promised disruptive, technology-driven design ideas to shake the world. Why then, asks Giovanna Dunmall, was it all so well-mannered?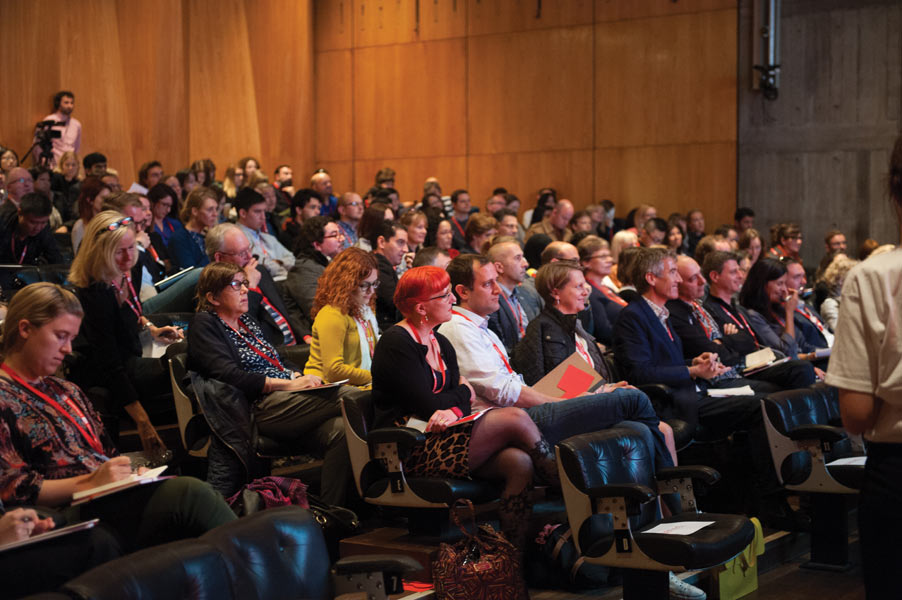 "As designers we keep problem-solving, but isn't design about possibility?" asked designer and artist Alexandra Daisy Ginsberg in the first session of this year's Global Design Forum in London – setting what, we hoped, would be the tone of this exciting day. Ginsberg's passion and energy were sadly unmatched by any of the other high-profile speakers in her session and only rarely by any others throughout the day.
The Global Design Forum was billed as "one day to set the global agenda for design" and a chance to hear "the most challenging thinking about the future of human society and design's role in it". Though at times interesting and lively, it fell short – by a generous margin – of this high-flying ambition. Perhaps it was the notable lack of female panellists, or the dearth of designers from developing or even – why not – underdeveloped economies, but it didn't feel particularly global or very much like a forum.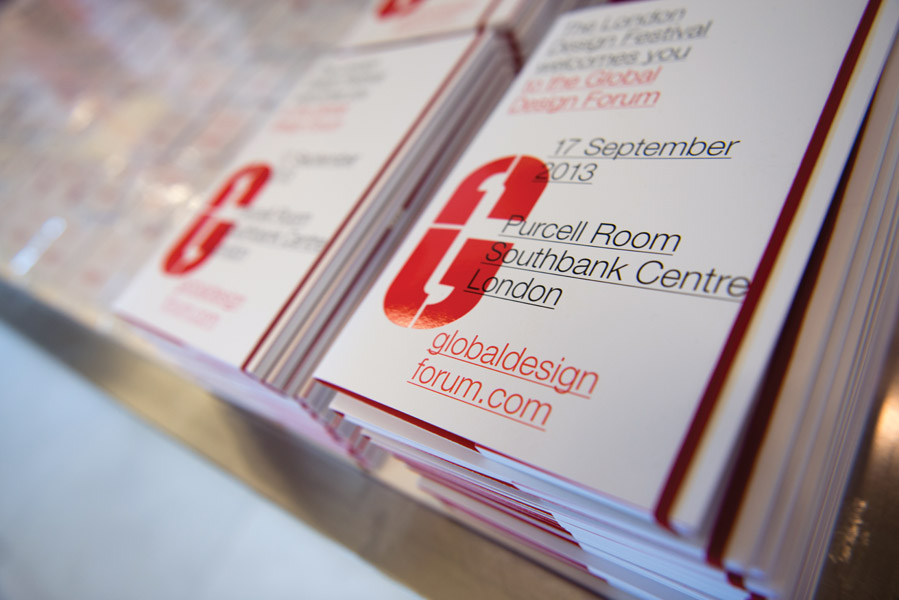 During the first session, intended to discuss where innovation is at its most exciting, Ginsberg was joined by a panel of senior creatives working with big global brands. Though the speakers discussed the blurred boundaries between users and designers, the purpose of R&D and the merits of big versus little data, they never questioned how the system might be changed in a more radical way.
It was Ginsberg who asked: "Is this how we should even be designing? At what point do we ask if we even need to make this?" As an outsider looking in (Ginsberg is not a commercial designer, but a writer and conceptual designer) her unanswered questions remain valid: so-called 'disruptions' and change have to happen early on. It is not enough to merely make products that use fewer resources and more recycled materials.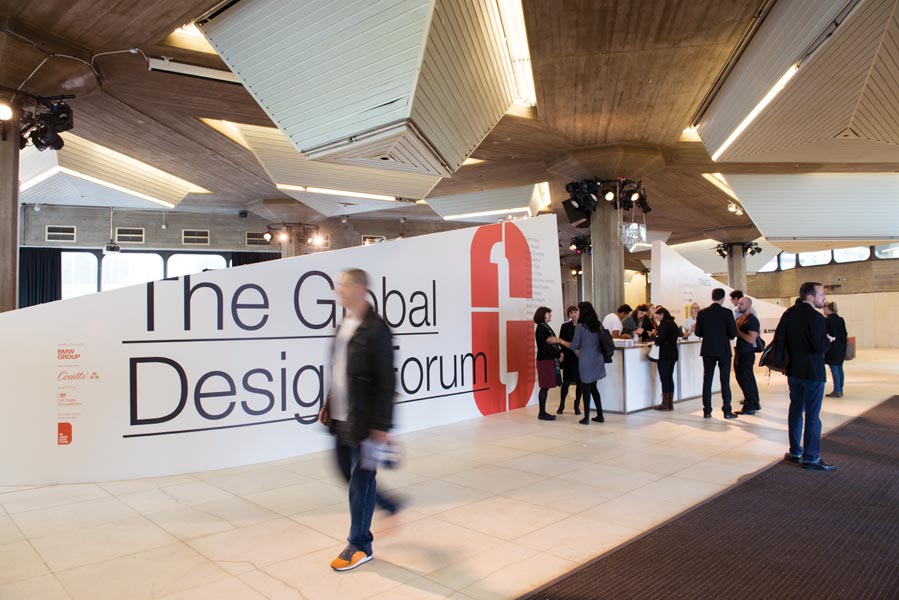 The second session, called 'Five by five: ideas to shake the world', was a refreshing insight into grassroots design creativity with a social agenda. Five nascent ideas and start-ups (though sadly all fronted by men based in the UK or Europe) were presented to a panel of designers. The best two were also the simplest. The first, Fairphone, is a crowd-funded smartphone made from conflict-free, fair resources and equipped with a replaceable battery. Above all, said the company's founder Bas van Abel, it can be fixed by anybody with some basic electronics knowledge: "If you can't open your piece of technology, you don't own it," he said.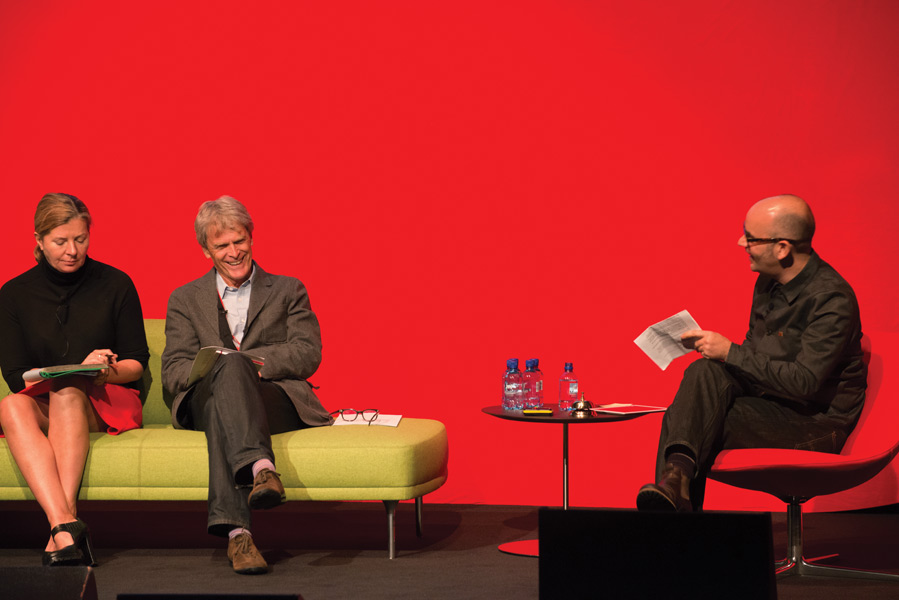 The second standout was Clean Water: a water filter that purifies arsenic-laden drinking water while recuperating the arsenic for productive purposes and use in solar panels, phones and semi-conductors. The filtration system is essentially made up of a plant, which can be grown locally and stores the arsenic safely, and a series of recycled plastic tubs held together by bamboo. Cheap to set up, rapidly scalable and readily available, the product "transforms a natural disaster into a natural resource," explained Stephen Goodwin Honan, the Oxford University MSc graduate who developed the filter.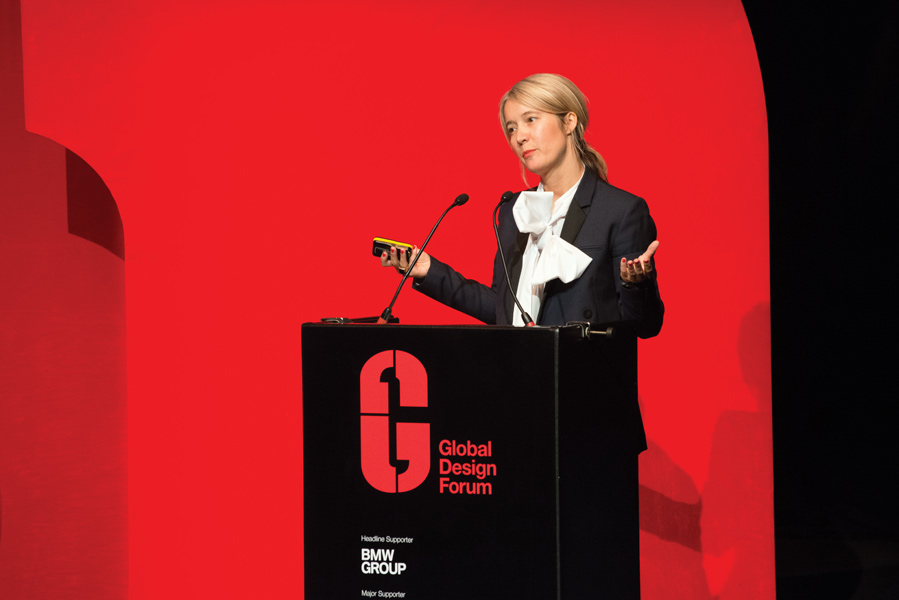 The afternoon panels seemed unsure of their remit. Was the first one – titled 'Creative city, smart city' – about how connectivity would make our cities more creative, or just how it would make them more connected? The final session, meanwhile – dedicated to 'Designer or brand, chicken or egg' – was hampered by the eccentric but charismatic chair Peter York's inability to keep time or keep the discussion focused. The panel – two corporate speakers from Volkswagen Group China and UK design store Heal's, and two design heavyweights, Jaime Hayon and Ross Lovegrove – failed to engage with the issue in any real way.
Individual insights – such as chief marketing officer of VW Group China, Alexei Orlov's comment that creativity in a corporate setting offered effectively a "black hole" in the form of the "tyranny of choice" – were soon subsumed by Lovegrove and his rather idiosyncratic blend of intelligence, erudition and preternatural ego (at one point he effectively told an Indian audience member to stop rambling, given that there was no good design in India).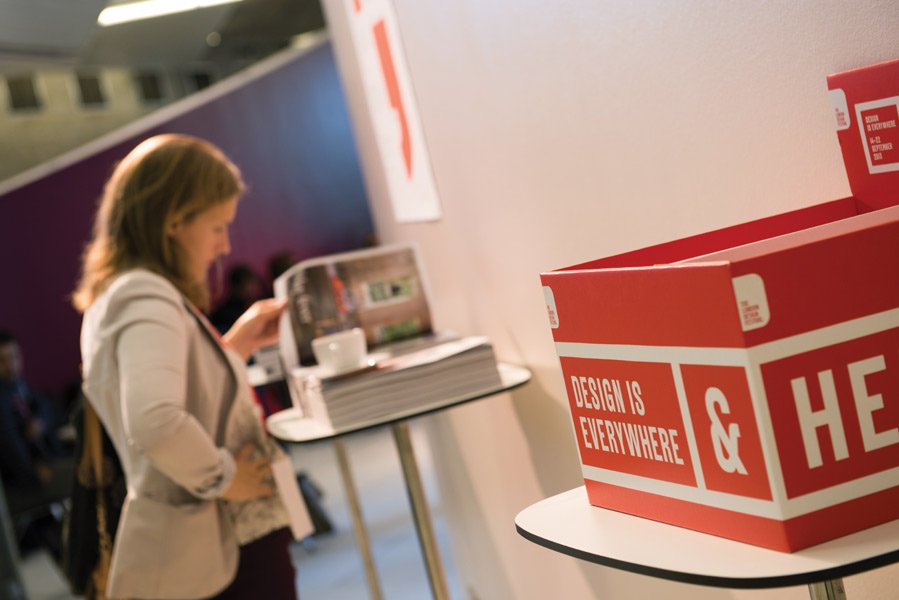 Perhaps next year's forum will invite more designers and critics working on the periphery of creativity and technology. I felt some sympathy with the point made by Chris Sanderson, co-founder of London- based The Future Laboratory, who – after the presentations in the 'Five by five' session – said: "These were not five big ideas, since two are already firmly in the mainstream."
If the day was intended to present "the most challenging thinking about the future of human society and design's role in it", then why did it all feel so mild and polite? It's almost as if Ginsberg predicted how the day would unfold when, very early on, she said: "Asking better questions will give us better problems to solve."