Article by Online Editor
Designer
'Lost in Limbo' was first published in Architectural Review Asia Pacific #124: Architecture and the Body, as part of the Last Word column.
Photography by Neil Pardington, from his series The Clinic/Te Whare o Rangiora, documenting the interior spaces of New Zealand hospitals.
Zigzagging from mid-belly down to just above my pubic bone, a Frankensteinian scar marks the spot where doctors have unzipped my abdomen. Three times they've unzipped it: in 2006, for my urethral cancer surgery; in 2008, to repair an intestinal blockage caused by scar tissue resulting from my cancer surgery; and again in 2011, for yet another small bowel obstruction. In the future, near or far, they may unzip me again, since abdominal surgery begets scar tissue. Which gives rise to adhesions. Which sometimes cause bowel obstructions. Which may necessitate surgery. Which begets more scar tissue. Which…
Looking at my scar in the mirror, a train track of parallel nubs where the sutures used to be, I'm back in the fluorescent purgatory of hospital life.
Imagine a TV hospital drama.
Based on Sartre's No Exit.
Filmed in a public housing tower block.
In Ceausescu's Romania.
Hospitals aren't like prisons; they are prisons. True, they're kinder, gentler ones, whose inmates are usually desperate to be admitted, but even the most grateful patient realises, at some point, that hospitalisation is just a more benign incarceration: the lookalike cell and inevitable cellmate; the swill-bucket food; the patient's powerlessness in the face of the lowliest flunky; his Kafkaesque uncertainty about when and at whose whim he will be transferred from one hospital to another, or sent to the O.R., or discharged to walk the streets as a free man.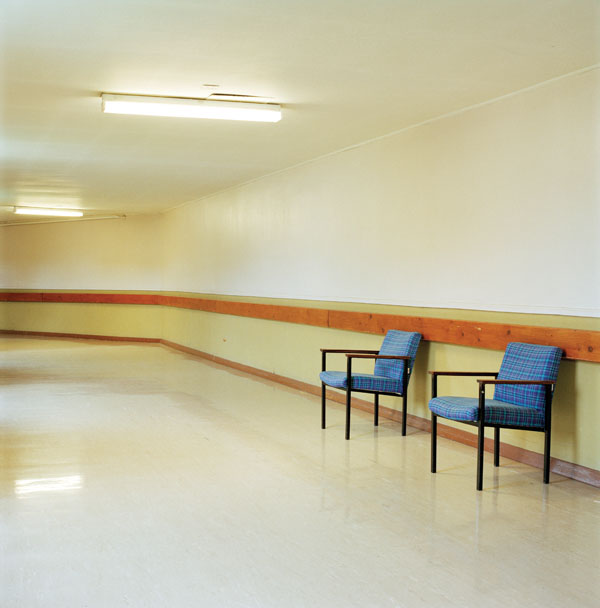 Of course, when it comes to the cultural DNA shared by hospitals and prisons, Foucault got there first. 'Is it surprising that prisons resemble factories, schools, barracks, hospitals, which all resemble prisons?' he asks in Discipline and Punish: The Birth of the Prison.(1)  In that book and his earlier Birth of the Clinic: An Archaeology of Medical Perception, he theorises the medical gaze as a form of surveillance, the body as the cynosure of the eye of power. 'The classical age discovered the body as object and target of power,' he writes in Discipline and Punish. In the 'techno-political register', this cultural dynamic manifested itself in institutions such as the army, the school, the factory and the hospital, and in techniques and regulations 'for controlling and correcting the operations of the body', transforming the wayward individual into an expertly machined cog in a smoothly running society.(2)
For Foucault, architecture is an essential part of this 'disciplinary mechanism'. He bears witness to the birth of a new architecture, an architecture of 'internal, articulated and detailed control' that marks a historical break with more familiar forms such as the architecture of ostentation (the palace) or fortification (the fortress).
In our time, the hospital has evolved into 'the most complex of building types', if the Washington, D.C.-based National Institute of Building Sciences is to be believed – a highly complex man-made ecosystem incorporating multipurpose spaces, logistics systems (elevators, manual or automated carts, gravity or pneumatic chutes, box conveyors) and information systems (not only to facilitate the cloud of information that follows every patient but to integrate IT-enabled medical equipment 'into the building and the operating processes').(3)
Yet the 21st century hospital is still very much a therapeutic operator in the Foucauldian, rather than the patient-centred, sense. It is focused, in large part, on the needs of medical personnel and, in a sense, on those of the building itself (logistics considerations, safety regulations, building codes). A truly therapeutic architecture – that is, an architecture that understands interior design as a vitally important part of the building's anatomy, demonstrably significant in impeding or accelerating recovery – is still a blur in the industry's peripheral vision.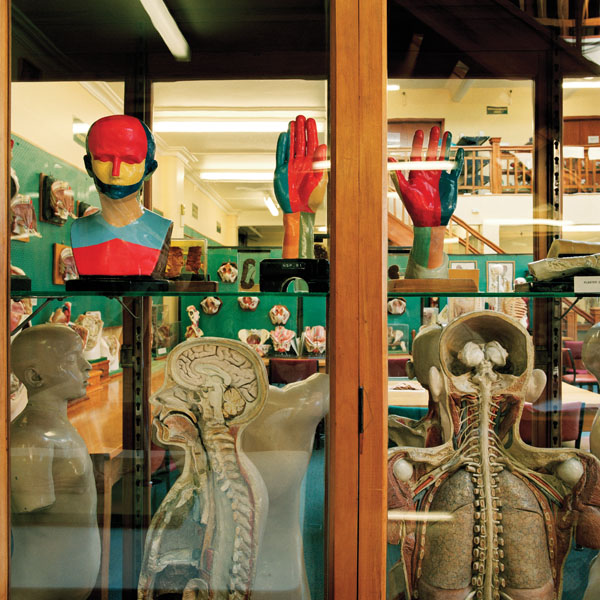 To be sure, that blur is looming larger, even though environmental psychology, specifically architectural psychology, is an increasingly important element in hospital design. In his paper 'Therapeutic Environments', Nicholas Watkins asserts, in unmistakably manifesto-ish tones, that healthcare facilities should be designed: 'not only to support and facilitate state-of-the-art medicine and technology, patient safety and quality patient care, but to also embrace the patient, family and caregivers in a psycho-socially supportive therapeutic environment. The characteristics of the physical environment in which a patient receives care … can be positive or negative. No environment is neutral.' [Italics his.]
There is decidedly un-Foucauldian talk, here and elsewhere, of psychoneuroimmunology (helpfully defined by Watkins as 'the effects of environment on the immune system') and neuroscientific research into the interaction of perception and architecture; of the therapeutic effects of nature, real or imagined, from 'natural daylighting' and 'healing gardens' to 'artwork depicting nature, including back-lighted photographs of nature' and 'luminous sky tiles' that provide 'virtual windows' on nature (why am I thinking of that scene in Soylent Green where Edward G. Robinson is euthanised to the strains of Beethoven's Pastoral while watching nature scenes in Cinerama?). Thought leaders in the field foresee a movement toward the creation of architectural 'humanscapes' more felicitous to 'wellness' and the elimination of stress-inducing noise and 'odours that are objectionable or "medical".'(4)
All of which sounds wonderful, as the future always does. But despite hospitals' half-hearted attempts at cheer – paint-by-number seascapes, insistently bright abstracts – the hospital experience, for many patients, remains one of unremitting institutional grimness. Flashing back to my incarceration, I remember walls painted drab shades of mustard yellow, slate grey, terracotta brown; baseboards scuffed by the wheels of numberless gurneys; linoleum faded by countless scrubbings. Even the light, slanting in through windows cleaned god knows when, seemed wan, drained of all radiance, as if it had undergone a bloodletting measured in lumens. And then there was the smell: beneath the ever-present ammonia scent of all-purpose cleaner, a faint but undeniable whiff of cabbage-y rottenness, a bouquet of faeces and flatulence and unwashed bodies – 'odours that are objectionable' by any other name.
As a career patient who may someday find himself, once again, in the greyscale limbo of the hospital room, I have an unapologetically selfish interest in urging hospital architects to collaborate more closely with interior designers, environmental psychologists, perhaps even neuroscientists. For the moment, hospital designers continue to make 'the most frustrating mistakes you could ever imagine', making 'your cure more difficult', as architect Michael Graves observed in his October 2011 speech at the TEDMED conference on innovation in healthcare. 'Your room should make it easier for the doctors and the aides and the patient. But instead it does just the opposite.'(5)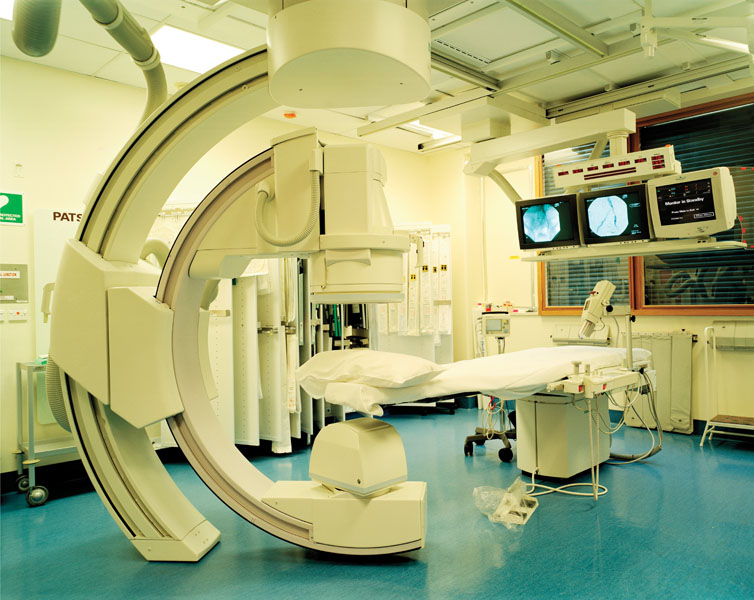 In and out of hospitals and rehab centres during the battle with a life-threatening infection that has left him wheelchair bound, Graves was infuriated by hot water knobs and electrical outlets that were out of reach for anyone in a wheelchair. 'This makes you feel terrible as a patient,' he says. 'You're feeling at the will of others.'(6)  But 'Exactly!' as Foucault would say. (Or would have said, if he'd read Tom Wolfe.) The body, poked and prodded and powerless: object of knowledge, target of power.
Worst of all, though, were the psychological effects of Graves' room, with a design and decor somewhere between monastic and carceral. 'All the money had been spent on the public spaces,' he says. 'The public spaces were glorious. I got to the patient room, these were the smallest patient rooms ever known to man. … [T]here is no excuse for getting those patient rooms wrong time after time.'  His frustration inspired an aesthete's idea of a daily affirmation: 'It's far too ugly for me to die here.'
Graves is famously the architect of the Team Disney Building in Burbank, California, and of Walt Disney World Swan and Dolphin resort hotels in Orlando, Florida. At the risk of cheerleading for the Disneyfication of hospital design, borrowing the best practices of The Architecture of Reassurance – learning from Orlando – might not be an altogether bad thing. Few of us rejoice at the thought of dying in a room with Goofy-head doorknobs and Mickey-silhouette wallpaper, but there are worse fates.
'The wallpaper and I are fighting a duel to the death,' Oscar Wilde supposedly quipped, in the Paris hotel where he was expiring by degrees. 'One or the other of us has to go.' The trouble, of course, is that good or bad, sensitively designed or institutionally impersonal, the wallpaper always wins.
Notes
(01) Michel Foucault, Discipline and Punish: The Birth of the Prison, 1979, New York, Vintage, 228.
(02) Foucault, Discipline and Punish, 136.
(03) Robert F. Carr, 'Hospital', NIKA Technologies, Inc. for VA Office of Construction and Facility Management (CFM), www.wbdg.org/design/hospital.php, 2011.
(04) Ron Smith and Nicholas Watkins, 'Therapeutic Environments', from the Therapeutic Environments Forum, 2010, www.wbdg.org/resources/therapeutic.php.
(05) Madison Park, 'Graves: Why hospital rooms don't work', CNN, 15 December 2011, http://edition.cnn.com/2011/12/15/health/graves-hospital-design/index.html.