Article by Online Editor
Photography by Kylie Hood
Designer Phorm Interiors
The beauty of this three-bedroom riverside apartment make-over by Phorm Interiors lies in its transformation of some of the uglier truths 80s architecture has left behind, and somehow charming us with this remodelling. Phorm achieves this through the rather simple – yet often misused – formula: using a limited material palette. Of course it is difficult to balance and execute, but it is here that Phorm Interiors has excelled.
The building itself, located on Brisbane's Kangaroo Point, is a curvaceous monolith of yellowish beige, distinguished by thick grey railings. It is what it is. The foyer matches. On entering the apartment, however, you find a light clear space that could be anywhere you would expect to find a glamorous inner city pied-à-terre, and this is exactly what it is. For the project, Steven Stewart and Ian Wrightson were given a reasonable, but not excessive, budget and the keys. To this end they made structural changes only where absolutely necessary and, while saving where possible, splurged on some exceptionally fine detailing.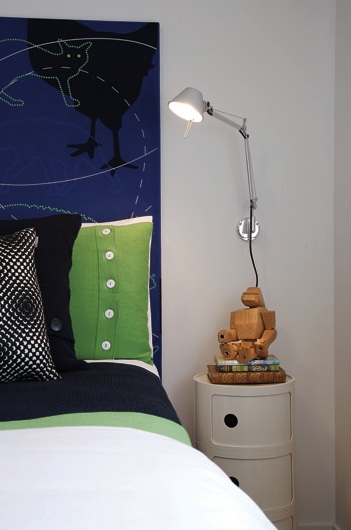 The entrance hall, comprising a straight and a curved wall, was perhaps the biggest obstacle to overcome. Rather than masking it, Phorm solved this unconventionally by making it a feature, drawing on the limited palette and installing a row of Compass lights by Flos lighting provide an overlapping pattern that emphasises the curve. The eight percent beam angle perfectly suits this hallway application and has worked a treat to negate the usual problem of truncated light and resultant shadows that designers face with curved walls. The palette itself, comprising white, charcoal, timber cabinetry and bamboo flooring, is further reduced for this interstitial zone to white and bamboo. The effect is a clear open area that drives the eye towards the comparatively active living area.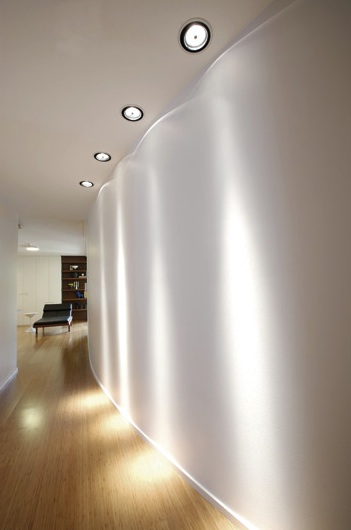 The low stippled ceiling was another concern when the initial plan to cover it was vetoed for dropping the height to two millimetres below regulation. With no alternative but to include it, Phorm has, rather surprisingly, managed to make the ceiling a retro feature through a narrow, slightly modernist crown moulding and upper shadow line. It has also benefited from proper preparation and painting, which has eradicated the usual grey cream, slightly grubby look associated with these ceilings in favour of a crisply pointed expanse that is far from offensive.
The designers certainly know their design theory and have put it into practice with ceiling, skirting, wall and crown in a continuous shade of white, which lends the illusion of elongation to this height-challenged apartment. The bamboo flooring, in a tight small grain of mid-honey tones (Bamboo Coffee – Bamboo Flooring Australia), makes for an unobtrusive platform that is both visually warm and silky underfoot. The heat and humidity of Brisbane precludes carpeting, with tiling and cement finishes most popular, in part, as a rebellion against the traditional wooden floors of Queenslanders. Reinstating this living material makes the apartment feel more closely aligned to a residential dwelling and it benefits hugely from the choice.
The living and kitchen area are open plan with distinct areas of activity: kitchen, nook and living room. Solid New Guinea rosewood is the main feature of the wall enclosing this area. Its distinctive pattern and rich tones lend a good solid weight to the rooms, which are further grounded by simple, yet robust, furnishings. Of particular appeal is the bespoke black leather day bed, also in New Guinea rosewood, by Queensland furniture maker, Comax Australia. It juxtaposes a window of slightly textured, diaphanous white drapes; the effect is cool and relaxed. The adjacent bookshelf ties the ensemble to the whole and leads the eye into the living area where the New Guinea rosewood cabinetry continues, as do the diaphanous curtains. The remaining living area is furnished with a large low lounge in deep grey (custom design upholstered in Kvadrat Lazio Charcoal by Comax Australia), a Patricia Urquiola Fat-Fat coffee table (also in deep grey) and a pair of Ray Eames Walnut stools (Herman Miller).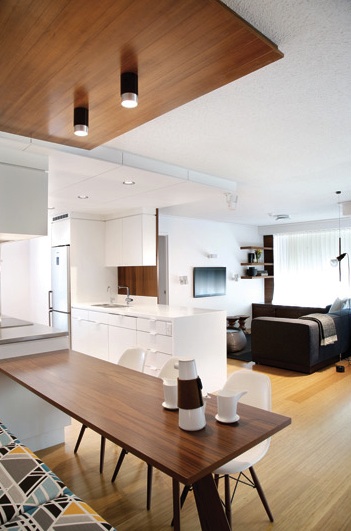 It is an interesting choice of furnishings and again speaks volumes for Phorm's ability to engage a simple set of materials very, very well. In effect the low furnishings are sufficiently broad to suggest comfort and generosity without intruding into the room's limited height. Furthermore, the use of '70s ceramics adds a light-heartedness, which is picked up by the Fat-Fat – a table topped beanbag – to provide a gentle dash of humour. And while the Eames Walnut stool is tantamount to the holy grail of design, there has always been something humorous in the stools' design and their pawn-like pairing below the television is nicely done.
A tall wall of New Guinea rosewood has been used to create a discrete corner, which allows the main bedroom to lead directly from the living area without appearing to be a continuation. This solution also separates the kitchen from the bedroom and living area without interfering with the space gained through the removal of the kitchen wall. A solid block of white Corian (Antarctica) provides a scaled horizontal surface that is both practical in terms of kitchen use and a visually elegant partition. A rather lovely detail is the exclusion of a power point from the pristine Corian surface; instead it has been set flat into the drawer facing. The cabinetry is undeniably elegant (2pac to Dulux White on White; Joinery by Dimensions by Design), with concealed, but practical handles and shadow lines that perfectly match those of the ceiling banquette panels.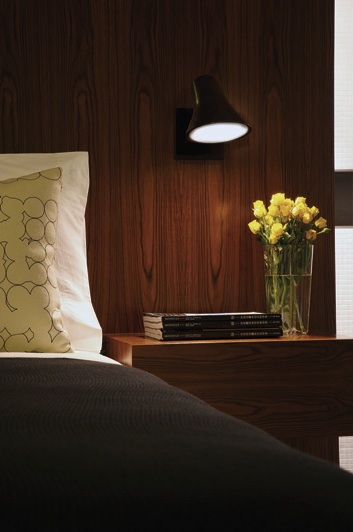 Completing the kitchen is a built-in table of crown cut teak (Revolution Wood Panels) flanked by a trio of Eames Eiffel chairs and a built-in seat with cushions upholstered in 'The Firm' by Sarah Morris for Maharam. This addition of colour is a delight and the pair of photographic prints by Stuart Allen even more so. In fact, the art selected for this project is excellent throughout, especially the works by Brisbane artist, Judith Wright, for the secondary bedroom, and a pair of paintings by Cairns artist, Samuel Tupou, for the child's room. This room also has a charming, upholstered bedhead, featuring glow-in-the-dark bats! ('Animals' by Kvadrat.)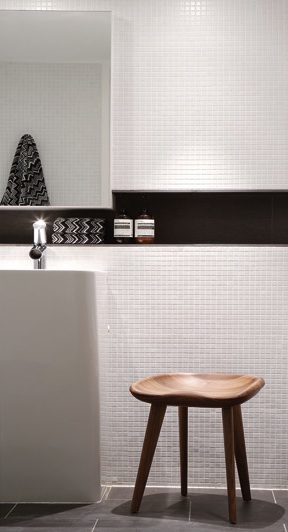 The bathrooms in matte white 19-millimetre tiles (Majer Tiles) are far from ostentatious, yet still impressive. The solid dark tiles (Daugres Sandstone Nero 300 by 600 from Metro Tiles) that provide floor and bath surround, coupled with Alessi tap ware and basins, a Dynaset shower bath (Kaldewei) and the solid weight of Rodolfo Dordoni's Total M207 door handles (Olivari), give these rooms a purposeful quality that is hard to resist.
There is something very satisfying about this project. The client has trusted the designers and the result is a streamlined space that is clear, airy and perfect for the heat of Brisbane. It is also the one and only time a popcorn ceiling has been successfully turned into a charming dalliance with the past.