Article by Online Editor
Designer
This article first appeared in (inside) #73: The Shortlist Issue.
Above illustration by Heath Killen. All images courtesy of Walter G.
Walter G supplies newly designed fabrics by Indian artisans, as well as vintage pieces sourced from India. Established in April 2011 by Sydney-based friends, Lauren Bennett and Genevieve Fennel, the textile company is founded on ethical principles, a passion for textiles and a love of storytelling.
What inspired you to establish Walter G?
Lauren Bennett: I was doing a Bachelor of Design at the College of Fine Arts in Sydney and as part of our final year, we had to do a three-month internship. I decided to go to India for six months in the latter part of 2010, where I worked on block printing, weaving and some graphics. I was taken under the wing of Irani Sen, who runs Craft Resource Centre (CRC) Exports, a fair trade organisation that helps artisans in India to market and sell their products to the world. Genevieve wanted to be part of the action as well, so she joined me twice.
Genevieve and I had previously travelled to Vietnam and South America together and collecting textiles has been our long-held passion. We'd been talking about turning our passion for textiles into an enterprise, and our grandfathers happened to pass away at the same time, leaving each of us some money to invest in something that we believed in: Walter G.
Why did you decide to work with artisan families rather than large manufacturers?
Genevieve Fennel: Lauren and I both share a love for traditional textile printing techniques and by working with artisans we've been able to support their craft, which we were determined to do through Walter G.
In doing this we've also been privy to generations worth of knowledge, tricks of the trade and shared memories of the particular craft. A machine in a factory just can't teach you this.
LB: After my internship we lived with a family of printers in a one-bed house in Sanganer. We moved in with Kuldeep and the six other members of his family, who considered Genevieve and I part of their family. They called us 'dede', which means 'auntie' in Hindi.
GF: Working in India is so different to working in Australia. Business is very personal – a family affair. A friendship of mutual respect and trust was formed between Lauren and I and the artisans. Everyone has a vested interest in each other's lives and I think that is the ingredient to success.
Do you work within Fair Trade guidelines?
LB: We're not claiming the fair trade tag line simply because we cross all our t's and dot all our i's. We lived and worked with the artisans and their families for five months and I can say, hand on heart, that Walter G is 100% ethical. Having said this, we also go by the 'text book definition' of fair trade, and one of the artisans that we work with is represented by CRC Exports. The other artisans are registered with Craftmark, a very well established fair trade standards body within India.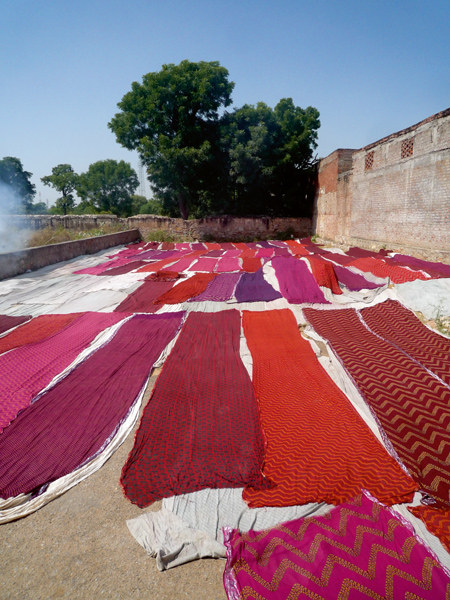 What printing techniques have you been working with?
GF: We have been focusing on block and mud printing with vegetable or natural dyes.
LB: In Rajasthan, specifically Sanganer and Bagru near Jaipur, they mix a mud paste and print using little handblocks. They then put a wood chip on the fabric, dry it in the sun, then dye it in a big 10-foot indigo vat and dry it in the sun again. If you want another tone of blue, you print it again with mud, then dry it and dye again.
GF: The mud is used to resist the dye, which is how you know if something has been mud printed. You can't mud print with chemical dyes, because chemical dyes actually have to be used at a hot temperature, which makes the mud come off. Mud and natural dye is a match made in heaven, but you are fairly limited with your colour range, because there are only so many natural colours you can mass produce.
If this technique only offers a limited palette, what are the advantages?
GF: You can get more variations, but when you start to mix the red and the blue you're always going to have a black background. The artisans traditionally overdye with a black background, which is beautiful, but I find it looks a bit harsh for homewares. The mud, on the other hand, is really imperfect, you'll get a splodge here, or it might stick; in the original pattern this isn't filled in, but it gets stuck and just has more character in the imperfections.
Are the designs you're producing for Walter G traditional?
LB: Genevieve and I collaborate with each other and with the artisans. For example, the Jodhpur print, traditionally, is a vintage textile in red and yellow. It's produced with a different technique using three different handblocks. We loved the design and tried to sample it by using pigment printing, but it didn't work, so we decided to try producing it by using mud printing. We removed two of the handblocks and printed with mud – the white is where the single block was laid – and then we dyed it in indigo.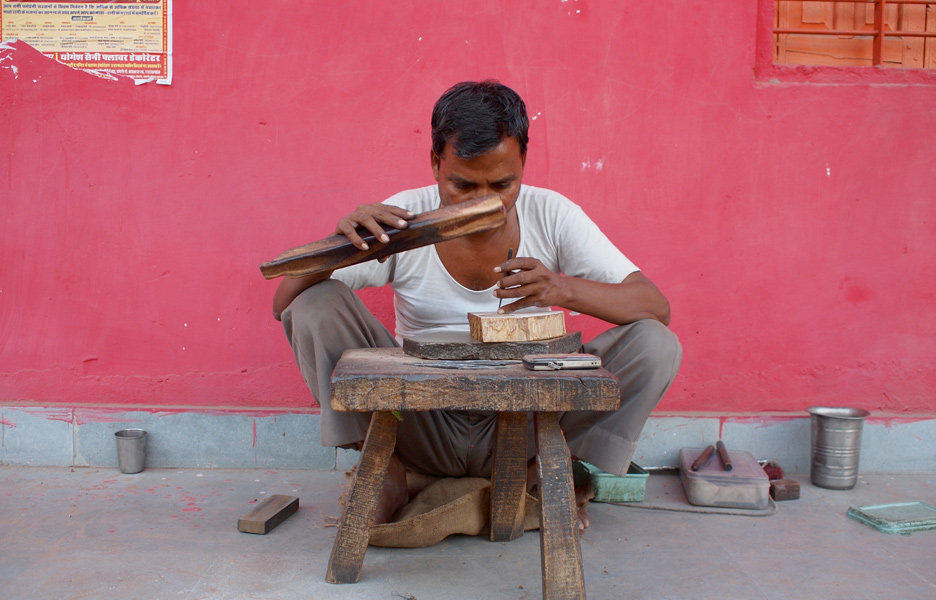 Has it been a difficult exercise sourcing the vintage fabrics?
LB: It's our guilty pleasure. We love the adventure involved in it, of going out to a mud hut in the middle of nowhere and drinking chai tea with people we don't speak the same language as. But somehow everyone manages to understand each other, and we end up finding out the story behind each piece.
GF: You should have seen us travelling by train in cattle class huddled over our precious cargo of turbans! There's a lot of variation in the colour and it's not just your standard picked-off-a-chart kind of a colour; there's a bit of dirt in it, because the fabric's been used. It feels like there's something else within it from another land – a bit of desert – and, I think, these days, there's a growing market for the story behind the product.
Is the dyeing method used on the turbans (lahariya) something you'll explore with artisans?
GF: We really wanted to use that process and technique, but couldn't find an artisan that would work in the detail of the old style. It takes months to produce one piece and we were willing to pay the artisans for their time, but they just don't want to spend one month working on one piece, which we respect.
What's next for Walter G?
GF: Lauren and I have a very long month of sampling coming up in Sanganer in December. After that people can expect more colour, more imperfections and some great stories.