Article by Online Editor
Photography by Richard Glover
Designer
Architect Bates Smart
I'd like to first discuss the rise of activity-based working (ABW), which has brought about a big shift in the ways workplaces operate.
Simon Swaney: It's important to begin by asking why workplaces are changing. There are broader issues in society – our needs and wants, our standards of living and economic pressures – that have impacted the ways people want to work. So we consider how to respond to those changes and deliver a workplace that supports how workers need and want to work.
Kellie Payne: The changes we're seeing now in the workplace have risen out of problems and inefficiencies in previous workplace paradigms. In the open plan office, we've seen how certain areas are over-utilised while others are under-utilised. ABW makes all the kit-of-parts work harder.
SS: It challenges the idea that you work in one designated place – if you don't want to sit at a workstation, you can choose to sit at a communal table or take your laptop to a cafe. People want the option of where they work.
KP: One of the key things most businesses are finding is that the quickest way to get from idea generation to product is collaboration among their staff, so encouraging that knowledge sharing has a huge impact on how they contribute to the workplace.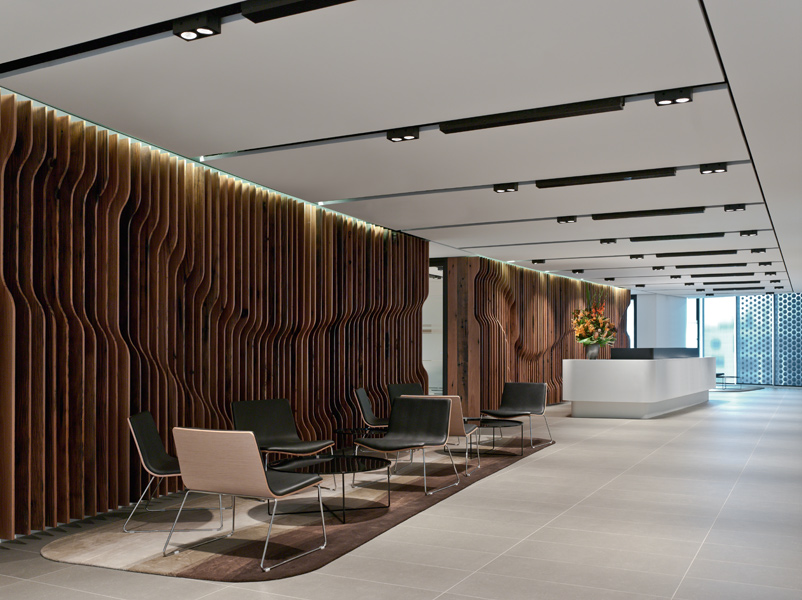 How have you seen this cultural change applied in practice? 
KP: We are working with a large local council who are coinciding cultural change with the building of a whole new civic centre and they really wanted their staff to lead the change. When we first came on board, they had a new CEO who said he didn't want an office and their entire executive followed suit. We worked with them in workshops to establish their vision for the place and what their workplace identity was. They also rated the opportunities for change, helping us reach a list of issues and goals.
SS: The move to an ABW workplace was a substantial change for an organisation that was previously very structured and bureaucratic. The new CEO saw that the mindset was the same as their offices: inflexible and constrained, and he decided to change it. We often see these strong leaders that are clever enough not just to instigate the change, but also to bring their team along to help them understand why change is necessary, and to make them the champions of change.
KP: We've had a few clients – such as Conneq and Goodman – that really are outstanding examples of organisations achieving massive change over a very constrained period of time. The change has impacted their workforce by not only improving the speed of their work and collaboration within their teams, but also by changing the culture of the office with a better atmosphere and instilling staff with a sense of pride.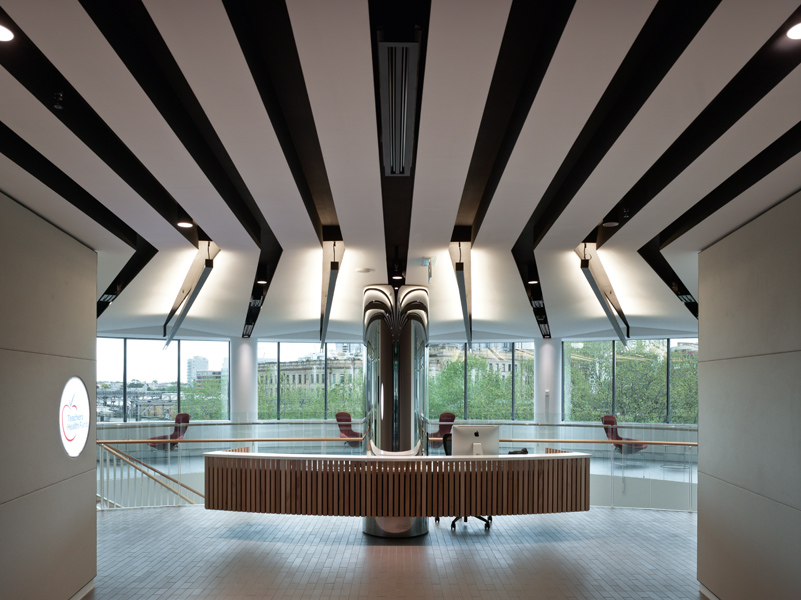 How did the Goodman office fitout evolve?
SS: Goodman is a good example of how workplaces are changing and what it takes to make that change. We ran a series of workshops to explore where the company was going – the workplace must be linked to the corporation's strategic vision. You can't just say, 'We've designed this great new office for you, now move in.' It's about crafting something that fits in with their corporate need and strategy.
During the GFC (global financial crisis), Goodman, like many, faced some challenges. Their CEO, Greg Goodman, decided they needed to change the way they worked as part of an overall review of strategy. The work that we did was a very secondary part to the change they were implementing in their business. They needed to look sharp and professional to clients and investors, without looking indulgent, and the workforce needed to feel the energy of the company and to want to contribute to it. This was a really clear message throughout the briefing process. They went paperless, gave everyone lockers and adopted a clean desk policy as part of their ABW model. It works for them, because 40 per cent of their staff aren't in the office. Yes, the change was about space efficiency, but more than that it was about bringing an organisation together and creating a space that hums with energy.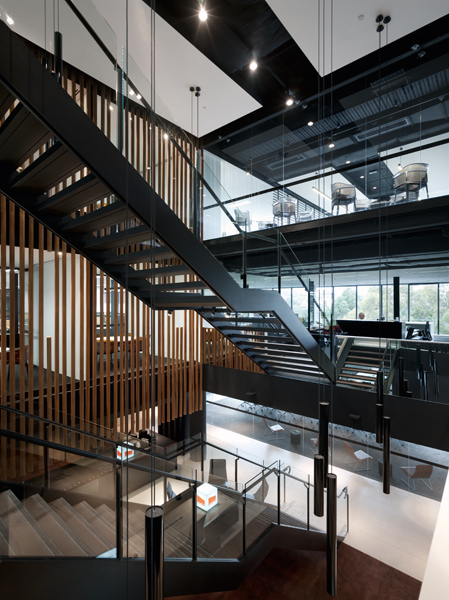 We're seeing more areas in workplaces that encourage both social interaction and team-based working. Do you feel that the workplace is becoming less corporate as a result?
SS: A lot of the formality is being dissolved. We're seeing the design sectors merge: office designs are now taking inspiration from hospitality and residential sectors. The Sydney office of Clayton Utz has a big staff cafe with the best view in the house, overlooking Circular Quay. It's a facility all the staff can use and so it brings people together and creates a sense of corporate culture, knowledge sharing and community. Staff now invite clients into their cafe – it's relaxed and, as a client, you feel like you've been invited into the inner sanctum. That social facility helps you engage with colleagues and clients.
KP: There's this strong idea, too, that food is glue: it brings people together and offers a more meaningful interaction. Sitting down together to share and consume food is a ritual, and a lot of businesses introduce food as part of their workplace to help staff develop stronger bonds. So, we look at how to increase collaboration when it's needed, but also allow for the 'light bulb moment': that moment when your mind is distracted enough to suddenly get clarity on an idea. Those quiet moments of individual concentration are just as important as the collaborative periods.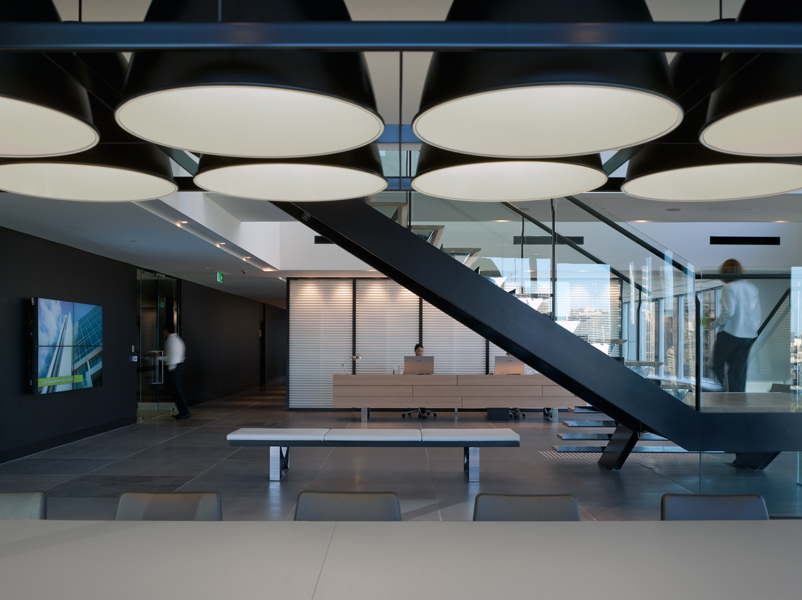 One interesting thing that Simon touched on is that a large number of our clients, including Goodman, Conneq and Landcom, all made the decision to give their A-grade real estate to their staff breakout areas. The traditional spatial logic is inverted and the boardroom is on the lower floor and the breakout spaces have the best view. At Landcom, we designated the entire length of the floor plate, with the best views on one level, to their breakout space, The Terrace. Everyone is welcome to sit there – it's not just a lunchroom, it's also a workspace and a library. Through it, the business has clearly stated to its staff that they are the company's primary asset – not the clients, the lawyers or the tax accountants that come in once a year and get to sit in the boardroom with a harbour view. Plus, it means they're leveraging their space much more effectively – it's being used all the time by a greater number of people, rather than very infrequently by very few people.
Again, that's something I'd associate with the idea of the office becoming less corporate – the executive boardroom is seen as extravagant, and now that space is given over to a communal area for all of the staff.
KP: And that's where the cross-fertilisation of sectors really comes to the forefront. We've got expertise in hospitality, residential – and we bring some of those ideas into the workspace to make them feel much less corporate. The big kitchen table in the office is something Renzo Piano did in his Building Workshop in Genoa in the 1980s. Staff bring in food and cook for the office. These are ideas that have been around for a long time.
SS: Likewise, Richard Rogers and his wife Ruth started The River Cafe in West London, which was initially the staff cafe. The idea that everyone comes together over lunch allows people to generate ideas in a different forum.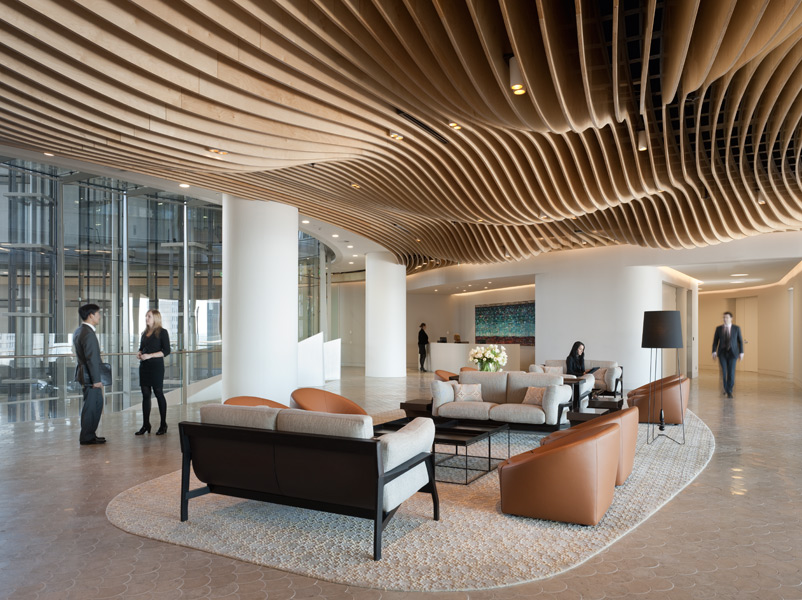 Do you think that ABW risks creating a more transient workforce in which people move on to new roles and companies sooner than they might have previously?
SS: Culturally, the challenge with ABW is enabling people to express their individuality. But I think it's the engagement with others within an organisation that makes people want to stay. The social encounters are what make a job enjoyable and people get satisfaction from achieving something as a team. It's about finding a balance between the space efficiency a company seeks and creating an environment in which people enjoy working and feel they can be productive.
KP: In some fitouts, we've evolved the ABW concept to a team and project-based workplace. Instead of staff being completely mobile and packing up at the end of every day, they come together for the duration of a project and then dissolve at the end. It's a highly agile way of working that gives flexibility and harnesses the benefits of long-term team collaboration.
How do you think workplace design will change in the future?
KP: The idea of working remotely has been around for a while, but only now is it really technologically supported. We see more people working from home, but conversely we see the pendulum swing back again to focus on collaborative, location-based work in the rise of co-working facilities.
SS: In many industries, though, collaboration is still important for some tasks, so you can't do everything from home. In the last 20 years, technology has been a key driver of change and the next step will be technically driven, with ideas such as holographic conferencing.
KP: Which raises the question: how much private equity can the individual take on? We're already seeing a rise in 'bring your own device', so next – with innovative conferencing – will it become 'bring your own office' or 'make your own team'? We're currently working with Charles Darwin University, where more than 50 per cent of classrooms are virtual. The tutor sits in his or her office and speaks to students over the internet. Really, they're at the forefront of video conferencing, because each student needs to be able to participate in real time.
SS: The nature of work will change as technology continues to evolve and, as we discussed earlier, it will be the broader changes in society and our expectations that help shape the workplace of the future.