Article by Online Editor
Designer
Above: Sprint Chair.
Leanne Amodeo: Although you've been based in Hong Kong for the past four years, you previously lived in Milan for 15 years. What made you want to move to Milan initially?
Sean Dix: When I was studying interior architecture and sculpture at the Art Institute of Chicago you pretty much ended up in a niche: you were a left door handle designer, or a stereo speaker designer – and I just thought, that's not for me. I wanted to be a 'real designer', like the old school Italian ones, like the old school American ones. They shaped a lot of the history of design, and those guys would make anything; somebody would call them up to design an exhibition or a chair, whatever, and they could do it. It was very broad and very open and goes back to Le Corbusier's ideas about the responsibility of an architect. Italy was the best place to get that kind of experience.
I think that a good designer is very much a generalist. We're not supposed to be experts on stuff, we're supposed to be able to swipe ideas from all different areas, sectors, places, people, and put them together in innovative ways. Nobody really does that anymore. I won't say there's none of that going on, but at the time, Italy was the best place to learn that kind of approach. The Italians have a really cool word for it: they don't talk about designers or architects, not when they're being really serious, they talk about "progetisti", which means "somebody who makes a project". This implies forethought, study and research, and awareness and all of these things. Now the Dutch, on the other hand, call it "vorm geven", meaning "form giving", which, I think, is one of the saddest, most depressing definitions applied to what I do. It's so narrow that it sets my teeth on edge every time I hear it. I like to think there's so much more to what I do than decorating.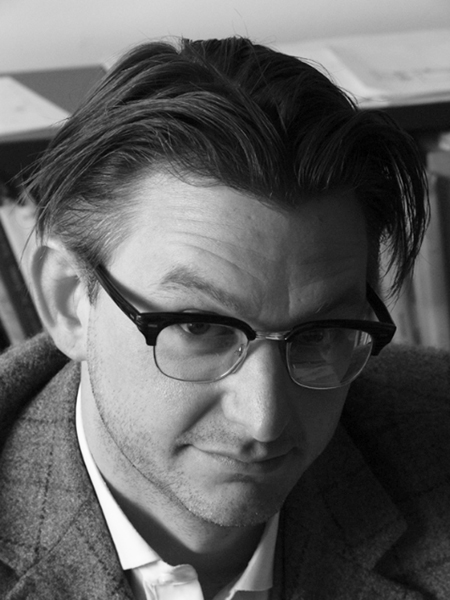 LA What was your motivation for moving to Hong Kong?
SD I felt like I had learned the most part of what I was going to get out of my Milan experience. I had some nice contacts in Asia, and I've always loved that part of the world. You would have to be a complete idiot to not recognise that everything is happening over here, and not back there in the old country where everybody is sleeping! There's just a lot more opportunities to learn and experience things, to see stuff with fresh eyes. That's one of the things that makes you a good designer – you notice things that other people don't necessarily notice. And in Milan I felt like I had used up that skill, I didn't have it anymore. So I came to Asia and experienced that feeling of everything being new. A designer's mental life is a puzzle; you're always putting together pieces, and you're also really critical: "how would I have done that better?" Or "why didn't they design it this way instead of that way?" I felt like, in Milan, I kind of used up my curiosity. But I carry away a lot with me from Italy, and I learned a tremendous amount. I'm really grateful, but I'm glad to have moved on.
LA The Sprint chair and Yardbird chairs both evolved out of hospitality commissions. How did you develop the concepts for these two chairs?
SD Sprint chair was originally developed for the Bar Veloce restaurant chain in China. So the restaurateurs got an original design that nobody else has, and at the same time, I was already thinking about making sure that what we were doing was something that would make for a good product in the future. Sprint isn't a true production piece yet – it's still considered a prototype, but everything is as it's supposed to be. I'm really pleased with it, and I think it's super cool – a really simpatico, friendly little chair.
The Yardbird chair, on the other hand, was designed as part of the whole fitout for Yardbird restaurant in Hong Kong. It actually has the same geometry and moulding as the Copine, but it's trimmed down to give it a much smaller footprint, because the restaurant is very small. The restaurant has that whole industrial furniture factory aesthetic going on and I wanted the chair to reflect that.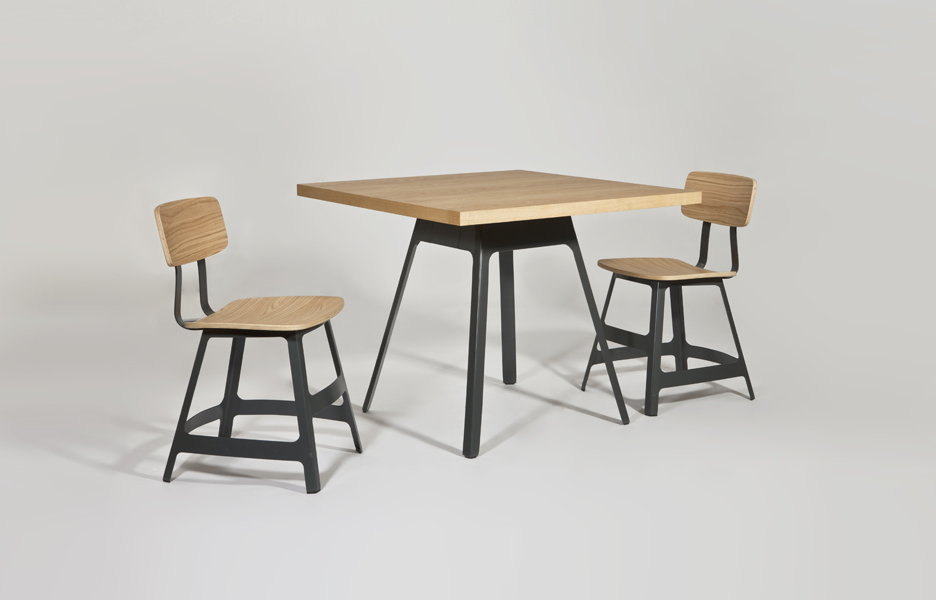 LA How did you adapt your Copine collection, which was originally conceived for residential environments, for the workplace?
SD I didn't adapt anything. These are exactly the pieces for the residential market. The cool thing about it is that like a lot of other things, there is some pretty interesting 'pollution' happening. The world starts getting interesting when these influences start to intercept. What makes this a dining table, not a desk? You tell me. Nothing. It works just fine as a desk. What makes this a residential chair, instead of something you could use in an office or a canteen? Nothing. It's just this dumb preconception that office chairs have to have lots of knobs and plastic on them, or that desks have to have a bunch of other stuff sticking out off them. I think we're going to see more and more of this kind of overlap between residential and workspace furniture.
LA Are you deliberately cultivating a vintage aesthetic in your designs?
SD The reality is that some of my furniture deliberately references vintage designs, like the Dowel lounge chair, which is basically an homage to some of the big design influences in my career and my travels. It's got very clear elements of Italian design in it, and there's some pretty clear Shaker elements from the US east coast. There's also an Eames reference in that bent laminated arm, and the separate square cushion is really Scandinavian. There are a lot of little details in there that pull together design from everywhere. My other furniture designs aren't that vintage in appearance. What it is, right, is that I'm using a design process that's called 'modern', so if you want to design in a modern way, you design with a certain kind of logic and a certain set of parameters that you work through to get to your result. And way back in the days when vintage stuff wasn't vintage, that was the logic that designers used to design stuff. And now that's not really done anymore.  Most designers don't work that way. So some of my designs maybe have that kind of vintage feel to them, but it's only because I'm using a design philosophy, an approach to design, that many people have forgotten about.