Article by Online Editor
Designer
Above: Intricate mosaics in The Vincent Hotel, Melbourne, by CoLAB Design Studio. Photo by Shannon McGrath
Wallpaper
Queensland-based design firm, COOP Creative, uses bold wallpaper selections in many of its designs. "Right now, wallpaper designs tend to be more graphic, with many wallpapers being more experimental with proportion and scale," says senior interior designer, Katherina Sparti.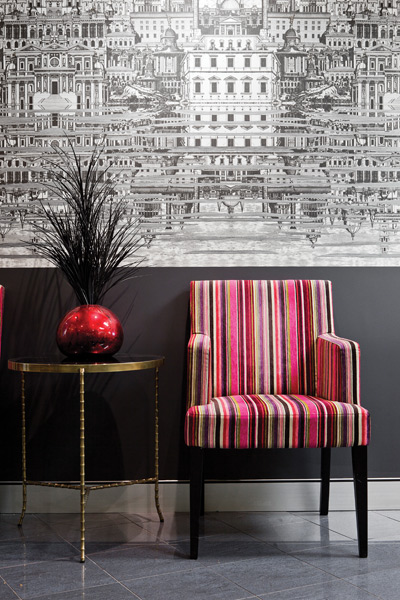 For the refit of a barrister's office in the Brisbane legal precinct, COOP applied the Riflesso wallpaper from Cole & Son's first Fornasetti collection to a prominent, curved wall in the waiting area. "The wallpaper acts as a dramatic focal point and bands of black were employed above and below the wallpaper to frame the scene and elevate the horizontal," Sparti says. Cole & Son recently released 15 designs as part of its Fornasetti II collection, continuing its focus on magical and iconic motifs. Featuring images from flying machines and monkeys to keys, owls and bicycles, the eccentric collection was launched at Maison & Objet in Paris earlier this year and is available locally through Radford Furnishings.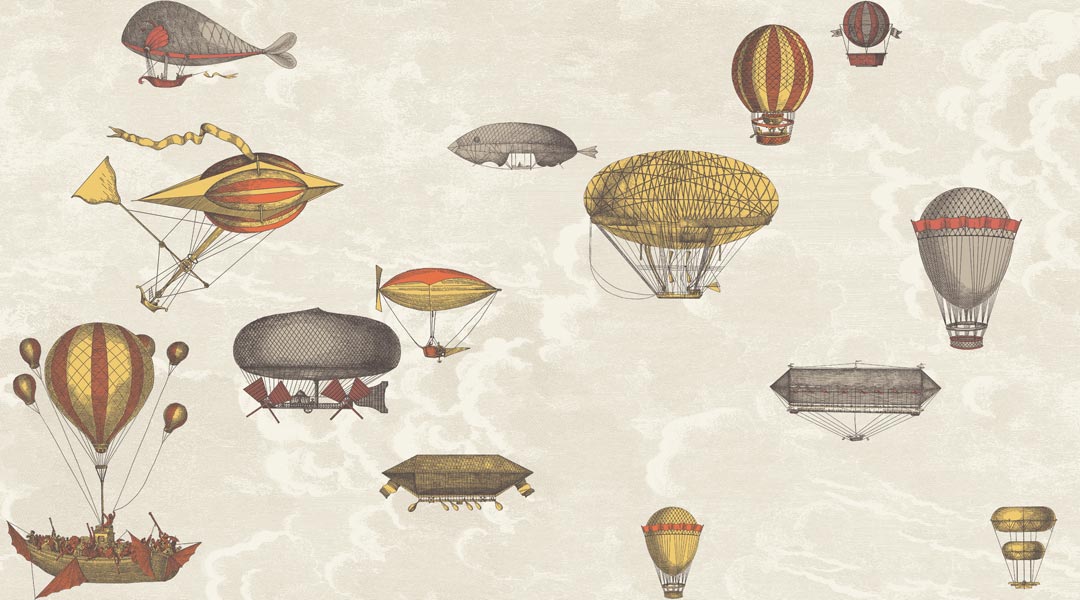 Less intricate in design but achieving a similarly illusory effect is the collection from Netherlands-based wallpaper brand, NLXL – stocked locally by Safari Living. Among the designs are Piet Hein Eek's Scrapwood, which creates the impression of a wooden plank surface, and Piet Boon's Concrete Wallpaper collection, featuring designs of a distressed concrete surface.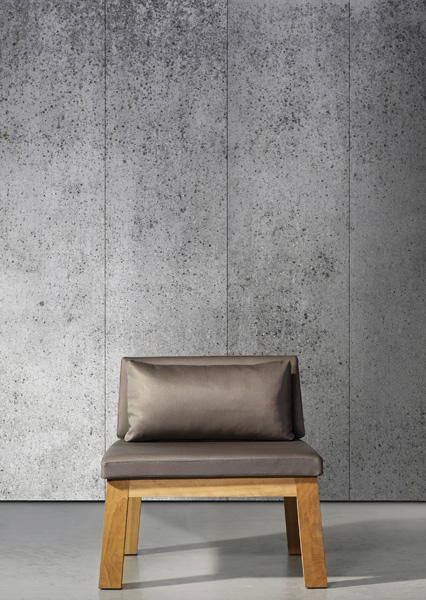 Tiles
Philip Chia, director of The Uncarved Block, turned to Patricia Urquiola's Mutina tile from Academy Tiles for his fitout of the basement food hall at The Galeries on Sydney's George Street. Chia was inspired by the inner-city hub's urban fashion and lifestyle shops and sought to reflect this in the tiling he selected. "The hexagonal tiles' relief pattern is reminiscent of textile fabrics," Chia says. "It's the artistry of creating a visual texture."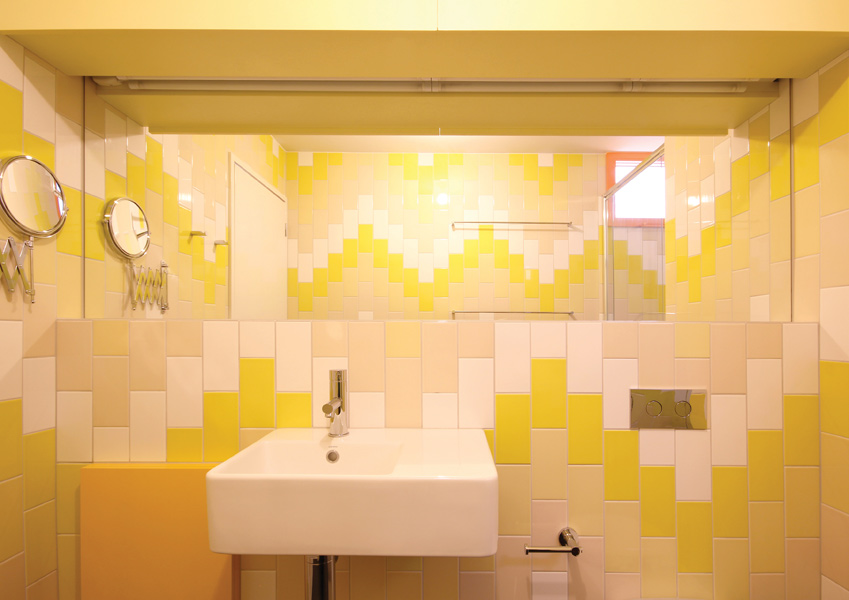 The team also chose a circular bronze Penny Round tile for the dramatic staircase and an off-white colour for the columns, also from Academy Tiles. "The round tiles are more sympathetic to the shape and form of these architectural elements," Chia says.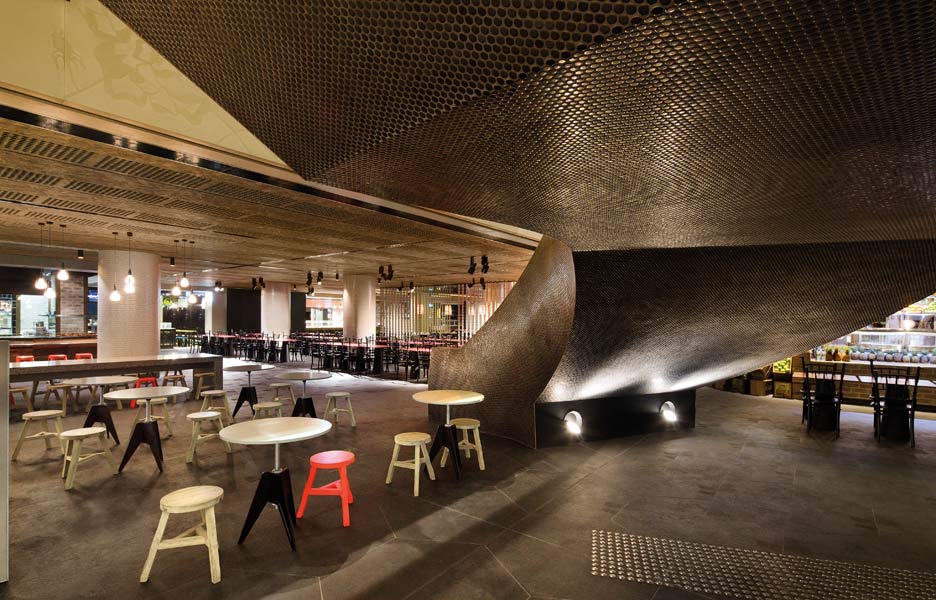 While specifying tiles is certainly not new, what has changed is the ways tiling can help designers craft a particular aesthetic. Striking tiles from Alloy Design's Karim for Alloy range have been used in Melbourne's Crown Casino Retail Street project by Red Design Group, which features glitzy titanium gold and mirror polished stainless steel tiles. The range is a partnership between flamboyant US designer, Karim Rashid, and Sydney-based Alloy, and includes eight metal tile 'cells' that each embody a distinctive shape and colour.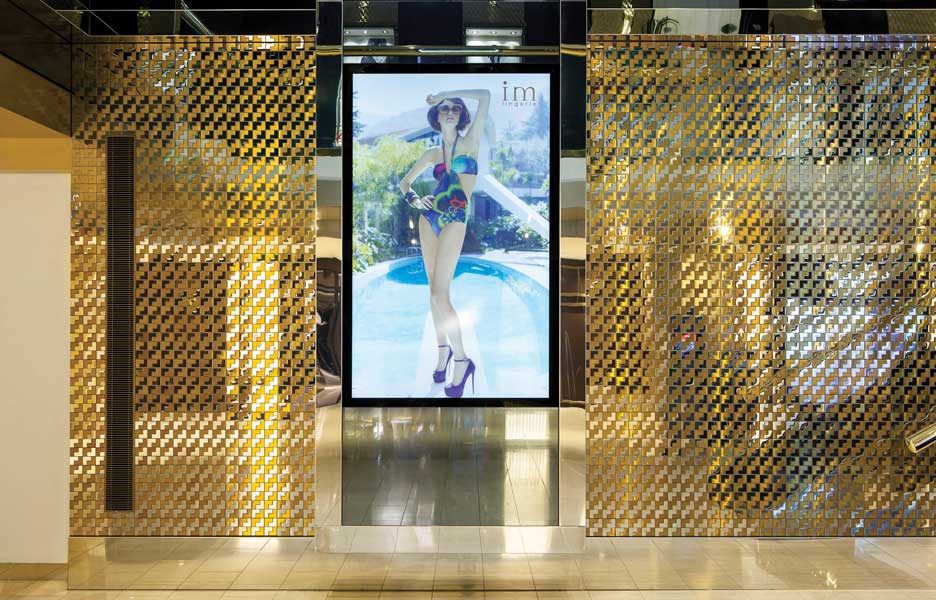 Creative tiles are finding favour in residential projects, too. Marc Dixon Architect's renovation project in Carlton comprises bathrooms in varying shades of yellow. In particular, the ensuite features the brand new 'Sunburst' colour from the Waringa range, available at Johnson Tiles. "We like to experiment with different things," Dixon says.
Mosaic
Experimenting with mosaics has become a theme for Anna Drummond and Trish Turner, the co-directors of CoLAB Design Studio. The studio's design for The Vincent Hotel in the leafy Melbourne suburb of Albert Park features two prominent murals, crafted from hand-cut glass mosaics and depicting exotic floral motifs.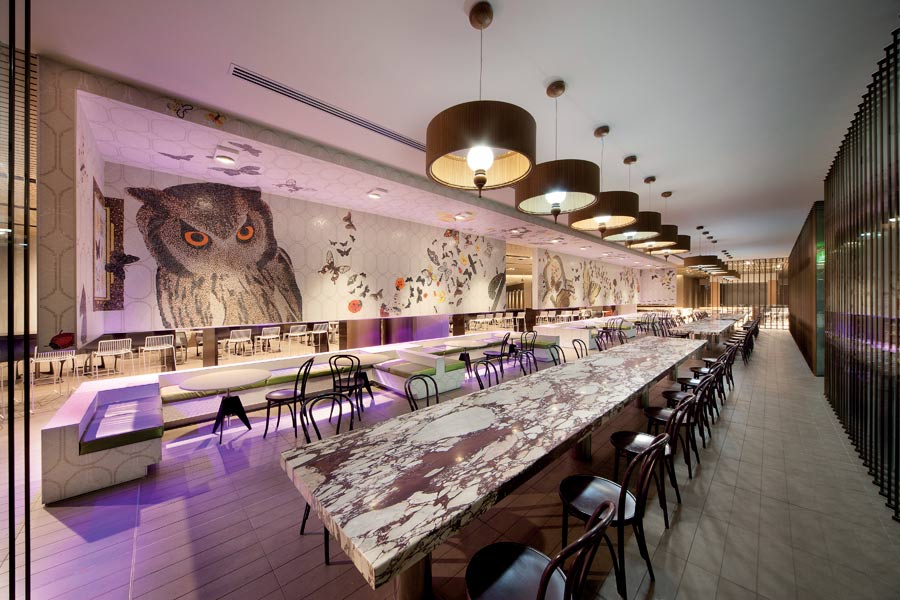 The hotel was once famous for its vast internal garden, long since lost; and these mosaics allude to that past. The designs were produced in China and installed piece-by- piece and number-by-number. "The colours form a decorative renaissance palette and break up into fragments, inspiring the rest of the hotel's genteel spaces," Drummond says. "The idea of a consistent narrative that is expressed in every detail of the design is what makes a successful fitout."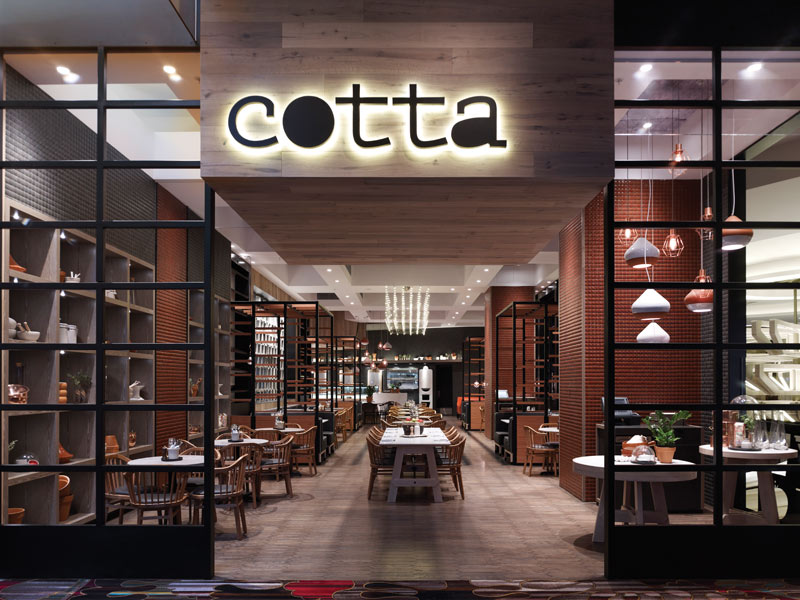 The Uncarved Block likewise turned to nature in its whimsical, custom-designed mosaic wall as part of the Melbourne Central Food Court project. Intended to hold the visual attention of children, it offers images of owls and butterflies to push the boundaries of food court design.
Mosaics can help create warm and rustic interiors, too. Mim Design's design of Cotta, a new restaurant in the West End precinct of Crown Melbourne, uses mosaic tiles from Artedomus that furnish the walls behind the kitchen servery.
"The Artedomus mosaic tiles add texture to a large expansive wall, which is highlighted by the play of light and shadow," explains director of Mim Design Miriam Fanning.
Graphic walls
Interior designer, Henrietta Reed, creates her own bespoke wall art – recently designing a graphic wall as part of a refurbishment of Torch, a small and casual cafe in Melbourne. "I created a sketch and it was digitally printed in a large format," Reed explains. With the concept of 'a bright light in the dark', the cafe's graphic wall comprises a dark, European-inspired streetscape punctuated by pops of white and yellow. "A graphic can really lift the space. It's easy to do and cost-effective, too," she adds.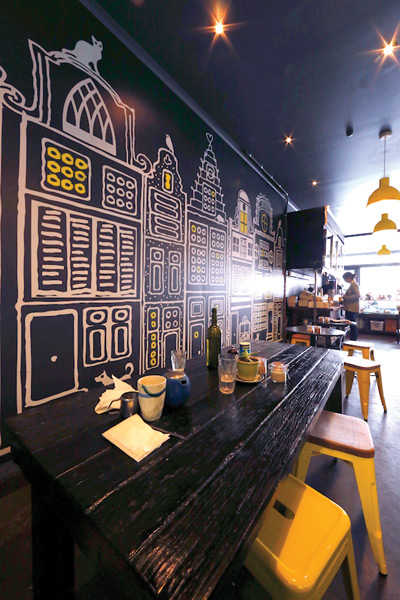 Sydney-based Axolotl has been creating decorative details with innovative applications of timber, glass and metal for 18 years. For its bespoke Link product, glass panels are carved into and inlaid with materials such as iron, aluminium and concrete to create light and movement. Axolotl managing director, Kris Torma, says of their Poppy Link design: "It equally looks better from the other side, where the iron is on the front face and the etching is behind it."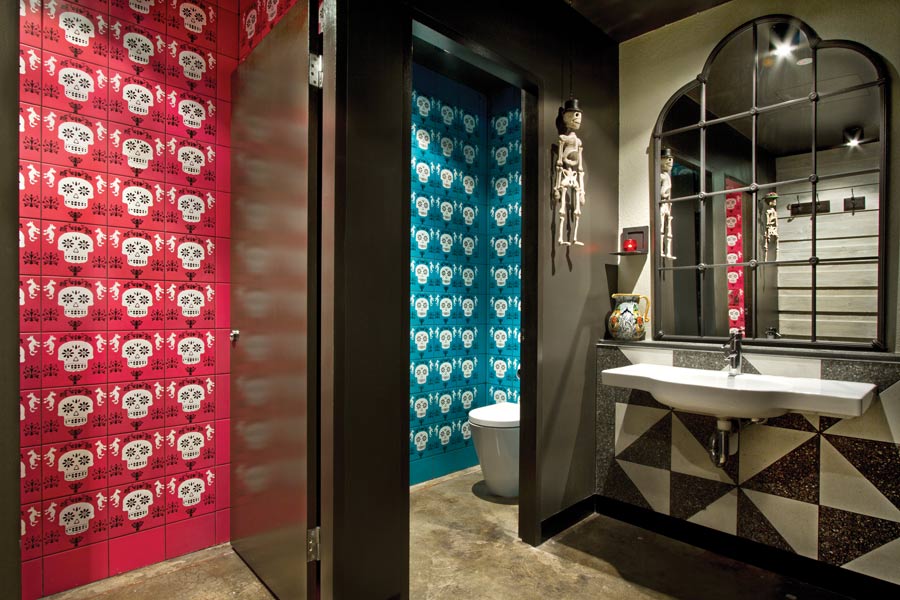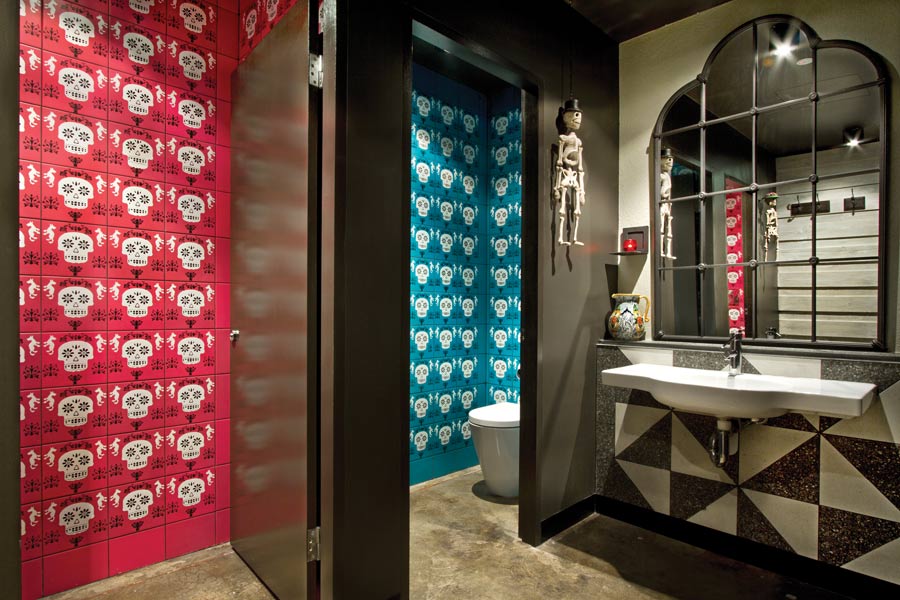 Meanwhile, aficionados of all things Mexican can discover another graphic art highlight at Melbourne restaurant, Señoritas, where artist Aaron McKenzie has created a mural and hand-painted more than 1000 tiles for the bathrooms. The work is inspired by the restaurant's Day of the Dead theme, with the overall interior by Kath Lombard and Jackie Johnston of Lombard & Jack. Best of all, design hunters can buy McKenzie's tiles from the restaurant's website and give their own home a jovially ghoulish touch.