Article by Online Editor
Photography by Creative Image Photography, Mat Lynn
Designer
It started with an old, sapphire-blue espresso maker. Jeweller, silversmith and independent curator Rohan Nicol was making coffee one morning when he dropped his wife's cherished percolator, causing the handle to snap off. His wife's dismay made him pause and ponder the emotional meanings that become imbued in everyday domestic objects. "For her, it was a sentimental object, something that she had a great deal of affection for," Nicol says. "She had brought it with her when she emigrated from Switzerland, so embedded in that vessel were 20 years' worth of memories of making coffee at home with her family."
Nicol put his silversmithing skills to use and repaired the pot, layering their own history into her family memories. Then he noticed something about how the contrast between the old and new breathed fresh life into the object. "Suddenly, this object was really visible in our home again. It had become invisible through familiarity, but the new elements added something that celebrated and amplified the existing object."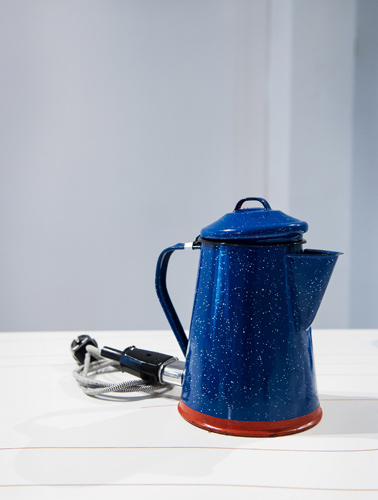 After creating a sugar bowl and milk jug to go along with the espresso maker, Nicol decided to test the idea further in a collaborative project that would become Domestic Renewal: A table reset. Seventeen backgrounds across the fields of visual art, studio craft, industrial design and architecture – were asked to produce objects that would be exhibited together as a single table setting. Nicol encouraged them to challenge the way everyday domestic items are seen, thinking about the idea of space, urban renewal and the reuse of materials and existing objects.
Brought together on two long, adjoining tables – on display at Craft in Melbourne this August as part of the Craft Cubed festival, following its first showing at Craft ACT in late 2012 – is an eclectic group of pieces by designers such as jeweller Bridie Lander, product designers Guy Keulemans and Henry Wilson, and architect Ann Cleary. Here, the table becomes a common location to house the objects, a space to imagine and play with ideas that are becoming increasingly relevant within the creative industries and beyond.
"It served as something like a little version of the real world, a lab to craft ideas in response to real-world challenges and opportunities," Nicol explains. The domestic setting, then, can be seen as a starting point for exploring global ideas about consumption of materials, resources and energy. "In many ways, it's about making objects in a materialised world, where we orchestrate our own environment as a reflection of ourselves and use objects to anchor ourselves in our own reality."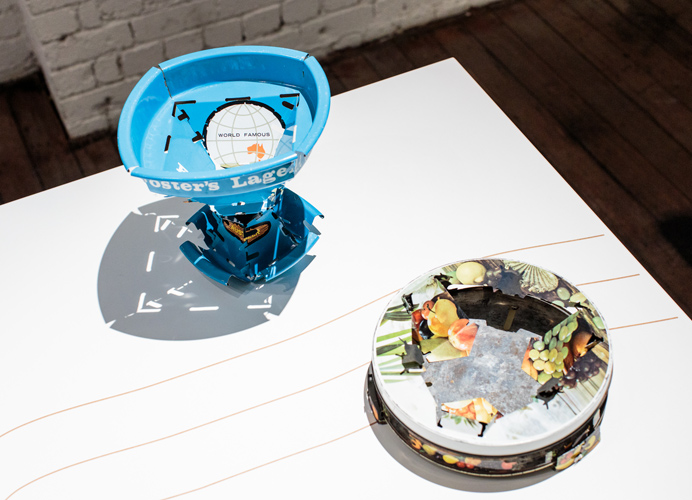 The result is a table of objects teeming with contrasts, multiple perspectives and different creative responses. It's not a complete, tidy solution; it illustrates problems and contradictions. Some objects are small and intimate, others large and dramatic. The centrepiece, connecting the two tables, is sculpture artist Alex Asch's reinterpretation of a flower arrangement – a bold, weathered cityscape made from reclaimed formply. In contrast, a delicate set of salt and pepper vessels, transformed from 100-year-old pocket watches by jeweller Norman Cherry, reflect a quiet sense of nostalgia.
Guy Keulemans has cast traditional ice-cream scoops out of copper, in the knowledge that the material would emerge already damaged, and his beautiful restoration work shares the same affection for repair aesthetics as Nicol discovered in the espresso maker.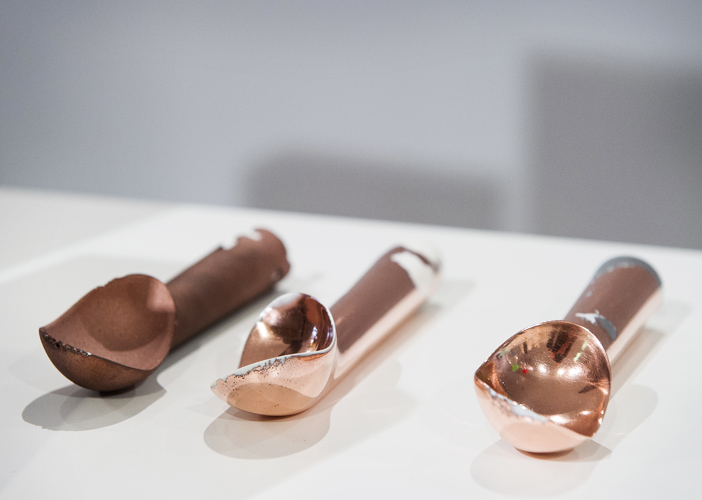 Many of the pieces are united by a shared interest in reusing existing materials. From Sarah K and Liane Rossler's transparent cutlery set made from plastic bags, to a vessel for flower arrangements crafted from an old Foster's beer tray by silversmith Jason Wade, ideas about waste are thoughtfully explored. Both technology and nature are celebrated – jeweller Bridie Lander has used 3D digital scanning to create a toasting fork, while landscape architect Gini Lee and jeweller Sabine Pagan collaborated to produce condiment dishes that reference the salt lakes of Central Australia.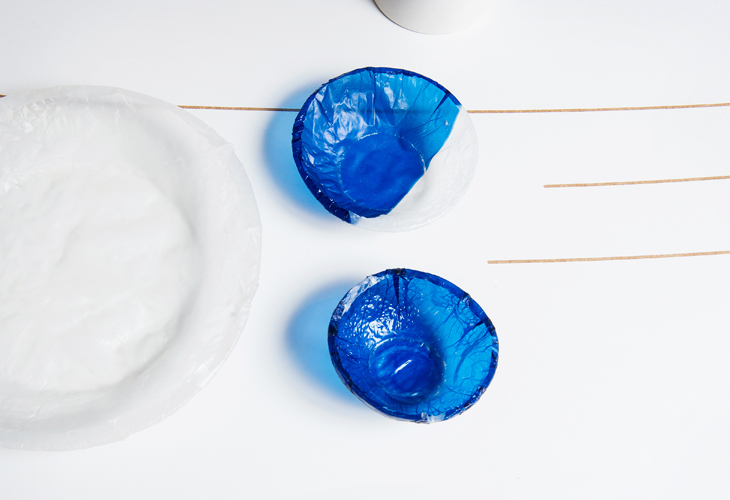 By bringing together a diverse range of creative disciplines, Nicol was able to play with ideas rooted in the processes of urban renewal, where the multiplicity of ideas contribute to the richness of the landscape. A cross-disciplinary approach, he says, not only provides designers and makers with exposure to new ways of working, but also encourages them to reflect on what makes their own discipline unique. "By putting different disciplines side-by-side, you celebrate and confirm the differences between them."
Domestic Renewal: A table reset, curated by Rohan Nicol, was first exhibited at Craft ACT in November 2012 and travelled to Craft Victoria for the Craft Cubed festival in August 2013. The exhibition will be on show next at JamFactory in Adelaide, from 11 October until 1 December 2013.
The exhibition features work from Alex Asch, Richard Blackwell, Norman Cherry, Ann Cleary, Sarah K, Guy Keulemans, Bridie Lander, Gini Lee, Rohan Nicol, Sabine Pagan, Mel Robson, Liane Rossler, Wayne Simon, Kenji Uranishi, Jason Wade, Kathryn Wells and Henry Wilson.