Article by Online Editor
Photography by Courtesy the artist and Sullivan + Strumpf
Designer
Above: Joanna Lamb, Interior: 15 Colours no.2, 2013, acrylic on canvas
In her show at Sullivan + Strumpf gallery in Sydney, Perth-based artist Joanna Lamb continues her extrapolation of the serially rendered architectural form.
The paradox of 15 Colours lies in the presentation of an interior setting as both object and subject, in that the installation itself, comprising a set of paintings, wall work and sculpture, connotes the same cool regularity of her subject.
Parodying the symmetrical perfection of a real estate brochure's styled and slightly eerie perfection, Lamb strips the image bare of nuance, filler and grit. In their stead, the image is digitally augmented to a state of stylistic, composed and formal elements recalling the tropes of modernity. Indeed, Walter Benjamin's dilemma of authenticity's loss through reproduction is swiftly rendered moot by Lamb's ability to draw meaning from the very fact of reproduction.
That said, within her oeuvre this exhibition conveys a slight shift from the stylistic cool with the introduction of a display cabinet, wood tones (which Lamb uses disproportionately to further flatten the plane) and ornaments. Indeed, comparatively, the wood-grain series of interiors are positively cosy.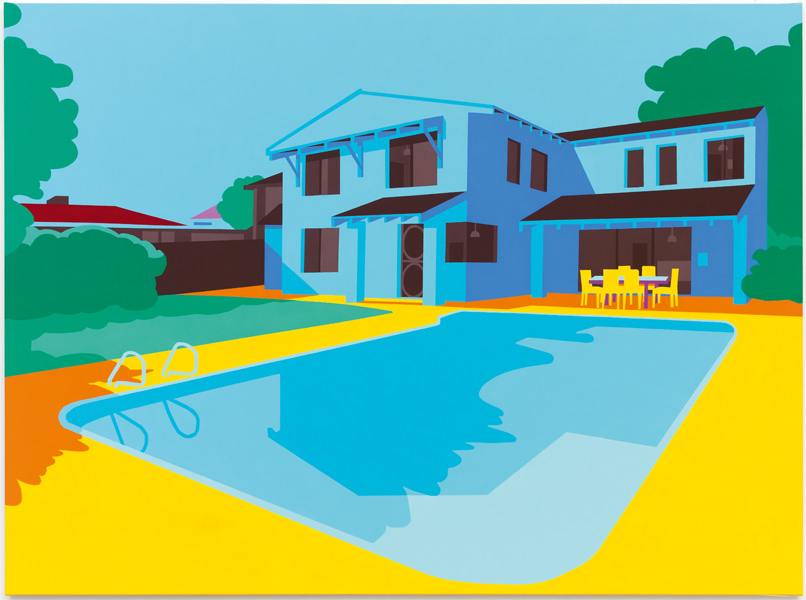 In limiting her palette to 15 colours, Lamb presents herself with the task of exploring dimensionality through tonal variation. "It's a means of containing an idea, creating a structured limiting frame to keep the idea under control; reducing everything to its most basic form," says Lamb.
Much as a black and white photograph becomes flattened as the contrast is limited, the same applies to colour where only a block of blue, rather than a gradient field (shifting from blue to grey to black) conveys the receding shadow of an expanse viewed from the side. The effect is an exaggerated and structurally simplified composition that Lamb has used to examine both interior and exterior views.
For example, Interior: 15 Colours no.2 (2013) depicts a formal dining room in yellow. While clearly a room, the yellow of the wall and floor exists as a single plane, with demarcation only expressed through the contextualising logic of paintings hanging on a wall and furniture standing on a floor. Essentially, the line and shadow of separating planes is not necessary, and therefore invalid, within Lamb's world.
Pushing the uncertainty of perspectival illusion further still, Lamb cuts the Hockney- esque swimming pool from a painting to deliver it in oblique solitude, painted directly onto the far wall of the gallery space. "It's all about reduction and creating symbols, getting rid of details and bringing it to that point between abstraction and realism: it's still a pool, but taken out of context it becomes an abstract element, while the reflection gives it informational context," she explains.
As such, where the pool's narrative existence within the painting is grounded by the surrounding line of trees, house and patio, as a standalone object there is a certain toppling sensation – as though the pool were falling towards the viewer through space.
Lamb has used the architectural space of the gallery and exhibited works to skew scale and unanchor the pool from a planar dimension to an exuberant uncertainty – and it is this very aspect that jangles the viewer's perspectival relationship with Lamb's work.
Throughout her broad and successful exhibitions over the last 10 years, Lamb's exploration of the world in which we live has been shown to be uniquely her own and distinctively Australian. Moreover, as Robert Cook, in his 2007 essay, 'Trance', points out, the neutralising of aesthetics to a flat dimension conflates the dream interior/exterior: "Lamb is neatly commenting on that fact that, since colonisation, this place has always, at least partly, been an 'international fantasy'."
15 Colours by Joanna Lamb was on show at Sullivan + Strumpf in Sydney from 18 June to 13 July 2013.