Article by Online Editor
Designer
Above: Xu Zhen, In Just a Blink of an Eye, 2005. Photo courtesy Xu Zhen
Conceived by the impresarios of 'post object' curation Hans Ulrich Obrist, a co-director at London's Serpentine Gallery and Klaus Biesenbach, director of MoMA's PS1 in New York, 13 Rooms is the third in this ongoing series of exhibitions – following 11 Rooms (Manchester International Festival, 2011) and 12 Rooms (Essen, 2012). Housed within a purpose-built interior by Harry Seidler and Associates, the premise is an exhibition exploring conceptual themes through the human body, with each artwork shown in one of 13 rooms. Effectively, an event or performance constituting a score is proposed by the artist and then performed by an 'interpreter' within the timeframe determined by the exhibition opening hours. As Obrist has oft been quoted: "13 Rooms is like a sculpture gallery where all the sculptures go home at night."
These performances, although scored, differ from George Brecht's event scores (such as Keyhole, 1962) in that it is the action, rather than the field of activity, that is determined. They also differ from performance art, such as the endurance works of Marina Abramović, in that the work is not performed by the artist, but rather by interpreters. In keeping with this tenet, no artist was considered for the project without having previously worked in this manner. "A lot of artists are creating work in which they basically delegate to or instruct other people. We didn't invent this idea; we observed it in the world. It's something that we can reproduce endlessly and we think that quality is extremely interesting for exhibitions," says Biesenbach.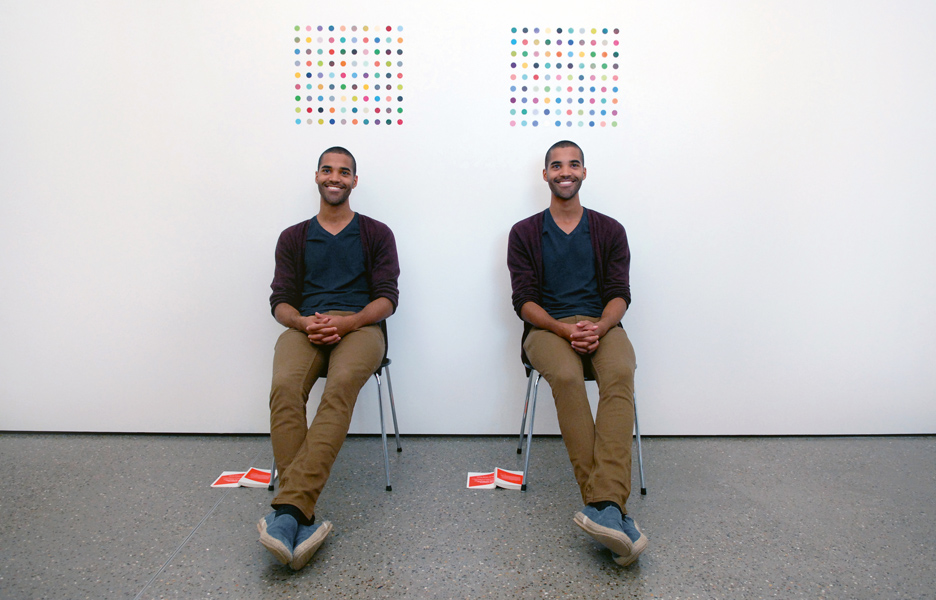 Abramović was one of the first artists to make this break from performance art by allowing her work to be interpreted by others, thereby establishing the artwork in perpetuity via the score.
Luminosity is one of the earlier works of the exhibition, having been conceived and performed by Abramović in 1997. The work comprises a dim interior with light softly focused on a young, naked woman. She is positioned mid-wall, with arms spread outwards while her feet point down, in a variation on the crucifixion pose. The supports – blocks and a bicycle seat – are all visible, yet her suspended presence on the wall is the focus of the viewers' attention. The sight is both discomforting and compelling; the permitted gaze is at once condoning and condemning of her status as an object, while comprehension of the discomfort of the pose (which is never transmitted) increasingly lends subjectivity to the experience and tests our limits as witness. "It's really a work about loneliness, about pain and about spiritual elevation. About luminosity and about the transcendental quality of the human being in general," Abramovic ́ has said.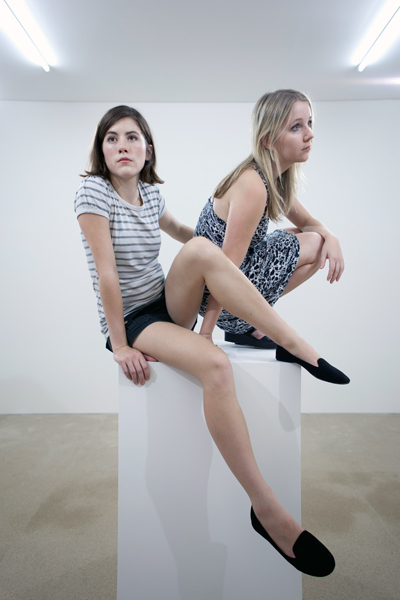 The exception to the rule for interpretation is Coexisting (2013) by emerging Australian duo Clark Beaumont, which is an exploration of the artists' cooperation with each other and is, therefore, performed by the artists. In this work, the artists maintain their shared place on a pedestal, which is slightly too small to accommodate two. Each must find a way to support not only their own self, but also the other simultaneously. As time passes and positions become uncomfortable, a silent negotiation ensues that sees each artist support the other through a shift.
Within the exhibition, concepts vary from the confrontations of Santiago Sierra, who has employed war veterans to stand facing the corner in Veterans of the Wars of Afghanistan, Timor Leste, Iraq and Vietnam Facing the Corner (2013), to the purely conceptual position of Tino Sehgal's work that requires the attendant to greet the viewer with a phrase, which is expanded if interaction ensues. John Baldessari's Thirteen Colourful Inside Jobs (2013) is perhaps the most intellectually accessible, being simply a room that is repainted in a fresh colour each day. However even a work as seemingly transparent as Baldessari's raises issues of time, work, place, art and experience.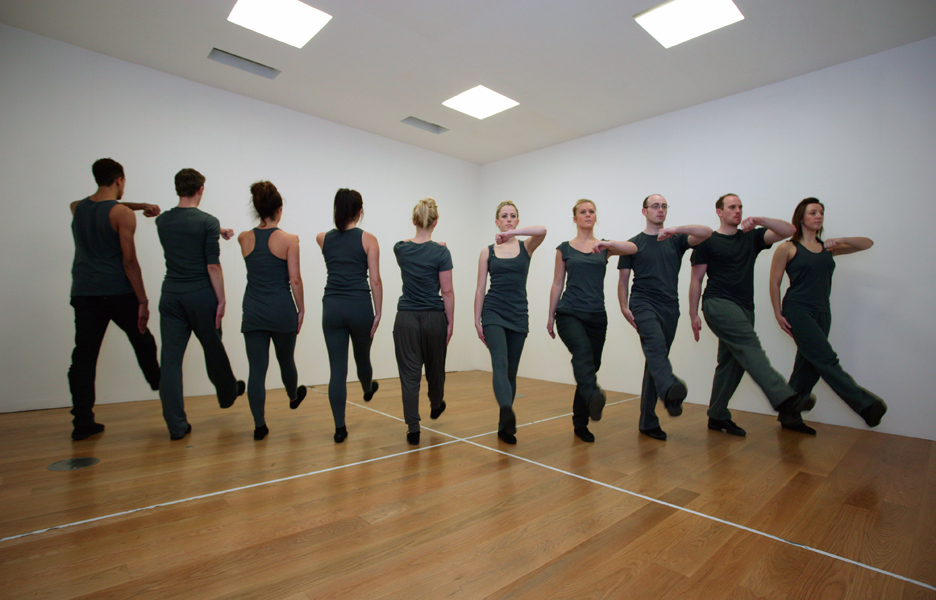 Revolving Door (2011) by Allora and Calzadilla is arguably the most popular, being quite fun to experience. For this inclusion, Sydney Dance Company performers have been choreographed into a perpetually turning line that switches direction, splits and regroups or crosses through itself. On entering the room, the viewer has no choice but to move as the line approaches, sometimes forcing them to squeeze between dancers, sometimes to simply circle.
Obrist and Biesenbach's curation, while intellectually rarefied, is founded on a considered exploration of the experiential. This is very telling of the curators: Obrist reads philosophy each morning, while Biesenbach takes a photo of his windowed view on waking. For 13 Rooms, this translates as an event to be experienced in the moment and considered at length. Xu Zhen's In Just a Blink of an Eye (2005) succinctly embodies this: at first a delightful whimsy of people seemingly frozen mid-fall, its conceptual metaphor posits the suspended status of migrant workers.