Article by Online Editor
Designer
This article was originally published in Inside #74: The Winners' Issue
The idea of extra-temporal moments transporting us elsewhere – think of Proust's 'Madeleine moment' – is not a traditional trait of industrial design. Moulded and refined since the Industrial Revolution, and particularly honed by wartime research, the canon of industrial design has tended to celebrate homogeneity, evenness, regularity and mass-manufacture. Alongside these venerable and relatively new-found characteristics, other material qualities of product design such as historical associations, provenance, context and the simple aspects of a material have quite often foundered.
Lately, the Italian-born, Netherlands-based duo, Studio Formafantasma, is reconsidering this relationship. Its work provokes debate and raises awareness on how product design can make thoughtful commentary about material qualities that are more usually associated with craft, while also carrying statements of historical, political and social weight.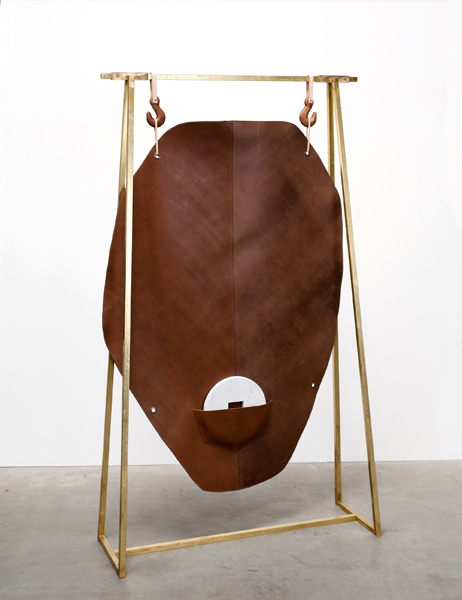 Founded by Andrea Trimarchi and Simone Farresin (from Sicily and Vicenza respectively) the studio was established upon their graduation from the Eindhoven School of Design. In fact, their 2009 graduate show, Moulding Tradition, immediately caught attention for its meditation on the long-standing nature of immigration flows of African-Arabs into Sicily, notably the Saracens during the 8th to 11th centuries. Formed of pale ceramic bodies informed by the Sicilian ceramic tradition of Teste de Moro, the Moulding Tradition vessels carried images of African migrants, and were physically wrapped in layers of narrative – ceramic buoys and printed ribbons – that described the immigrant's consequent contributions and losses. In a manner that is characteristic of Formafantasma's approach, the project used a range of materials to tell the personal histories of this contentious human exchange, as well as highlighting long-held ceramic skills passed from one generation to the next.
This encompassing view of materiality is integral to the studio's work. As Farresin notes: "Materials are not only functional but also have the ability to evoke memories or testify historical knowledge … materials can not only be functional in a primary way, but also belong to material history of humans – and that should be considered in design."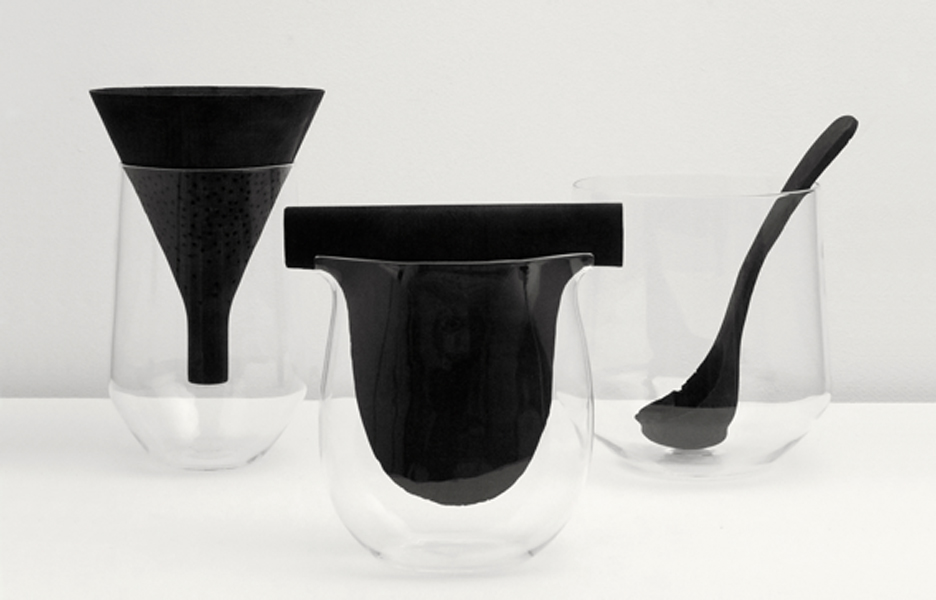 The production of beautiful objects that are redolent of craftsmanship, yet equally carry critical narratives, continues to distinguish the studio's work. Craftica for example, a recent installation project commissioned by Fendi for Design Miami/Basel, challenges and celebrates the craft of leather, and that of other exotic animal skins. The project draws on the ancient material of leather while making clear its animal origins and ensuing bodily remains. Composed of a series of drawings and a range of products, it incorporates a range of materials.
Animal bladders, bones, and skins of fish retrieved from restaurant trade, as well as various different Fendi leathers, are stretched, folded and stitched to form a tableau of subtly textured, highly crafted objects such as lamps, stools, a table, and a chandelier cluster of blown glass and leather. The work presents a larger discussion about the relation between the 'interior' life of the skins – and how this blood and flesh sustains people – and the way that the skins are procured. In this case, the studio collaborated with different partners in the food industry to source generic animal by-products – perch, salmon and trout skin, and animal bones – rather than working with endangered and exotic species.
While the work itself is striking, of equal note is the way in which the studio's clear design intent inspires trust. Although Fendi was sensitive about illustrating the relationship between leather and its visceral origins, Farresin comments: "We are really proud of the work … Fendi is a big group, and it has big responsibilities, but in the end we managed to be truthful to ourselves and they were also super happy."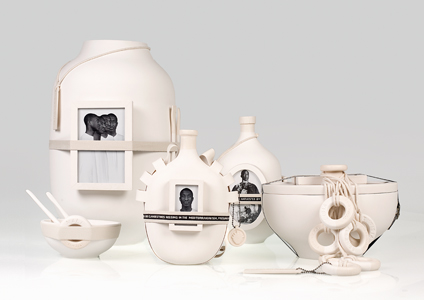 Similarly topical is the work commissioned by Libby Sellers for her show Colony at Gallery Libby Sellers in 2011, made with the support of the Audax Textielmuseum in Tilburg. The three large-format tapestries produced by the studio reference its earlier geopolitical interest in Moulding Tradition regarding African/Italian migration. Mirroring this topic, Colony considers the legacy of Italian colonialism that existed into the 1940s in North Africa, particularly in Libya, Eritrea and Ethiopia. Each of the tapestries represents the main city of each colony: Tripoli, Asmara and Addis Ababa, and reads like an over-scaled postcard.
Constructed of a mohair jacquard, the blankets are interwoven with imagery of city plans and Futurist architectural landmarks, with stamps in linen and cotton, all of which represent idealised Italian visions for each city. A contemporary textual layer is overlaid on this historical content, introducing dubious contractual and financial dealings between Berlusconi and Gaddafi. Explains Trimarchi: "Colonialism has been used as an excuse to solve the complexity of immigration flows … When the war started in Libya, Gaddafi started to let people come to Italy to make the situation more complex. The Italians and Europeans were not supporting the Libyan government, so it was a threat."
Alongside material experimentation and political questioning, Formafantasma also questions the nature of craft and its role in a contemporary context, given that craft is often held as a traditional, inherited community activity.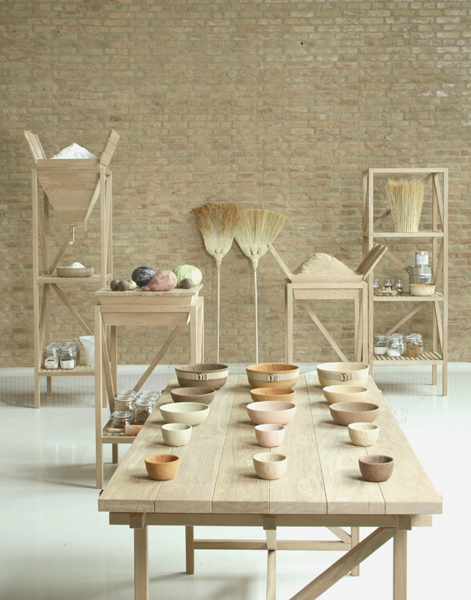 The Autarchy range exemplifies this, it revisits age-old Sicilian folk traditions of decorative bread work of Cene di San Giuseppe used to celebrate Easter, and reworks them into elegant vessels formed of bio-materials of flour, agricultural waste matter and limestone. Each is coloured differently according to the varying material from which it is formed. The direct, simple production of the range also comments on the act of making. Farresin notes, "We don't produce anymore within the city, or even in the country … this distance is making people unaware of production … what we are interested in is that objects have the ability to represent a culture, or who you are – and it has always been like this."
As with all of its work, the intelligent enquiry this demonstrates, combined with their exquisite sense of materiality, is the reason that Studio Formafantasma's reputation has ascended quickly. Renowned design curator Libby Sellers swiftly sought to represent them, and she comments: "I was blown away by [their work] … I want to show sides to design, other than its functionality … and what sets [Formafantasma] apart is their very acute sense of political awareness." The studio's work has also been applauded by design connoisseurs Alice Rawsthorn and Paola Antonelli, and with work held in many collections, including Droog, Rossana Orlandi, Fendi and Vitra, it seems that their particular combination of precise craft and a critical voice has proved apposite to the shifting, narrative spirit of design.