Article by Online Editor
Photography by Jon Linkins
Designer
Architect Owen Vokes
While looking at the recent additions to a typical 'Queenslander' in the hilly Brisbane suburb of Balmoral by Owen and Vokes and listening to Stuart Vokes describe his influences and interest in Palladio and Adolf Loos I am reminded of Loos' contention that a building be "dumb on the outside and reveal its wealth only on the inside". As this maxim reminds us, the enduring value of Loos' legacy lies less in the tell-tale familiar aesthetic of abstract cubic forms devoid of the 'crime of ornament' and more in the sophisticated interlocking of interior spaces. Typically in a Loosian accompaniment of this arrangement is a rich deployment of materials expressing qualities intrinsic to their properties.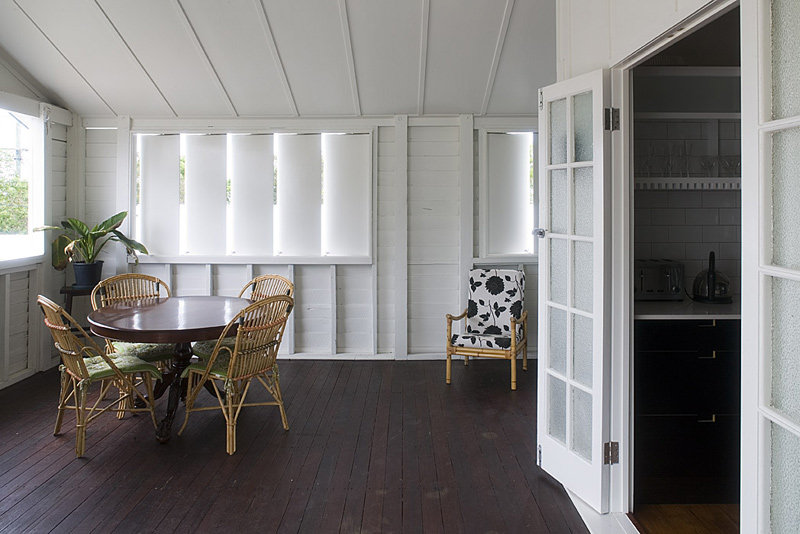 Sophisticated interlocking spaces and bespoke materials of the sort one might find in the Viennese fin de siècle of Adolf Loos is not exactly what we associate with the flimsy but remarkably adaptable timber pattern-book houses of Queensland. Their organisation is robust with an ambiguous definition of use. In the past, the 'good' room, possibly closest to the entry, may have had the function of a living room, though was generally not differentiated in its construction or appearance from surrounding rooms and verandas. Over time, these houses have typically and familiarly endured countless additions and internal rearrangements often with remnant traces of several botched attempts at coping with the advances of modern life still apparent.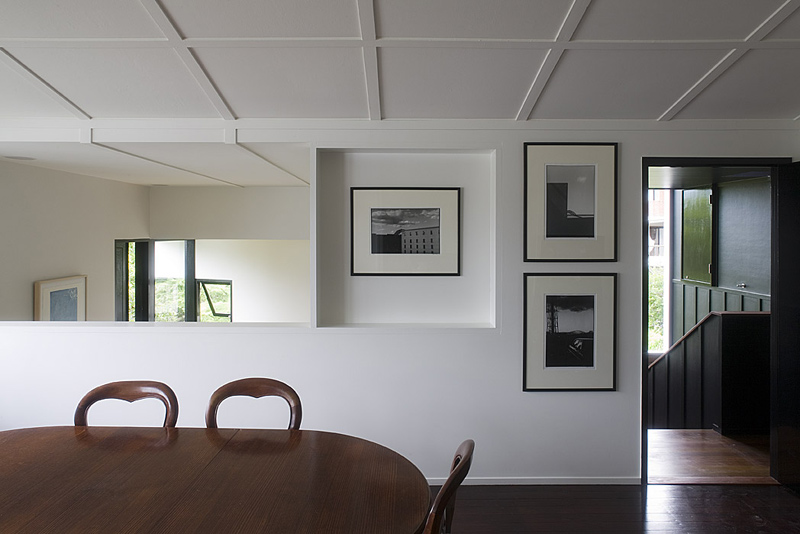 This is the circumstance Owen and Vokes encountered with the Balmoral project. Their response in meeting the client needs of a growing family coupled with accommodating an office for an established author and the usual array of contemporary domestic accoutrements was to clean out the worst effects of additions and accretions including an 80s veranda extension to an original enclosed veranda on the rear steeply sloping garden side of the house, facing east and overlooked by several adjacent properties. Into this process of editing was added a small, enclosed volume in place of the veranda addition. This new work, containing informal living spaces a half level below the main house – a bathroom, office, guest rooms and stairwell – presents a 'blank' elevation to the garden except for a few ambiguous openings completing an abstract composition of solid and void: mostly solid.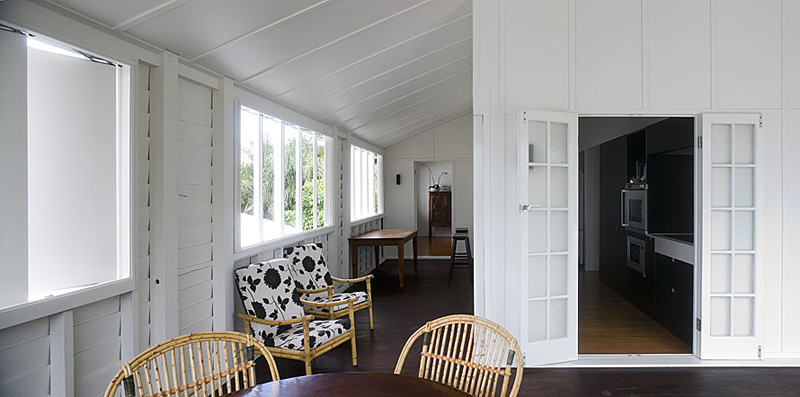 In recent times the task of adding or modifying these kinds of dwellings has proven a fruitful ground for architects to set contemporary forms in opposition to the Queenslander's straightforward and undifferentiated cluster of rooms. A typical response is to pare back and open up, recomposing the existing into something more akin to the consolidated plans of Schindler and Neutra learned from California by a previous generation. This is Queensland after all. A blurred distinction between inside and out is meant to be de rigueur.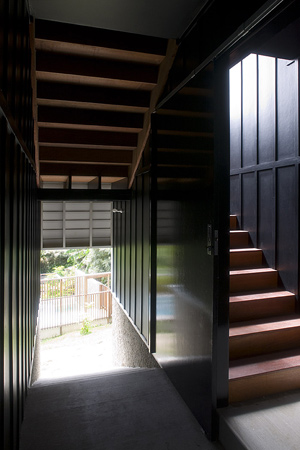 In their efforts to re-edit the existing grouping of rooms Owen and Vokes have made a deliberate attempt to not follow this tactic of spatial dissolution. Instead a discreet reappraisal of the pre-existing patterns of space and inhabitation has been included in a refreshing process of brief and idea development by inviting family members to compose a set of narratives that might describe a more immediate and emotive embodiment of the 'quality' of spaces suggested by life events rather than the conventional and overworked cliché of shopping lists of lifestyle.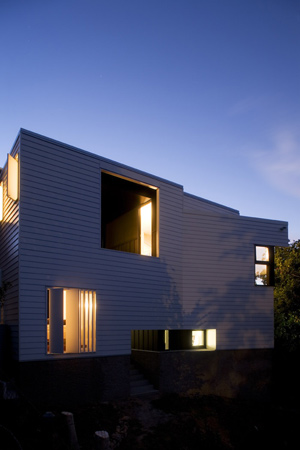 But it is the attention paid to pre-existences that marks the proposal. From the front garden court, with its amateur brick paving retained to characterise form and patina, there is an interest in creating a set of defined rooms. Alcoves and bay windows are used, compositionally, as thresholds or formal incidents permitting views through and connections with adjacent spaces. This connectivity is given social force by repositioning the kitchen closer to the street in the original 'front' room, enlivening the front veranda and entry court whilst maintaining proximity with formal spaces beyond. The sequence of rooms and views culminates in the 'new' work in the garden with its ambiguous blank wall. The pivotal element in this work, an open stair room, acts as a vertical promenade linking the enclosed spaces on all levels to the garden. Carefully sized and positioned openings 'borrow' from surrounding landscape conditions hinting at the garden beyond. A limited palette of white paint and timber veneers contrasts with the black painted stair room; an ink well descending to the writer's den grounded by a masonry base and with a wink to Palladio's Villa Foscari, spills out into the garden proper. Falling away below the house, this fragment of the hillside complete with newly constructed pool-as-ruin contains a casual collection of abandoned experiments of concrete steps and retaining walls engulfed by rampant vegetation.
The exterior form is perhaps modest, rather than dumb and the wealth is definitely on the inside. I think Adolf Loos would approve.
Douglas Neale is an architect and lecturer at The School of Geography Planning and Architecture, The University of Queensland