Article by Online Editor
Photography by Hans Peter Föllmi
Designer
Architect FARO Architecten
Some things the Dutch do better than everyone else. Eating chocolate sprinkles on bread and reclaiming land from the sea, for instance. The latest territory they have wrested from the waters is IJburg, an archipelago of seven islands just east of Amsterdam in a body of water called the IJmeer, which was open to the oceans until the 20th century.
IJburg is a completely new urban district that features a whole range of dwelling types in a mixture of high- and low-rise developments. One area is set aside for self-built plots, where site owners are free to build the single-family home of their dreams, unimpeded by the usual design review procedures that normally apply in the Netherlands. Despite the freedom, all houses must obey a few guidelines: plots are six metres wide and 10 to 11 metres deep; and the building height is nine to 14.5 metres. Apart from that, everything's possible. One of the lucky few to have had the chance to build his own house here is Pieter Weijnen, co-founder and partner at FARO Architecten, a firm of architects established over 20 years ago and currently employing 40 people.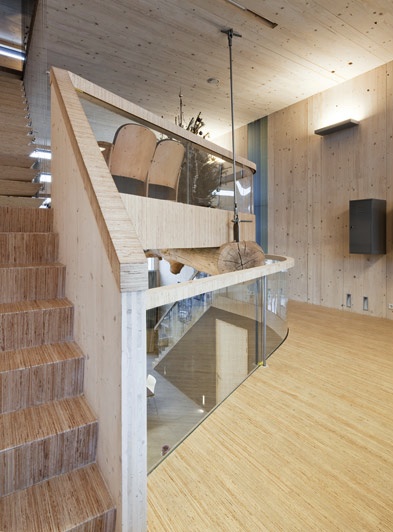 Housing has always been the primary field of activity for FARO, so it was no surprise that Weijnen seized the opportunity on IJburg to turn his own 230-square metre house into a showcase of his architectural ideas. And those ideas largely concern sustainable building techniques. The house is a curious blend of old and new techniques that reduce energy consumption to the very minimum. In fact, the house is more than energy efficient; it's a genuine 'passive house' with an ecological footprint close to zero. That self-sufficiency is down to a whole array of techniques that Weijnen incorporated into the architecture. And, just as importantly, he proves that sustainable building can be appealing to the eye and the touch. The house incidentally takes to another level the ideas that Weijnen first tested three years ago in his previous house, which is just a couple of streets away on the very same island.
The eye-catcher of the first house (House 1.0) is the underside of the first floor, which is clad with 1000 copper tiles that once covered a church roof. What unites both homes, however, is wood, the material of choice throughout. On top of that, the two houses look almost identical in form and arrangement of spaces, but the second house (House 2.0) is more radical in its application of energy-saving technology. But why build a second house anyway? According to Weijnen, the progression of good design, as much as in good technology, rarely slows down. "I realised that I had to design almost everything from scratch again, since the developments in sustainable building applications are proceeding at such a swift pace."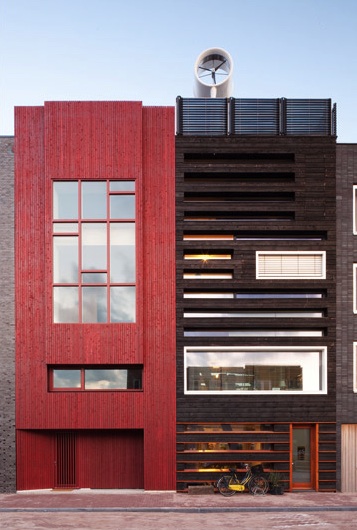 Apart from the concrete floor in the kitchen, House 2.0 is made entirely of wood and reused, recycled or decomposable materials. It boasts a front and rear façade of scorched (as opposed to impregnated) timber that will not need to be treated for decades. Inside, the double-height kitchen is dominated by a giant, gnarly tree trunk (salvaged after a quayside redevelopment in the city centre) that supports a living room mezzanine that appears to float in the seven-metre tall space. The angled beam that stabilises the structure is an old mooring post rescued from the water behind the city's main railway station. A small wind turbine and six photovoltaic panels on the roof generate electricity. Rainwater is recycled for toilets and the washing machine. Triple-glazing, 100 percent liquid- light joints and heat exchangers result in an insulation value of Rc=10. All insulation is made of non-synthetic, organic material. On the bedroom level, tiny bubbles of paraffin wax in the plaster walls absorb heat during the day and release it again at night. And so on. If the technologies demonstrated in House 2.0 were to become mainstream, it would go a long way to reducing energy wastage in building. "Sustainability," says Weijnen, "is a necessity."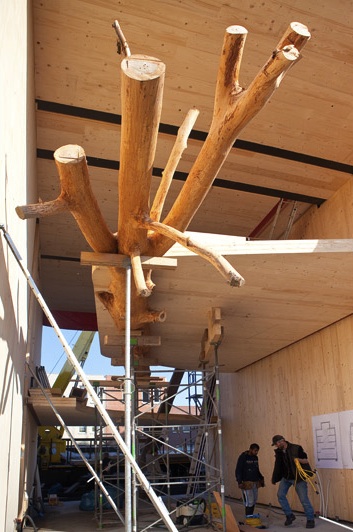 That said, it would be incorrect to file FARO away solely in the category of 'sustainable'. For the office tackles a wide range of commissions that span the overlapping fields between architecture and urban design. Residential work is, however, a recurring subject that keeps drawing their attention. Indeed, most of FARO's work in this area does not concern individual homes like House 1.0 and 2.0, but larger complexes. Recent projects include a complex of more than 200 apartments in an urban renewal development next to a railway line in Amsterdam, a new infill scheme for a postwar garden suburb, also in Amsterdam, and the so-called Zebra House in Leiden, another self-build home within a master plan drawn up by MVRDV.
Significantly, these buildings do not share a common recognisable visual style. "From McDonald's to Richard Meier, the strength of many companies can be put down to their predictability," says Weijnen. "The product is always of a constant quality. Yet, this approach always lacks one vital quality: the location-specific quality. Opposed to that, there is the good old tailor, who can make the right suit for everybody – fat or thin, beautiful or ugly. The aim with every tailor-made suit is the search for the right concept. Consistency of style is not important: the result is always (a little) different." This is something FARO does better than many other architects.