Article by Online Editor
Photography by Courtesy Grupo Habita
Designer
The new Hôtel Americano sits erect in the heart of New York's Chelsea arts district, but offers more than just good proximity. The ten-storey hotel was designed by Mexican architect Enrique Norten, with interiors by French designer Arnaud Montigny of Colette, Paris fame. It is a building with an emphasis on the arts: in its architecture, design and location, conveniently nestled as it is within one of North America's most renowned arts hubs.
As Grupo Habita's first property in the US, the Americano project has been successful in translating the core elements of the group's long-standing ethos, mainly focused south of the border for the past 10 years – firm in applying smart architecture and design with lux hospitality. In this regard, Hôtel Americano's identity is based on the notion of a 'global Latin culture', says Carlos Couturier (co-founder of Grupo Habita), with a nod to internationalism (and without being too kitsch). He believes the hotel also serves as a neutral meeting point for global nomads with a deep appreciation of the arts, culture and of course New York City. 'This is why we build hotels,' says Couturier. 'We aim to be a magnet for the arts.'
Building on a solid track record, Grupo Habita's success is measured over the last decade with 10 arts-centric hotels in Mexico, which speaks of the group's ability to deftly create interactive spaces with leading architects like Zaha Hadid at Basico Hotel, or with the aforementioned Enrique Norten at Habita in Mexico City. These hotels also welcome a convergence of characters and influences; for example, Mexico City's Condesa DF, which is known to lure Hollywood actors, Mexican musicians and artists, as well as New York socialites.
Hôtel Americano is the first time New Yorkers and the world at large will experience Mexican design and architecture in one space outside of Mexico. Couturier wants to impart Habita's design aesthetic as one that is global and original. 'We don't follow trends,' he says. 'We look for inspiration in our past and give the world a different expression of our culture. Luis Barragán is a perfect example. So are [Mexican] artists like Gabriel Orozco, Diego Rivera. We want to project Mexico as a place where we are a source of new forms.'
And these new forms can be witnessed in design decisions made for Hôtel Americano, where no leaf has been left unturned – from the intimate guest quarters to the public lounges, and also on a much larger scale in the way the hotel's architecture reflects its Chelsea locale. Couturier says this New York outpost, in an industrial and gritty neighbourhood, was chosen for its strong link to international art. The hotel itself will not house any art, as the area is already overflowing with it. Instead, it will provide spaces for human interaction, like in its two ground floor bars, a lobby restaurant and rooftop mingling area with a bar/restaurant. There is also a street-level café and fresh juice bar.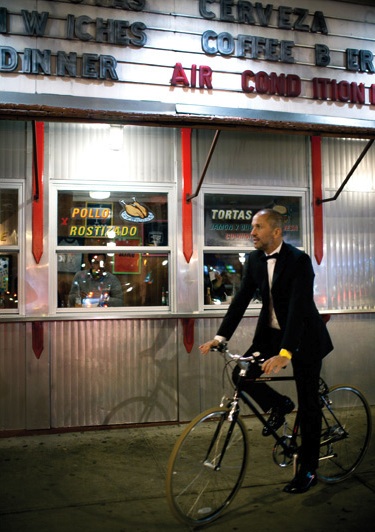 Norten is known for his rational modernism and respect for location. Here with Hôtel Americano, in the industrial west side of New York, he has wrapped the hotel's glass structure with a metal mesh skin and developed areas within the hotel that are respectful of guest privacy. The space still, however, boasts a sense of budding community. For instance, there is a public elevator at street level that hoists visitors to the rooftop Mediterranean restaurant and bar, but there is also a separate set of elevators that carry hotel guests upstairs to their rooms.
'The design of Hôtel Americano reflects both the industrial character and spirit of the neighbourhood and the personality of Grupo Habita. That is to say, the design is young and fresh with a Latin sense of fun, while, at the same time, being elegant,' says Norten. 'The architecture of the building it occupies negotiates between the local and unique conditions of the site and vocabulary of the time in which we live.'
Both architect and hotel group have the uncanny ability to develop invigorating public spaces, but they know their overnight guests will want to fall into their rooms for sleep and solitude. The 56 guest rooms designed by Arnaud Montigny reflect simple, early 1960s Italian design, with attention placed on natural lighting, textural materials in leather and cotton, and stainless steel fixtures. The rooms contain a Kengo Kuma-like Japanese urban ryokan (inn) sensibility, with wooden platform beds and a quiet minimalism in décor that Couturier calls spiritual and necessarily peaceful for the fast pace of New York City.
He adds that Habita chose to expand Stateside in New York for its colourful, frenetic energy. It's a city that is steeped in multiculturalism, pedestrian culture and diversity in seasons. Hôtel Americano further delights the diversity of its guests with quirky room amenities such as its own brand of mezcal, denim robes designed by Loden Dager and harmonicas available in the mini-bar selection, as well as an iPad programmed with city guides and concierge services. To greater experience the city, there are bicycles for guests and a rooftop pool that turns into a thermal bath in the winter.
Much of Hôtel Americano's success will rely on captivating the community and creating special opportunities for Chelsea art world executives. And while the hotel walls will be left artless, Couturier says the group hopes to support outside street artists like subway musicians, graffiti makers and street-art installers, by inviting them to create experiences within the hotel. The plan is to develop an ongoing performance calendar geared at live installations in the patio and basement waterholes. 'We want to support those artists that are not already in galleries.' He dubs this nod to the underdog 'social solidarity'.
Marina Garcia-Vasquez is a New York-based writer and editor.
www.hotel-americano.com