Article by Online Editor
Designer
Sign up for our newsletter
In the heart of every good designer, there's a creative generalist with an appreciation for popular culture – and be it in the realms of hospitality, music, art or fashion, Australia boasts more than its fair share of innovators in this regard. The well-curated pages of the Melbourne-based publication Broadsheet present the best of this emerging culture, in what we might call a city-centric 'zine' – a well-packaged, cultural read with a solid pulse on everything local and inspiring.
Broadsheet is a new breed of morsel media, a hybrid of street press-cum-online directory for all things noteworthy around town. But while it's essentially a directory, a thoughtful sensibility is clearly at work, intent on profiling the true 'makers of Melbourne,' as a friend so rightly put it once. Broadsheet brings its eye to the areas of food and drink, arts and entertainment, fashion and retail, but it also does so by unearthing the talented designers operating in these various arenas. Together with its online component – not to mention a clever phone app that's actually useful – Broadsheet offers casual insight into all the things to do and enjoy throughout Melbourne, and more recently Sydney as well, effectively showcasing the fruits of our design community at work.
For founding publisher, Nick Shelton, 2009 presented an ideal time for the Broadsheet journey to begin. After a talented team at Studio Round decided to back him on what was then a still formative concept, within months Shelton and the studio had created something far more extensive and tangible than a mere online magazine covering, as many do, 'the best of a city's culture'. As Michaela Webb, creative director of Studio Round, explains, it was the collaborative process that yielded such an interesting result. "Everyone that worked on the project had something to pitch or add to the idea of Broadsheet, in a very natural way – a restaurant that a friend had just designed or a new shop that was worth checking out," says Webb. "It was essentially an extension of the studio's cultural habits at that time."
Shelton adds that Studio Round was also the only group that truly understood the potential of what he envisioned. "I didn't want to create another Lonely Planet or anything like that," he says. "I was travelling and working throughout Europe and quickly realised how great it would be to see a city documented as a directory of cultural hotspots, while also providing editorial insight as to how a particular project, or place, came into fruition – focusing on the things that really draw you back there." As he describes the Broadsheet sensibility, they might ask who the best chefs are in town, but their growing readership also cares to know about the designers that get involved with such projects; to encompass how, collectively, a creative group helps to create something beyond just food, for example. "We essentially aim to boast the best of local design and the great things that are being done, and the 'who' is vital to what we do." With this in mind, we invited Broadsheet editor Caroline Clements to share her pick of the venues that best synthesise these considerations, and the designers and entrepreneurs that make them happen…
Market Lane (Melbourne)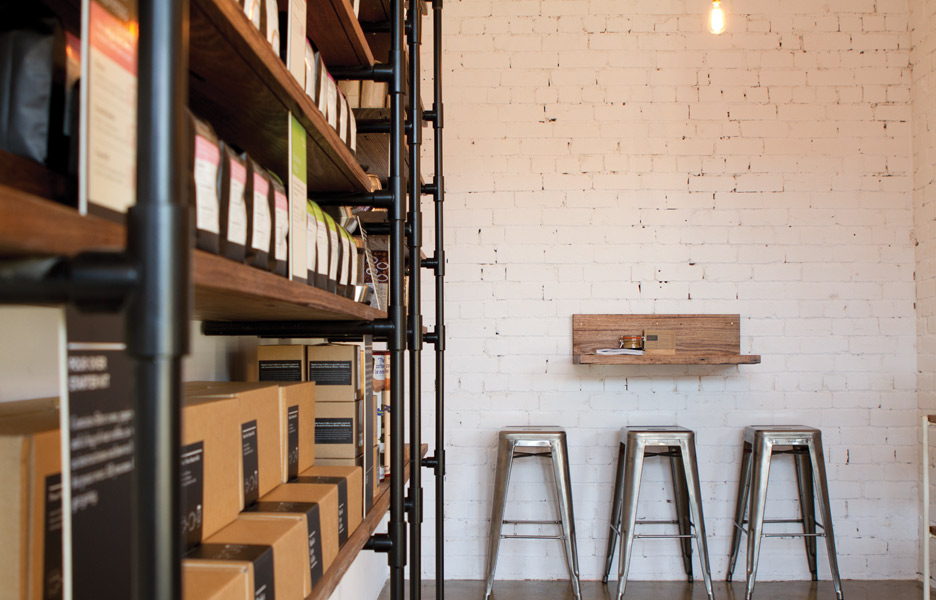 In their second Market Lane venture, this time bordering Melbourne's Queen Victoria Market, Fleur Studd and roaster Jason Scheltus bring great coffee to the discerning market shoppers in need of a jolt. The small, bright, double-fronted cafe can be identified by its distinct window signage. "We love to make coffee for the city that loves to drink it." These guys are onto a good thing, and we can see that in the design qualities reiterated from the original in Prahran. Similarly, the space is light, open and clean. With a white painted brick interior, banquette seating against the walls and front window, a T-shaped coffee station stands as the centrepiece of the room. There are no tables here, but you don't really need them. After all, you're only here for coffee, and more importantly, the market. Studd and Scheltus worked on the design and layout with some help from their friends in the US, Jenni Bryant and Ben Kaminsky. Designers Swearwords did the branding and Claire Larrit Evens worked on the styling of the space and selection of the materials. The focus here is on the retail aspect of selling beans and, as in the flagship Prahran venue, the team is dedicated to teaching their customers about coffee and how to properly brew it at home.
Photographs (above and main image) by Liz McLeish
www.marketlane.com.au

Ms. G's (Sydney)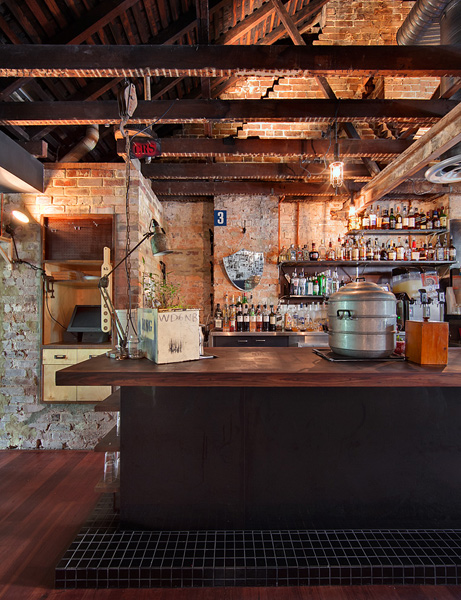 The food is what ultimately made Ms. G's famous, with chefs Dan Hong and Jowett Yu in the kitchen, who become known for turning out a sort of New York spin on Chinese/Korean street food. The aesthetic impression, created by Akin design, is nevertheless unmistakable, if slightly jumbled with the same kind of excitement. Naked light bulbs hang overhead, while graffiti on the wall somehow complements the chilli sauce bottle on your table. The overall vibe is a bit bottom-up in feel, with the bar and the kitchen in the basement and four open levels all looking over each other as you move up the loft. Each level is a little different aesthetically, but again, that's part of the whole idea here. We always enjoy this place when we're in Sydney. It's an eclectic mix of style that characterises the food, and in this case, well reflected with Kelvin Ho's playful approach to the environment created. The soundtrack to it all is a steady stream of 90s hip-hop and rap. Consider yourself warned.
Photograph by Murray Fredericks
www.ms-gs.com

Love, Tilly Devine (Sydney)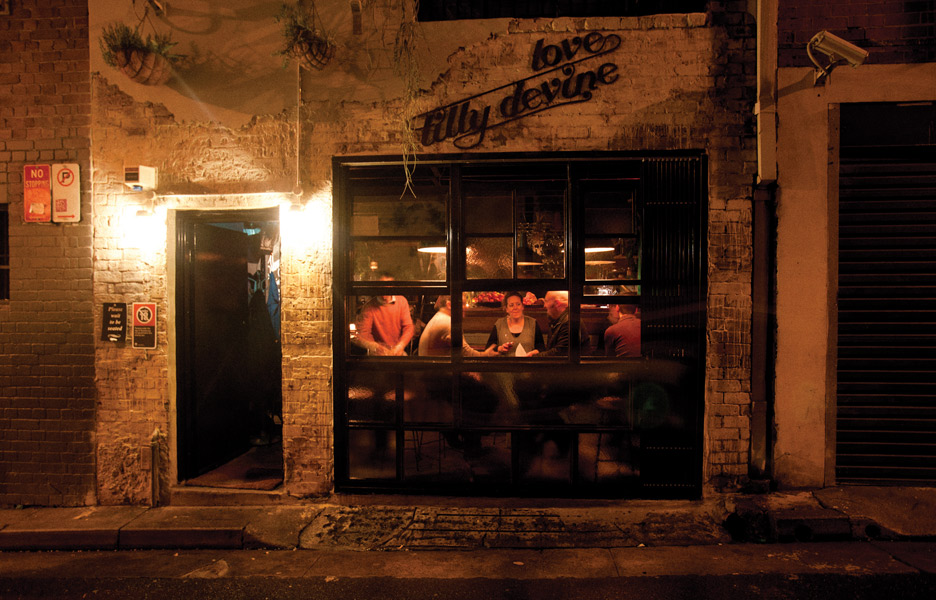 The small 40-seater restaurant is all rough timber, bare brick walls, hanging ferns, kitchen bric-a-brac and tête-à-tête dining. In this case, chef Tim Webber (ex-Sean's Panorama) and sommelier Matt Swieboda (ex-Quay) have converted a dank little storeroom of Best Cellars into a smart wine bar tucked away in the heart of Sydney's Darlinghurst. As a whole, the cosy, split-level wine bar evokes a sense of nostalgia for the rustic European aesthetic of bygone days, but it's an effective theme. The downstairs (front room) is a good place to make yourself comfortable, in full view of the open kitchen. And considering the 'wine wall' display, showcasing just shy of 300 offerings, it's clear that wine is serious business here. Given the environment and degustation to be had, Love, Tilly Devine is a good example of the constantly diversifying, slightly dressed-down bar scene that Sydney now offers more and more of.
Photograph by Phu Tang
www.lovetillydevine.com

Golden Fields (Melbourne)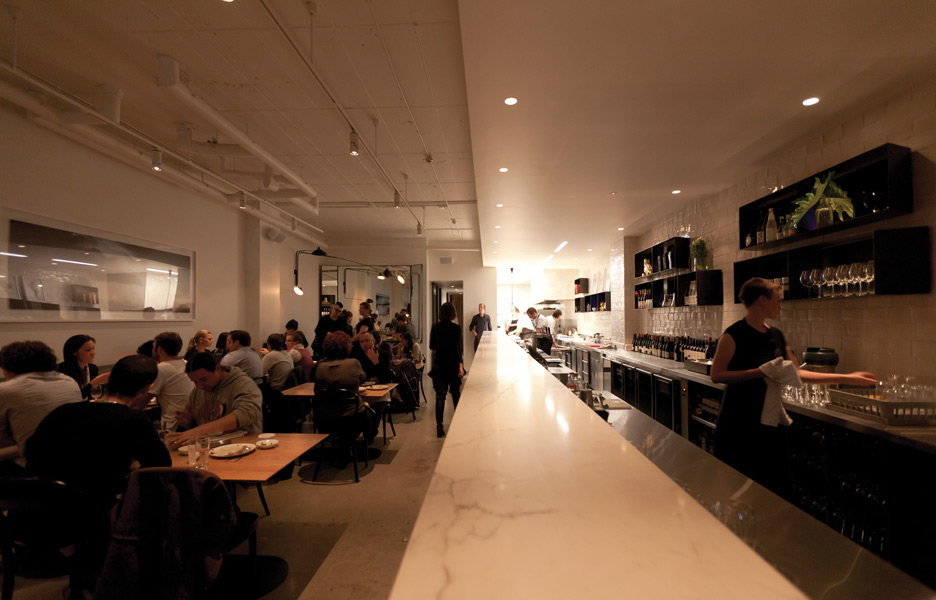 The Golden Fields experience may be one brimming with design-focused details, but each element never fails to highlight the core reason it has been created – good food and a simple place for us to enjoy it. Plain white tiles, a massive marble bench top and some classic black Thonet says nothing more and nothing less than what it needs to. Building upon his love of Chinese food and driven by his distinctly personal interpretation of it, Andrew McConnell gathered artists (plates by Shane Kent & Others / cutlery and glassware by Cibi) and designers (architecture and interior design by Projects of Imagination; logo, menus, cards and signage by Studio Round) to collaborate on creating the sensory adventure that is Golden Fields, his first solo restaurant. Golden Fields is also clear about what it is and is not. It's not a Chinese restaurant, but a modern eatery, influenced by the chef's time spent in Asia. When
you take a seat at Golden Fields, you can see that's exactly the sense of purposeful self-expression that McConnell intended. The culinary experience is what he shares with his diners, and this particular space does so brilliantly.
Photograph by Leah Robertson
www.goldenfields.com.au

Working with Edra from the start, Italian designer Francesco Binfaré has produced some of the brand's classics, including the recent Pack and Chiara sofa.