Article by Online Editor
Photography by Stu Morley
Designer In Site
A surprise to some and a well-flourished reality to others, the coming of age stories of a few business moguls in today's international skate world are amazing to consider. Now, more than 25 years down the line, a company like Melbourne-based Globe International can look back and talk about serious growth – a tale of entrepreneurial success they could hardly fathom in the beginning. How this particular sport came to such popularity and developed its businesses in the early days is far from conventional, but considering the economies of scale and the potential in front of them, they certainly knew they were on to something big when the industry started to seriously take off in the early '80s.
The bright ones back then invested wisely, establishing brands and companies such as Vans, Vision Street Wear, Santa Cruz, Stussy, Burton (snowboards) and countless others that would soon follow suit. These were young and energised riders with a clear passion for, and understanding of, their subculture and sport of choice – two main factors that, to this day, drive a consumer bandwagon based strongly on image. Major corporations spend millions of dollars each year on strategic market research, trying to find the key to the target demographic labelled 'youth culture'. Meanwhile, companies like Globe have been able to hit this target with consistency, growing stronger and bigger along the way. The new bespoke headquarters of Globe, set in the heart of Port Melbourne, is an obvious indicator of such growth and, in particular, claims a massive stake in property – ultimately boasting Melbourne, forever more, as its true home base.
"We've moved around [Melbourne] four times, while we've kept expanding all across the world, from North America and Europe to Asia, Latin America and even parts of Africa," says Frank Dammenhayn (Globe vice president). "We had our first big office in Abbotsford, also in an old factory, and we grew so fast that we bolted on warehouses in the street, four or five of them in the end. There were forklifts working up and down the street – a total mess. So we realised it was time to move on and get out of there, into a much more functional space."
The possibility for that ideal workspace presented itself when the brothers of Globe International (founders Peter and Steve Hill) stumbled across this old, once efficient, but now decrepit chocolate factory, abandoned by Cadbury years ago. The 11,000sqm property, a collection of four large warehouses and a three-storey solid brick 'loft' building, all equipped with docking facilities, had remained largely untouched since the 1960s. Rife with asbestos and leftover debris, it was a questionable investment at first, but eventually made clear sense. It needed to be restored and tailored to their needs. The major upside to it was that, once retrofitted, they would have a massive, solid steel truss-frame warehouse facility to call home, ideal in proportions and with original brick, paintwork and large windows to work with. It was the perfect backdrop for a skate-inspired makeover.
"They had the idea that they wanted to create this kind of hub, where you'd have different things going on, almost like a campus," says Lisa Fong of In Site, the design practice Globe commissioned for the retrofitting and new fitout. "So we worked out how they were going to make it happen by dividing the space into the warehouse area here, offices over there and, well, why not a pipe [recreational skate building] right here?" she says. "The idea was also to maximise whatever office space they already had into what they could have if we all got resourceful with the project. So working with their existing furniture and their staff was essential to creating this new home for them. And, of course, working with their friends [one outside party] to create more of the environment they were after."
When she says "their friends", Fong is referring to the boys brewing coffee at the Salford Lads Club next door (owner Greg Saunders and barista Tom Singer), the adjoining café that was built in sync with the renovation. There's also a film production company that now occupies the three-storey loft, around the corner from that (there's even a feasible plan to bring in a micro brewery). All three companies work closely with each other and engage with the Hill brothers on a regular basis, making the whole block a collective outcome and productive unit. It's a creative hub in Port Melbourne – to say the least.
Given the massive canvas they had to work with, not to mention the spirit and encouragement of an eager client, the In Site team was keen to get busy. There were only two conditions: use as much of the existing building and leftover joinery as possible, and complete the core of the job within a tight timeframe. The initial site measure was undertaken in early December 2009 and the Globe HQ team moved into a completed fitout by the end of April 2010, with the café and other facilities completed in July. Basically, we're talking about an 11,000sqm renovation project, redesigned with fitout, all to provide a right-brain company with more efficiency and comfort by studying the dynamics within their work culture day-to-day – and all of it done within six months' time. The thought of it would challenge any project manager, but it actually worked.
As we walk around the new offices and café, it is apparent that In Site has created exactly what the company needed and asked for. The creative team at work is a bustling, collaborative machine, collectively designing and marketing the apparel, while distributing licensed hard goods (skateboards and hardware) of all Globe International brands both here and abroad. The environment is extremely relaxed and full of light during the day, a natural effect that head project manager Daniel Seyd worked specifically to introduce early on, having discovered the potential of the saw-tooth roof and large windows. Depending on the daylight of a given day, the output of energy and lights can be set at 25, 50 or 100 percent.
The office space actually works in a very '60s-inspired manner. Imagine Mad Men, with an open plan at the central core of the office, and your executive branch (in this case a gang of veteran thrashers) surrounding the creative team with open doors and some classic executive desks, vintage of course. With about four different showrooms, one conference table (also exposed, towards the entrance) and a large kitchen with communal seating for lunch, the whole place gives off a very inviting feel. The space offers free-flowing movement to its workforce and privacy as needed, but most of all it exudes individual character in almost every corner of each space.
"The move from Abbotsford to St Kilda was all wrong," says Dammenhayn. "It was too corporate and became impersonal. We sort of lost a sense of what we were all about as a skate company and sort of became a vertical apparel business – going the way of Just Jeans. We then got out of there and went to an even more unworkable building [a Victorian mansion, of all places]." He laughs at the memory. "Finally, we decided that was it," he says. "We needed our warehouse back, and needed to relate to our product and culture as we once did."
Indeed, interacting with your product or brand isn't just a matter of seeing it regularly, or being surrounded by it with loud signage. No, there's actually an element of cultural connection in almost every creative process where, much like a mechanic in his garage or an artist in her workshop, there's a sense of character and identity that's clearly connected to the trade or craft, the evidence of inspiration in many cases. These things can be seen as tools, but they can also share a history with those that come to know you and what you do. What Dammenhayn ultimately gets at in our conversation is that you somehow need to live and breathe what you produce, in order to keep doing it better. As a part of our daily routine, where we work should always feel comfortable and enabling, but also serve as an engaging reminder of why we do what we do.
Then again, growth and change can come upon a company very suddenly, especially when things are going well. A dynamic, creative business can adapt, but only so far. In 2002, within a span of three years, the number of skateboarders worldwide increased by more than 60 percent – from 7.8 million in 1999 to 12.5 million in 2002, according to market research firm American Sports Data. Globe was at the forefront of this massive wave, and the continued growth it experienced over the last 10 years has only made the team wiser, but not without their fair share of corporate growing pains. Taking its toll on their physical workspace, and the decisions being made at headquarters, a lack of a serious home base had everything to do with how they were losing that 'sense of character'.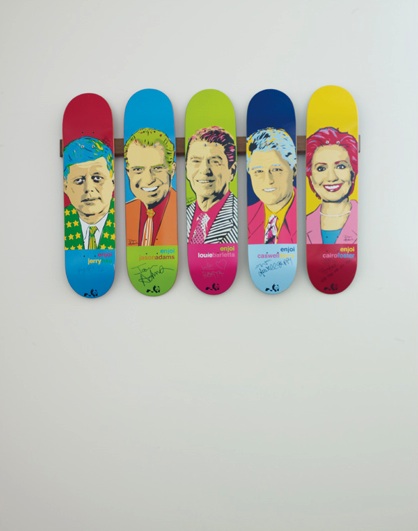 As we now walk into Steve and Peter Hill's offices, a charming image begins to shine through. It's full of character, from their choice of mid-century furniture to the books and magazines they've collected over time, all stacked upon each other, only to be interrupted randomly by collectables here and there, skate decks everywhere and an eerie puppet of Richard Nixon hanging out. Peter Hill has a similar fascination with Ronald Reagan as well.
Whether we consider the framed poster art of the Sex Pistols on the wall or the remains of an old, rusted skateboard that sits on a gorgeous marble mantel/buffet, these are the details in their space with which one can curiously engage. Fun, but also telling, they give us an understanding of what the brothers and this company Globe do. It's a home that shares their creative values and interests. If ever the counterculture of yesteryear has achieved a point of maturity, this is just about as serious as it can possibly get.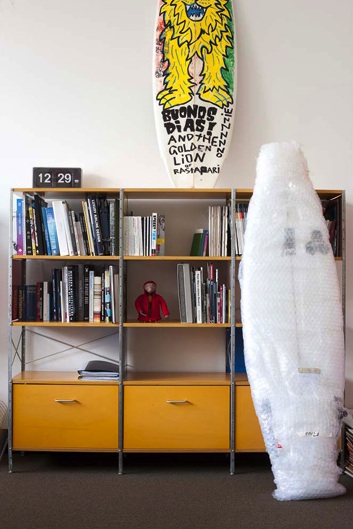 Sure, it's far from the average notion of corporate identity, but for a publicly traded, multinational corporation, hard at work keeping it shareholders happy, Globe International is a very smart operation within its niche.
The new headquarters, or rather 'hub', is in essence, a reaction – a counterweight of personal identity opposing the corporate culture that almost consumed them. Because, after all, in this particular business there's only one rule that still holds firm: 'Skate or Die'. Street cred is everything. For Globe, losing sense of that ethos would have been like losing a grip on reality.