Article by Online Editor
Photography by Nick Kane
Designer
Architect Pitman Tozer Architects
Sign up for our newsletter
Entering the Gap House in west London is a little like stepping into Alice's Looking Glass. From the street, the slim timber façade suggests a modern, diminutive insertion behind. But beyond the front door a whole new world appears in the form of a light-filled, four-bedroom family home, complete with den, study and generous living and dining spaces.
Surrounded by listed semi-detached 19th century villas, this low-energy house replaces what was originally an alley and rear garden. Despite the difficult shape of the site, its owner and architect Luke Tozer explains, "The aim was to create a comfortable family home with a minimal carbon footprint, where no room felt constrained or awkward – even though that was the nature of the site." For the practice he says, "It was particularly important to try [sustainable measures] here because we were testing things we'd not done before." As the winner of the RIBA Manser Medal, which is annually awarded to the best one-off house, it's also become a showcase for how much is possible on a limited plot.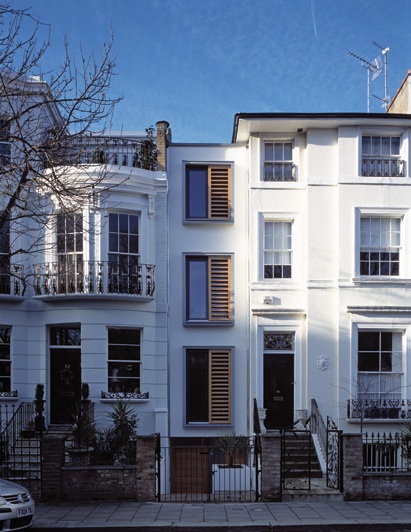 The most celebrated and unusual aspect of the house is the sweeping rear space of the courtyard that abuts two boundary walls and links to the living, dining and kitchen spaces through folding doors that retract fully to create one large room. Tozer notes, "Most houses in London, even very expensive ones, have half levels up or down to other rooms and, unlike the Gap House, there's no lateral space." In temperate days from April to September, the doors are pushed open and the family enjoys its large living and play area. The spaces are further united by the Moleanos blue limestone tiles that are laid inside and out, and are only slightly differentiated by a respective gloss and matt finish.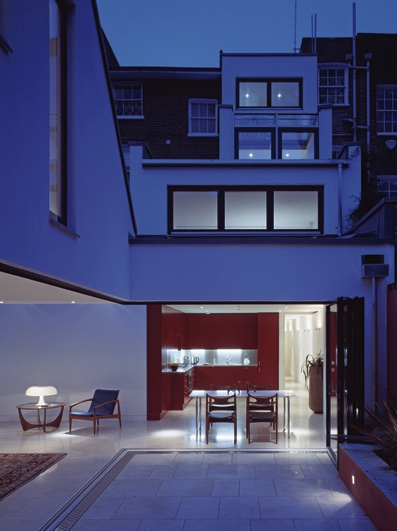 Beneath the tiles are three 50-metre deep bore holes, which link to a ground source heat pump that supplies energy for the whole house, including the underfloor heating. Supplemented by solar gain and spaces oriented south, its efficacy was tested during the recent winter chill. Tozer recalls, "We were often completely unaware of what the temperature was outside and would walk out underdressed, then quickly realise it was completely freezing and we needed another three layers of clothes!"
Looking something like a washing machine, the heat pump is cleverly hidden in utility cupboards lining the entry hall. Its inclusion is significant, not only because of the energy savings it provides, but also because its location has partly dictated how the plan is arranged for efficient energy transfer. "It was all planned out within 10 millimetres before they started building," Tozer says. Similarly resourceful is the sectional use of the site, which behaves like an extended telescope, expanding in height and girth as it steps down to the living space and rear court. Its unusual form is shaped to maximise the built space and available light while respecting neighbours' privacy.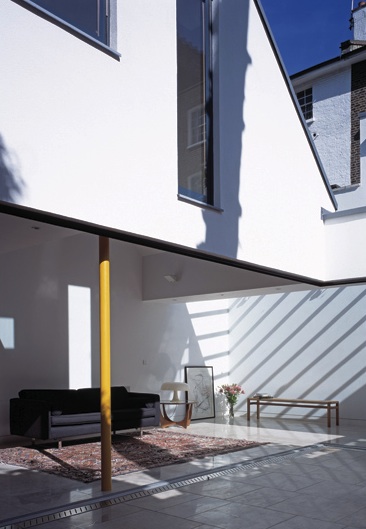 A particular bugbear of English real estate is its preference for selling houses based on the number of rooms, regardless of their ambience. Here, Pitman Tozer counters this with two modest-sized rooms on each of the first, second and third storeys that are all well-lit and ventilated with liberal windows. Inbuilt storage on each level is placed away from external glazing near the stairwell, to minimise loss of light. Tozer emphasises, "What we have done is to carefully consider how light enters the building… because it makes a big impact on how the spaces feel."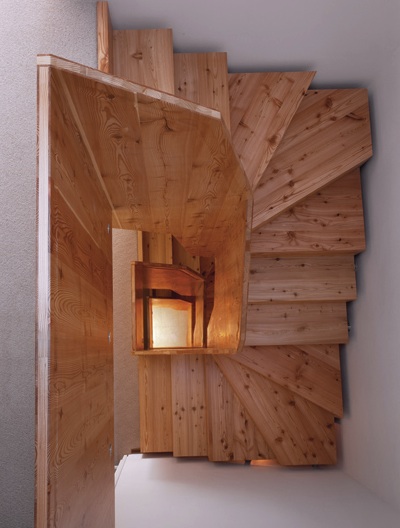 A third of the extra investment spent on sustainable measures was dedicated to insulation. The double-glazed units are flush with the frame and minimise heat loss while mitigating street noise. They're so effective that, "The only time you really hear the neighbours is when the Notting Hill Carnival is going on," says Tozer. "You can only just hear the thud in the background and smell the jerk chicken!"
A staircase ascending to bedrooms, bathrooms and play space forms the "woody, warm heart of the building" and is built of larchboard sourced from Austrian monks, who farm and harvest the timber sustainably. It is designed to strategically channel sunlight into the centre of the plan, as well as act as a chimney for stack effect ventilation, drawing air from the operable roof light through the central light well. Instead of handrails, a subtle groove is shaped into each timber panel, again reducing bulk and maximising the tight space. This approach is consistent throughout. "We tried to design things 'away' so spaces are clean and simple," Tozer explains.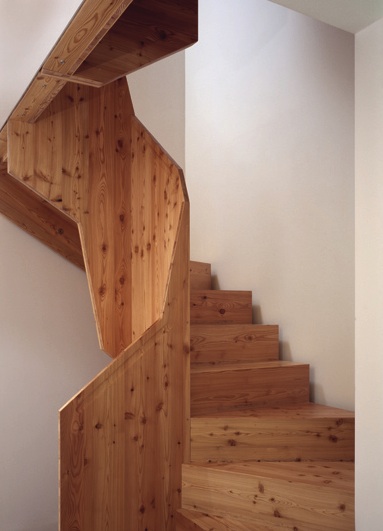 Despite the strict heritage overlay of the Bayswater conservation area in which it's sited, the Gap House has defied conventional logic and opposition. Pitman Tozer has created an inventive and highly sustainable home that is a hallmark for thoughtful domestic architecture.
This is a like-minded community of ILVENISTA's, who share a common bond of cooking for family and friends with their ILVE cookers.