Article by Sara Savage
Designer
Above: Hermes window display, Amsterdam, designed by Kiki van Eijk. Shown on the cover of Gestalten's Brand Spaces book
Hello World: Where Design Meets Life
Alice Rawthorn, Penguin Books, 288pp, RRP $45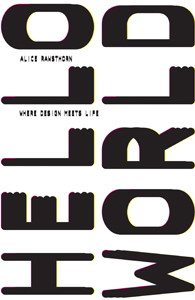 "Design is to design a design to produce a design." John Heskett's slightly confusing yet grammatically correct summation of design, from his 2002 book Toothpicks and Logos, quite accurately demonstrates the intricacies of the term. This sentence, which renowned design critic Alice Rawsthorn refers to in Hello World's first chapter 'What is Design?' also exemplifies the mammoth task she has taken on with this book. This chapter in itself – as with those that follow – is worthy of its own volume, and for this reason Hello World may leave the reader feeling that they've only skimmed the surface of what is truly colossal ground to cover. However, Rawsthorn really does draw from a considered profusion of sources – from the historic weaponry design of Ying Zheng's China in 246 BC to the copious processes involved in producing a smartphone. Moving so quickly through so many case studies does render Hello World somewhat prone to generalisation, which is not to say that Rawsthorn's expertise isn't represented, or that the book wouldn't greatly benefit someone just getting acquainted with the multitudinous ways design informs almost every aspect of the way we live.
Hightide: Queensland Design Now
Jason Bird, Uro Media, 128pp, RRP $55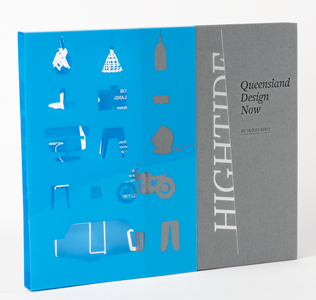 In the foreword to Hightide, Brisbane-based designer Jason Bird (Luxxbox, Objx) compares the contemporary Queensland design scene to that of its musical counterpart in the late seventies and early eighties. This was a time in which now-quintessential Queensland bands such as The Saints and The Go-Betweens moved to London to take advantage of its comparatively more developed cultural economy and ultimately find great international success. But it was also a time that catalysed the growth of Brisbane's own music scene, establishing it, as Bird puts it, "as a fertile musical training ground that projected a unique cultural edge to the world". By the same token, Bird regards Queensland design as "the quiet achiever" and in Hightide celebrates the work of 22 internationally successful local designers – from Daniel Tobin to Christina Waterson – who have helped to establish the region as a breeding ground for Australian design over the past decade. Interspersed with short essays, including one by The Go-Betweens' Robert Forster on the "beautiful loneliness" of Brisbane's environment that inspired much of his work, Hightide is a concise yet compelling look at an often understated chapter of Australia's design identity.
Brand Spaces: Branded Architecture and the Future of Retail Design
S Ehmann and S Borges (eds.), Gestalten (stocked by Books @ Manic), 240pp, RRP $85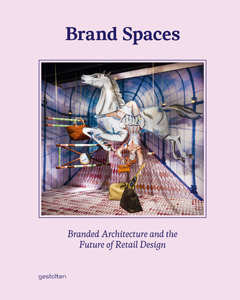 With consumers around the world becoming increasingly unresponsive to tired and uninspired logo-heavy branding strategies, it's no surprise that retailers are now looking to individualise the physical spaces in which they engage with consumers. Brand Spaces tracks this recent shift in retail design, which has seen a steady decline in homogenous aesthetics in favour of more experiential commercial spaces around the world. The first section of this two-part compendium focuses on the more 'heavyweight' brands transforming their retail spaces worldwide, among them Aesop, Camper, H&M and Starbucks – whose previously unfavourable reputation for over-branding has seen a dramatic overhaul, thanks to the likes of Kengo Kuma and Associates and Nendo in Japan, and Tony Gale III in the US. The second half of Brand Spaces pays due attention to a whole range of retail spaces that respond to their particular surroundings. From Facet Studio's Sneakerology/ Streetology project in Sydney to a Memphis-inspired hair salon in Ljubljana by Slovenian designers Kitsch Nitsch, Brand Spaces gives an extensive and colourful insight into the changing face of retail.
Wonder Wood: A favorite material for design, architecture and art
Barbara Glasner and Stephan Ott, Birkhäuser Verlag (stocked by Books @ Manic), 272pp, RRP $120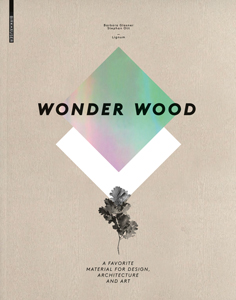 Plotting the creative use of wood as a material in art, design and architecture, Wonder Wood covers decidedly vast territory and inevitably risks being a little overambitious. It's perhaps more useful to view the book as an exhibition of sorts, a carefully curated collection of works to
a theme, in order to digest what really attempts to address a topic of encyclopaedic proportions. Ranging from the large-scale – such as Alice Studio's mountainside Evolver installation in Switzerland and Terunobu Fujimori's Yakisugi House made of charred cedar – to much smaller projects including German designer Cordula Kehrer's plastic and wicker Bow Bins for Areaware, Wonder Wood truly comprises an impressive selection of works. But what makes Wonder Wood more than just a coffee table book are both the interviews scattered about its pages – with the likes of Dutch designer Hella Jongerius, German artist Stephan Balkenhol and German designer Elisa Strozyk (whose wooden textiles are a highlight) – and its final section, devoted to the practical, elemental and technological processes of working with wood, which serves as an unexpected mini reference handbook for the uninitiated and students in their preliminary years of design school.