Photography by Niea Nadya.
Wander along St Georges Road in the Merri Village precinct of Fitzroy North and a delightful visual experience awaits. The shop-front window of architect Antony Di Mase's studio has been transformed with a visual exhibition of sculptures and creative objet. As if running a busy architectural practice is not work enough, each month Di Mase collaborates with established and emerging artists to promote their art and add an artistic touch to the local streetscape.
Although the area of the studio is small Di Mase has made the most of the space and reserves the windows and front section of the office for this artistic endeavour.
The latest exhibition to feature at 342 St Georges Road is by Marija Patterson, a sculptor, who in this display has embraced sustainability and incorporated recycled materials wherever possible. Sustainability is a subject close to Di Mase's heart as one of the latest completed projects by the practice was the design of a the Gezellig house, a 'Passive House' – although he has embraced sustainable design wherever and whenever possible in his past projects.
The artistic works on display at the front of the premise are not the only objects to view. Di Mase is especially interested in lighting and is somewhat of an artist himself, so there are his works on paper hanging on the walls and prototypes of imaginative lights dotted around the room.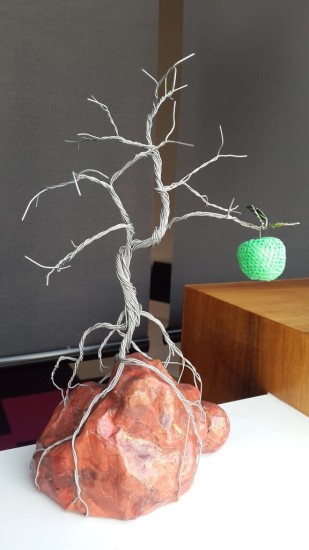 Large practices have the capacity to stretch themselves and interact with the community, however for a small practice this is not always possible. DiMase Architects is engaging with the residents of their neighbourhood, providing accessible art and promoting a vehicle for interaction – such a wonderful way to live and work.
ADR asked Antony Di Mase about his initiative and how it came about. These are his words.
"The shop-front idea started like this…basically, I have my architectural practice at 342 St Georges Road in Fitzroy North. Originally the premises was home to my father's real estate business and I shared the back space when I started my practice. When my father passed away I took over the office and slowly renovated the building as funds allowed.
I always felt slightly awkward occupying a shop-front as it never seemed quite right for an architect to be in a strip-shopping street, so initially I would hide behind blinds and almost disguise the sense that I was located there.
As the practice grew we needed more room so we installed an existing shelving unit near the front window and as a concession to the street I put some models on display. The shelf was quite tall and what I started to notice were the mums and kids stopping at the window. The mums would hoist their kids up to look at the models and this interested me. I thought that if I could make a shop-front more for kids then I felt more comfortable with it.
So we had made a new shelf that was lower and started to display architectural models, Lego, and anything we could find.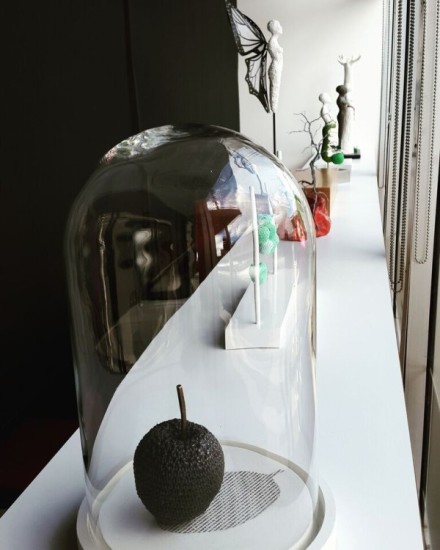 Olivia Pintos Lopez began working at my office last year and she is also an artist, so she displayed her mannequins in the shop front as I ran out of ideas for the window. Olivia began to ask her friends to participate, and to my surprise people were enthusiastic about exhibiting. We received a really positive response from the artists.
At the same time a friend's child (who is the same age as mine) would paint scenes from the kids footy each week. I asked him to exhibit the work at the office during the footy finals series and he came up with the idea to have an opening party. He sent invites to parents and the like and suddenly we had about 50 people in the office on a Friday night.
I thought this was great – I was talking to lots of people about what I do as an architect and I saw an opportunity to break down the barriers that exist between architectural practice and the community. I have continued with this theme and managed to attract some great artists to exhibit and I have met some very interesting local people along the way.
The next exhibition will be a local Industrial Design partnership (HANK), I am in discussions with a jeweler, a photographer, a children's book illustrator and a glass blower who makes lamps from old bottles.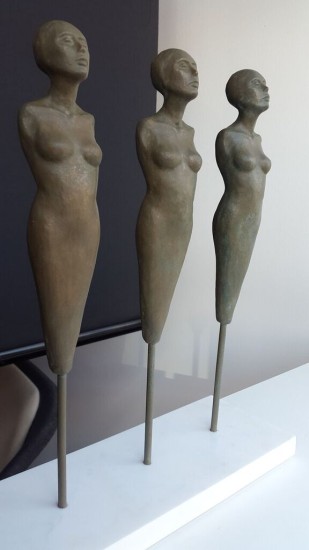 For an area like Merri Village the shop-front installations have helped bring life to a downtrodden street and I receive a positive response from the community. In the longer term I am keen for the window to become a bit more provocative and highlight some of the critical issues we face in terms of sustainability and try to promote design as a force for positive change. In this sense I will work collaboratively with artists to try to see the window as a billboard that provokes some kind of reaction to things.
It's funny each day people are often stuck in a tram or car looking at the shop-front, so taking advantage of this situation has been a really good thing and is fun." – Antony Di Mase