Article by Online Editor
Photography by David Foessel
Designer March Studio
Sign up for our newsletter
This article was originally published in Inside #74: The Winners' Issue
For the last six years Damir Doma's highly conceptual designs have ranked alongside the likes of Raf Simons, Yohji Yamamoto and Rick Owens; fashion designers with a discerning vision and great appreciation for architectural form. It was therefore important that Doma's new, Paris-based, store match the renowned fashion designer's consistently strong collections and identity.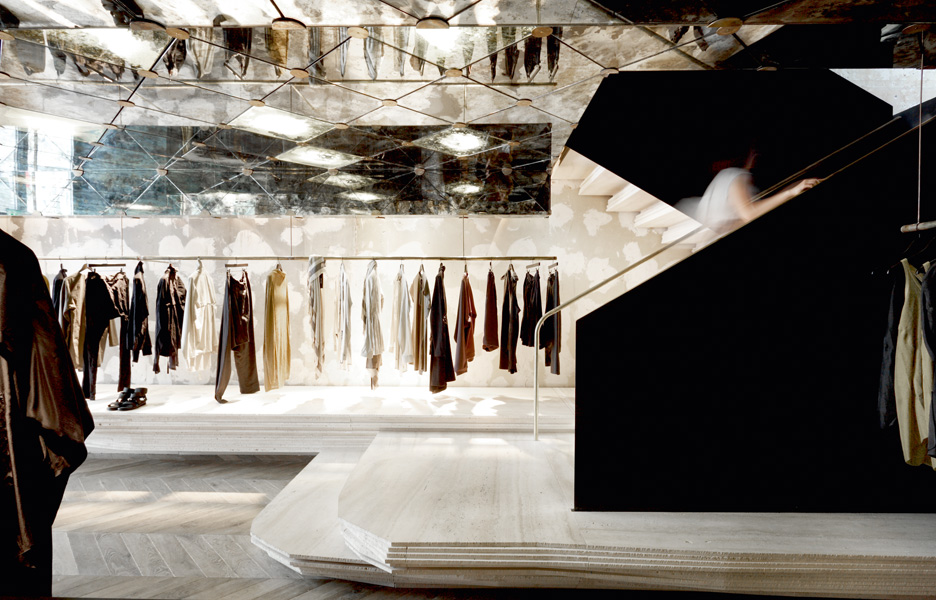 Doma commissioned the Melbourne-based March Studio after visiting the Paris Aesop store, which garnered the practice international recognition in 2010. There were big expectations surrounding the boutique and a demand for high impact. Doma was working with the idea of "layers of materiality" at the time, and the job came loaded with pressure to envision something "rough and refined" – something that would complement the garments and act as a backdrop and stronghold. The store's site and brief made it clear this was not your average retail project, and March Studio's principal Rodney Eggleston welcomed the project with open arms.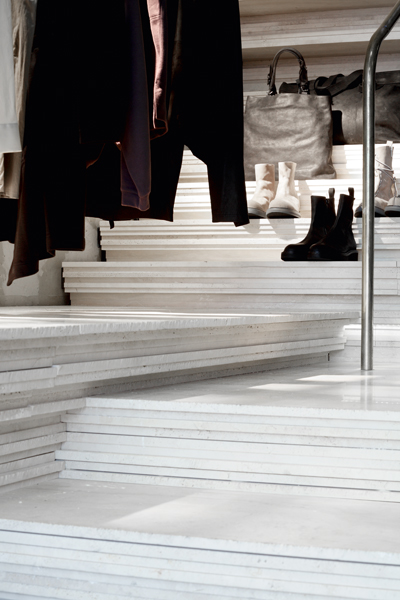 "When I first saw the site there was this overwhelming feeling of it having retained the layers of its history," says Eggleston. "It became relevant to preserve that sense of history." With the 'canvas' set and rich with textural possibilities, the design rationale of old-meets-new soon became apparent. Directly neighbouring Comme des Garçons, across the street from Élysée Palace, and in the thick of the 8th arrondissement, 54 Rue Faubourg Saint-Honoré offered an amazing opportunity. "There was a certain rawness and purity, coupled with intimacy and sophistication," says Doma. "I wanted customers to feel like they were in my apartment." However, the modest, three-level space would require serious help to realise it into being something spectacular.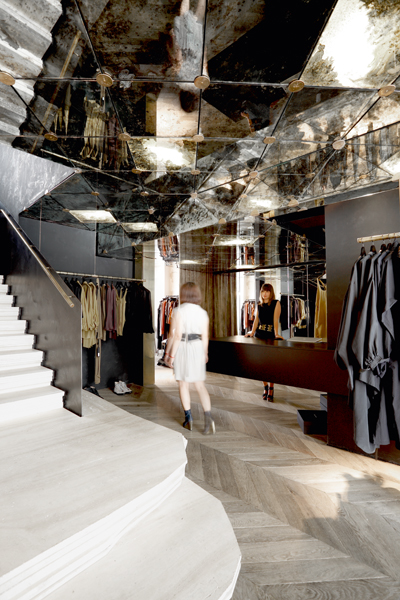 The early vision for the project originated from Doma's own interest in a contrasting world of dream-like experiences and memories. His initial mood board featured images of sunlight refracting in the haze of morning dew, the brutal steel works of Richard Serra and a rich, striking palette of natural earth tones, all of which were anchored by his traditional use of black. This space, or 'home' as he calls it, was to reflect his life's work and to seed the ground for his fashion house.
Doma describes the store's interior as being very informal, but very well balanced. As Eggleston explains, "Damir had a great understanding of the materials he wanted to play with, and we came into this knowing his work. We understood his grasp on materiality and we always intended to use materials in a balanced manner. Damir and I share that sense of structural logic as designers; that same sense of material logic."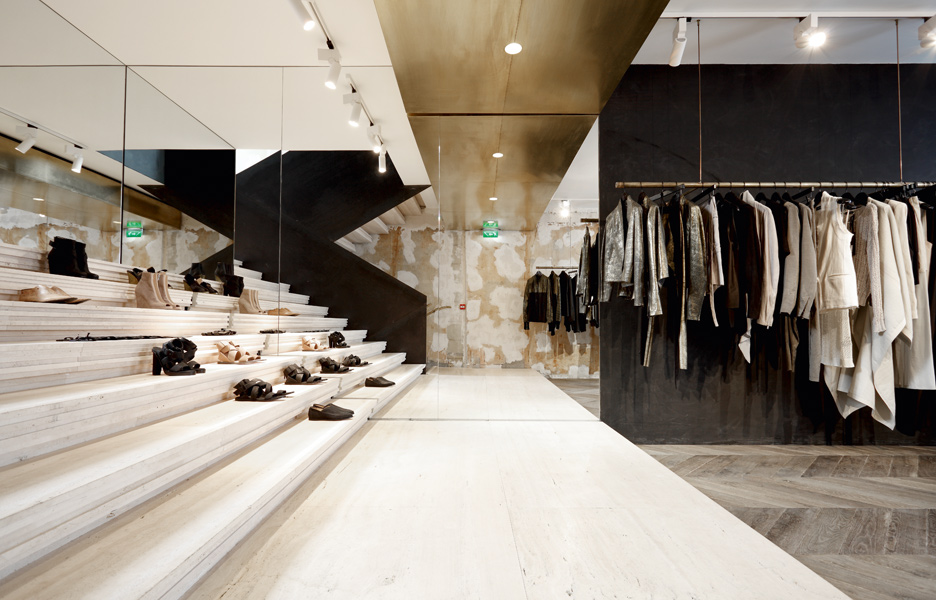 The staircase became March Studio's initial point of departure for creating a sense of layering. It became a primary focal point for both Doma and Eggleston and Doma pushed strongly for something special to be done with marble. March Studio adopted the idea of "rawness and purity" and suggested that the marble be used in its natural slab form. "We went to a marble yard on the outskirts of Paris together, and that visit really started to inform the staircase, just seeing all that marble stacked on top of each other, one slab after the other, rough cuts and raw," says Eggleston.
Simple, extremely textural and multi-layered, the stacked-marble concept became central to the fitout's design. Doma was happy. "Then there was the mirrored ceiling on the first floor, which was also designed to solve the issue of the ceiling's low height," says Eggleston. "We were trying to articulate this 'rough and refined' idea with treated surfaces – the mirrors, brass accents and raw steel – so that they appeared somewhat aged."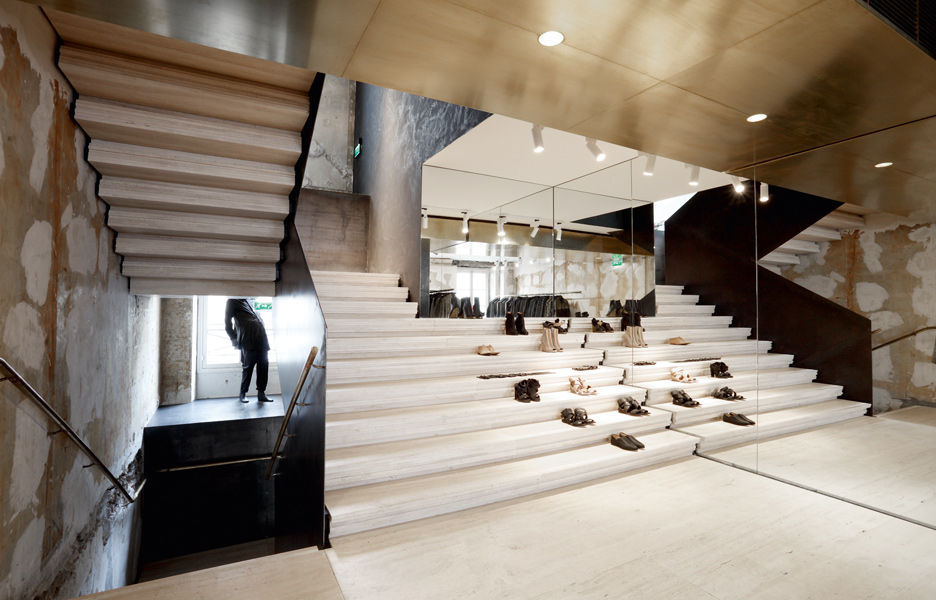 The mirrored ceiling is essentially the secondary anchor in the design, but clearly the first point of interest. When you first approach the store from the courtyard, it's the first thing that strikes you. "We really wanted to use this element as an opportunity to reflect the clothing back on to the space itself," says Eggleston. Contrasting against the robust French parquetry of the floors (another successful use of texture), the mirrors seem to open the space significantly, creating the illusion of more room downstairs.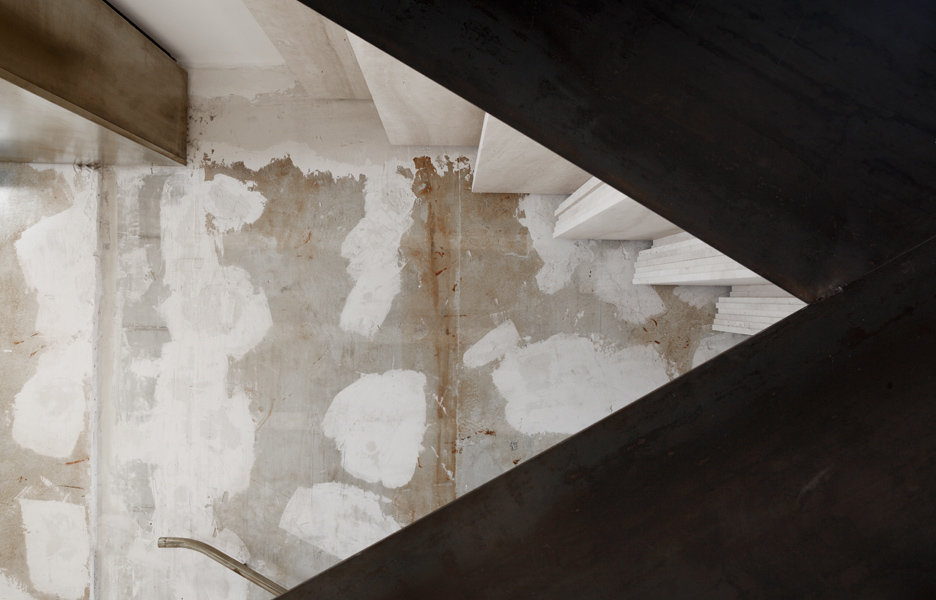 The specially treated mirrors were all handcrafted by Outlines – Custom Mirror Finishes, a company based in South Melbourne. This was a somewhat contentious choice because the mirrors then had to be shipped to Paris to be installed, but as Eggleston explains, "We knew we wanted to work with Helen Macfarlane from Outlines. She throws these incredible cocktails on the mirrors and the chemicals slowly erode the silver. Her work is amazing." In a few particular places, an extra percentage of erosion was allowed, to enable what is a seamless lighting system through the mirrored ceiling.
Also working alongside March Studio was Yann Martin and Benjamin Clarens from Cut Architecture. In charge of the construction and build, the Paris-based practice was essential in the materialisation of the new fitout. Working with Cut has been March Studio's biggest collaboration to date and Eggleston was pleased with the dynamic. "We went back and forth on everything, and in the end you had all these tradesmen working on top of each other, but it was fluid."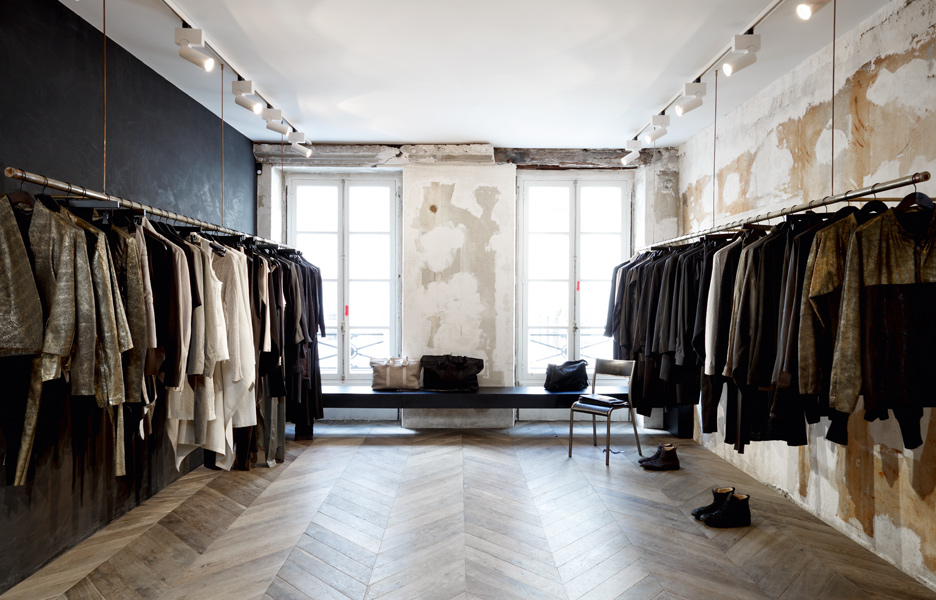 Along with Doma's creative approach to product development, Eggleston also credits their like-minded approach to the design process for the success of the retail fitout. The honesty and integrity of their respective work is complementary, and they've held firm to the ideals of layered materiality and structure. This has resulted in a balanced showcase of rough and refined textures in well-measured contrast. From their recent award-winning Baker D. Chirico Carlton retail fitout to this avant-garde Paris fashion house, it's another tick for March Studio.
Modern office interiors are designed to maximise space while accommodating collaborative discussions, agile working and ease of communication.