Article by Elana Castle
Photography by Meng Koach, Vincent Buret
Designer
Above: The &company pop-up workshop at The Rocks in Sydney (2012). Photo by Meng Koach
When Sydney-based product designer, Zev Bianchi, took a voluntary redundancy in 2011, he transformed part of his small Bondi apartment into a workspace, building furniture prototypes on his dining room table. "It was my pyjama office for over a year," he says. "Renting out a studio space was completely unaffordable, [but] it also became increasingly difficult to work from such a cramped and impractical space."
Then in May last year, Bianchi attended a number of talks at Vivid Sydney that discussed ways to activate underutilised city spaces, particularly in creative hubs such as Darlinghurst and Paddington.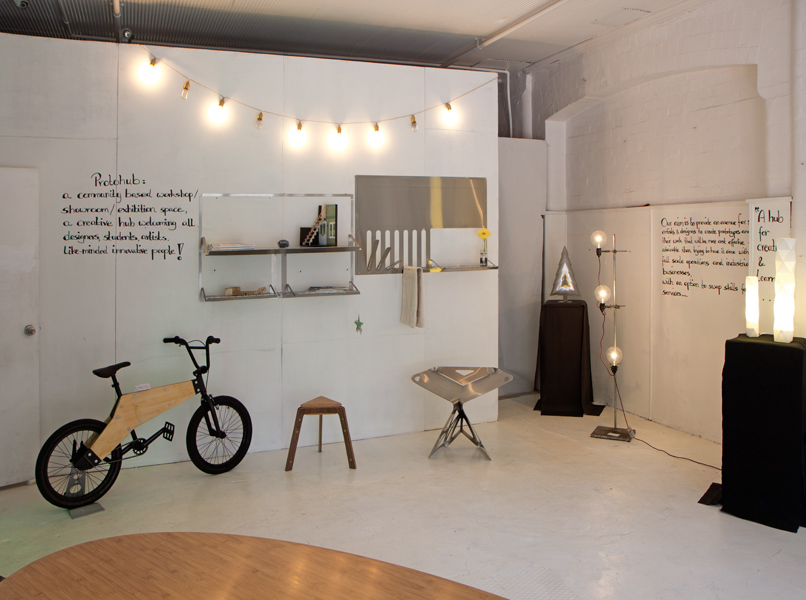 "Businesses in those areas are floundering due to rising rental prices," says Bianchi. "As a result, a number of landlords are selling their vacant properties to the local council." A combination of factors, including an initiative by Lord Mayor Clover Moore to reinvigorate these spaces, has resulted in more affordable rental opportunities in the area.
The city is utilising some of its own commercial properties for the provision of affordable space for creative practitioners, while elsewhere – on Oxford Street, in particular – initiatives such as Cultural and Creative Spaces are being used to activate vacant properties by 'matchmaking' building owners and landlords with creative businesses on the hunt for commercial space.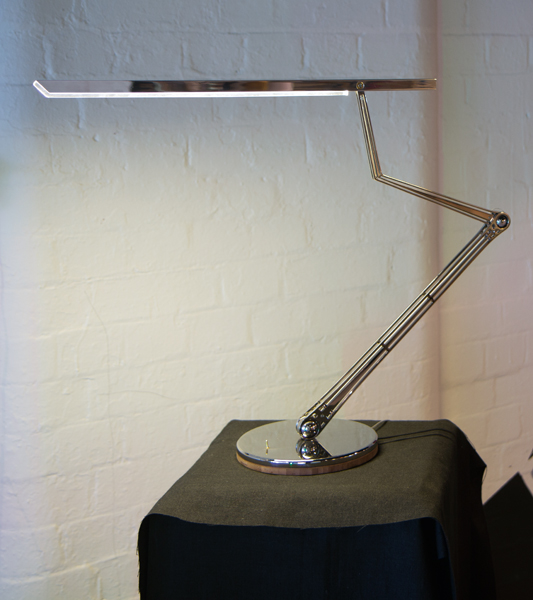 The enterprise spurred Bianchi to think about his own work environment. "I decided that I wanted to create an inexpensive, shared workplace solution for like-minded creatives," he says.
"Many designers are hindered by a lack of affordable access to the appropriate machinery," adds Sandra Bianchi, Zev's wife and co-founder of Protohub. "We are trying to remedy that by providing a collaborative and supportive space for designers to develop and test their ideas, without the burden of high production and running costs."
The pair had already inherited a range of quality machinery from Zev's father, which, along with additional donations, provided a great starting point for the business and supported the Bianchis' desire to revitalise and reintroduce old but valuable manufacturing techniques.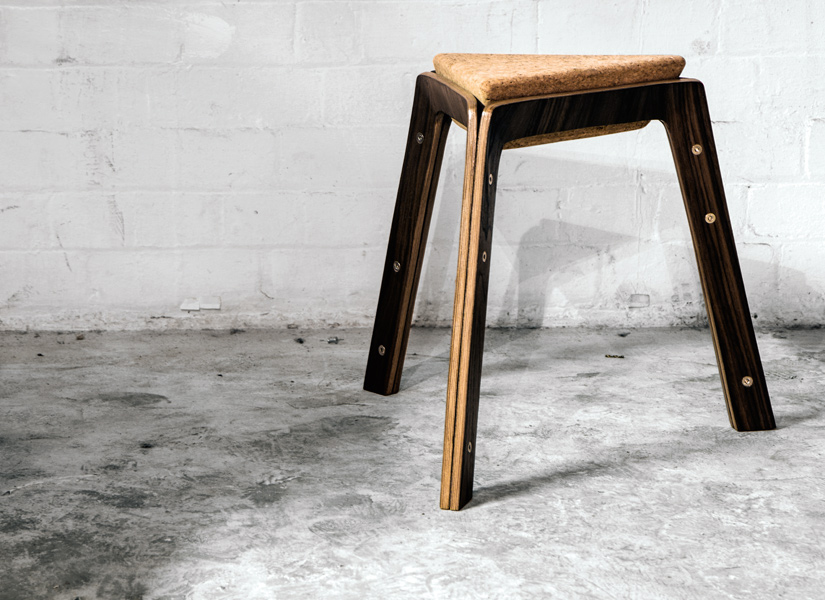 The pair embarked on a six-month long property search with the City of Sydney to locate an appropriate space, securing a venue in Darlinghurst in November 2012. With a significant amount of elbow grease, a few contra deals and some council assist- ance – including an introductory reduced rental rate and three-phase power – Protohub was born.
The result is a flexible, 210-square metre, one-level space that functions as a number of personalised work zones for independent designers, an exhibition space and a workshop, complete with a 1940s lathe and metal polishing wheels, drill presses and welding machines.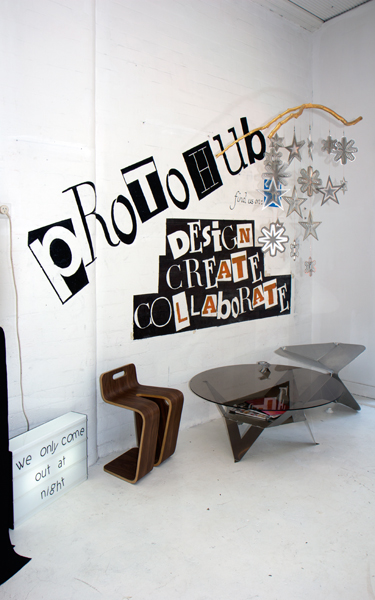 The Bianchis have already secured two 'tenancies' in the space: Annie Krasznai of Lamp n Shades and Asher Abergel, an industrial designer, both of whom have the added benefit of Zev Bianchi's mentoring services, stemming from his extensive experience in the industry. "We also work on a barter system, exchanging the use of our resources for skills that others can offer the business," he adds.
The pair also hopes that, through their supportive prototyping model, designers will ultimately be able to secure larger scale production. Zev Bianchi has developed a range of bespoke furniture pieces, which he hopes will attract interest from design stores and manufacturers and, in keeping with his desire for compact, sustainable production, is looking to harvest and process bamboo within Australia. They are also in discussion with a number of creative establishments to secure resource exchange programs, workshops and gallery space, and negotiating with the City of Sydney to secure permission for an outdoor extension of their art and designer market in the newly developed Foley Street laneway.
Anna Lise De Lorenzo, the founder of &company, another Sydney-based collaborative design studio, is equally passionate about providing practical working solutions for designers. "In the early days, &company was focused on producing opportunities for emerging designers to make, present and sell new work," she says, "but its primary goal now is securing an affordable location for creatives in desperate need of space and resources."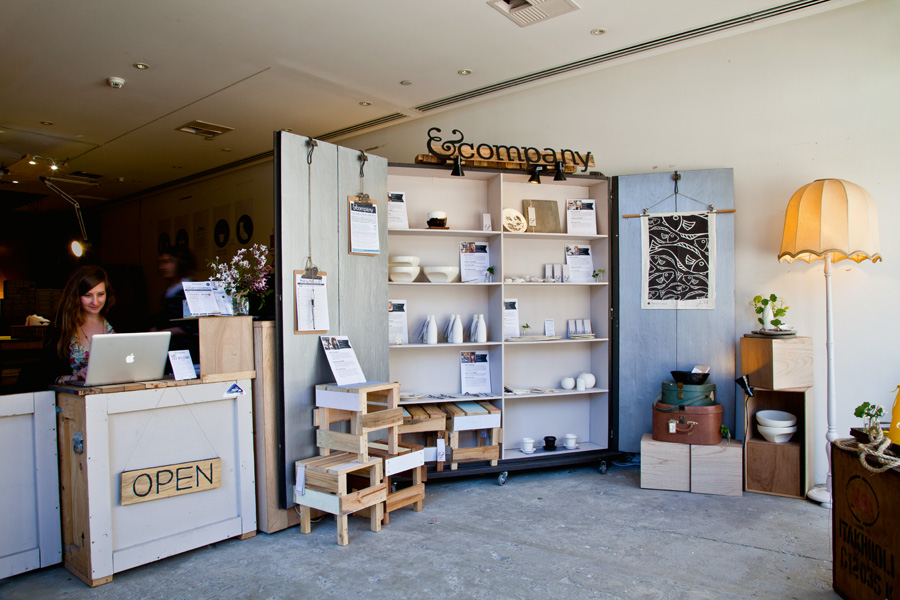 The supportive community that De Lorenzo has attracted and nurtured over the past three years forms the backbone of her business. Many of the designers have also worked with her on a number of initiatives, including an exhibition with Object Gallery and a range of crockery and furniture pieces for Chris Thé, chef and owner of Black Star Pastry.
Last year, De Lorenzo discovered The Rocks Pop-Up program, a state government-funded initiative that offers creatives affordable short-term tenancies in temporarily vacant spaces in the area. For seven months, until late 2012, &company was based in a space adjacent to the Museum of Contemporary Art, where it held a range of hugely popular classes and hosted a Vivid Sydney symposium on the real life issues associated with running a small design business.
A successful Pozible crowd-funding campaign has now helped the business move closer to securing a long-term home for the project. "The space will function as a members' workshop, a creative classroom and the site for our incubator program, where we'll continue to mentor local designers looking to locally produce their designs," De Lorenzo explains. They've already had success with several co-developed projects, the results of which are for sale through &company. "That sums up how and why &company started," adds De Lorenzo. "I wanted to take my teaching into a real world capacity, providing designers with useful tools to take their creative skills from ideas to reality."