Article by Online Editor
Photography by Hufton + Crow
Designer Stanton Wiliams
This article appeared in Inside magazine 70: Working for Solutions.
Above: View to the north facade of the Granary building, with a lift to the campus library (on upper levels). The ceiling details are a motif that references earlier workings of the Granary.
In London, the making of architecture almost always requires a balance between new and old. The city's hoary, precious and often bloody history informs much architectural debate about what must remain, what may be cleared, what insertions are tolerable, and how these relationships and histories are negotiated.
The £200 million campus for the University of the Arts London, housing the renowned Central Saint Martins (CSM) College of Art and Design just north of King's Cross Station, is one such essay in the balance between historical weight and contemporary context. It seams industrial heritage with the city's pervasive appetite for lucre and change, forming the core of a 27-hectare (67-acre) development now known as 'King's Cross' or postcode NC1, in central London.
Recently opened, the campus occupies the Grade II-listed Granary Building and adjacent Transit Sheds and boasts an enormous four hectares (10 acres) of floor space. Though it unites all disciplines in one location for the first time, creating a new address for such an august institution was always going to be controversial, particularly alongside its desired role as an 'agent for change' to consolidate the success of the larger development.
Settled in Roman times, this area has a narrative rich with industrial wealth and enterprise, straddled by the great 19th century railway stations of Lewis Cubitt's King's Cross (1852) and Gilbert Scott's St Pancras (1865). Both railways allowed delivery of coal and grain from northern counties to be traded and distributed to the canal networks nearby, creating a fiscal lifeblood for London. The area's economic height accompanied sordid human blight: it was infamous for its slums, nascent outbreaks of the bubonic plague and, since the postwar decline of the industrial age, an ascending presence of hookers and harlots, pushers and pimps.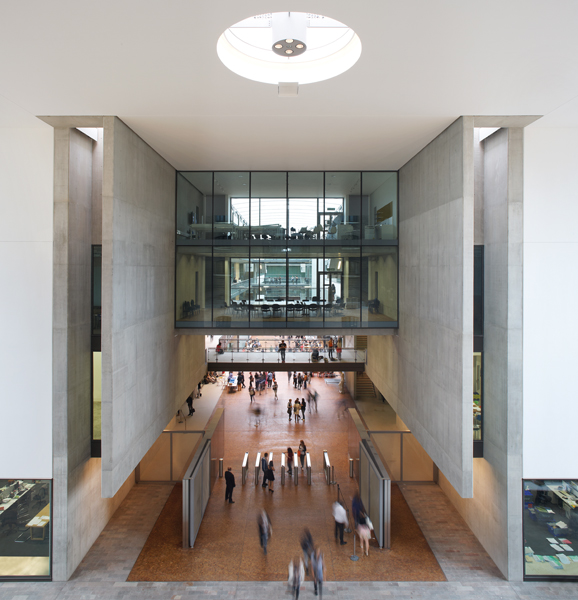 Until the mid-90s, its ill-repute meant the disused railway goods yards and adjacent abandoned lots so close to central London were cast aside while other boroughs attracted popularity and gentrification. Fifteen years later, and characteristic of the atavistic London spirit, the location and potential of the King's Cross brown-field site has triumphed and borne an entirely new development. Buoyed up by other cultural regeneration nearby, such as Regents Quarter or the galleries, recital halls and Guardian newspaper headquarters at Kings Place, the King's Cross development will eventually house thousands of new homes, untold square metres of office and retail space, and one of the largest public forums in the city, Granary Square. In itself, this will create a significant addition to the reach of central London: nowhere else does such an opportunity exist so close to the city's heart.
Amid this industrial rubric Central Saint Martins now sits, weighted with its own reputation as a crucible of British contemporary art and design. Its starry alumni include Gilbert and George, Lucien Freud, Terence Conran and Antony Gormley, as well as Stella McCartney, Alexander McQueen and John Galliano. Though the original campus was scattered between five buildings in central London and suffered from increasingly unsuitable work and study spaces, its built fabric was celebrated for the many chronicles it held. As Lee Broom, a CSM graduate and 2011 winner of British Designer of the Year, notes: "Central Saint Martins is not a typical student environment, you're not part of a campus – you were going into the West End and then studying, and going out for drinks and in the kind of creative centre of Britain… You're aware of its history: the Sex Pistols played their first gig there, David Bowie didn't get in… and all that is part of the bricks and mortar. You were always aware of being in a kind of special place."
Consequently, the task for architect Stanton Williams was considerable: to rehouse 1000 staff and 4000 students in a new campus, which would unite all arts disciplines – including performance, film and industrial, fashion and graphic design – in a single location for the first time. The project was to provide advanced facilities and technologies for students in an extremely adverse economic climate, with increasing governmental preference for user- pays education models.
The architect's treatment of the project seems to follow principles of 'long life, loose fit', which dovetails well with the vision of CSM's head of school, Jane Rapley. In an interview with the BBC, she underlined the opportunity of the move stating, "You don't get to build an art school very often and, however much you plan, it has got to be able to change because the world changes. The students change the way they live their lives and the way they want to study; the staff, how they want to teach and what they want to teach, so it's got to be adaptable."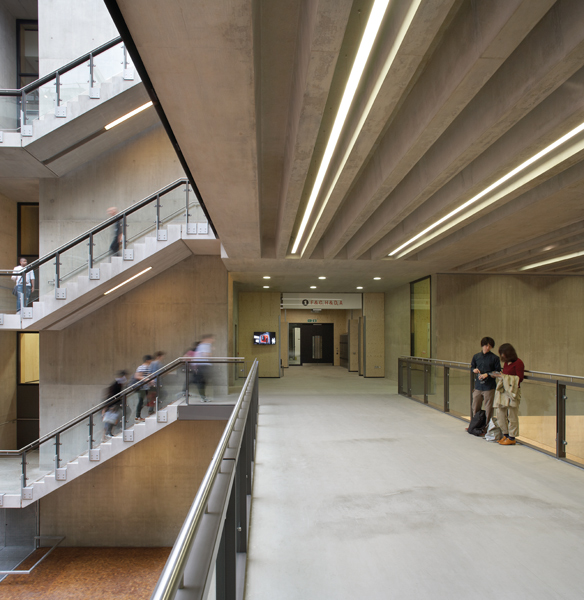 Sympathetic to the original functions of the buildings, and organised in a pragmatic sequence to prioritise accessibility and ease of material delivery, as well as a logical relationship between studio and workshop spaces, the building constitutes a large rectangle in plan, four storeys in height. The stolid southern brick façade of the Granary building announces the main entry and faces Granary Square, which will soon bridge between public and private space, its cobblestones animated by a program of artworks and installations. Stretching 180 metres north of the Granary building are two Transit Sheds, West and East, within which two generous insertions of studio buildings run parallel and shape a distinctive T-shaped internal 'street' that is spanned by bridges between the studios and punctuated by service cores. Beyond, narrow panels of industrial glazing span the 50-metre-wide northern façade, which sheaths a fully equipped 350-seat theatre for the performing arts. Serviced by its own entrance, the rear lane also provides loading bay access for the delivery of large sheet materials to the design workshops at ground level.
Simple, robust materials and finishes are used throughout – typically including cast concrete walls and stairs, simply detailed metal 90 balustrades, plywood panelling and unadorned glazing. This palette characterises the architect's desire to enhance the original, industrial language, replete with architectural palimpsests of times past. Practice director Paul Williams points out, "The extent to which you restore or conserve is always a fine balance – whether to soften the historic scars built up over time [which] reflect a memory of some architectural intervention… and on this project we feel they add a richness to the architectural composition."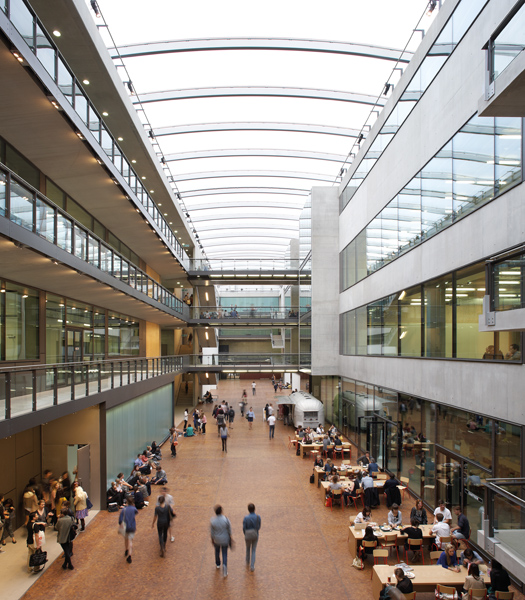 The balance he speaks of is judiciously weighted and to an extent also informs the program. For example, the Granary's original role as a storehouse and distribution point for grain at the height of the industrial boom is a kind of architectural analogy for the reception, display areas and information points at ground level that feed the flow of public and students through its generous volumes, underscored by large flagstones incised with existing turntables. From here, public and students enter the main covered 'street' areas, while internal vertical circulation in the form of stripped back lifts to the northern Granary façade expose access to a treasury of knowledge, with the library finally united and occupying upper floors. In a similar vein, the former horse stables of the Eastern Transit Shed have been reimagined and now house 21st century steeds: providing bicycle storage for staff and students.
Broadly speaking, the studios are arranged north-south and east-west, according to their functions: heavy to light, large to small. Dark rooms, post production and film/sound studios, as well as large-scale noisy occupations of product and industrial design workshops are at lower levels, with upper floors housing facilities for textiles, jewellery and graphic design.
What is most striking, however, is the ambitious scale of the project. The lofty area of the studio spaces, crowned by a translucent ETFE roof, is indescribably expansive, while the north-south internal street is vast and echoing. Rows upon rows of desks, workstations and machinery fill gleaming white space after space – many of them open to views from the 'street' bridges.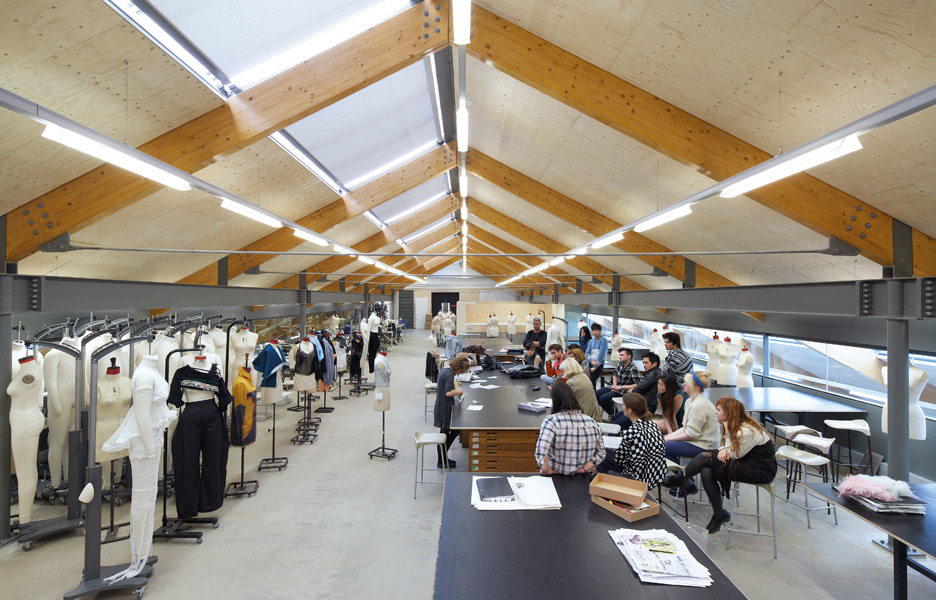 When I visit early in the first semester of use, the human-scale insertions immediately tangible are the airstream trailer offering caffeine to flagging students, the scattered clumps of canteen seating and ant-like bunches of students. Many of the wall surfaces, pin-up boards and promising exhibition niches are yet to be attacked, curated and animated by the students' creative output – and when this happens, the campus will undoubtedly gain a greater sense of liveliness.
For all the nostalgic resistance to the move from Holborn, much of it expressed by staff or former students, the reality is that each year another cycle of graduating students will be spat out, facing huge competition and, currently, a daunting lack of employment. For this new era of Central Saint Martins' students, the expansive campus can be seen as a positive opportunity to learn in an environment that declares support for multidisciplinary pedagogy – in both formal and informal ways. As Broom muses: "In the end, this is London, this is Saint Martins and, essentially, it's one of the most modern-thinking contemporary institutions in this country… the whole notion of being modern is that you accept change and you move on." What cannot yet be proved is whether the anarchic, experimental spirit of the old Saint Martins will prevail. Though newly anaemic, the spaces are ripe for opportunistic appropriation. There is the opportunity for a comparably rich patina of creative expression, but it will require encouragement and programming by staff and students that is as robust as the buildings themselves.