Article by Online Editor
Photography by Birgitta Wolfgang Drejer
Designer
Architect Antonio Virga
Most would be quick to consider inner-city living in Paris as a bit dense or congested, though quite comfortable in the grand scheme. This is part of the city's charm and character, some would say, where creating your own pocket is part of life in the city. In particular, the elbow room of the 10th arrondissement has started to give way to some serious makeovers, and the results are notable. Set in the heart of the French urban hub, 'the 10th' of Paris is one of the more interesting areas of the city's 20 administrative precincts. Recently more than a few hidden gems have been discovered and reworked. The trouble, of course, is finding the right time and opportunity to claim the perfect stake. The Bonnard family was lucky enough to seize a recent opportunity when they got word from a friend that an old insurance company was selling a property in the area, something that could easily be reworked.
Timing is always a tricky thing when considering an inner-city retrofit. And while the same is true in almost any city, when it comes to Paris, the received wisdom is that here you take your time to find and realise your home. The gem in this case is an urbanite's dream come true. In search of a modern Parisian classic, I was introduced to a lovely couple (both French journalists) by the names of Louis and Sara Bonnard. The family has just relocated to the 10th and is now based in a magnificently refurbished loft – with views over Paris that completely mesmerise me. At ease, the couple speak of their journey to achieving such an amazing home.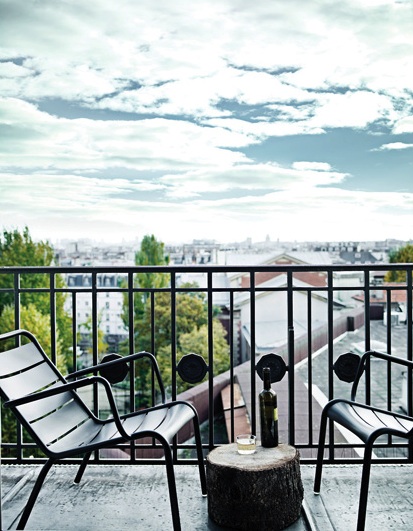 'Perhaps the most challenging phase was the beginning,' says Louis. 'We needed help for the plan that we wanted and we asked Antonio Virga, an Italian architect living in Paris, who ultimately found a very simple and obvious way to organise the space. He likes pure lines and works hard to find real simplicity. We wanted a loft, but we also needed privacy – for us and our teenage children.'
Virga's approach to simplicity in this case was to strip back the interior to its bare bones, and work from a freshly exposed, elemental structure. Accentuating the concrete in certain areas and playing on these darker tones of grey, the Bonnards decided to retain the original window frames and simply paint them black. Open from the entrance through the main dining area and kitchen, the expansive nature of the space – like any great loft – directs you straight to the main source of light, which is where you encounter the two main living areas – and an epic view over Paris.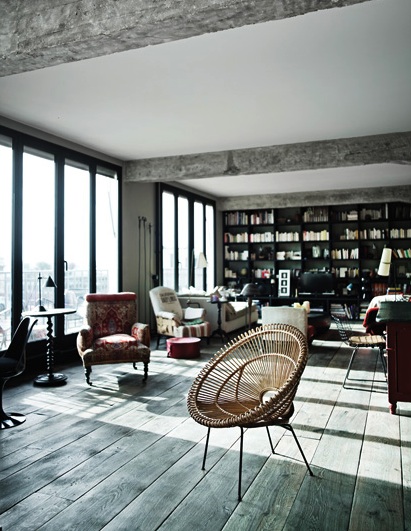 'The second challenging phase was creating our own sense of charm in a quite modern place, which could easily become cold if decorated differently,' says Louis. 'The parquet we found here certainly added to this charm. It seems to have been here for a long time and, for the same reason, I decided to colour the window's ironwork in black. Plus, we couldn't really afford to change them.'
Having put so much effort and patience into this project, effectively realised with the smart architectural prowess of Virga's initial retrofit, both Louis and Sara Bonnard have a lot to reflect on as they enjoy their new home. 'First, I lived alone in Quartier Latin (5th and 6th), then in Montmartre when I met Sara,' says Louis. 'And, as she was pregnant, we decided to buy a larger flat when we found a very classical, Haussmannian building in a nice quiet cul-de-sac in the 10th, which wasn't very expensive back then in 1991. We had two children there, bought the attached flat nine years later, and ultimately joined them.'
Sara Bonnard recalls it as a very cosy apartment, with stucco ceilings and a marble fireplace in the Napoléon III fashion, although decorated with their own flare. Industrial pieces of furniture were mixed with family pieces passed down through generations and a good dash of contemporary design furnishings. This is very much the aesthetic mix of their most recent project. Shades of black, grey, with hints of vibrant hues were their main choices of colour then, just as they are now.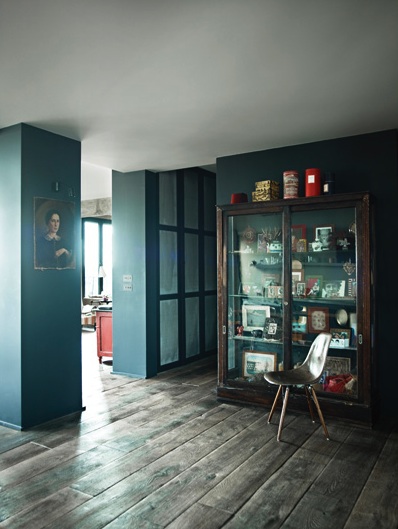 'We didn't really need to move,' says Sara. 'We actually had more than enough room at that place…' she says, glancing at Louis. 'I really didn't want to, but we were really impressed by the view here and we immediately loved the industrial aspect of the construction – especially the concrete.' Louis interjects and adds that he had hoped to find several brick walls, but was sad to only find two. 'We decided to break all the dividing walls and then imagined an entirely new space that could respect the view, our way of life and the construction,' he says. 'It was a loft, but a special loft with Paris in our living room – and three very separate bedrooms'.
The amazing view and comfort make it hard to leave the main living area, but at the far end of the hallway, the master bedroom is in sight. This is also purely lit, thanks to the large windows that look out onto the city. Spacious yet warm, the effect of such unabated light is clearly enabled by a thin and transparent divide between the bedroom and bathroom, which is tastefully treated with a more contemporary look. Throughout the entire space, Virga's appreciation for the existing structure is apparent. It is a true design of simplicity and balance, neutralities and robust features, which constantly remind you of where you are and what may have been here before.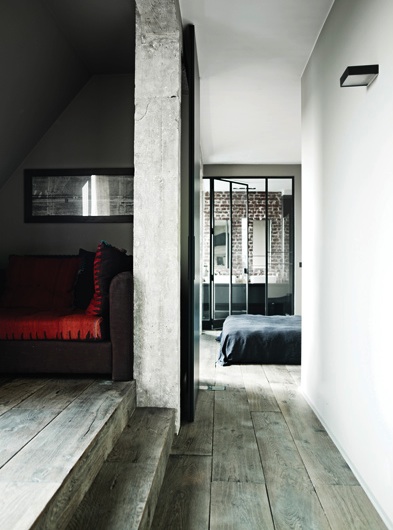 Back through the narrow hallway, one passes the other rooms and encounters a very smart wardrobe that functions as a bit of central storage for the family – another bespoke feature added by Louis. 'The hallway closet is custom-made, with a very simple system for the doors that Louis had found,' says Sara. 'You put wire inside a frame made of a special wood commonly used for boats.' The large American oak wood floor beams meanwhile are a stunning example of the capabilities of the Belgium flooring company Autrement les Sols and have been given a very convincing aged treatment.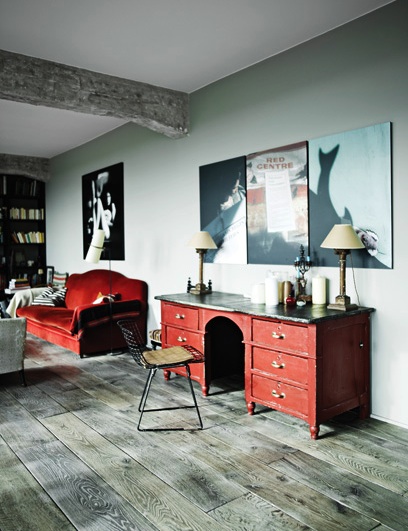 Back to the open kitchen area, and one has come full circle. This is Sara's favourite room in the house, and not only because she enjoys cooking – but simply because it remains the most social area of the home, where there's constant activity and a warm flow of familial traffic. With a gorgeous vintage dining table (surrounded by Eames chairs of different colours), one can imagine the lively dinner parties and family gatherings. The table in particular holds central prominence in the open space. The couple found it six years ago at the Marché aux Puces St-Ouen de Clignancourt – one of the oldest and most renowned Parisian flea markets.
Of the other standout key pieces, Sara mentions the main showcase buffet, filled with some very interesting selections of 'heritage' and family goods. 'It was a present from friends and now it is like a family museum,' she says. 'As 'heritage' we playfully like to point at the old paintings, two portraits in particular: one of a man and another of a woman we found in the street and we adopted as our own ancestry.' In the living room, Louis' favourite spot, it's hard not to admire the charming old desk. 'I loved it when I was a child, and my aunt finally gave it to me a few years ago,' says Sara.
Sara reminds me that while the ideas that compel us to create a new home are often inspired by a desire for change, it is important to retain the character of home life that we have slowly cultivated over the years. There's nothing wrong with seeking a new state of domestic comfort, but, as in the case of the Bonnard family, the timing will most likely choose you. 'For those who deem any metropolis as a valued place to call home, patience, vision and determination can go a long way towards creating your own modern classic,' she says.