Article by Online Editor
Photography by John Horner
Designer Office dA
In Boston, going out for a meal can provide a real-life introduction to one of the most exciting design studios in the US. Local firm Office dA has partly built its reputation on the strength of its restaurant portfolio. Although restaurants would seem to warrant flimsily superficial design efforts –– capricious tastes, faster fashions and high turnover, after all –– Office dA has deployed these interiors to assert a bold and tectonic point of view. Restaurant spaces like Mantra, followed by Upper Crust and Bin 26, are sculpted and incised in large strokes unimpressed by furniture and finishes.
Yet architect Nader Tehrani says he and his Office dA co-founder Monica Ponce de Leon have discovered that even their Herculean efforts have limits. Referring to the bifurcation of a restaurant''s floor plan and its ceiling plane as ground and sky, respectively, Tehrani says, ""What we came to understand in the other restaurants is that the ground has to be flexible at all costs [to accommodate a restaurant's variety of activities], and for that very reason the sky can be the locus where design occurs, where you can transcend the conventional terms of the pieces you're given.""
Office dA''s latest restaurant creation is Banq, and it's a culmination of lessons learned and parameters surmounted. The eatery was commissioned by Hemant Chowdhry, who gave the studio its first restaurant commission a decade ago, with Mantra. ""Hemant really invested in us,"" Tehrani recalls. ""We didn''t have any experience or any displayed abilities beyond just ambition and excitement and, despite all of the obstacles, it was a very successful project.""
Whereas Mantra''s menu fused Indian and French cuisines, the gastronomy of Banq is polyglot. Like an Olympic Games opening ceremony, its menu is a parade of nations that includes China, India, Thailand and Vietnam. And Banq''s container, the former Penny Savings Bank, is a fitting analogy to the food. The 1920s-era bank is located on Washington Street in Boston''s South End neighbourhood, catty-cornered from the Gothic Revival giant Church of the Holy Cross that was completed by architect Patrick Keely in 1875. Developers had topped the Beaux-Arts bank with a banal modernist condo addition and stripped the original interior to a perimeter brick wall and a scattering of structural columns. When Office dA first entered the space, a tangle of ductwork was beginning to take shape, and the architects tried their best to orchestrate the chaos.
The 1066-square metre floor plan (sans kitchen) would be flexibly open, of course: Today Banq is divided into a small front portion containing café seating and bar service that spills onto the pavements in summer. The main dining room fills all of the space beyond the bar proscenium except for a small private party area sheathed in gauzy curtains in the rear, as well as a central volume that wraps a column and is dedicated to wine storage. Ultimately, though, the uneven distribution of columns and the mechanical mess overhead, which lowered the 4.88-metre ceiling to 4.27 metres in some places and 3.35 metres in others, proved to the design team that even its ceiling was no blank slate for pure expression.
"The inspiration that ultimately reconciled the topography of the ceiling with the desire to create something transcendent "was very simple, it was the intersection of the extraordinary with the totally conventional,"" Tehrani recalls. While travelling through The Netherlands'' Schiphol Airport on business, he took a closer look at the terminal building's conventional slatted ceiling. ""It's a series of ribs,"" he explains, ""and if you look upward you see all the [mechanical] junk, but if you look in perspective the light filters through the fins. It's a common industrial-commercial application.""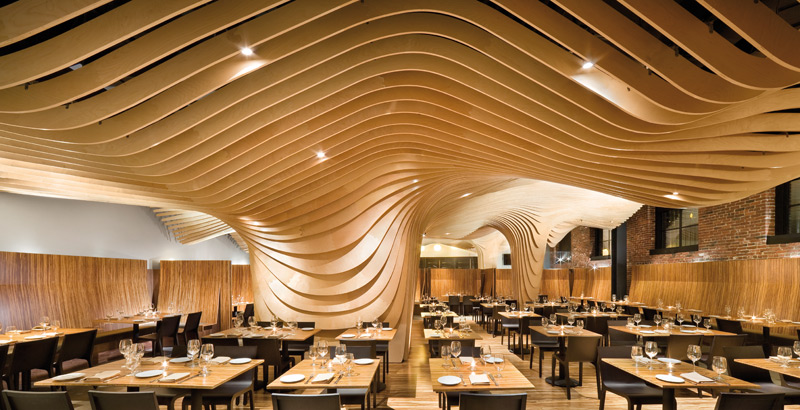 The application was reapplied to Banq''s ceiling, with curving ribs of Baltic birch suspended from steel rods. Each expanse of plywood is different in order to mask specific warts and pockmarks in the ceiling. And, seen in series, the composition appears to sway and undulate as a single unit – even if, seated from a faceted banquette or a Plyboo chair, one can peer right through the ribs to see those messy ducts. ""What I liked about it is its unpretentiousness,"" Tehrani says of the scheme, ""that it acknowledges and directly resolves a problem"."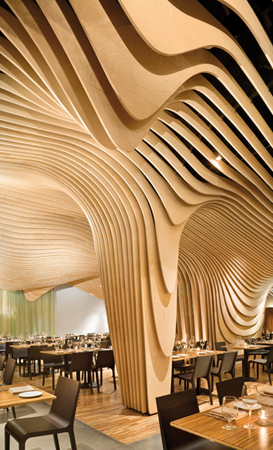 Indeed, Office dA has deciphered several riddles here. The gaps between ribs and their no-brainer installation make for equally easy maintenance, replacement or, should Bostonian's' palates change yet again, dismantling. Yet the feature is as poetic as it is pragmatic. With some encouragement from the menu, the wildly enthralling ceiling plane suggests that diners are bobbing underneath the tsunami of a Japanese ukiyo-e, or conjures an image of India''s banyan tree, its huge canopy able to shelter an entire village. Or, seen juxtaposed to the still-exposed brick wall or in view of the Gothic tracery just across the street, the ceiling''s arcing surfaces comprise just another layer in a recent, and rich, local architectural history. "They're not about fixing interpretation," Tehrani agrees, "they're about expanding interpretation. "Once we realised we had a system, we wanted that system to yield the most provocative readings.""