Article by Online Editor
Photography by Peter Bennetts
Designer
Architect March Studio
Artisan baker Daniel Chirico's reputation precedes him. Ask anyone familiar with the bakeries and cake shops of St Kilda and they know who you're talking about. One friend swears his bread is "the best bread in the whole world". Another recounts the time they travelled for miles for one of his chocolate croissants. With the opening of his second store in Carlton in October 2011, Chirico made a whole lot of people, my two friends included, very happy.
The new Faraday Street store and kitchen occupies the 90-square-metre space that formerly housed the Melbourne DVD rental institution, Video Dogs. Its frontage is small and unassuming and, although it's not quite a blink-and-you'll-miss-it scenario, the way-finding and brick exterior are both elegantly restrained and considerate of the mixed residential and retail surrounds. The large window is its only flourish and succeeds in revealing the interior, which could stop a first-time passerby in their tracks. It is, from both a design and consumer perspective, an immediately appealing fitout. That Baker D. Chirico's architect, March Studio, has again succeeded in designing a deliberately literal and instantly likeable interior is no surprise – this is, after all, what it does best.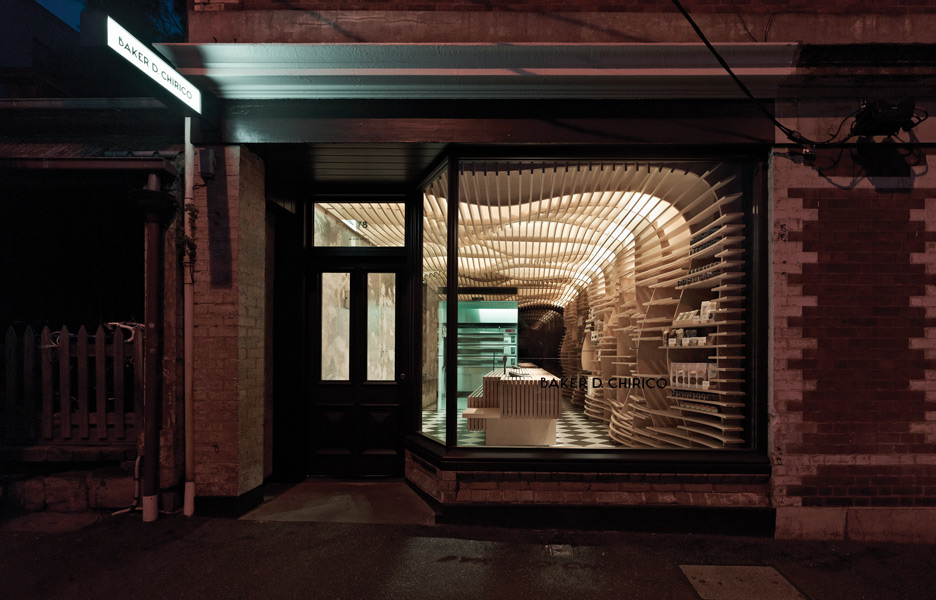 It was via Fabio Ongarato – responsible, alongside Misha Hollenbach from fashion label PAM, for the branding and identity – that Chirico and March Studio's principal architect, Rodney Eggleston, met. As Eggleston tells it, "Daniel charmed us with a mushroom brioche. As soon as we tasted it, we knew we wanted to be a part of the project." Eggleston notes that March Studio prides itself on doing projects that the small team personally likes and enjoys. "It becomes very easy to do something amazing, because it becomes about celebrating the product or the produce. We try to elevate the product beyond the store and the store then becomes a vessel to, really, carry the produce," he says.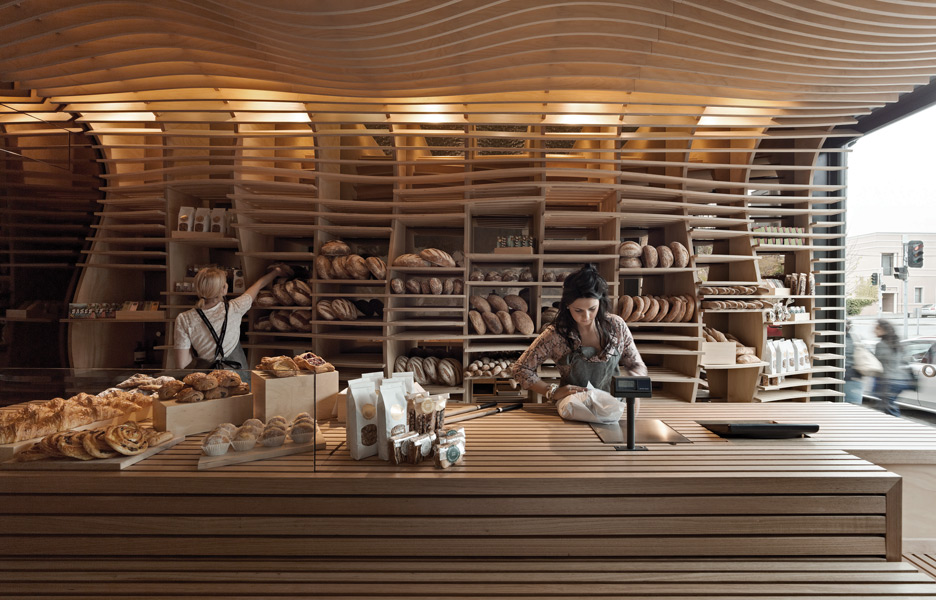 It was clear to Eggleston from the beginning that people were going to go to the store regardless, but that getting the interiors 'right' was a very important part of Chirico's holistic approach. Eggleston happened to be in Paris shortly after the commission and Chirico armed him with a list of artisan bakeries to visit. Although none of these stores directly informed the fitout of Baker D. Chirico, for Eggleston it was about absorbing the culture and asking himself the right questions: What do they do? How do they do it? "If these guys are the best in the world, then how are they doing things differently?" says Eggleston. "But what I also realised was that there were better ways to do it as well."
Back in Australia and Eggleston started looking at bread baskets for inspiration. It's an obvious starting point, but the overriding intention was, indeed, to 'carry' the produce. "We were seduced by that imagery of bringing the bread home in a basket," he recalls. "And what we really wanted to do was create an enormous basket to hold the bread." The final concept of the undulating plywood shelving system, installed behind the custom timber counter and extending to wrap the ceiling, is as attractive as it is functional. The shelves are flexible and can be rearranged to accommodate the different shaped loaves, while the use of plywood gives this storage solution a very clean aesthetic.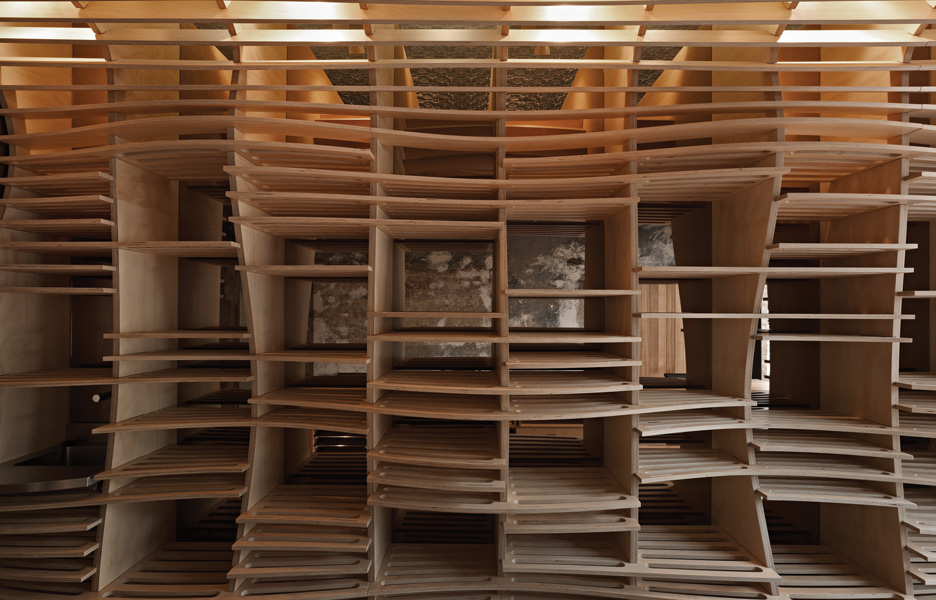 The shelving system's original iteration was, essentially, 'double sided' in that it did not stop at the ceiling, but continued down the opposite wall. Conceptually, it appeared clumsy – Baker D. Chirico is only a small space – and although the idea was to envelop and interact with the space, it seemed intrusive. Evolving the structure into a much less complex version was bold design on March Studio's part, especially when exploration of material possibilities can so often lead to a final design that is in desperate need of editing.
Baker D. Chirico is a natural progression from March Studio's Greville Street Aesop store in its use of plywood and joinery. The latter is the studio's latest signature retail offering in its longstanding portfolio with the global giant. It is bold, clean design. Boasting a plywood shelving system that relies on a straightforward grid of horizontal and vertical beams to create 'boxes' for display, like Baker D. Chirico, it also extends to wrap the ceiling. The simple mechanics behind a biscuit joint were celebrated in both projects, although it is in Baker D. Chirico that the joinery is pushed to the limits. For Eggleston, he wanted to see how they would "begin to get more 'three dimensionality' within that".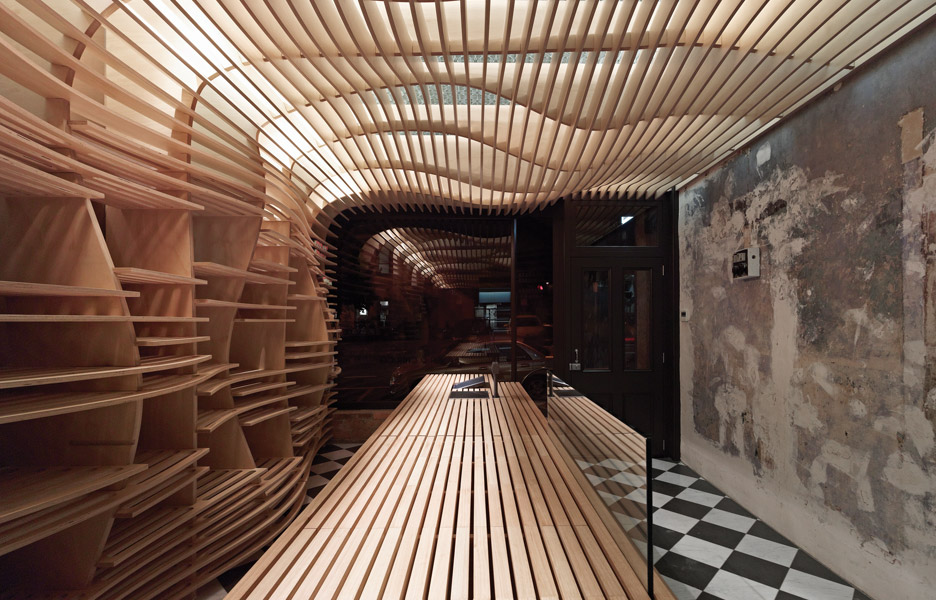 Greville Street, however, is quite 'flat' in its execution, and so it seems that Baker D. Chirico has more in common with March Studio's Adelaide Aesop store. The Rundle Mall-based outlet was a watershed moment in the practice's Aesop portfolio, thanks in large part to the undulating ceiling structure created from actual Aesop bottles. The ceiling's waves are echoed in Baker D. Chirico's shelving structure and then taken that one step further and made functional. It results in a design aesthetic that is very much of the moment.
We recently saw something similar in Sydney-based architecture practice Facet Studio's IDEA 2011 Retail winning Sneakerology fitout in the Pitt Street Mall, Westfield. The idea that the product actually becomes an integral part of the overall design certainly goes a long way in heightening the immersive experience for the consumer.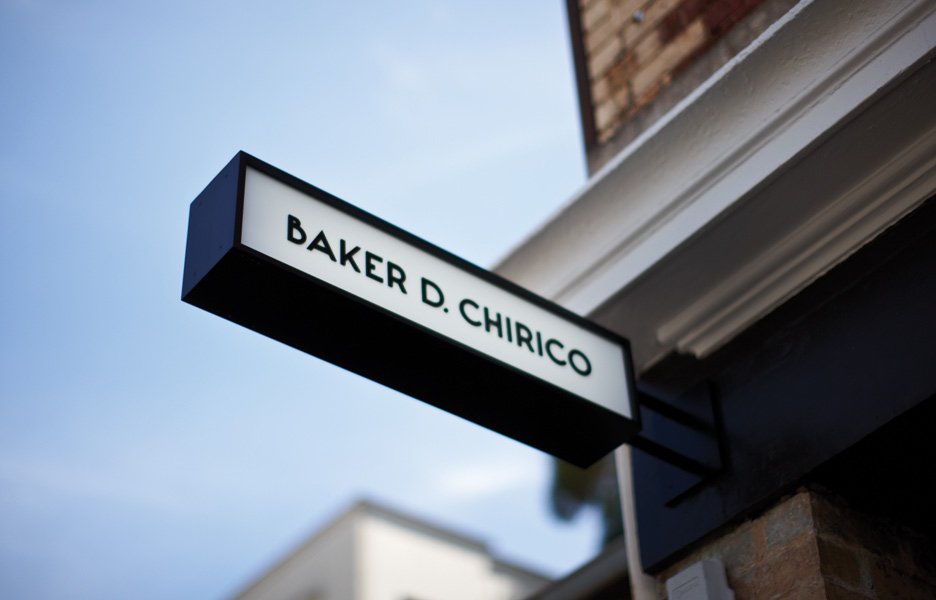 This experience was something that was foremost in Eggleston's mind when considering Baker D. Chirico's overall scheme. "A bakery is all about the smells and sounds," he says, and so, instead of hiding the oven, it was given pride of place: visible from the entrance and framed by a glass door that delineates front of house from back of house. It's a subtle intervention, and one that works, because really there's nothing quite like watching an artisan at work, whatever the craft may be. The oven's contemporary stainless steel also contrasts with the old world charm of the chequered floor, pressed metal ceiling and wall opposite the shelves: three accents that provide the decorative flourishes in among the plywood joinery.
Scratching off the wall's paint revealed multiple layers and for Eggleston it was something they had to keep. "There are those elements of nostalgia that begin to bleed in, and we wanted to show the history of the place, because it is a heritage building and it has a story." Chirico's bread and pastries will long give people something to talk about, and so too will March Studio's new fitout.