Article by Online Editor
Photography by Earl Carter
Designer HASSELL
Sign up for our newsletter
To disconnect staff from the everyday mindset of work is a brave undertaking for a banking institution and, as an employee who is about to embark on a stint of intensive corporate training, the first encounter with the new ANZ Learning and Breakout Centre is quite unexpected.
ANZ did not want a formal or traditional learning centre, nor did it want a space loaded with company branding and corporate indoctrination. Making clear a commitment to investing in its people, it strategically relocated the training centre off the 'ANZ site' and, in effect, separated its learning environment from its working environment. HASSELL, a firm renowned for designing innovative workplaces, has a long standing relationship with ANZ and, in joining forces with strategic workplace consultant DEGW, set out to challenge our perception of corporate training centres.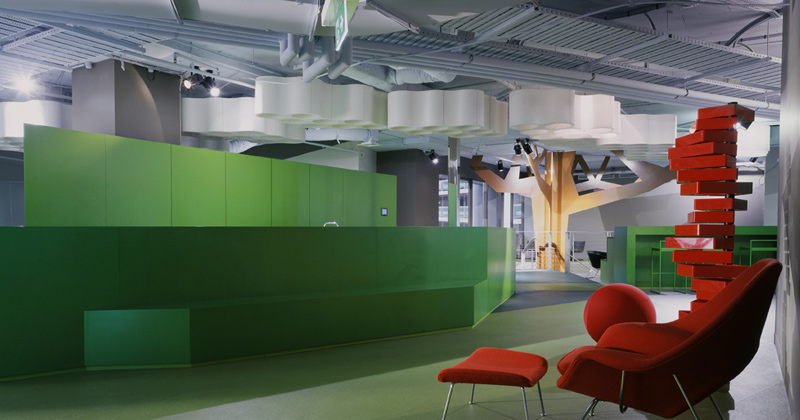 To begin DEGW put the Kolb theory on the table. A theory developed in the early 1970s by David A Kolb and Roger Fry it focuses upon the 'experiential learning cycle'. In essence, it suggests that we learn through a continually repeated process of concrete experience, observation and reflection, the formation of abstract concepts and the testing of new situations. This theory provided a platform for HASSELL to conceptually respond to the key issue – how can the design of interior space facilitate and support the acquisition and retention of knowledge in a creative way?
It has been suggested that we retain more of the knowledge we learn 'in the classroom' from the events, experiences and conversations that happen 'outside the classroom' and herein lies HASSELL's rational for the spatial planning. If training is the event and training spaces are kept understated and neutral in order to aid the event, then the breaks between the events could delight, excite and surprise.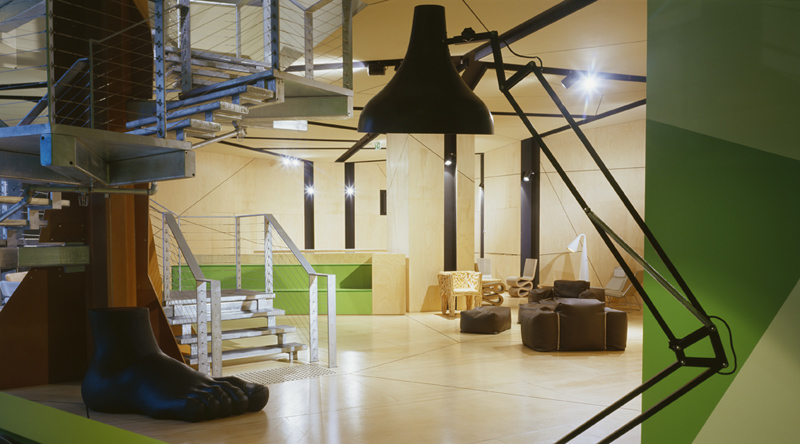 The geometries and fractures evident in the floor plan are unusual for a corporate environment yet in not using conventional lines through corridors or setting walls square HASSELL was able to discover and explore the nooks and crevices between. A clever way of freeing up the plan, it has allowed the theatre of the entry to continue throughout the learning and communal spaces.
Once through the green porthole, the volume of the interior immediately opens up and out and an unexpected journey begins. The ground floor includes an outdoor courtyard and is allocated to communal areas, whilst the first floor accommodates the training and meeting rooms and a private library. The two floors are linked by a metaphorical reference to the 'tree of knowledge' located immediately inside the entry. No more explicit than the central staircase, its steel branch-like structure winds up around the stair and points up towards a sky blue ceiling dotted with a cloud-like cluster of light fittings. In other parts this reference becomes far subtler. Fractured light slots cut through timber panelling allude to a root system and abstracted blocks of colour painted on walls suggest the shadows formed by a sunlit canopy.
It is certainly a bold and surprising space, but one that also works hard to accommodate a variety of uses including reception, lounge areas, meeting hubs, recreation space and a variety of different training spaces. It is a fairly complex spatial arrangement that deliberately creates pockets of space to allow moments of rest from the tiring process of learning. These moments come in many different forms – a blue alcove, a slice of white, a timber corner or a yellow frame – and when not engaged in an actual training session, provide a variety of different places for staff to escape to and read, meet, discuss or reflect.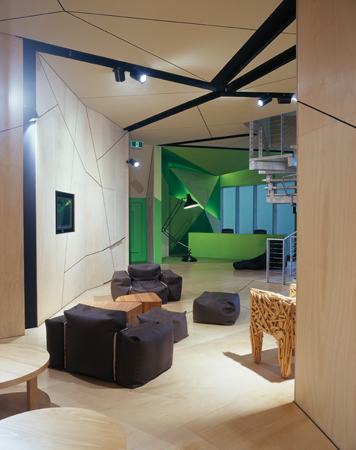 Training rooms are deliberately neutral and pushed to the perimeter to maximise natural daylight, the exception being two raindrop-like meeting pods that are central to the remaining floor space. Clad in a translucent polycarbonate, they read as shafts of light and help to offset and lead you around the sharp fractures of the rest of the plan. Another place to retreat to is the library, which curiously slips into a neo-Georgian country house theme. The leather bound books have been lost to the technology, but the moose head still gazes out over the chesterfields and offers a recognisable reference to the more traditional learning spaces of libraries and studies.
An asymmetrical layout has created many exciting spatial opportunities and was a smart move by HASSELL. Not only does it acknowledge the varied and complex needs for different ways of learning, but in deliberately using spatial arrangements to cross the variety of opportunities, there is an overriding spirit of connection throughout.
Conceptually, the entry plays an important role in the whole experience. Deliberate in its disorientating perspective it immediately opens up the mind as to what a learning experience can be. In empowering the user with a freedom of choice of spaces to learn, HASSELL has successfully used design to help foster imagination. Devoid of the ANZ logo and identity and without forcing the brand culture, HASSELL has creatively allowed the ANZ staff to experience and learn about the values of their organisation in a unique way.
This is a like-minded community of ILVENISTA's, who share a common bond of cooking for family and friends with their ILVE cookers.