Article by Online Editor
Photography by tony gorsevski
Designer Edwards Moore
The retail space of Melbourne fashion boutique Alice Euphemia has recently been redesigned by local architects Edwards Moore to coincide with the boutique's fifteenth anniversary.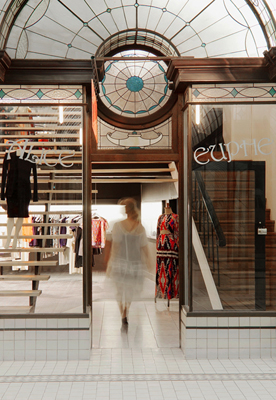 Located inside the Cathedral Arcade in the CBD, the new retail design contrasts with the ornate stained glass and ceramic tiles of the Art Deco arcade. At the shop's threshold, the curves of the Art Deco domes and arches give way to a sharp, contemporary design.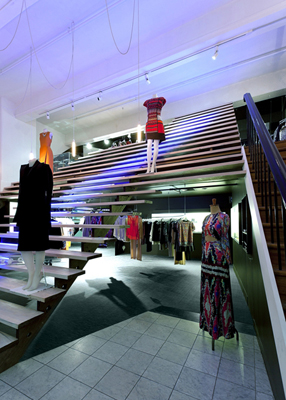 The bold and immersive space, explain project architects Ben Edwards and Juliet Moore, is designed to be experiential – drawing shoppers on a journey through the sequence of spaces. Like the studio's Arnsdorf Concept Store, a fashion pop-up completed in 2011, the Alice Euphemia fitout is a sculptural intrusion within the space that invites shoppers to interact with the intriguing terrain that surrounds them.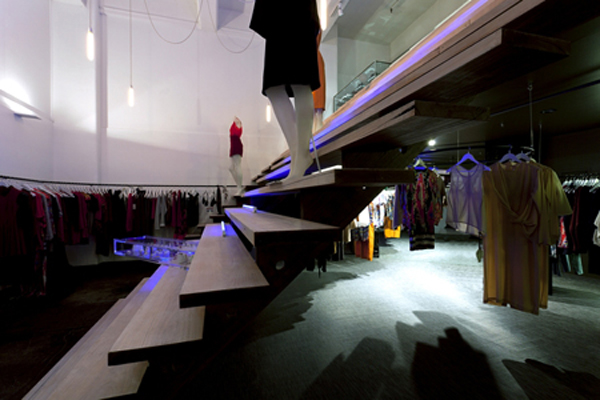 A central staircase breaks up the interior to create a dynamic landscape, yet still offers glimpses into the space beyond. Providing a prominent display area, the timber stairs partially veil the downstairs retail space to create a cave of hidden treasures.
In this downstairs zone, a slick, high gloss black floor makes the space feel cavernous, while clothes are hung on sweeping rails that seem to float in space. The undersides of the timber stairs have been stained dark, while the upper surfaces are limed white to complement the white walls and high ceiling of the main space.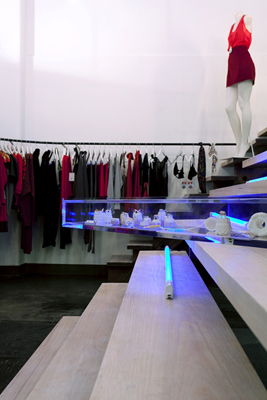 Coupled with the timber stair, a series of bespoke acrylic display boxes ensure the interior remains adaptable – delivering a space that can be changed and styled to suit the shifting seasons and fashions of the brand.