Article by Online Editor
Designer
ARCHITECTURE

Alvar Aalto Houses
Jari Jetsonen and Sirkkaliisa Jetsonen / Princeton University Press / 2011 HB 224pp
Review by Maitiú Ward
In his introduction to this book, Juhani Pallasmaa quotes John Ruskin: "Nothing that lives is, or can be perfect: part of it is decaying, part nascent… And in all things that live there are certain inequalities and deficiencies, which are not only signs of life but sources of beauty." Unlike many of his modernist contemporaries, Alvar Aalto was quite comfortable with the notion of imperfection and believed a good home should always reflect the "human weakness" of its occupant. Aalto is widely considered to be one of the most influential architects of the 20th century, and with good reason – after a non-architect visitor to my house idly flicked through Houses, they remarked with some surprise at how contemporary the design seemed. Part of this is a reaction I suspect to Aalto's enduring influence on contemporary design, but it is also quite possibly a reaction to just how vibrant the houses in this book remain. The architecture, with all the patina and personality that time's decay brings with it, radiates humanity. These are lived in buildings – there is nothing pristine or rarefied about their treatment, and the book is infinitely better for it.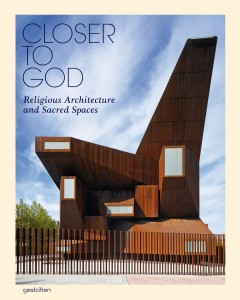 Closer to God: Religious Architecture and Sacred Spaces
Lucas Feireiss / Gestalten / 2011 HB 240pp
Review by Gillian Serisier
The spiritual interior has evolved in parallel to the evolution of architecture as part and parcel of the whole. Within this rarefied field, light continues to play an enormous and dual role of illumination and wonder, with some beautiful interpretations. Mortensrud Church, by Jensen & Skodvin Arkitektkontor in Oslo, for example, has glass encased, single stone depth walls constructed without mortar, which allow a shimmering light to speckle the interior. Rather more flamboyantly, great shards of light puncture the timber-clad interior of Atelier Heinz Tesar's Church of Christ, Hope of the World in Vienna. For absolute robust presence, few compare to the spectacular arches of Renzo Piano Building Workshop's Padre Pio Pilgrimage Church in S. Giovanni Rotondo. Colour has also made an appearance with some very beautiful and unusual effects: Merkx + Girod's Morocco/The Netherlands, Nieuwe Kerk Amsterdam in Amsterdam is particularly beautiful; as is Andrés Jaque Arquitectos' Casa Sacerdotal Diocesána de Plasencia, Plasencia, Spain.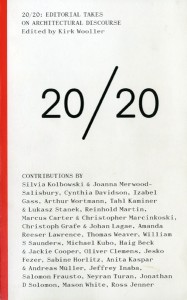 20/20: Editorial Takes on Architectural Discourse
Kirk Wooller (ed.), with a preface by Brett Steele / Architecture Association / 2011 PB 276pp
Review by Maitiú Ward
Posing 20 questions to 20 editors from 20 architectural journals, this book explores the role editors play in shaping architectural discourse. As an editor myself, I found it a fascinating insight into the curatorial decisions that drive some of the more well-known architecture journals today, including Volume, Actar, Mark and, more locally, Interstices and UME. Just how compelling the content would be for a reader without a direct professional interest is debatable, largely dependent on how genuinely influential you believe these journals are in shaping discussion around architecture. Mark is the only title with a commercial agenda, and, not coincidentally, probably has the highest international profile. The journal ([bracket]), on the other hand, hadn't even been released at the time of 20/20's publication, so its influence could be said to be microscopic. Nevertheless, for readers with an interest in how editorial agendas shape the architectural media landscape (websites included), this book is well worth reading.
URBANISM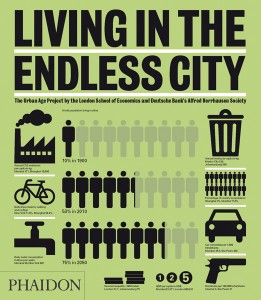 Living in the Endless City
Ricky Burdett and Deyan Sudjic (eds.) / Phaidon Press / 2011 HB 512pp
Review by Maitiú Ward
A follow-up to 2008's The Endless City, Living in the Endless City is the by-product of a series of international conferences organised by the Urban Age Project. Funded by the London School of Economics and Deutsche Banks's Alfred Herrhausen Society, the Project investigates the future of cities, and is multi-disciplinary in scope. Whereas The Endless City was a study of the growth of six of the world's international cities, from both established and emerging economies (New York, Shanghai, London, Mexico City, Johannesburg and Berlin), all three of the subjects of this book – Mumbai, Sao Paulo, and Istanbul – could be fairly classed as the latter. As a result, the book, beautifully put together in 'coffee table' format, has drawn criticism as 'inequality porn'. This does a disservice to the Urban Age Project's significant research in the field of urban development, a good proportion of which is represented here. While the ethics of the aesthetics can be debated, the substance of much of the discussion contained within these pages (from Saskia Sassen, Deyan Sudjic, Charles Correa et al) is relevant, incisive and useful.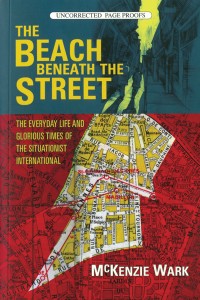 The Beach Beneath the Street
McKenzie Wark / Verso / 2011 PB 197pp
Review by Simon Sellars
The Situationist International (SI) movement, steeped in Marxist theory, had a massive impact on the May 1968 general strike in France, which almost ended in revolution. Situationism was also influential in music – Sex Pistols manager Malcolm McLaren was an acolyte – and in urban design, where the nebulous concept of psychogeography appeals to certain urbanists. The dérive was essential to psychogeography, a spontaneous tour of the urban landscape in which participants, who always walked, were directed by emotional responses to surroundings. Today these are among the most misunderstood of SI concepts, divested of Situationist ideas about social space.
The SI story has been told before, with attention focused on Guy Debord, the mad, bad and dangerous-to-know leader. However, McKenzie Wark deflects the spotlight onto other members whom he argues were just as significant, including Constant, known to architecture students far and wide as the creator of New Babylon – the anti-capitalist city of the future.
Wark writes with humour and skill, explaining ideas like the dérive with crystal clarity. You might come away thinking psychogeography has a practical urban application after all.
See AR124, on sale March 2012, for an excerpt from this book.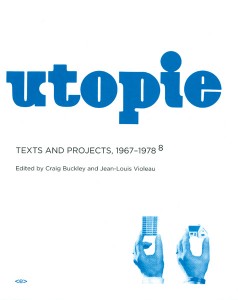 Utopie: Texts and Projects, 1967–1978
Craig Buckley & Jean-Louis Violeau / Semiotext(e) / 2011 HB 323pp
Review by Simon Sellars
The Paris group Utopie was a collection of architects, urbanists and sociologists, its most famous members being Jean Baudrillard and Henri Lefebvre. Like the Situationists, Utopie was concerned with the implosion of the urban fabric into media and consumer space, what the later, postmodern Baudrillard would famously term 'hyperreality'.
Utopie wanted to reform architectural education, questioning devalued roles for urban planners and architects. Dissatisfied with architecture journals, they produced publications, posters and incendiary pamphlets that finessed radical collage (texts in the margin would undermine the main text) and a poetic spatial politics into a seductive whole. Archigram and pop art were key influences.
Craig Buckley's excellent introduction contextualises Utopie's work, and over 20 texts have been translated from the French, although the book lacks in situ page layouts. More often, visual elements are plucked from original graphic treatments, with the English translations superimposed. For a volume that, the publisher claims, seeks to 'capture Utopie's linkage of architectural and urban theory to radical publication strategies', this is an odd strategy.
INDUSTRIAL DESIGN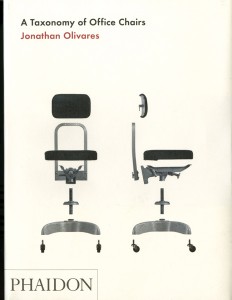 A Taxonomy of Office Chairs
Jonathan Olivares / Phaidon Press / 2011 HB 240pp
Review by Maitiú Ward
Says the press kit describing this book: '132 selected chairs that have significantly altered the course of office chair history'(!). As the title implies, Jonathan Olivares' book, A Taxonomy of Office Chairs, details the evolution of the office chair through the documentation of changes to its morphological characteristics over time. You get the sense that Olivares and Phaidon might have their respective tongues firmly planted in cheek with this one, but if there's a hint of a knowing wink, it's also obvious some seriously rigorous research has gone into its production. Tracking the development of the office chair over the course of the last 160-odd years, it's fascinating to observe how the designs respond not just to technological innovations, but also to social and cultural change during this time. Beautifully put together, it might not be On The Origin of Species, but it certainly offers a very worthy record of the one design artefact that, for better or worse, too many of us are on very intimate terms with.
INTERIOR DESIGN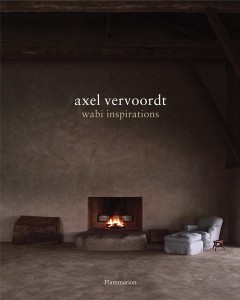 Axel Vervoordt: Wabi Inspirations
Michael Paul / Flammarion / 2011 PB 256pp
Review by Gillian Serisier
As an interior designer, Axel Vervoordt has a very particular style. It's epitomised by a pared back, minimal aesthetic, textured and nuanced by stylised natural form and tone. Axel Vervoordt: Wabi Inspirations has captured this well with Laziz Hamani's photography, which is as tranquil as the very scapes depicted. Even the print and paper choice are in tune with the shadow-filled interiors and presiding calm. In short, it is a beautiful book to loll your way through on a wintery afternoon.
There are a few problems, though – the text by Vervoordt, in particular, is so steeped in Eastern spiritual sincerity it is little wonder he is heralded by his publisher as an 'interior design guru'. The projects, however, are a delight, despite the attendant spiritual homily. According to architect, Tatsuro Miki, "[The Wabi principle] is the refinement of simplicity, a rustic elegance, a nobility without sophistication, beauty brought back to its true nature."
What makes the projects work is the absolute attention to detail, coupled with Vervoordt's exceptional eye and understanding of scaled proportion. In effect, while his hybrid use of East West aesthetic doctrine grates as prose, it is well-mastered in practice. His spatial acumen allows elements as diverse as a roughly carved mediaeval door timber to pair with a delicate earthen pot to stunning effect.
While it would have benefited from a concise list of images and a harsh text edit, this book remains an exceedingly desirable object in its own right.
PHOTOGRAPHY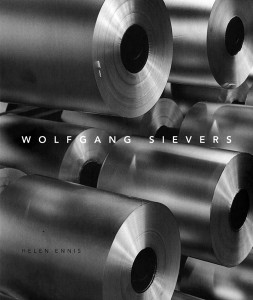 Wolfgang Sievers
Helen Ennis / National Library of Australia / 2011 HB 186pp
Review by Simon Sellars
A contradiction surrounding the career of photographer Wolfgang Sievers (1913–2007) is that despite his fetishised, peopleless shots of mighty machinery, he was passionate about human rights and the dignity of labour. Framed by his viewfinder, the machines were not taking over but were reflections of man, extensions of the worker's body and imagination, iconic symbols of everyday lives. Sievers worked mainly in black and white and the majority of shots reproduced in this book are of beautiful, silver-grey artifices: modern offices under strip lights; pipes and steel gleaming from the unnatural glare of factory and refinery production. But Sievers shot in colour, too, a body of work striking in its layering, composition and palette. Like a Mad Men-style ad campaign, the colour plates included here comment on the exotica of consumer capital, in sharp contrast to his industrial photography. Helen Ennis is a worthy chronicler of Sievers's legacy. Her extensive essay skilfully underscores his mastery, and his life as a German emigre fleeing from the Nazis, and is revelatory for extrapolating his principal aim: to 'unite art and industry' with 'grand scale and theatrical effects'.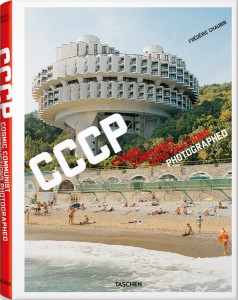 CCCP: Cosmic Communist Constructions Photographed
Frédéric Chaubin / Taschen / 2011 HB 312pp
Review by Gillian Serisier
There is an enchantment to this collection of images that goes far beyond the fantasy of USSR Cold War escapism. Rather, the book is testament to an exuberant Utopian dream and global aspiration of an era of stifled architects and commissioning bodies.
Chaubin's photographs chart the emergence of 'the individual' in late soviet architecture beginning in the 1970s, with a shift towards extraordinarily weird and buoyant architecture that seemed to 'appear' out of nowhere and often in the middle of nowhere. The year 1991 then heralded the end of the USSR and Communism, and the beginning of an era hell-bent on wiping the markers of a troubled history from view, including much of its architecture.
Chaubin's images are far from the etched dalliance with perfection that typifies architectural photography. Rather, they are the 'more than good' snapshots of a tourist. There is a touch of Robert Polidori in the framing, which includes random people, broken paving stones, weeds and the dirty splodges of disrepair. They also have the monumentality of a child's view of vastness. All of which makes them mesmerising and real in the sense that we are allowed into the humanity of the endeavours, as both an ambition and the reality of 30-odd years of neglect.
Despite this authenticity of framing, Chaubin is not seeking to muse on decay or sentiment. His preference is, in fact, wholeheartedly for the Utopian vision stealing its way into the architecture of the era. His writing style has sufficient elegance to deliver an immensely complex history in simple form; however, it is also sophisticated enough to posit several explanations as to why these buildings were allowed to exist in the first place. The buildings as a whole are magnificent, as is the book.
Main image: The architecture faculty at the Polytechnic Institute of Minsk and its succession of overhanging lecture theatres. V. Anikin, I. Yesman; Belarus, 1983. Photograph by Frédéric Chaubin, published in CCCP: Cosmic Communist Constructions Photographed.