Article by Christopher Kaltenbach
Photography by Akihiro Yoshida
Designer Fumie Shibata, Masaaki Hiromura and Takaaki Nakamura
Across Japan there are unique forms of lodging that redefine the notion of hospitality. From the traditional ryokan to the more pragmatic capsule hotel, the physical and ambient characteristics of Japan's domestic environments have been used to elicit certain behaviours and expectations. It is the newest capsule hotel by Japan's Cubic Corporation, 9h (nine hours), which updates these spatial and temporal conditions of the Japanese vernacular into two coded environments; the public spaces of its hotel and the private capsule units.
In the traditional Japanese inn, the ryokan, guests are placed in a lodging experience with origins dating back to Japan's 17th century, the beginning of its Edo period. With rooms carpeted in multiple units of .91m x 1.82m tatami (woven straw mat), once entered – shoes left in the genkan (formal entryway) – a particular spatial relationship with the body is defined. This can set the scene for a culturally understood compliance by guests who read (sometimes viscerally) non-verbal and verbal cues in direction by the inn's staff.
Japanese architect Kisho Kurokawa understood another relationship between space and behaviour in the early 70s when he designed the single occupant capsule apartment for the Nakagin Capsule Tower. While the tower was never a facility for lodging, his development of small, self-contained apartments was the predecessor to the capsule hotel's sleeping unit. As a member of the famed Metabolist architecture movement, he attempted to tap into a culturally learned acceptance of finite living space built on the tatami's area unit. Configured on a slightly larger area unit, his 13.25 square metre capsule – a compressed envelope absent of straw flooring – was still roughly 6 tatami in size and hence perceived (arguably) as an adequately comfortable dwelling.
Now with the December 2009 opening of 9h in Kyoto, this capsule hotel is maintaining similar systems of expectation in guest's behaviour typically found in the ryokan, minus the formalness, and in an implicit familiarity with an area unit, this time based on the contemporary reclined body.
Housed in a nine-storey building and segregated into 'Gentlemen Only' and 'Ladies Only' floors, 125 capsules lay waiting for the weary late night working salary man, curious tourist and discrete female patron, to name a few. After checking in and handed a slipper pouch covered in diagrammatic instructions, depending on your sex, one either gets the second through fifth floors (private secure services for women); a lounge floor, a floor with showers, washrooms and lockers, and two floors of capsules or one gets the top four floors providing the same facilities (for men) with an additional floor of 25 capsules and no private lounge – men use the public lounge located on the first floor.
The relatively short evolution of the capsule hotel begins in the 1970s, spawned by an urban intensity emblemised in Kurokawa's designed pods. As nothing more than a pragmatic, niche segment at the bottom end of the hotel industry pyramid, over the years its flow of patrons have tracked the rise and fall in various industries that have depended on commuting blue and white collar workers. All along, the capsule hotel evolved to both make service as efficient as possible and provide the most amenities within its limited spaces. With capsules usually fitted with their own mini entertainment system (tv and radio), these hotels have experimented with a wide range of value-added services, from the automated reservation system of the vending machine to workout gyms, automated massage chairs and meals. For it is again, this 'service' aspect of the capsule hotel that the 9h brand felt it could redefine.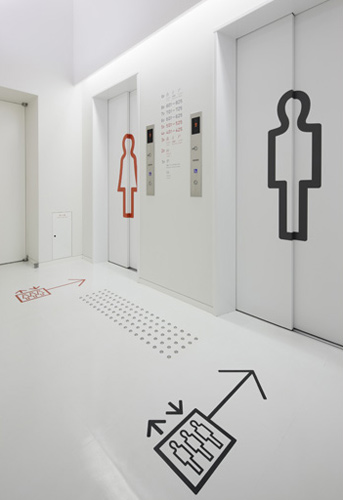 Beginning in 2005 the visionary entrepreneur Keisuke Yui, president of Cubic Corporation, set out to develop this hotel typology. Taking clues from the traditional ryokan, he wanted to create a new capsule hotel that provided a specific, hospitable structure of use that anyone could follow regardless of their cultural orientation. Looking to Fumie Shibata of Tokyo's product design studio, Design Studio S, he found a young designer able to develop a new 'service' concept through the entire hotel and within the capsule unit itself.
The 9h concept, 1+7+1=9h, is a formula for providing 3/8ths of one's circadian rhythm with rejuvenation. This is defined as seven hours of sleep with one hour in the evening to shower and an additional hour in the morning for resting/grooming. As concepts go, this formula and the sequence for executing it, is completely voluntary. One is provided a total of 17 hours of use in a single reservation.
While 9h is a metaphor for an urban, in-transit evening stop-over, it is its spatial and temporal dialectic that succinctly describes its interdependent formula for the individual in a collective space. Unlike the West, where hotels derive their value from providing neutral, semi-specific spaces where guests are free to physically and vocally occupy every corner, 9h requires a guest to 'read' its spaces in both its literal and visceral sense. Within the flanking hours of recommended sleep a graphically instructional interior must be negotiated while sleep time is spent within a cacoon of physical and visual privacy.
To balance this duality, Shibata collaborated with an interdisciplinary team; visual communication designer Masaaki Hiromura and interior designer Takaaki Nakamura.
Hiromura, author of the 2002 book Space Graphysm, employs a unique system of wayfinding symbols serving to decode, on the fly, all purposes of the spaces. This is a stylised taxonomy that serves not just to guide but implicitly remind guests of their complicit responsibility to the aesthetic order of the environment.
Once inside one's own capsule unit, designed by Shibata, and settled in for the 'seven hour' sleep, the absence of a private entertainment system becomes apparent as the interior shell's neutrality begins to reflect the individual back onto herself.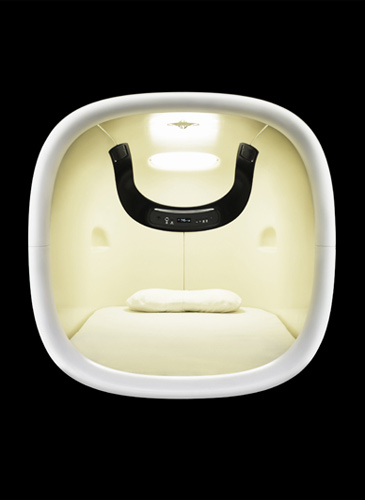 The capsule's own floor dimension of 1.07m x 2.15m, is an area unit that allows one's body to easily shape itself in either a sitting or sleeping position. With a height of 1.08m, the fibre-reinforced plastic's (FRP) smooth milky surface aids in the perception of a visually spacious interior.
The 'Breath Air' material filled mattress and ambient lighting system designed by experts in sleep environments at Panasonic/ Matsushita Electric Works, attempts to respond gently to the body's own organic inner timekeeping and temperature/perspiration-fluctuating systems. Even the pillow, a kidney shaped, six-zoned topography, cradles the head with the intent of a nocturnal masseuse.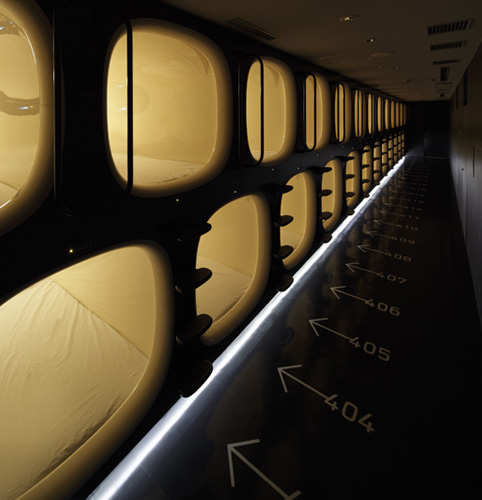 With only a thin opaque pull down curtain and dimly floor lit corridor (immediately outside the capsule) separating you from the other guests, it is the collective rustling and breathing from other guests that auditory proximity brings an unexpected intimacy.
As established as common lodging is in Japan, it is the systems for organisation and decorum, and the guests' adherence to both instructed and spatial codes that allows 9h to provide a unique lodging experience. One might ask, where is the relaxation in this type of hospitality? It is in the cooperation to 'read', not memorise, a new behaviour for the body and the confidence that your fellow guest is too an obliging participant, that ultimately defines 9h's success.